Botany
Asistasia is a procumbent herb, growing up to 1 meter or more in height. Leaves are ovate, 2.5 to 3 centimeters wide, with pointed tips and rounded or narrowed base. Flowers are borne on one side of lax racemes 5 to 12 centimeters in length. Sepals are linear-lanceolate, about 5 millimeters long and hairy on the back. Corolla is hairy, 2 to 3 centimeters long, with a yellow and inflated tube, limb is pink or pale purple, usually dull or lurid, sometimes yellow altogether. Capsule is cylindric-compressed, about 2.5 centimeters long and hairy. Seeds are smooth, compressed, ovoid, angular, wrinkled or subtubercular, less than 5 millimeters in diameter.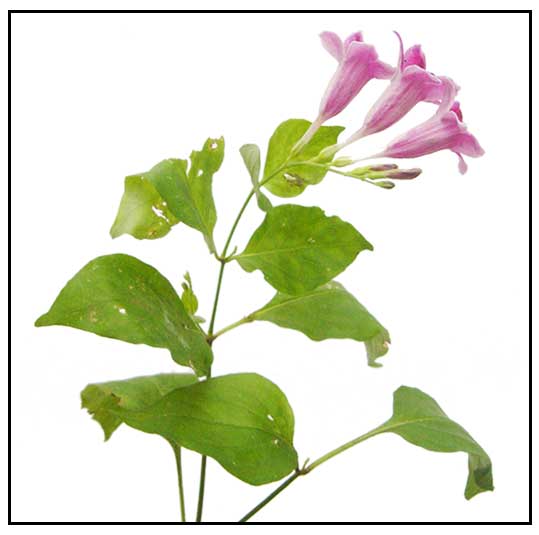 Distribution
- In thickets near towns at A low altitude, often cultivated in Manila and Los Baños.
- Also occurs in tropical Africa, Asia, and Malaya.
Constituents
- Phytochemical analysis yielded carbohydrates, proteins, alkaloids, tannins, steroidal aglycans, saponins, flavonoids, and triterpenoids. Also yields, minerals: calcium, phosphorus, sodium, manganese, copper, zinc, magnesium, iron.
- Flowers yielded a biflavon glycoside - apigenin 7-O-glucosyl (3'-6") luteolin 7"-O-glucoside.
- Aerial parts yielded a 5,11-epoxymegastigmane glucoside (asysgangoside).
Properties
• Considered astringent, anthelmintic, antidiabetic, anti-asthmatic, anti-inflammatory, vermifuge.
Parts utilized
Leaves and flowers.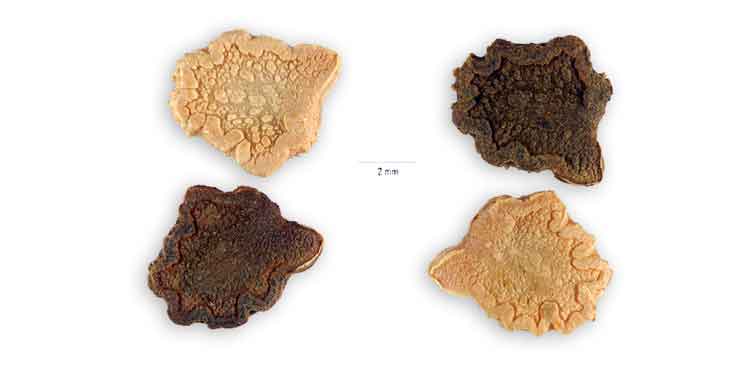 Uses
Edibility / Culinary
- In the Philippines the leaves and flowers eaten as pot herb.
- In Uganda and Kenya, consumed as a popular vegetable mixed with beans, groundnut or sesame paste. Leaves and flowers used as intestinal astringent.
Folkloric
- In the Philippines, leaves and flowers used as intestinal astringent.
- In the Gold Coast the plant is commonly used as woman's medicine. Infusion of plant used to ease pain during childbirth. infusion or decoction of plant mixed with peppers used as an enema in the later months of pregnancy.
- In Nigeria, leaves used for treatment of asthma.
- In South Africa,used for anthelmintic activity, swelling, rheumatism, gonorrhea, and ear disease.
- In India, sap is applied to swellings; also used for rheumatism and as vermifuge. In Tamil Nadu, root paste used for skin allergies. Plant also used as antiasthmatic, anthelmintic and antidiabetic.
Others
In Kenya and Uganda, used as forage for cattle
In Tanzania, plants pounded in water and used to wash flea-infested young animals.
In Africa, commonly as ornamental ground cover.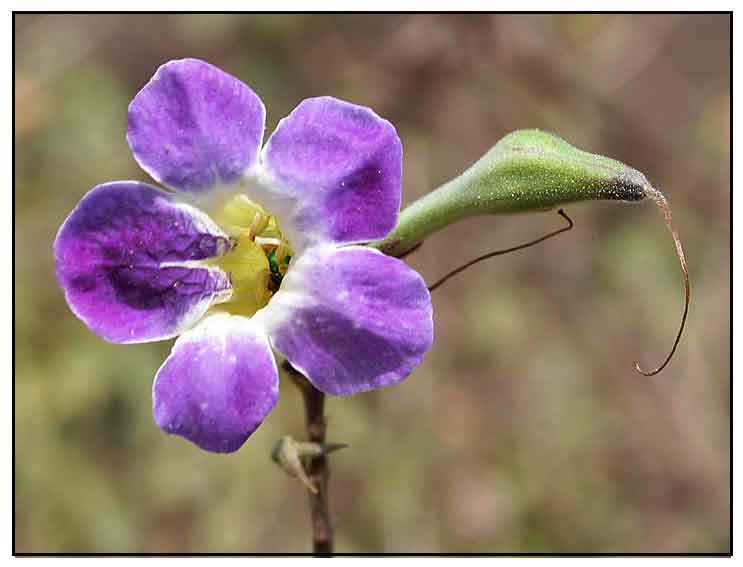 Studies
• Antiasthmatic: Phytochemical screening yielded carbohydrates, proteins, alkaloids, tannins, steroidal saponins, flavonoids, triterpenoids. Leaf extract relaxed histamine-precontracted trachial strips and exhibited antiinflammatory activity. Study justified its use in Nigerian folk medicine for asthma treatment.
• Bronchospasmolytic activity: Another Nigerian study suggests that the leaves of A gangetica provides benefit through a bronchospasmolytic effect of the terpenoid compounds.
• Antihypertensive: In a South African study of 16 plants on the ACE Inhibitor Activity of Nutritive Plants, Asystasia gangetica was one of eight that showed significant ACE inhibition activity.
• Antioxidant / Antiinflammatory: Asystasia gangetica was one of 18 plants investigated for free radical scavenging activity, total phenolic content and antiinflammatory properties.
• Asysgangoside / Phytochemicals: Study isolated a 5,11-epoxymegastigman glucoside (asysgangoside) together with known compounds.
• Anti-Diabetic / Antioxidant: (1) Results showed significant antidiabetic and antioxidant potential for A gangetica and M indica, individually or in combination. (2) Study results suggest the potential of A. gangetica as antioxidant in protecting the tissue defense system against oxidative damage in streptozotocin-induced diabetes. (3) A study of methanol extract of leaves showed significant in vitro antioxidant and a-glucosidase and a-amylase inhibitory activity.
• Angiotensin Converting Enzyme Inhibition / Antihypertensive: Study showed A gangetica as one of eight plants that showed significant ACEI activity.
• Analgesic / Anti-Inflammatory: A methanolic extract of A. gangetica, evaluated for anti-inflammatory activity in albino wistar rats, showed significant decreased paw edema in the carrageenan model.
• Antimicrobial / Antifungal: Study of hexane, ethylacetate, and methanol extracts was studied for in vitro inhibition of human pathogenic organisms. Crude extracts showed concentration-dependent inhibition of the growth of the 12 test organisms. The extracts showed higher antifungal properties on C. albicans, P notatum, T. rubrum, and E. flocossum comparable to Tioconazole, the reference drug.
• Antimicrobial: Extracts of leaves, stems, and roots were studied for antimicrobial activity. Methanol extracts showed the highest activity; the water extracts, the least. The methanol extract also showed potent antifungal activity against C. albicans.
• Antidiabetic / Hypolipidemic: Study of M. indica and Asystaia gangetica in alloxan-induced diabetes in rats showed the ethanolic extract of leaves to have good hypoglycemic and hypolipidemic effect.

Availability
Cultivated.