Botany
Ayong-kabayo is a hairy vine reaching a height of at least 10 meters. Leaves are broadly ovate, 8 to 18 centimeters long, and 5 to 12 centimeters wide, with pointed tips, rounded or heart-shaped bases and toothed margins. Flowers are greenish with a purple tinge, subumbellately arranged on the ultimate branchlets on cymes 2.5 to 5 centimeters long. Fruit is fleshy, purple when mature, rounded and about 1 centimeter in diameter, containing a single, large, pear-shaped, smooth seed.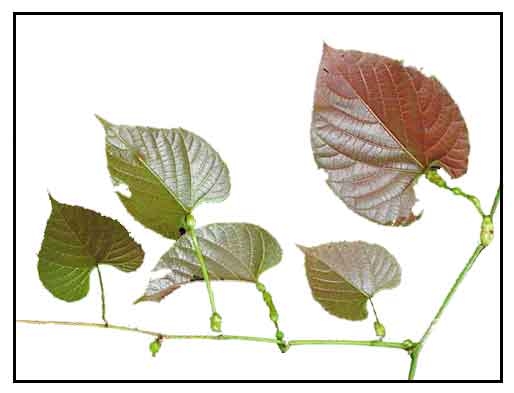 Distribution
- In thickets at low and medium altitudes, from northern Luzon to Mindanao.
- Also reported in India to Indo-China and southward to Timor.
Constituent
- Considered alterative and diuretic.
Properties
- Considered alterative and diuretic.
Parts used
Roots and tubers.

Uses
Folkloric
Not known medicinally in the Philippines.
In India, the decoction of dried tubers used as alterative and as diuretic.
Extracts have been used for dissolution and expulsion of urinary stones.
Root, powdered and heated, applied to cuts and fractures by the Santals.

Studies
• Antibacterial / Anti-Urolithiasis: Study of 17 plant species screened for potential antibacterial activity against four selected urolithiasis-inducing flora (P mirabili E coli, Pseudomonas stutzeri and K pneumonia) showed six plants, including C. adnata to show promising roles in the prevention and cure of urolithiasis.
• Free Radical Scavenging Activity: Study yielded a triterpenoid, flavonoid and apigenin. Study comparing isolated compounds of C. adnata and Smilax lanceaefolia showed the compounds to have moderate to high free radical scavenging activities
Availability
Wild-crafted.