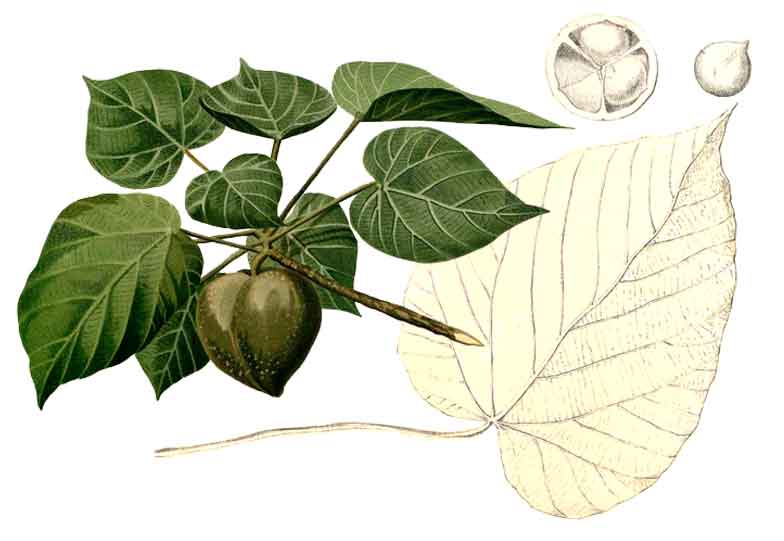 Botany
Bagilumbang is a tree growing to a height of 10 to 15 meters or more. It does not have hairs, except for the inflorescences. Leaves are suborbicular to broadly ovate,10 to 20 centimeters long, entire, with a broadly cordate base. Flowers are 10 to 12 millimeters in diameter, the petals obovate, densely hairy without, borne on panicles about 15 centimeters long. Fruit is somewhat rounded and angled, 5 to 6 centimeters in diameter, opening later along the angles, usually 3-celled and each containing a single seed. Seed is somewhat circular, flattened, rather smooth, with numerous small ridges, with a hard brittle shell about 0.5 millimeter thick. Within the shell is a white, oily, fleshy kernel with a very think embryo surrounded by a large endosperm. Kernel is covered by a thin, white, paperlike seed coat.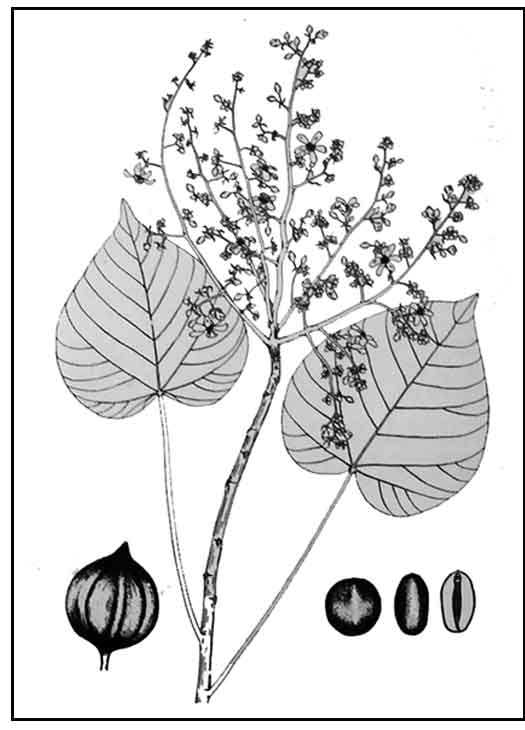 Distribution
- Widely scattered in forests at low and medium altitudes in La Union, Laguna, Cavite, Batangas, Quezon, Rizal, and Camarines Provinces in Luzon; in Negros; and in Mindanao.
- Sometimes, planted.
Constituents
- The seeds, like other Aleurites species, yield a high percentage of oil.
- Constants are similar to tung oil.
- Kernel yields as high as 56 % of oil.
Properties
- More suitable for varnish making than tung oil; although with very poor keeping qualities.
- Seed is purgative.
- Fresh kernels have a nuttle flavor but causes a burning sensation in the mouth, throat, esophagus and stomach. Even a small part of the nut can cause violent vomiting within half an hour, or a terrible diarrhea, a few hours after eating and lasting 12 to 24 hours.

Parts used
Seed, bark sap.

Uses
Folkloric
Seed is a strong purgative.
Bark sap is used as a cure for scurf (dandruff).
Others
Oil for the seeds is an effective insecticide.

Availability
Wild-crafted.