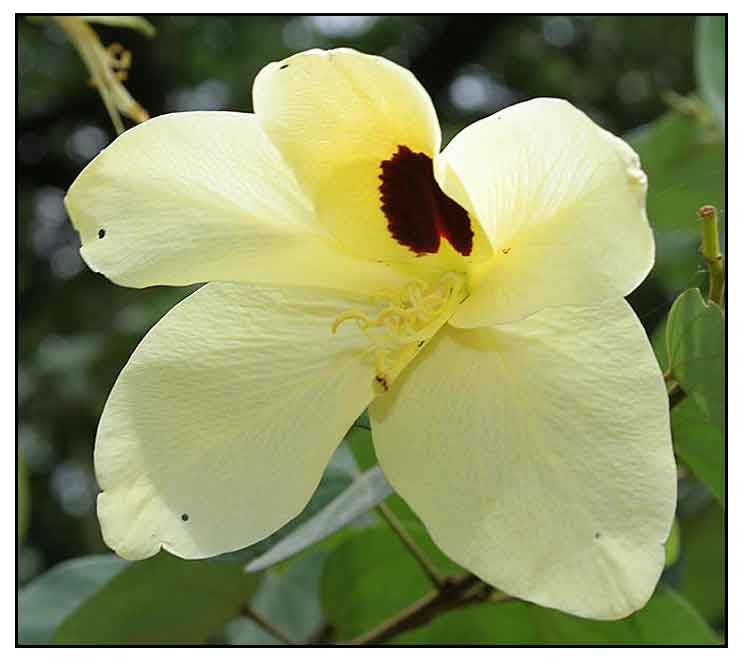 Botany
Baho-baho is an erect, branched shrub attaining a height of 2 to 4 meters. Branchlets, lower surfaces of the leaves and pods are somewhat hairy. Leaves are 4 to 7 centimeters long, about as wide, and split about one-third to the base into two, with oval, rounded lobes. Flowers are pale lemon-yellow, usually in pairs, on axillary peduncles. Pods are 9 to 11 centimeters long, about 1.5 centimeters wide, flattened and containing 6 to 10 small seeds.
Distribution
- Cultivated in Manila and other towns.
- A vigorous shrub used as border plants.
- Introduced from tropical Asia.
- Found in India, West Bengal, Sri Lanka and tropical Africa.
Constituents
- Plant yields tannin.
- Flower contains flavonoids, isoquerlitrin 6%, rutin 4.6%, and a small amount of quercetrin.
- Seed yields a fatty oil, called ebony oil, protein, pentosan, water soluble mucilage and saponins.
- Bark yields a fiber.
- Phytochemical screening of crude extract of flowers yielded carbohydrates, glycosides, alkaloids, phytosteroids, flavonoids, saponins, tannins, phenolic compounds, and fixed oils.
Properties
- Leaves smell like burned rubber when rubbed, probably giving the plant its local name of 'baho-baho.'
- Considered astringent, vermifuge.
- Seeds considered tonic and aphrodisiac.
- Fruit considered diuretic.

Parts used
Seeds, bark, flowers, roots.

Uses
Folkloric
- Not known medicinally in the Philippines.
- In India, bruised bark is applied externally to wounds and tumors.
- In the Malabar Coast, a decoction of root-bark is administered for inflammation of the liver.
- Decoction of root-bark also used as vermifuge.
- Infusion of bark used as an astringent gargle for sore throats.
- In southern India, the small, dried buds and young flowers are prescribed in dysenteric affections.
- Fruit is diuretic.
- Seeds have been eaten for their tonic and aphrodisiac action.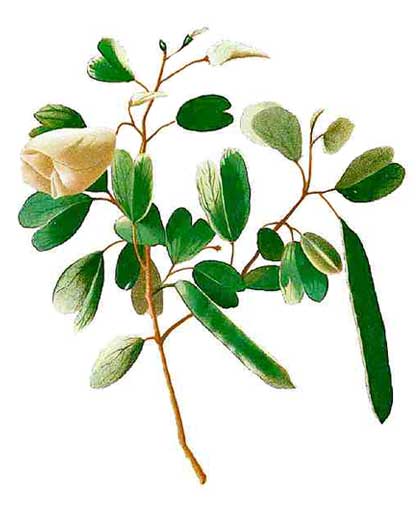 Studies
• Antimicrobial: (1) The extracts of B tomentosa and B vahlii roots were tested for their antimicrobial activity against bacterial and fungal strains. The activities of the extracts were attributed t the presence of flavonoids and tannins. (2) Antimicrobial activity was observed on the ethanolic extract of flowers. Good activity was observed against S. aureus, Strep faecalis, Bacillus linchiniformis, Shigella soneii, Kleb pneumonia, E coli, with good activity against fungi - Aspergillus niger, Candida albicans.
• Anti-Lipidemic / Anti-Hyperglycemic: Study on the ethanolic extract of BT flowers on streptozotocin-induced diabetic rats showed significant reduction of plasma glucose, total cholesterol, LDL, VLDL, triglycerides with in increase in HDL.
• Cytotoxicity / Antioxidant: Study isolated four flavonol glycosides: kaempferol-7-O-rhamnoside, kaempferol-3-O-glucoside, quercetin-3-O-glucoside and quercetin-3-O-rutinoside. Compound 3 had higher antioxidant activity than L-ascorbic acid. Compound 4 displayed slight cytotoxicity to bovine dermal cells.
• Safety Studies: Study to evaluate the toxicological effects of an aqueous leaf extract of B. tomentosa in Wistar albino rats showed the extract to be safe on bone marrow function and no hepatotoxic or nephrotoxic effects on all markers and parameters.
• Antioxidant / Immunomodulatory / Anti-Inflammatory: Study of methanolic extract in mice showed immumodulatory effects and nitric-oxide radical scavenging activity. Also, an anti-inflammatory effect was evidenced by significant reduction in acute inflammation of paw edema induced by carrageenan and formalin.
• Anti-Ulcer Activity: Study evaluated the anti-ulcer activity of B. tomentosa using alcohol-induced and aspirin-induced ulcer models in rats. Results showed an aqueous extract of leaves showed significant dose-dependent anti-ulcer activity. Omeprazole was used as standard in both models.
• Anti-Diabetic Activity: Study evaluated the antidiabetic activity of an ethanolic extract of roots in normal and alloxan induced diabetic rat. Results showed significant antidiabetic activity compared to glibenclamide.
• Antibacterial Activity: Study evaluated the antibacterial activity of leaves of B. tomentosa against some human pathogenic bacteria. An ethanolic extract showed significantly higher inhibitory effect compared to an aqueous extract on tested organisms.

Availability
Wild-crafted.