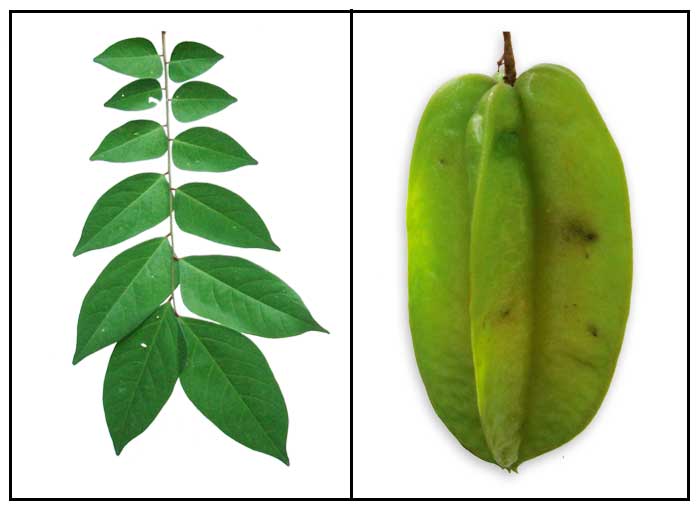 Botany
Balimbing is a small tree growing to a height of 6 meters or less. Leaves are pinnate, about 15 centimeters long. Leaflets are smooth, usually in 5 pairs, ovate to ovate-lanceolate, the upper ones about 5 centimeters long and the lower ones smaller. Panicles are small, axillary and bell-shaped, 5 to 6 millimeters long. Calyx is reddish purple. Petals are purple to bright purple, often margined with white. Fruit is fleshy, green to greenish yellow, about 6 centimeters long, with 5 longitudinal, sharp and angular lobes. Seeds are arillate.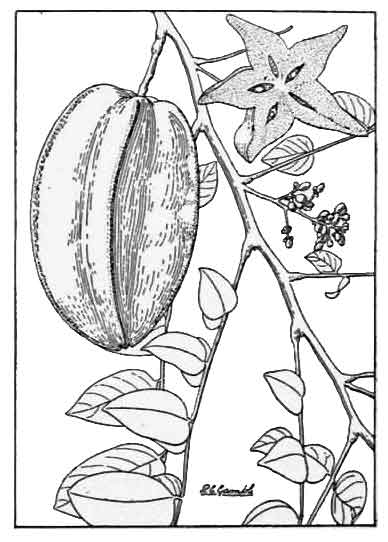 Distribution
- In cultivated and semi-cultivated areas throughout the Philippines.
- Introduced from tropical America.
- Now pantropic.
Constituents
- Studies indicate the presence of saponins, alkaloids, flavonoids and tannins.
- Seeds yield an alkaloid, harmaline, C13H14N20.
- Phytochemical screening of leaf extract yielded alkaloids, glycosides, phenol, tannins, flavonoids, protein and diterpenes. (see study below) (29)
- Nutrient analysis of raw, fresh star fruit (per 100 g) showed: energy 31 Kcal, carbohydrates 6.73 g, protein 1.04 g, total fat 0.33g, cholesterol 0 mg, dietary fiber 2.80g; (Vitamins) folates 12 µg, niacin 0.367 mg, pyridoxine 0.017 mg, riboflavin 0.016 mg, thiamin 0.014 mg, vitamin A 61 IU, vitamin C 34.4 mg, vitamin E 0.15 mg, vitamin K 0 µg; (Electrolytes) sodium 2 mg, potassium 133 mg; (Minerals) calcium 3 mg, iron 0.08 mg, magnesium 10 mg, phosphorus 12 mg, zinc 0.12 mg. (Source: USDA National Nutrient data base)   (32)
- Study on fruit extract showed total phenolic (1.216 mgGAE/g extract), flavonoids (767 mgCE/g extract), proanthocyanidin 586 mgCE/g extract, and condensed tannins (18.35 mgCE/g extract. (see study below) (33)
Properties
- Vermifuge, laxative, refrigerant, antiscorbutic, febrifuge, sialogogue, antiphlogistic, stimulant, emmenagogue, anodyne, emetic.
- Studies have suggest hypocholesterolemic, hypoglycemic, hypotensive, nephrotoxic, neurotoxic, negative inotropic and chronotropic properties.
- Fruit is considered laxative, refrigerant, antiscorbutic, appetite stimulant, febrifuge, antidysenteric, sialagogue, and antiphlogistic.
- Seed regarded as narcotic, anodyne, emetic and emmenagogue.
Parts used
Leaves, flowers, seeds, fruit.
.
Uses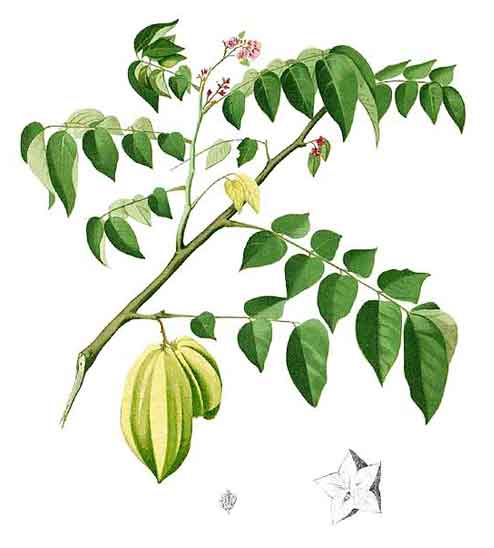 Edibility / Culinary / Nutritional
- Edible fruit is a source of iron (low in calcium) and vitamins B and C, oxalate and potassium.
- Because of high potassium content, the fruit should be excluded from the diets of patients with renal failure.
- In the Philippines, the fruit is eaten with or without salt; the juice used for seasoning.
- Fruit used in making pickles and sweets.
- In Java, flowers are used in salads.
Folkloric
- Decoction of leaves used for aphthous stomatitis and angina.
- In Tonkin, flowers are used as vermifuge.
- Boiled flowers used to expel worms: 50 gms to a pint of boiling water; drunk in normal doses.
- Malays use a poultice of crushed shoots or leaves used externally for headaches, chickenpox, and ringworm.
- The Chinese and Annamites use the flowers for cutaneous affections; also use the fruit as an eye salve for ophthalmic affections.
- Leaves applied externally for fevers.
- Fruit syrup used as cooling drink for fevers.
- Decoction of leaves and fruit used to arrest vomiting.
- Fruit is laxative; also used for hematemesis, melena and other forms of hemorrhages.
- Decoction of fruit, 50 gms to a pint of boiling water, 4-5 glasses a day used for bleeding piles.
- Juice of fresh fruit for affections of the eyes.
- Seed is used for asthma and colic: Powdered seeds, 10 gms to a cup of warm water, drunk 4 times daily.
- In Brazil, used for headaches, eczema, vomiting, coughing and hangovers. Also, used as appetite stimulant, diuretic, antidiarrheal, and febrifuge.
- In India, the ripe fruit is used to stop hemorrhages and relieve hemorrhoidal bleeding. Khasi tribe of Meghalaya use the ripe fruit in the treatment of jaundice. In Ayurveda, ripe fruit is considered tonic and digestive; causes biliousness. Dried fruit is used for fevers.
- The dried fruit or juice used for fevers.
- Plant used as reproductive organ stimulant for both males and females. In females it is used to increase the flow of milk and menstrual fluid. It acts as an emmenagogue; sometimes used as abortive.
- In Ayurveda, preparations of its fruit and leaf preparations are used to pacify impaired kapha, pitta; used for pruritus and skin diseases, worm infestations, diarrhea, vomiting, hemorrhoids, intermittent fever, over-perspiration and general debility. (35)
- Seed regarded as narcotic, anodyne, emetic, and emmenagogue. Seed powder, in doses of 1/2 to 3 drams or as watery infusion, considered a good anodyne in asthma, colic, and jaundice.
- In Bangladesh, leaves and fruits used in treatment of diabetes.
Others
- Cleaning: The acid type carambola dissolves tarnish and rust, occasionally used for cleaning and polishing metal.
- Stain remover: Like kamias, fruit juice is used in washing clothes and to remove spots and stains.
Contains potassium oxalate which is used for dyeing.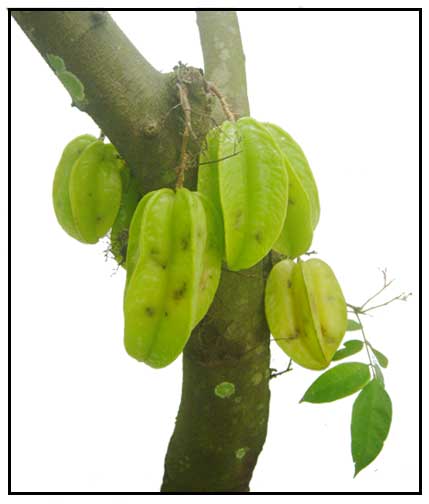 Studies
• Cardiac Effects / Negative Inotropic and Chronotropic Effects: The study showed that the A. carambola extract is an agent that strongly depresses the heart rate and the myocardial contractile force. Although the active compound has not been identified, its action on the L-type Ca2+ channels is important to explain the mechanism of action of this plant on the mammalian atrial myocardium. (1)
• Fatal outcome after ingestion of star fruit (Averrhoa carambola) in uremic patients: The study warns that patients with renal failure who ingest star fruit may develop neurological symptoms and run the risk of death in severe cases. Hemodialysis, especially on a daily basis, is the ideal treatment for star fruit intoxication. (2)
• Neurotoxicity: Report of study on 32 uraemic patients who ingested star fruit. Most common presenting symptoms were persistent hiccups, vomiting, mental confusion, psychomotor agitation, insomnia, paresthesias and seizures. Ideal treatment was daily hemodialysis.(4)
• Antioxidant: Research reports the residues from star fruit juicing process is a rich and excellent source of extractable phenolic antioxidants. (6)
• Convulsant / Neurotoxic Fraction: Study yielded a nonproteic neurotoxic fraction from the star fruit Averrhoa carambola. It was shown to inhibit GABA binding in a concentration-dependent manner. It produced behavioral changes in animals, including seizures - tonic-clonic to status epilepticus. (7)
• Anti-Ulcerogernic Effect: Water-alcohol extract of A carambola showed significant anti-ulcer activity in the acidified-ethanol-induced ulcer model in rats, with no activity in the indomethacin and acute stress ulcerogenic models.
• Human Cytochrome P450 Inhibition: Fruit juice-drug interaction has been a concern since the discovery of the grapefruit juice-drug interaction. Other fruits have been found to inhibit CYP3A in vitro. Study showed star fruit juice inhibited the seven CYP isoforms tested, with the strongest inhibitory effect against CYP2A6 and the least towards CYP3A4. (8)
• Hypotensive Effect: Study of aqueous extract of Averrhoa carambola in isolated rat aorta demonstrated hypotensive effects, in part, attributed to inhibition of the contractile mechanisms involving extracellular Ca++ influx. (12)
• Topical Anti-Inflammatory: Study in mice evaluated the topical anti-inflammatory effects of various extracts of leaves, fractions and flavonoids on skin inflammation. The ethyl acetate fraction was the most effective. (13)
• Antioxidant / Antimicrobial: Nitric oxide radicals generated from sodium nitroprusside was inhibited by A. carambola fruit extracts at various stages of ripening. Methanolic and water extracts of fruits showed antimicrobial activity against E. coli, Salmonella typhi, Staph aureus and Bacillus cereus. (14)
• Hypoglycemic: Treatment of male Sprague Dawley rats with fruit pulp for eight weeks significantly decreased blood sugar levels. The change was insignificant in female rats, which was attributed to hormonal changes. (16)
• Analgesic / Fruit Extract: Treatment investigated the analgesic effect of a fruit extract of A. carambola in Swiss albino mice by acetic acid-writhing test (peripheral action) and radiant tail flick test (central action). Results showed significant central and peripheral analgesic activities. (17)
• Antioxidant / Antibacterial / Cytotoxicity / Bark: Study evaluated a petroleum ether of bark of Averrhoa carambola for antibacterial, antioxidant, and cytotoxic properties. Phytochemical screening yielded flavonoids, carbohydrates, glycosides and steroids. The extract exhibited good antibacterial action, especially against S. typhi, P aeruginosa, E coli and B megaterium. There was concentration dependent DPPH radical scavenging activity. On brine shrimp lethality testing, the LC50 was calculated at 19.95. (18)
• Anthelmintic / Leaf: Study evaluated anthelmintic potential of a leaf extract of A. carambola against Pheretima posthuma as test worm. Results showed significant paralysis and death of worms especially at higher concentrations. (19)
• Electrophysiologic Effects: Study evaluated the electrophysiological changes produced by an aqueous extract of leaves on isolated right atrium preparations of guinea pig heart. The extract produced various kinds of atrioventricular blocs, increased QT interval, increased QRS duration, and decrease cardiac rate. The results caution against the use of such extracts because it can promote electrical and mechanical changes in the heart. (20)
• Prophylactic / Hepatocellular Carcinoma: Study evaluated the protective roles of fruit of Averrhoa carambola on diethylnitrosamine-(DENA)-induced and CCl4-promoted liver cancer in Swiss albino mice. Results showed considerable reduction in tumor incidence, tumor yield, and tumor burden. There was also a significant reduction in lipid peroxidation. Results shows a prophylactic roles against hepatocellular carcinoma in mice, and suggests a potential as a chemopreventive natural supplement against cancer. (21)
• Radioprotective / Antioxidant / Leaves: Study evaluated the radioprotective efficacy of ethanolic extract of leaves of Averrhoa carambola. Results showed supplementation with Averrhoa carambola has potent antoxidant activities and probably act as radioprotective against gamma radiation induced oxidative damage. (22)
• Oxalic Acid Content: Oxalic acid is the principal acid in A. carambola and A. bilimbi. It is a food toxicant which may decrease the availability of dietary calcium by forming poorly absorbed calcium-oxalate complex. Study revealed higher levels of oxalic acid in sour green carambola (5.5 - 10.9 mg/g) than in sweet fruit (0.5 -1.7 mg/g). Oxalic acid levels in both sweet and sour carambola decreased as the fruit matured, with variations from season to season. (23)
• Anticoagulant Activity: Study of an ethanolic extract of leaves and fruits in diabetic male Wistar rats showed very significant anticoagulant effect, attributed to the high level of oxalic acid acting as a metal cation chelator, presumably binding to blood calcium, removing the calcium ion from the blood, and inhibiting the clotting process. (24)
• Hepatoprotective Activity / CCl4-Induced Injury / Stems: Study of a stem ethanolic extract showed hepatoprotective activity in CCl4-induced hepatic damage in rat. Silymarin was used as standard. (25)
• Fruit Juice Effect on Alkaline Phosphatase: Study evaluated the in vivo effect of star fruit juice on activity of alkaline phosphates in female Sprague Dawley rats. Results showed star fruit juice at different storage times selectively induced the activity of alkaline phosphatase in rat liver but not in the heart and kidney. (26)
• Antihyperglycemic / Leaves: Study evaluated antihyperglycemic activity of methanol extracts of leaves of three plants: A. carambola, F. hispida, and S. samarangense. All three showed reductions in blood glucose in mice. Glibenclamide was used as standard. (27)
• Hepatoprotective / Antioxidant / Leaves: Study of leaves of A. carambola on carbon tetrachloride induced hepatic damage in mice demonstrated hepatoprotective and antioxidant activity . Pretreatment of extract significantly controlled the levels of serum biochemical and antioxidant enzymes. (28)
• In Vitro Cytotoxicity / MCF-7 Breast Cancer Cell Line / Leaves: Study of leaf extract for in vitro cytotoxic activity against breast cancer cell line (MCF-7) showed an IC50 value of 170.326 µg/ml. (see constituents above) (29)
• Attenuation of Fluoride Induced Toxicity / Fruit: Study evaluated the potential of star fruit as dietary supplement in attenuating the fluoride induced hyperglycemia, hypercholesterolemia and oxidative stress in a rat model. Diet supplementation with star fruit powder significantly restored fluoride induced elevation of glucose, lipids, and oxidative stress. The activity could be due to the presence of polyphenols, flavonoids, saponins, phytosterols, ascorbic acid and fibers in the fruit. (30)
• Anti-Browning Effect of Honey and L-Cysteine on Fresh Cut Fruit: Study evaluated the anti-browning effect of L-cysteine and honey through PPO activity and total phenolic content in carambola slices. Overall quality analysis showed honey (10%) enriched with L-cysteine (0.5%) significantly extended the shelf life of fresh-cut carambola. Honey can be used as edible coating to maintain fresh-like appearance of carambola slices up to 12 days. (31)
• Tumor Inhibitory / Antiagiogenic / Proapoptotic / Fruit: Study evaluated the tumor inhibitory activity of Averrhoa carambola fruit extract on EAC cells administered in mice targeting angiogenesis and apoptosis. Results showed potent proapoptotic and antiangiogenic activity, which was attributed to catechin, epicatechin and ferulic acid present in the extract. (see constituents above) (33)
• Acute and Sub-Chronic Toxicity Study: Study evaluated the preclinical toxicological effects of hydro-alcoholic extract from A. carambola leaves on Wistar rats and Swiss mice. Results showed relatively low subchronic and acute toxicity in the test animals. (36)
• Suppression of Adipocyte Differentiation / Effect on Obesity / Peels: Study evaluated the ability of A. carambola peel extract in suppressing adipocyte differentiation in 3T3-L1 preadipocytes and its potential to treat obesity and its related diseases. (--)-Epicatechin was identified as the bioactive compound likely responsible for suppression. Computational docking study showed the likely receptor binding mode of (-) -epicatechin as the likely mechanism in overall suppression of adipocyte differentiation. (37)
• Reduction of Blood Pressure in Normotensive Subjects / Fruit: Study on sweet star fruit juice showed a significant changes in blood pressure, while differences in the dose did not produce significant effects. (38)
• Anti-Lipase Activity / Anti-Obesity / Ripe Fruit: Study evaluated the methanolic extracts of 98 medicinal, herbal and aquatic plant materials from Malaysia for its effect on porcine pancreatic lipase (PPL) activity. Results showed 19.4% of the extracts had anti-lipase activity. The ripe fruit of Averrhoa carambola was one of four that showed highest (100%) anti-lipase activity equivalent to 0.11 µg orlistat/mL. The remarkable inhibitory activity of some of the plant extracts suggests a potential and convenient source of anti-obesity agents. (40)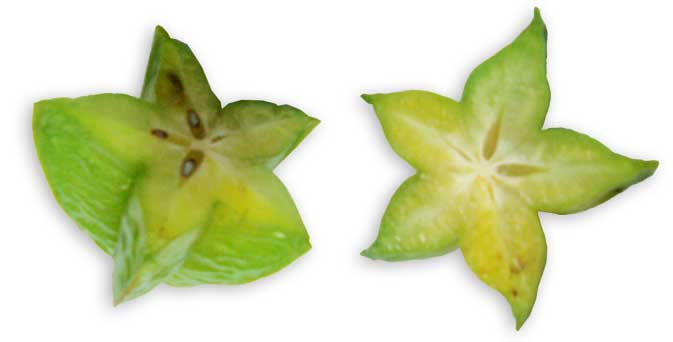 Toxicity / Caution !
• Report of toxicity and death in fruit consumption by patients with renal failure. Star fruit intoxication may be harmful and even life threatening in uremic patients. The neurotoxicity is classified into three levels of intoxication: (1) Mild, with hiccups, vomiting and insomnia. (2) Moderate, with psychomotor agitation, numbness and mental confusion, and (3) Severe intoxication, with worsening confusion, coma, seizures, hypotension and shock, in various confusing clinical presentations. Daily dialysis, is the ideal treatment and most efficient way of removing the neurotoxicity.
• High Potassium Content: Because of its high potassium content, star fruit should be one of the food substances that should be excluded from the diet of patients with renal failure.
• Renal Toxicity: Study reports on two cases of star fruit toxicity: acute kidney injury and chronic kidney disease. Acute kidney injury was reported in a 56-year old female diabetic patient who consumed a large amount of star fruit juice at once. The other was a case of a 60-year old diabetic who presented with acute-on-chronic renal failure following fruit juice consumption over 2-3 years. Both showed histologically confirmed oxalate induced renal injury, the former with acute tubulo-interstitial disease while the latter showed acute-on-chronic interstitial disease. (39)

Availability
Wild-crafted.
Limited backyard cultivation.