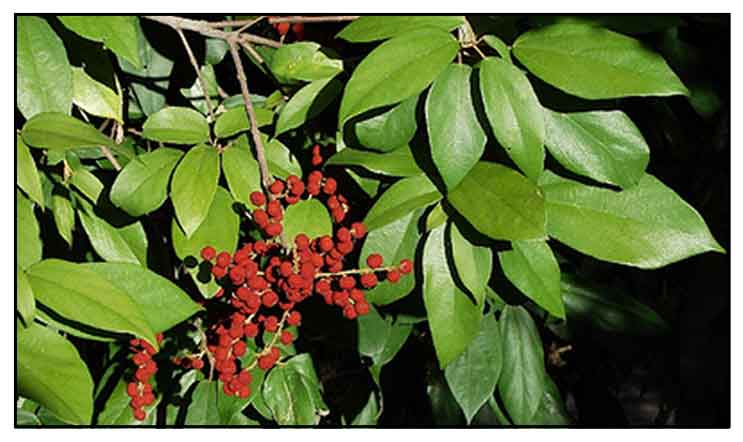 Botany
Banato is a tree growing to a height of 4 to 10 meters, with the branchlets, young leaves and inflorescence covered with brown hairs. Leaves are alternate, oblong-ovate, with a pointed tip and rounded base, 7 to 16 centimeters long, with toothed or entire margins, the apex pointed, and the base rounded. Upper surface of the leaf has two smooth glands; the lower surface, glaucous and hairy with numerous, scattered crimson glands. Male flowers are numerous, 3 millimeters in diameter, axillary, solitary or fascicled spikes, 5 to 8 centimeters long. Female flowers are in solitary racemes, 3 to 7 centimeters long, and three-cornered. Fruit is somewhat spherical, 6 to 8 millimeters in diameter, unarmed but densely covered with red or crimson powder, with three cells, each containing a dark grey, rounded seed that is flattened on one side.
Distribution
- Common in thickets and secondary forests at low altitudes.
- Also occurs in India to southern China and Taiwan, southward to New South Wales.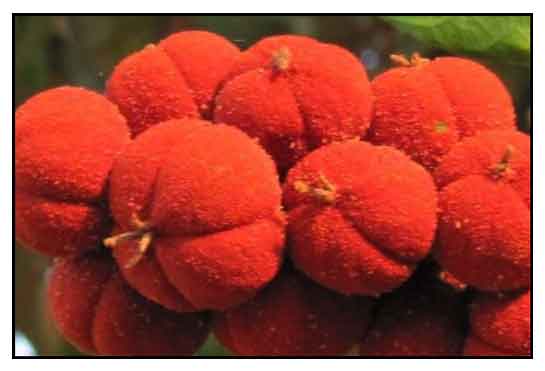 Constituents
- Early study yielded the following constituents: water, 3.4%; resinous coloring matter, 78.18%; albuminous matter, 7.34%; and ash, 3.84%.
- An ethereal extract yielded three substances: a crystalline compound rottlerin, a wax, and a resin.
- Perkin's ethereal extract yielded a dark, brownish, resinous product which yielded six distinct substances. Five of these are: rottlerin, isorottlerin, a wax, and two resins.
- Extract of kamala from the glands and hairs yielded a resin, a wax, and the crystalline compound rottlerin.
- Kamala also contains a minute amount of essential oil, which when gently warmed emits a peculiar odor.
- The kamala resin yields the yellow rottlerin, the principle constituent, and also mallotoin and kamalin.
- Study yielded rottlerin (reddish-yellow resin), 47-80%; fixed oil, 5.83-24%; citric acid; mallotoxin; kamalin.
- The seed contains a fixed oil, camul oil and a bitter glucoside.
- Bark yields 6.5% tannin.
Properties
- Considered antibacterial, anticancer, antihelminthic, antifertility, antispasmodic, astringent, contraceptive, laxative, vermifuge, and purgative and vulnerary.
- According to Ayurveda, leaves are bitters, cooling and appetizer.
- Fruit is anthelminthic, vulnerary, detergent, maturant, carminative.

Parts used
Leaves, bark and seeds.

Uses
Folkloric
- Fungal skin infections: Pound leaves or seeds and apply on affected areas.
- The red glands of the fruit is antiherpetic and antihelminthic.
- Powder taken with milk for tapeworms, repeated as necessary.
- In India, used for bronchitis, abdominal diseases, spleen enlargement. Leaves and bark are used for poulticing cutaneous diseases and pounded seeds are applied to wounds. Fruit powder used to treat skin conditions.
- Used as external application in Herpes circinnatus.
- Taken internally to remove leprous eruptions.
- Elsewhere, used for constipation, anorexia, cancers, dermatosis, cramps, dysmenorrhea.
Others
- Dye: Powder obtained from the glands and hairs, besides its medicinal properties, is valued as a dye; used for coloring silk and wool.
- Oil: Oil derived from the seeds is used in paints and varnishes, as hair-fixer, and ointment additive.
- Wood: Wood pulp used for making writing and printing paper.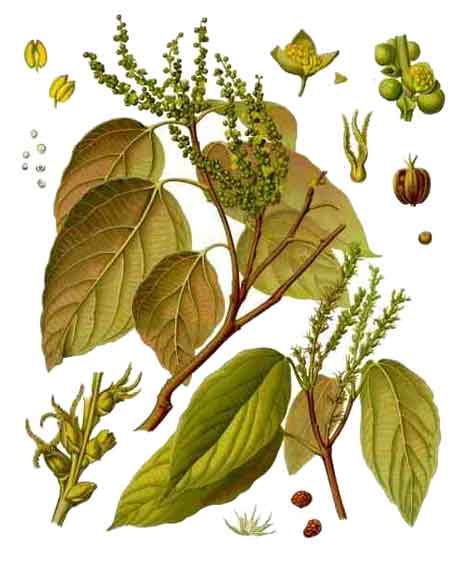 Studies
• Antifilarial Activity: The effect of aqueous and alcoholic extracts of the leaves of Mallotus philippensis was studied on the spontaneous movements of the whole worm and nerve-muscle preparation of Setaria cervic and on the survival of microfilariae in vitro. (3)
• Antimicrobial: In an ethnopharmacological screening in Nepal, the bark from Mallotus philippensis was found to be active against gram-positive and gram-negative bacteria.
* Anti-allergic: Two new phloroglucinol derivatives were isolated from the fruits of Mallotus philippensis. They inhibited histamine release from rat peritoneal mast cells suggesting the new phloroglucinol derivatives have anti-allergic effects. (5)
• Antibacterial / Phytochemical: (1) Study showed excellent inhibition with chloroform and methanol extracts of the stem bark on testing with E coli, K pneumonia, P aeruginosa, S typhi and B subtilis, (2) Mallotus philippinensis was one of plants in a study of 61 Indian medicinal plants that exhibited antimicrobial properties, supporting its folkloric use as antimicrobial treatment for some diseases.
• Antifertility: Study showed when females treated with Kamala seed extract were mated with non-treated males, rate of infertile mating increased in a dose-dependent manner with reduced pregnancy rate and number of implantation sites. Data indicate, Kamala reduced levels of FSH and LH and affected various reproductive parameters of female rats. (1)
• Antioxidant: Study extracted six phenolic compounds from the bark of MP. Results showed the fractions separated possess strong antioxidant and antiradical properties. Results suggest a potential as antioxidant for food, functional foods, or nutraceuticals. (10)
• Hepatoprotective: Study of methanol extract of leaves in carbon tetrachloride-induced hepatotoxicity showed increased antioxidant enzyme activity with associated histopathological evidence of protection. (9)
• Antineoplastic: Hexane extract of roots of MP showed good anti-proliferation activity against HL-60 lines. The antineoplastic effect was believed to have been triggered by induction apoptosis through caspase-2 activation. (11)
• Antibacterial / Free Radical Scavenging Activity: Kamala extract showed activity against Gram positive bacteria, B. subtilis and S. aureus. Leaf extract was more active than Kamala powder in scavenging free radicals. Flavanoids finger printing of leaves showed vitexin, isovitexin and rutin.
• Antimicrobial / Phytochemical Screening: Phytochemical screening yielded carbohydrates, amino acids, flavonoids, gum, oil and resins, proteins, phenolic groups, saponins, steroids, tannins and terpenoids. Extracts showed significant activity against human pathogens such as Strep pneumonia, Proteus vulgaris, P. aeruginosa, Salmonella typhi, Vibrio spp and Candida albicans. (12)
• Bioactive Root Alkaloid / Antibacterial: Study isolated a potent bioactive alkaloid (MMH-1)from the root of M. philippensis. On antimicrobial testing, it was found to have medium activities on all six types of microorganisms. (14)
• Anthelmintic / Kampillaka: Study evaluated the anthelmintic activity of Kampillaka Churna (powder of fruit hairs). Results showed anthelmintic efficacy in 42/50 patients with Gandupada krimi (Ascaris lumbricoides). (15)

Availability
Wild-crafted.
Supplement formulations in the cybermarket.