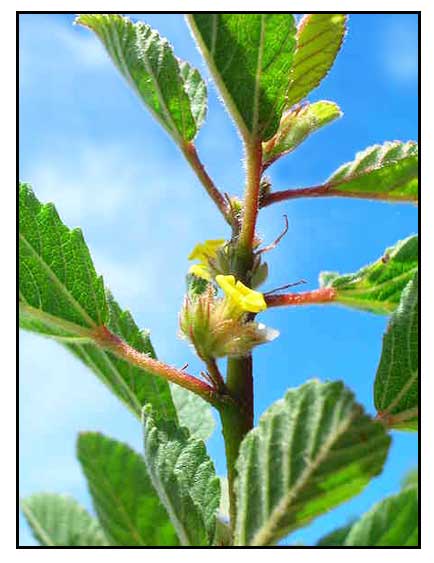 Botany
Barulad is an erect, more or less branched, hairy, shrubby or half woody plant, 0.5 to 1.5 meters high. Leaves are oblong-ovate or oblong, 3.5 to 9 centimeters long, rounded or blunt at the tip, slightly heart-shaped at the base, with toothed margins. Flowers are yellow, sweet-scented, about 5 millimeters long, borne in dense, shortly peduncled fascicles at the axils of the leaves.
Distribution
- A common weed in dry places in the settled areas of the Philippines at low and medium altitudes.
- Pantropic.
Constituents
- Yields mucilage, tannin and sugar; no alkaloid.
- Phytochemical screening yielded alkaloids, terpenes, flavonoids, tannins, glycosides, sterols, saponins, anthraquinones, and carbohydrates.
- Phytochemical screening yielded flavonoids (−)- epicatechin, quercetin, kaempferol, and kaempferol-3-O-ß- D-(6" -E-p-coumaroyl)-glucopyranoside
- Extract fractionation isolation of three alkaloids adouetin X (1), waltheriones A (2) and C (3)) and three pentacyclic triterpene derivatives (betulinic acid (4), 3β-acetoxy-27-trans-caffeoyloxyolean-12-en-28-oic acid methyl ester (5) and 3β-acetoxy-27-cis-caffeoyloxyolean-12-en-28-oic acid methyl ester (6)) identified by 1D and 2D NMR, UV, IR and MS analysis. (see study below) (19)
Properties
- Plant considered astringent.
- Mucilaginous.
- Considered emollient, febrifuge, anti-inflammatory, antifungal, antisyphilitic, aphrodisiac, abortifacient.
- Root considered purgative.

Parts used
Roots, leaves.

Uses
Folkloric
- In the Philippines, used as febrifuge and as antisyphilitic.
- In Tamaulipas,decoction used as remedy for eruptions of the skin; in Colima, used for washing wounds.
- Decoction given to infants to drink or to sniff and inhale, at teething or at birth.
- In Togo and Yoruba, infusion is given as drink and wash, to strengthen a child's resistance against fevers.
- Among the Hausas. used as purgative; decoction used as syphilis prevention or immunity.
- Used by farmers as a restorative drink during the labors of harvesting.
- In Togo, spoonful of the pulverized plant in hot water, taken morning and evening as cough medicine.
- In Surinam, used as febrifuge.
- In Guadalupe, used as febrifuge and antisyphilitic.
- In the Gold Coast, used as abortifacient, but in South Africa, root used as remedy for sterility and as astringent for internal hemorrhages.
- In the Antilles, used as emollient.
- In West Africa, decoction of roots and leaves, used for washing wounds. In the Ivory Coast, decoction of roots also used as aphrodisiac.
- In Nigeria, decoction of roots or chewing of fresh roots used for internal hemorrhage. Boiled leaves taken for contraception. (11)
Others
Cosmetics: Extract has reported use in several cosmetic products – moisturizers, skin lightening, anti-aging.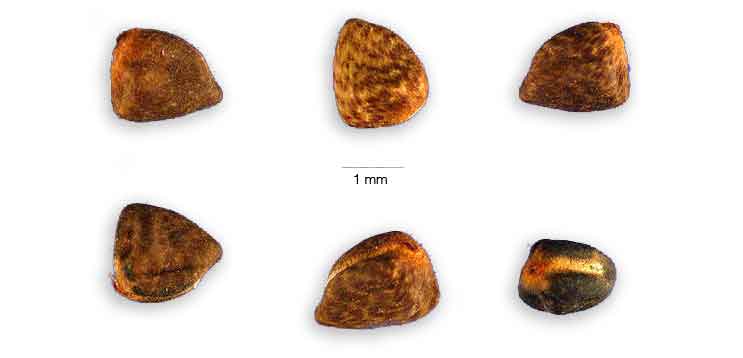 Studies
• Anti-Inflammatory / Flavonoids: Study isolated three flavonoids from the whole plant of Waltheria indica. The flavonoids showed significant dose-dependent inhibition of the production of inflammatory mediator NO, cytokines (TNF-a) and interleukin (IL-12) in activated macrophages, without displaying cytotoxicity. Findings support the use of W indica for inflammatory diseases. (1)
• Anti-Pneumococcal: Study of 221 crude extracts from 17 species showed 7 from 6 plants, including Waltheria indica, to have promising in vitro bactericidal activity against Pneumococcus, including penicillin-resistant strains. Results support its traditional use in the treatment of pneumococcal infections. (2)
• Anti-Plasmodial: In a study of 13 extracts from 8 different species, five species, including W indica (roots and aerial parts) demonstrated moderate antiplasmodial activity. (3)
• Flavones / Antifungal: Study yielded two flavones, 5,2,5'trihydroxy-3,7,4' trimethoxyflavone and 5,2'dihydroxy-3,7,4',5' tetramethoxyflavone. Both were exclusively very active against fungal microorganisms: Aspergillus niger, Candida albicans, and T. mentagrophytes. (5)
• Antibacterial / Roots: Study evaluated the antibacterial activity of methanolic extracts of W. indica roots. Results showed inhibitory activity against 91.7% of 180 clinical isolates. In toxicity studies, the LD50 of the extracts was more than 2000 mg kg. (6)
• Anti-Trypanosomal / Roots: Study evaluated the inhibitory activity of W. indica extracts against Trypanosoma brucei brucei, the causative parasite of trypanosomiasis. Results showed an ethanol extract was the most active, with the petroleum ether extract showing moderate activity against the trypanosome parasites. (8)
• Wound Healing / Antibacterial / Roots: Study evaluated the wound healing efficacy of Punica granatum peels and Waltheria indica roots against six standard organisms. The methanolic extract of W indica roots showed high antibacterial activity with inhibitory effect against 91.7% of the isolates at concentration of 100 mg/ml. Results showed the ointment formulations to be potent healing agents. (9) (15)
• Antioxidant / Antimicrobial: Study evaluated shoot extracts of Waltheria indica and Mucuna pruriens for antioxidant and antimicrobial activities. n-Hexane extracts showed the best DPPH radical scavenging activities, while ethanol extracts showed the best antimicrobial activities against Salmonella typhi, B. subtilis, Streptococci, E. coli, Aspergillus niger, A. flavus, and Candida albicans. (10)
• Cytotoxicity / Radical Scavenging / Stems and Leaves: Study evaluated various extracts of stems and leaves for radical scavenging and cytotoxicity. Among the extracts, methanol showed the stronger reducing power in the FRAP assay. Extracts also showed cytotoxicity towards normal Vero and cancer cell lines (HaCaT, A549, HeLa, HT-29) on MTT assay. (11)
• Anti-Cataract: Study evaluated the anticataract ability of Waltheria indica in rats. Acute toxicity study showed no abnormalities or mortality even at maximum tolerated dose level of 2000 mg/kbw po. Biochemical changes reiterate the role of oxidative stress in cataractogenesis. Findings showed WI tweaks antioxidant parameters, attenuates and defers the onset and progression of Naphthalene induced cataract. (16)
• Effect on Trypanosoma brucei Parasitaemia and Glucose Level: Study evaluated the effect of WI on parasitaemia and glucose level of Trypanosoma brucei infected rats. The ethanol extract of WI dose and time dependently inhibited parasitaemia extending life from 8.5 days to 30.3 days, and also significantly and dose dependently improving the hypoglycemic stage of infected animals. (17)
• Effect on-Reproductive Indices: Study evaluate the effect of a leaf extract of WI on reproductive parameters of male albino rats. There was a significant decrease in sperm motility and sperm counts, decreased live-dead ration and an increase in total abnormal cells, together with periportal cellular infiltration and interstitial congestion of the testes. (18)
• Alkaloids / Anti-Trypanosomal: Study screened roots and aerial parts of W. indica for in vitro anti-trypanosomal activity towards T. brucei and T. cruzi. Extract fractionation isolated three alkaloids and three pentacyclic triterpene derivatives. Waltherione C exhibited the highest and selective antitrypanosomal activity towards T. cruzi and low cytotoxicity. (see constituents above) (19)

Availability
Wild-crafted.
Tinctures and extracts in the cybermarket.