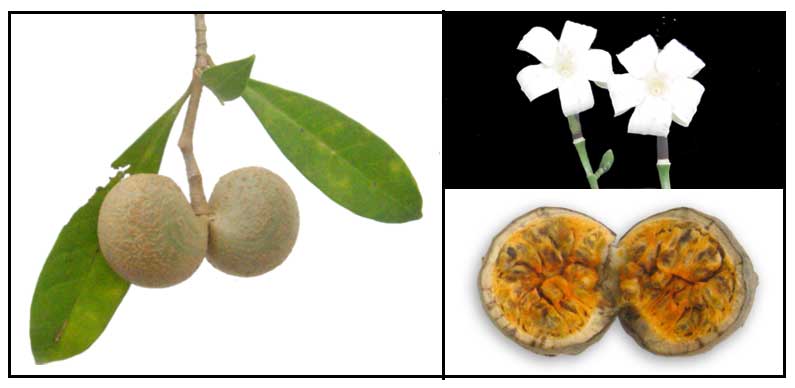 Botany
Bayag-usa is a tree reaching a height of up to 3 meters. Leaves are simple, opposite, oblong-elliptic; dark green in the upper surface and pale beneath. Flowers are creamy white and showy. Fruit comes in pairs, brownish, 3 to 5 centimeters in diameter. Seeds are embedded in the pulp.
Distribution
- Endemic to the Philippines.
- In secondary forests and thickets at lower elevations.
- Sometimes ornamentally cultivated for its flowers.
Constituents
- Preliminary phytochemical screening of leaves yielded alkaloids, saponins, 2-deoxysugars, and hydrolyzable tannins. (see study below) (10)
- A bioassay-guided purification yielded Globospiramine (1), a new spirobisindole alkaloid possessing an Aspidosperma-Aspidosperma skeleton, together with deoxyvobtusine (2), deoxyvobtusine lactone (3), vobtusine lactone (4) and lupeol (5). (see study below) (11)
Properties
- Studies have suggested anti-tumor, antimycobacterial, and anticholinesterase properties.
Uses
Folkloric
- In Bataan, used in the treatment of ulcers, wounds, and tumors. (9)
- Fruit used as antidote for food poisoning. (8)
- The Ati tribe of Iloilo apply the paste of fresh leaves to the forehead to treat fever and spasmodic pains.
For relapse (pasma): leaves are heated over low flame and patient is made to sit on some of the leaves while other leaves are pasted on the stomach. (16)
Others
- Pounded fruits used to stupefy eels. (6)
Studies
• Anti-cancer: A study reports nine of 35 tree species tested had positive anticancer activity. Voacanga globosa was added to the list of trees with anticancer substances based on a report on actual remission and inhibition of induced cell division.
• Alkaloids / Tabernaemontanine: Studies on the alkaloids of Voacanga globosa (Blanco) Merrill Isolated and characterized tabernaemontanin.
• Anticancer: Study of medicinal plants in the Philippines lists nine of 35 tree species to possess anticancer activity, including Voacanga globosa, with anticancer substances based on remission and inhibition of induced cell division.
• Anti-Colon Cancer / Apoptosis: Study evaluated the cytotoxic and pro-apoptotic activity of fractions of leaves on HCT116 human colon carcinoma and A549 human lung carcinoma cell lines. Results showed the MP3 fraction exerted cytotoxic activity on HCT116 cells via induction of apoptosis triggered by loss of mitochondrial membrane potential crucial for cell survival. (9)
• Antibacterial / Antifungal / Antiprotozoal / Leaves: Study evaluated ethanol extracts of leaves of Voacanga globosa for cytotoxicity and for activity against bacteria, fungus, and protozoa. Results showed antibacterial activity against Staph aureus, Bacillus cereus, P. aeruginosa, Micrococcus luteus, and Salmonella typhimurium; antifungal assay showed inhibition of Candida albicans; antiprotozoal assay showed activity against Trichomonas vaginalis and Entamoeba histolytica. (10)
• Antimycobacterial / Anticholinesterase: Bioassay-guided purification yielded globospiramine, a new spirobisindole alkaloid, together with deoxyvobtusine, deoxyvobtusine lactone, vobtusine lactone, and lupeol. Globospiramine exhibited potent antituberculosis activity against Mycobacterium tuberculosis H(37)Rv. The bisondole alkaloids also showed promising anticholinesterase activity. (11)
• Cytotoxicity Screening of Alkaloids / Leaves: Study evaluated the cytotoxic activity of alkaloids from T. pandacaqui and Voacanga globosa leaves using Brine Shrimp Lethality Assay. The alkaloid content of the extracts were quantified as milligrams of Vincristine Sulfate Equivalent (mg VSE) using Bromocresol Green Assay. VG yielded an alkaloid content of 105.3 mg VSE translating to a yield of 0.527%, with a LC50 value of 40.8 ppm. Results warramt further investigation for cytotoxic action with potential use in cancer chemotherapy. (12)
• Biphasic Inflammatory Response / Leaves: Study evaluated four concentrations of ethanolic leaf extracts administered intraperitoneally in mice. The ethanolic leaf extract exhibited biphasic inflammatory effects—immunostimulatory at low concentrations and immunosuppressive at high concentrations. (14)
• Cytotoxic and Antimitotic Alkaloids / Leaves: Study evaluated the cytotoxic and antimitotic effects of the semi-purification of alkaloids from V. globosa leaves extract. Percent survival ± standard deviation of Brine Shrimp Lethality Assay showed 1000 ppm concentration has highest cytotoxic effect with the computed LC50 of 187.1429. On Alium Test, the 1000 ppm showed the highest antimitotic effect with computed EC50 of 555.6667. Therefore, the higher the concentration, the higher the activity. (15)
Availability
Wildcrafted.