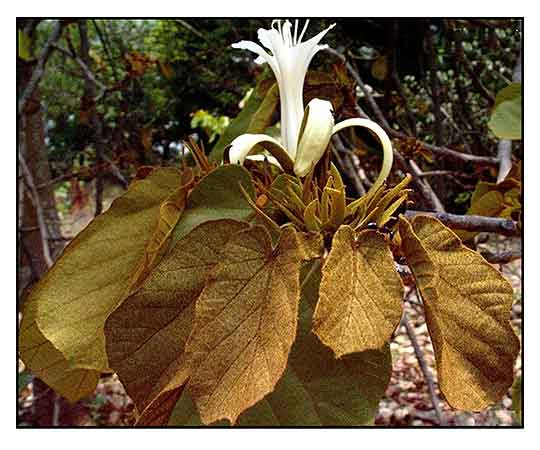 Gen info
- Etymology: Genus name Pterospermum derives from Greek words, Ptero and Sperma, meaning "winged seed". The species epithet acerifolium refers to the leaves shaped like a maple's.
Botany
Bayog is a tree that grows to a height of 4 to 10 meters. Bark is gray and soft. Small twigs and new growth are feathery and rusty brown in color.Leaves are alternate, are oblong to oblong-obovate to ovate, 15 to 25 centimeters long, abruptly pointed at the apex, broad or heart-shaped at the base. Upper surface of the blade is smooth, the lower surface pale and densely hairy. Leaves tend to droop downwards. Flowers are white, 12 to 14 centimeters long, borne singly or in pairs in the axils of the leaves. Fruit is woody, oblong, five-angled capsule, about 15 centimeters in length.
Distribution
- Common in forests at low and medium altitudes from Cagayan to Camarines Provinces in Luzon; and in Mindoro, Palawan, Ticao, Masbate, Guimaras, Negros, Mindanao and Basilan.
- Also occurs in Indo-China, the Malay Peninsula, Sumatra, Borneo, Java, and the Moluccas.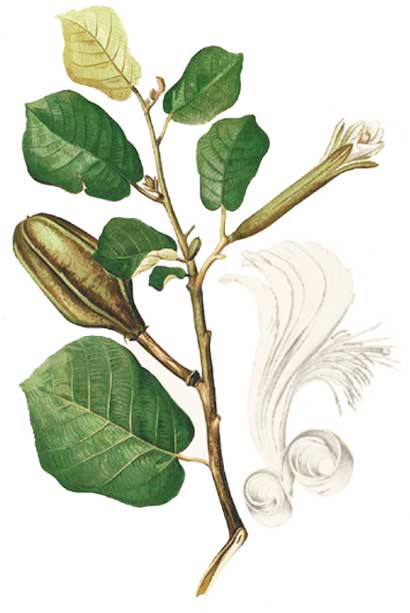 Constituents
- Phytochemical analysis revealed saponins, phenols, flavonoids, tannins, glycosides, terpenes, and alkaloids.
- Study of light petroleum extract of dried flowers isolated 24 ß-ethylcholest-5-en-3ß-O-a-cellobioside, 3,7-diethyl-7-methyl-l: 5-pentacosanolide, dilignocerate of n-hexacosane-1, 26-diol, friedelan-3a-ol and its ß-isomer, ß-amyrin, ß-sitosterol, n-triacontanol, n-hexacosane-1, 26-diol, a mixture of acids and saturated hydrocarbons. (18)
Properties
- Flowers considered laxative, anthelmintic, stomachic.
- Considered emmenagogue, stimulant, carminative.
- Studies have suggested antioxidant, antiulcer, anti-inflammatory, analgesic, hypoglycemic and anthelmintic properties.

Parts used
Bark, flowers.

Uses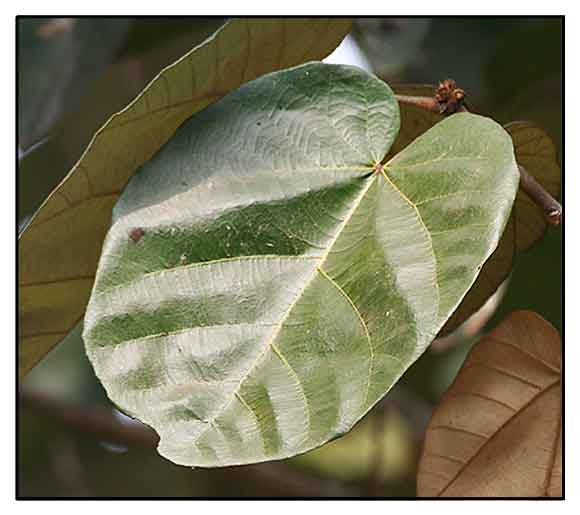 Folkloric
- Bark and flowers, charred and mixed with the glands of Mallotus philippensis, used in smallpox to induce suppuration.
- Flowers used in inflammation, ulcers, and leprosy.
- In India, plants used for treatment of diabetes, and as hemostatic and anti-inflammatory.
- In Ayurveda, flowers mixed with sugars applied locally as anticancer treatment.
- Flowers made into paste with rice water used as application for hemicranias.
Others
• Dye: Bark used for dyeing fish-nets and cloth.
• Livestock: If cattle no eating fodder because of stomach inflation, leaves are cut into pieces and given as fodder.
• Bast: Yields a bast, which is pinkish cinnamon, but with very little tensile strength.

Studies
• Antibacterial: Water extract of leaves of Pterospermum diversifolium showed inhibitory activity against Staphylococcus aureus and Bacillus subtilis. (2)
• Antiulcer / Bark: Study investigated the role of an ethanolic fraction of bark extract on different experimental ulcer models in rats. Results showed significant antiulcer activity against aspirin, indomethacin, and ethanol-induced ulcerations, with significant inhibition of gastric secretary volume, and total acidity in pylorus ligated rats. (4)
• α-Amylase Inhibition / Antidiabetic / Hypolipidemic: Study investigated the in silico, in vitro
α-amylase potential and anti-diabetic activity of P. acerifolium bark. An ethanol extract of bark showed marked α-amylase inhibition compared to other fractions. Diabetic rats treated with the extract showed reduced fasting glucose, HbA1c, liver enzymes, triglycerides, and total cholesterol. Results confirmed antihyperglycemic activity with antihyperlipidemic and antioxidant properties. (6)
• Antioxidant / Bark: Study subjected a methanolic extract of Pterospermum acerifolium to various in vitro antioxidant tests. Results showed a significant decrease in DPPH radical, H2O2 and superoxide anion comparable to standards ascorbic acid and BHA. Antioxidant activity was attributed to flavonoid, kaempferol, and luteolin. (7)
• Acute and Subacute Toxicity Studies / Leaves: Study evaluated the toxicity profile of a methanolic extract of P. acerifolium in acute and sub-chronic oral administration in male and female Wistar albino rats. Overall, the extract was non-toxic at low dose, with low toxicity potential in acute and chronic oral administrations. However, at high doses, repeated administration showed significant hepatotoxic and nephrotoxic potential. (8)
• Antinociceptive / Anti-Inflammatory / Leaves: A petroleum ether extract of leaves showed significant and dose-dependent decreased nociception. ß-sitosterol significantly reduced carrageenan-induced paw edema in a dose-dependent manner. (9)
• Antimicrobial / Leaves: Study evaluated a methanolic extract of leaves for antibacterial and antifungal activity. Results showed highest antimicrobial activity against S. aureus-ML152. The antifungal activity against Candida albicans and Candida tropicalis was comparable to the drug fluconazole. (10)
• Chromium Adsorption / Fruit Capsule Activated Carbon Vs Commercial Activated Charcoal: Study compared fruit capsule activated carbon of P. acerifolium and commercial grade activated charcoal for adsorption of chromium from aqueous solution. Results showed the adsorption capacity of indigenously prepared fruit capsule activated carbon (FCAC) was much better. (11)
• Antibacterial / Bark: Bark extracts and fractions showed promising antibacterial activity against test bacterial species. Maximum activity was observed in the butanol extract, and Staphylococcus aureus was the most sensitive strain. Phytochemical screening yielded alkaloids, tannin, phenolic compounds, flavonoids, glycosides, saponins, steroids, and triterpenoids. Results justify its use in treating microbial infections in man and livestock. (12)
• Hepatoprotective / Antioxidant / Leaves: Study of a leaf extract against carbon tetrachloride induced hepatotoxicity showed hepatoprotection as well as dose-dependent free radical scavenging activity. (13)
• Antioxidant / DNA Protective: Study of ethyl acetate fractions of leaves, flowers, and bark showed effective antioxidant and DNA protection activity. (14)
• Wound Healing Potential: Study assessed an ethanolic extract of flowers for wound healing activity and effect on tumor necrosis factor-a in a wound excision model of wound repair in Wistar albino rats. Results showed increase rate of epithelization and increase wound contraction with up-regulation of TNF-α. Early wound healing may be due to elevation TNF-α production. (15)
• Osteogenic / Phytoceramides / Seed Coat: Study of seed coats of P. acerifolium yielded two phytoceramides and two acylated phytosterol glucosides together with five known compounds. Compounds 1 and 2 markedly stimulated osteoblast differentiation. (16)
• Antidiabetic / Flowers: Study evaluated the antidiabetic activity of P. acerifolium flowers in vivo by STZ-induced type II diabetes. HPLC analysis of PAFE2 subfraction revealed the presence of quercetin and apigenin as major constituents, both inhibiting the glycogen phosphorylase enzyme in molecular modeling studies. Results suggest the glucose lowering mechanism of the subfraction is by increase of the glucose uptake in peripheral tissues and by inhibition of gluconeogenesis. (19)
• Thrombolytic and Anti-Arthritic Activity / Leaves: Comparative study evaluated the thrombolytic and anti-arthritic effects of methanolic leaf extracts of P. acerifolium and S. caseolaris. Results showed the methanolic leaf extract of P. acerifolium showed higher thrombolytic and anti-arthritic activities than S. caseolaris. (20)
• Anti-Ulcer / Leaves in Combination with H2B and PPI: Study evaluated the anti-ulcerogenic activity of a methanolic extract of Pterospermum acerifolium leaves by pyloric ligation in rats. Methanolic extract of PA (200 and 400 mg/kg) produced significant antiulcer effect. Combined administration of low dose of famotidine, omeprazole with the methanolic extract showed significant antiulcer effect with reduction of gastric secretion, acidity, and ulcer index with increase in gastric pH. (21)
• Neurochemical Screening / Memory Enhancing: Neurochemical study evaluated an ethanol extract of bark. Treatment with ethanolic extract of PA significantly decreased the serum levels of adrenocorticotropic hormone (ACTH), corticosterone (CORT) and -endorphin (-EP) as well as brain and serum levels of norepinephrine (NE). It also significantly reversed the chronic stress by decreasing brain and serum levels of MAO neurotransmitters dopamine (DA), 5-HT. Resit
Availability
Wild-crafted.