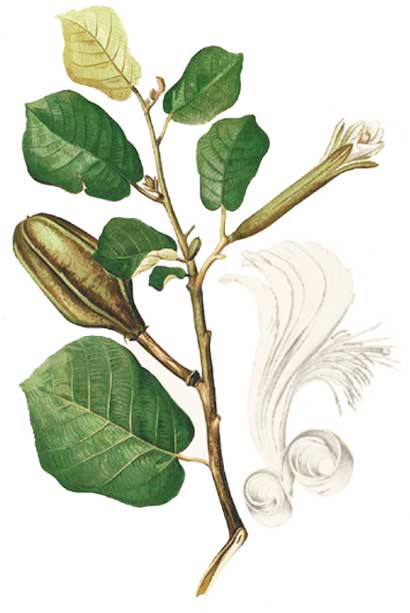 Botany
Bayog is a tree that grows to a height of 4 to 10 meters. Leaves are oblong to oblong-obovate, 15 to 25 centimeters long, abruptly pointed at the apex, broad or heart-shaped at the base. Upper surface of the blade is smooth, the lower surface pale and densely hairy. Flowers are white, 12 to 14 centimeters long, borne singly or in pairs in the axils of the leaves. Fruit is woody, oblong, five-angled capsule, about 15 centimeters in length.
Distribution
- Common in forests at low and medium altitudes from Cagayan to Camarines Provinces in Luzon; and in Mindoro, Palawan, Ticao, Masbate, Guimaras, Negros, Mindanao and Basilan.
- Also occurs in Indo-China, the Malay Peninsula, Sumatra, Borneo, Java, and the Moluccas.
Constituents
- Phytochemical analysis revealed saponins, phenols, flavonoids, tannins, glycosides, terpenes, and alkaloids.

Parts used
Bark, flowers.

Uses
Folkloric
- Bark and flowers, charred and mixed with the glands of Mallotus philippensis, used in smallpox to induce suppuration.
Others
• Dye: Bark used for dyeing fish-nets and cloth.
• Livestock: If cattle no eating fodder because of stomach inflation, leaves are cut into pieces and given as fodder.
• Bast: Yields a bast, which is pinkish cinnamon, but with very little tensile strength.

Studies
• Antibacterial: Water extract of leaves of Pterospermum diversifolium showed inhibitory activity against Staphylococcus aureus and Bacillus subtilis.
Availability
Wild-crafted.