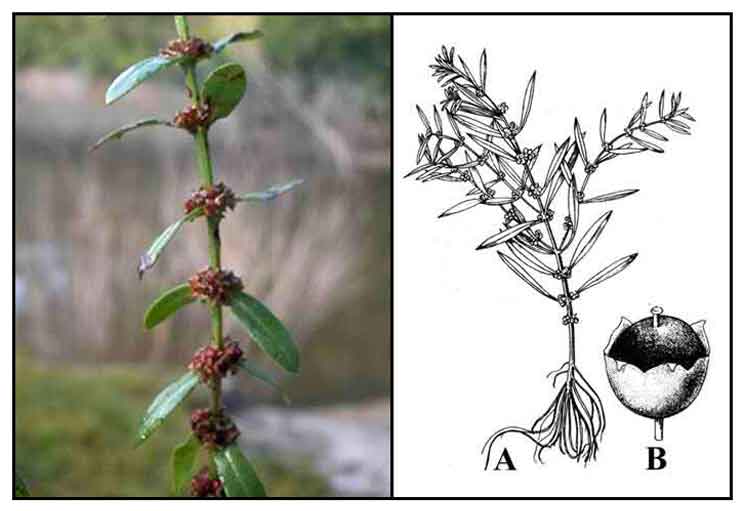 Botany
Bias-pugo is an erect, branched, smooth, slender, annual, more or less purplish herb, 10 to 50 centimeters in height. The stems are somewhat 4-angled. Leaves are oblong, oblanceolate, or narrowly elliptic, about 3.5 centimeters long, those on the branches very numerous, small, 1 to 1.5 centimeters long, with narrowed base and pointed or somewhat rounded tip. Flowers are small, about 1.2 millimeters long, greenish or purplish, borne in dense axillary clusters. Capsules are nearly spherical, depressed, about 1.2 millimeters in diameter, purple, and irregularly circumsciss above the middle. Seeds are black.
Distribution
- In open, damp, waste places throughout the Philippines at low and medium altitudes throughout the Philippines.
- Also occurs in tropical Asia and Africa and through Malaya to tropical Australia.
Constituents
- Plant yields resin, glucose, and probably an active principle.
- Phytochemical screening yielded tannins, saponins, flavonoids, steroids, and alkaloids.
- Series of studies for chemical constituents yielded four known compounds: β-sitosterol-3-O- β-glucopyranoside, quercctin-3-rutinoside (Rutin), kaempferol-3-O- β-glucopyranoside and quercetin-3-O-α-L-rhamnoside (Quercitrin).
- Proximate analysis of aerial parts yielded carbohydrates 1.3%, total protein 5.0%, crude lipid 17.6%, free fatty acid 1.97%, crude fiber 26.4%, moisture 39.4%, total ash 10.5%, acid insoluble ash 10%, and water insoluble ash 10%. (25)
- Mineral analysis of aerial parts yielded major and minor elements in the order of Ca > K > Mg > Na > Fe > Mn > Zn > P > Cu. The major elements in concentrations (mg/g) yielded calcium 31.7 mg, potassium 9.46 mg, magnesium 3.85 mg, and sodium 1.59 mg. (25)
- Phytochemical screening of methanol extract of aerial parts yielded proteins +++, amino acids +++, phenolic compounds +++, tannins +++, glycoside +++, flavonol glycosides +++, cardiac glycosides +++, terpenoids +++, coumarin +++, carbohydrates ++, flavonoids ++, phytosterols ++, vitamin C ++, emodins ++, saponins + and leucoanthocyanin +, with an absence of alkaloids, fixed oil, gums and mucilage. (25)
Properties
- Plant is caustic.
- Traditionally considered cooling, rubifacient, laxative, stomachic, diuretic, aphrodisiac, lithotriptic.
- Leaves are caustic, rubefacient, irritant and vesicant.

Parts used
Leaves.

Uses
Folkloric
- Used in place of catharides for blistering plaster.
- Leaves are vesicant. In India, used to raise blisters, applied to the skin for half an hour or longer.
- Ethereal tincture found equal to liquor epispasticus.
- Leaves or ashes of the plant, mixed with oil, applied to herpetic eruptions.
- Fresh bruised leaves used in skin diseases as rubefacient and as external remedy for ringworm and parasitic skin infections.
- Also used for urinary calculi.
- Leaf juice with honey given in empty stomach to cure typhoid. Leaf paste with common salt applied to treat pruritus and skin diseases like scabies and ringworm. (27)
- In India, a folklore remedy for tumors and inflammation. Leaf paste applied to swellings. (•) In Tamilnadu, seeds used for rheumatic pains and fever. (30)
- In India, villagers of the Sonepur district use agnikuanri (A. baccifera) for ringworm.
- In India and China, used for wound healing.
- In China, it is widely used in traditional herbal formulations for treating female infertility, gastroenteropathy, spinal disease, hemorrhoids, urethritis, common cold, abscess, skin diseases, among many others. (26)
- Santal tribe in the Naogaon district of Bangladesh use the ash of whole plant mixed with mustard oil as a topical application for skin disease and rheumatic pain; plant also used for fever, indigestion, and blood related disorders. (29)

Studies
• Cytotoxicity / Anticancer: Study investigated the cytotoxic effects of extracts from 16 Bangladesh medicinal plants. The methanolic extract of Ammannia baccifera showed low toxicity against mouse fibroblasts but selective cytotoxicity against different cancer cell lines with IC50 of 0.55, 0.59 and 0.91 mg/mL against gastric, colon, and breast cancer cell lines, respectively. (1)
• Antibacterial: Study of methanolic extract exhibited activity against B cereus and P vulgaris. (2)
• Urinary Stones / Preventive and Curative: Ethanolic extract was reported to be effective in reducing the formation of urinary stones and the dissolving existing ones that were induced by the implantation of zinc discs in the urinary bladder of rats. Treatment with A. baccifera also significantly reduced calcium and magnesium levels. (•) An ethanolic extract was found effective as cure or prophylaxis against phosphate type of stones. (28)
• Safety Studies: Evaluation of ethanolic extract of Ammannia baccifera in rats for acute and subacute toxicological effects showed all the animals to tolerate the maximum test dose without any significant toxic effect and was considered to be safe. On acute testing, all animals tolerated the maximum dose of 2000 mg/kbw. (6)
• Wound Healing: Significant wound healing was observed with creams prepared from a 5% chloroform fraction of A. baccifera. Ethanol leaf extract application was found to improve different phases of wound repair, including collagen synthesis and maturation, wound contraction and epithelialization. (8)
• Antiurolithic: An ethanolic extract of A. baccifera for antiurolithic activity in male albino rats. Induced stones were mainly magnesium ammonium phosphate with traces of calcium oxalate. There was significant urinary excretion of calcium, magnesium and oxalate. Treatment with A. baccifera resulted in significant reduction of calcium and magnesium levels in the prophylactic group and reversed their levels to normal in the curative group. (9)
• Analgesic: Study of ethanol extract of A. baccifera in chemical models of nociception in mice showed a dose-dependent analgesic effect. (10)
• Antisteroidogenic Activity: Study of ethanol extract of the whole plant exhibited antisteroidogenic activity. There was significant inhibition of the activity of Δ5-3β-hydroxy steroid dehydrogenase (Δ5-3β-HSD) and Glucose-6-phosphate dehydrogenase (G-6-PD), the two key enzymes involved in ovarian steroidogenesis. Preliminary phytochemical testing revealed the presence of flavonoids to which the antisteroidogenic activity might be attributed. (11)
• Antioxidant / Free Radical Scavenging / Protective Against CCl4 Induced Oxidative Stress: Treatment with an ethanol extract of A. baccifera can minimize the deleterious effects caused by carbon tetrachloride through its strong antioxidative and free radical scavenging properties. (12)
• Antioxidant / Anti-Inflammatory / Anti-Nociceptive: A methanol extract showed free radical scavenging significantly super or to standards BHA and rutin. It also exhibited significant anti-inflammatory and analgesic activities, the latter effect comparable to standard drugs aspirin and morphine. (15)
• Antitumor Activity: A methanol extract was evaluated for anticancer activity against Dalton's ascites lymphoma (DAL)-bearing Swiss albino mice and in vitro cytotoxicity against human cervical cancer cell line (HeLa). Results showed the methanol extract was effective in inhibiting tumor growth in ascetic models comparable to 5-fluorouracil. It presents a potential for the development of anticancer therapy. (16)
• Antioxidant / Erythrocyte Protective Activity: Study evaluated the antioxidant activity of an ethanol extract of whole plant of Ammania baccifera against carbon tetrachloride (CCl4)-induced erythrocyte damage. Results showed the whole plant possess erythrocyte protective activity against drug induced oxidative stress. (17)
• Antibacterial / Antifungal / Aerial Parts: Various extracts were evaluated for invitro antimicrobial activity against E. coli, P. aeruginosa, K. pneumoniae and S. aureus and against fungi C. albicans, K. mamlamus. Results showed all the extracts exhibited significant activity. (18)
• Larvicidal / Antifungal / Aerial Parts: Study evaluated the larvicidal effect of the aerial extracts of Ammannia baccifera on two important mosquito species, Aedes aegypti and Culex quinquefasciatus. Results showed A. baccifera could be effectively used for control of mosquito larvae and presents a potential for the development of commercial larvicides from a plant widely occurring in India. (19)
• Anti-Inflammatory / Anti-Arthritic: Study evaluated the anti-arthritic potential of AB extracts in chronic inflammatory models viz., cotton pellet induced granuloma and complete Freund's Adjuvant (CFA) induced arthritis in albino rats. In both models, alcoholic extracts showed more potency than the aqueous extracts in terms of percentage of inhibition of inflammation. (22)
• Anti-Tubercular: Study isolated and characterized four bioactive phytomolecules. The tetralone group compounds 2, 3 and semi-synthetic derivatives 2A–2E were evaluated for their in vitro anti-tubercular activity against Mycobacterium tuberculosis H37Rv by BACTEC- 460 radiometric susceptibility assay. Compounds 2 and 2E showed significant antitubercular activity while 2B showed moderate activity. (23)
• Antimalarial: Study investigated the antimalarial potential of extracts and compounds from four species of Ammannia viz., A. multiflora, A. baccifera, A. verticillata, and A. coccinea. Chloroform, n-butanol fractions of A. baccifera roots and ME of A. coccinea showed potent in vitro antiplasmodial activity against Plasmodium falcifarum NF-54 (IC50 3.4, 2.7 and 4.5 µg/ml, respectively). (24)
• Quantitative Determination of Bioactive Constituents: Because of its bioactive potential, 4H, T4, and EA were selected as chemical markers. Study reported on a validated method suitable for the simultaneous determination of individual molecules in A. baccifera leaf and root extracts. The simple, rapid, easy, and reproducible method may be used for routine analysis of the bioactive molecules in extracts and formulations. (25)

Availability
Wild-crafted.