Botany
Biga is a coarse and erect plant with a stout trunk, growing up to 2 meters high. Leaves are very large, broadly ovate, the larger ones up to 1.5 meters long, with slightly undulate margins, a pointed apex and a deeply cordate base, not at all peltate. Petioles are long and very stout. Spathes are peduncled, with the tube 4 to 5 centimeters long, the blade yellowish to yellowish-green up to 23 centimeters long and 9 centimeters wide when spread, slightly mottled with purple inside. Pistillate part of the spadix is 3 to 4 centimeters long, 1.5 centimeters thick, contracted above. Fertile part of the male inflorescence is about 6 centimeters long, the appendage about 15 centimeters long. Berries are globose or ovoid, fleshy, and red when mature.
Distribution
- Wild in clearings and secondary forests at low and medium altitudes throughout the Philippines.
- Commonly cultivated as an ornamental here and in other tropical countries.
- Also occurs in India to Malaya.
Constituents
- Plant yields flavonoids, cynogenetic glycosides, ascorbic acid, gallic acid, mallic acid, oxalic acid, alocasin, amino acids, succinic acid, and ß-lectins.
- Rhizomes contain phytosterols, alkaloids, glucose and fructose.
- Root tuber contains neurotoxin, sapotoxin.
- Study has yielded alocasin, an antifungal and trypsin inhibitor.
- Study isolated a new ceramide, alomacrorrhiza A, from an ethanolic extract.
- Stems, corms, leaves and petioles contains numerous, needlelike, stinging crystals of calcium oxalate (raphides).
- Investigation for chemical constituents yielded 9 compounds identified as: linoleic acid (1),glycery1--palmitate (2),-sitosterol (3), daucosterol (4), gigantine A (5), Apigenin-8-C-β-D-glucoside (6), Quercetin-3-O-α-L-rhamnoside (7),6-O-palmitoly glucose ester (8),gigantine B (9). (20)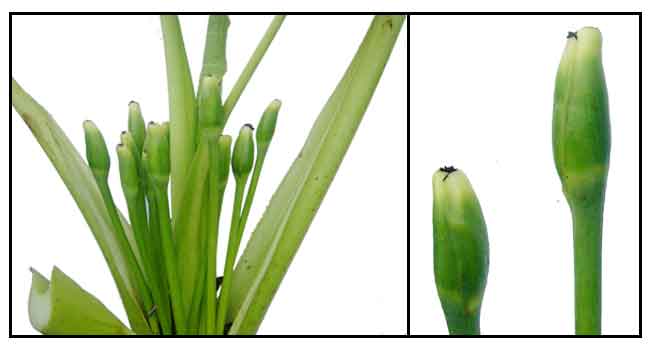 Properties
- Leaf considered astringent, styptic, antitumor.
- Rootstock considered laxative, diuretic.
- Experimentally considered antimicrobial, antifungal, antioxidant, hepatoprotective, antidiarrheal, antiprotozoal, anticancer.
Parts used
Stems, leave, rhizomes.
Uses
Edibility / Nutritional
- Stems and corms are edible; used as food during scarce times.
- Widely cultivated and eaten as vegetable throughout Bangladesh.
Folkloric
• Leaves and corms used for furuncles, impetigo and snake bites
• Ground petioles in near-decayed state are placed in cloth and heated in coals, used for toothaches.
• Decoction of rhizomes used for abdominal pains and vomiting.
• Acrid juice used for stings of giant nettles (Laportea).
• Tubers used for influenza, fever, malaria, diarrhea, typhoid fever, tuberculosis, headaches.
• Rootstock used for inflammations and diseases of the abdomen and spleen.
• Leaf and stem decoction used as bath in treatment of pruritic skin conditions and burns.
• Underground stem part used for gout and rheumatism.
• In Bangladesh, used in the treatment of diabetes; stem juice applied to prevent edema, pain, and bleeding from cuts and wounds. Whole plant is used for pus in the ears, jaundice, and constipation.
• In Java, chopped roots and leaves applied to painful joints.
• In India, rhizomes are rubefacient; employed as external stimulant and for fevers.
• In Vietnam used to treat inflammation, eczema and abscesses.
• Used for treatment of insect bites by Australian aboriginal people.

Studies
• Antifungal / Anti-HIV1 Reverse Transcriptase: Alocasin, an anti-fungal protein was isolated from the rhizome of Alocasia macrorrhiza. and showed antifungal activity against Botrytis cineria. Alocasin also reduced the activity of HIV1 reverse transcriptase. (1)
• Neurotoxicity / Sapotoxin: A case report of poisoning due to the raw root tuber of Chinese medicinal plant, A macrorrhiza, presenting with severe pain and numbness periorally, with nausea, vomiting and abdominal pain. Root tuber is known to contain the neurotoxin, sapotoxin. (2)
• Anti-Tumor: In a study of the antitumor effect of water extract of Alocasia macrorrhiza, the inhibitory rate was 29.38% against S180 in mice and 51.72% against transplantable human gastroadenitis in nude mice. (3)
• Hepatorenal Effects / Concerns: Plant extract was studied for effects on hepatorenal functions in mice. After treatment, RBC, Hb, protein, albumin and globulin were significantly decreased while AST, ALT, GGT, LDH, creatinine, total lipid and cholesterol were significantly increased after treatment and recovery period of 10 days. Histopath changes noted after treatment disappeared after a recovery period of 20 days. However, vascular congestion persisted. The high LD50 of the reversible action of the plant require more studies before recommendations are made regarding its safety as a medicinal plant. (4)
• Alternative to Soybean Meals for Sows: A study in Vietnam evaluated the benefits of growing Taro for feeding sows. Results showed that even on low-fertility soil the yields of foliage and roots were high (200 and 20 tonnes/ha fresh basis, respectively in 200 days, estimated at 100 million VND (about US $ 5,000 per hectare), almost five times more than from rice. The boiled leaves replaced 50% or all of the protein from soybean meals in diets based on rice bran and broken rice. Results concluded Giant Taro can be a complete replacement for soybean meal in the diets of Mong Cai sows. (9)
• Diuretic / Laxative: Study evaluated the laxative and diuretic effect of leaves extract in rats. An ethanolic extract produced significant dose-dependent laxative and diuretic activities. (10)
• Hepatoprotetive / Antioxidative / In Vitro Study: Study evaluated the antioxidative and hepatoprotective property of A. macrorrhiza leaf juice. Results from TBARS and Glutathione assays conclude the leaf juice as a whole possesses hepatoprotective and antioxidative properties when tested in vitro using rat liver slice model with hepatic damage induced by CCl4 and Tylenol. (11)
• Anti-Cancer Potential: Study showed Alocasia macrorrhiza extract has potential cytotoxic and apoptotic effect on human hepatocellular carcinoma cells and inhibits hepatoma growth in vitro. Mechanisms might be associated with inhibition of DNA synthesis, cell cycle arrest, and apoptosis induction. (12)
• Larvicidal / Pupicidal: Study evaluated the larvicidal and pupicidal potential of methanolic extracts of plant leaves against malarial vector Anopheles stephensi mosquitoes. Results showed the plant leaf extracts to be effective mosquito vector control agents with a potential for use in integrated pest management programs. (13)
• Antihyperglycemic / Antioxidant / Cytotoxic: Study evaluated a methanolic extract for antihyperglycemic, antioxidant, and cytotoxic effects. In alloxan-induced hyperglycemic mice, it produced a significant decrease in blood glucose levels (<P.0.05). Extract also showed antioxidant potential and cytotoxic effects on brine shrimp lethality assays. (14)
• Antioxidant / Cytotoxicity / Antimicrobial / Anthelmintic: Study investigated the antioxidant, antimicrobial, thrombolytic, cytotoxic, and anthelmintic activity of methanolic extract of A. macrorrhizos and its various fractions. The methanolic extract showed highest free radical scavenging activity by DPPH assay.. ME and carbon tetrachloride fraction showed good antimicrobial activity. Methanolic crude extracts showed cytotoxic activity in brine shrimp lethality assay and anthelmintic activity using the Pheretima posthuma model. (16)
• Antidepressant: Study of a hydroalcohlic extract of A. macrorrhizos showed antidepressant activity with significant reduction of immobility in standard animal models (forced swim test and tail suspension test). Effect was comparable to Imipramine. (17)
• Negative Lipid Lowering Effects / Leaves: Study a hydroalcoholic extract of leaves of Alocasia macrorrhizos in cholesterol-rich high-fat diet induced hyperlipidemia in rats. Results showed significant reduction in triglyceride and VLDL-C levels; however, it increased LDL-C, which makes it unsuitable as a lipid lowering agent. (18)
• Antioxidant: Study evaluated various solvent extracts of different edible parts of Alocasia macrorrhiza and Alocasia fornicata. Maximu antioxidant activity was observed in the diethyl ether extract of both species, comparable to the quercetine and ascorbic acid standards. (19)
• Anticancer Potential: Study evaluated the anticancer effect of aqueous extract of A. macrorrhiza against hepatic cancer. Results showed proliferation inhibition and apoptosis effects on human hepatocellular carcinoma cells in vitro and inhibition of hepatic growth in vivo. The mechanism might be associated with the inhibition of DNA synthesis, cell cycle arrest, apoptosis induction through up-regulation and down-regulation of various genes. (21)
• Toxicity to Lepidopteran Insects: Study evaluated the toxic effects of crude extracts of A. macrorrhiza lectin on larvae of cabbage butterfly (Pteris rapae), asiatic corn borer (Ostrinia fumacalis) and tobacco cutworm (Spodoptera litura). Results showed a stomach toxic effect on the larvae of cabbage butterfly. (22)
• Toxicity and Antifertility Effects: Study evaluated Alocasia macrorrhiza and Calotropis procera plants as potential substitute to chemical rodenticides in male albino mice. Results showed both leaf extracts, administered in high doses and for a prolonged period of time, have hepato-renal and testicular toxic effects. The leaf extracts yielded toxic compounds including alkaloids, glycosides, anthraquinones, flavonoids, tannins, organic acids and toxic minerals which either inhibit or arrest spermatogenesis which can lead to mice infertility. (23)

Caution / Toxicity
• Stinging Raphides: Stems, corms, leaves and petioles contain stinging raphides (calcium oxalate crystals) that are destroyed by boiling and roasting.
• Neurotoxicity: Case report suggests possible neurotoxicity caused by tuber root neurotoxin, sapotoxin.
• Retrospective study: Retrospective study on A. macrorrhiza poisonings of 27 cases (25 leaf or tuber consumption, 1 eye contact, 1 skin contact) suggests sapotoxin and calcium oxalate as the toxic components. Primary symptom was sore throat redness with numbness of the oral cavity. Other complaints were salivation, dysphonia, abdominal pain, mouth cavity ulcers, dysphagia, thoracodynia. chest tightness and swollen lips. (6)
Availability
Wildcrafted.