Gen info
Native to South America, The first species recorded in the Philippines was Bougainvillea spectabilis. The other species, B. glabra and B. peruviana were introduced much later. The cultivated hybrids have produced a considerable variety in size, color, form and numbers of showy bracts. The genus is derives its name from Antoiine de Bougainville, first Frenchman to cross the Pacific.
Botany
Bogambilya is a woody climber that can grow to a height of more than 10 meters, with large thorny stems and long drooping branches. The leaves are dark green, petioled, alternate, ovate, with entire margins, 6 to 10 centimeters long, broadest near the base. Thorns are the axils assist the plant in climbing. Flowers are in groups of threes, forming clusters at the terminal portion of the branches, each group subtended by three, broad, purplish, oblong-ovate and acuminate bracts, about 3 to 5 centimeters long. Flowers are small, each inserted on a bract, tubular, inflated midway through its length, of varying colors.
Numerous cultivars are cultivated in the Philippines, with single or multiple bracts, in varied colors of red, purple, pink, yellow or white.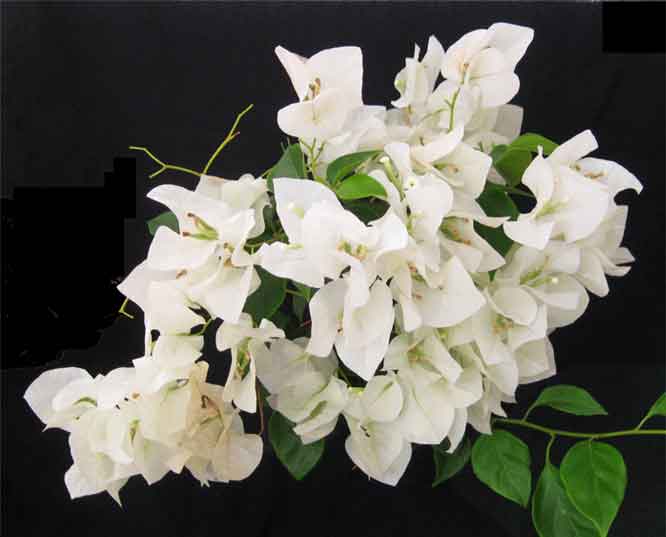 Distribution
- Native to South America.
- One of the most popular ornamental plants in the Philippines.
- Cultivars with variegated leaves were recently introduced.
Constituents
- Reported constituents on B. glabra are pinitol, betacyanine, flavonoids, tannins and alkaloids.
- Study showed the presence of plastid-bound oxalic acid oxidase in the leaves.
- Studies have isolated flavonoids, phenolic compounds, ribosome inactivating proteins, amylase inhibitors, oxidase and pinitol.
- Hydoalcoholic and petroleum ether extracts yielded alkaloids, glycosides, carbohydrates, anthraquinone, flavanoids, terpenoids, saponins, steroids, proteins, fixed oils, fats, and tannins. (28)
- Qualitative analysis of methanol and ethanol leaf extracts yielded carbohydrates, proteins, amino acids, flavonoids, phytosterols, alkaloids, saponins, triterpenoids, tannins, anthraquinones, furanoids, and phenols. (see studies below) (33)
Properties
- Leaves considered to have antiinflammatory activity.
- Considered anti-diabetic, antibacterial.
- Pinitol considered antidiabetic.
Parts utilized
Leaves, stems, flowers

Uses
Folkloric
- Not known in the Philippines for any medicinal use.
- Traditional practitioners in Mandsaur use the leaves for a variety of disorders, for diarrhea, and to reduce stomach acidity.
- Used for cough and sore throat.
- For blood vessels and leucorrhea: a decoction of dried flowers, 10 g in 4 glasses of water.
- For hepatitis, a decoction of dried stems, 10 g in 4 glasses of water.
- In Panama, an infusion of the flowers of B. glabra used as treatment for low blood pressure.
- Nupe people of Niger use a crude extract of leaves for diabetes.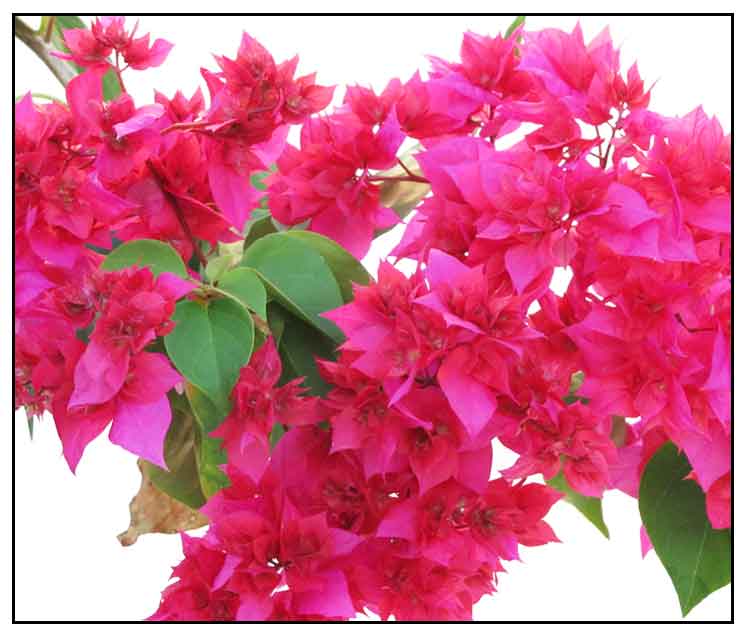 Studies
• Hypoglycemic / Stem Bark: Study evaluated the hypoglycemic potential of B. spectabilis stem bark extract in albino rats. Results showed significant anti-hyperglycemic effect by the stem bark, 22.2% more potent than oral hypoglycemic drug, glibenclamide 0.2 mg/kg. (1)
• Pinitol / Insulin-like effect: Pinitol, an active principle of the traditional antidiabetic plant B. spectabilis, is claimed to exert insulin-like effects. The study supported the view that D-pinnitol (3-O-methyl-chiroinositol) may exert an insulin-like effect to improve glycemic control in hypoinsulinemic STZ-diabetic mice. D- pinitol may act via a post-receptor pathway of insulin action affecting glucose uptake. (3)
• Antibacterial / Leaves: Study on various solvent extracts of Bougainvillea spectabilis leaves showed maximum inhibitory effect on tested bacteria (S aureus, B subtilis, S faecalis, Micrococcus luteus, E coli, P aeruginosa, S typhii, K pneumonia, P vulgaris, S marcescens, S flexneri. (4) Study of B. spectabilis and B. variegata ethanolic and methanolic extracts of leaves showed significant antimicrobial activity. (33)
• Antidiabetic: Study of B spectabilis aqueous and methanolic extracts showed good glucose tolerance and significantly reduced intestinal glucosidase activity, with regeneration of insulin-producing cells and increase in plasma insulin. Results suggest a potential for development of new neutraceutical treatment for diabetes.
• Amylase Inhibition: Study of the chloroform extract of B spectabilis showed significant alpha-amylase inhibitory property. (10)
• Color and Bioactivity: Study of the methanolic extracts of B spectabilis flowers of five different colors, screened biologically on antibacterial, antifungal, brine shrimp lethality and phytotoxicity assays showed that the extract of the white flowers was the most biologically active. (11)
• Anti-Fertility / Leaves: Study showed the leaf extract showed adverse effects on male and female reproductive organs: male mice showed more degeneration of gonads in comparison to female mice, with decrease in total sperm count and titer of testosterone; extended the reproductive cycle of female mice by 1-2 days with prolonged metaestrus and decrease in serum estrogen. (12)
• Antihyperlipidemic / D-pinitol: Study showed the antihyperlipidemic effect of D-pinitol in STZ-induced type 2 diabetic rats, with significant lowering of LDL and VLDL cholesterol levels and significant increase in HDL cholesterol levels. (13)
• Radical Scavenging Activity: Study found the aqueous extracts of B spectabilis produced more free radical scavenging than B divaricata. Results were superior to common synthetic antioxidants used in the food industry and presents a potential for applications in pharmaceutical or alimentary preparations. (14)
• Effects on Liver and Kidney Functions in Rats: Study of extracts showed dose-dependent decrease in potassium ion concentration, possibly a result of cellular uptake of glucose effected by pinitol which may be accompanied by cellular uptake of potassium ion. An observed decrease in serum calcium ion concentration may be the result of impaired intestinal absorption of calcium and/or impaired conversion of vitamin D to the active 1,25-dihydroxyvitamin D3. Results suggest the repeated administration of B. spectabilis extract may compromise the integrity of kidney and liver.
• Hypoglycemia / Root-Bark: Permanent hyperglycemia in alloxan-induced diabetic rats was reversed with a week's treatment with an ethanol extract of root bark. In the study, no considerable signs of toxicity were observed in the albino Wistar rats. (16)
• Natural Red Pigment: Study reported extraction of a red pigment with good solubility, light fastness, heat-resisting property, and good stability. The extraction is simple, the pigment reportedly non-toxic. (17)
• Lipid-Lowering / Antiatherogenic: Study of alcoholic extract on albino rats fed with a high-fat diet showed an excellent lipid lowering potential, with significant reduction in total cholesterol, triglycerides, LDL, VLDL and a significant increase in HDL. There was also significant improvement in atherogenic index. (18)
• Renal and Liver Effects: Study showed repeated administration of B. spectabilis may compromise the kidney and liver functions. There may also be ill-effects on patients with osteoporosis, renal diseases , and liver problems. (21)
• Antimicrobial: Study of the methanolic extracts of leaves of B. spectabilis and B. variegata showed significant antimicrobial activity, suggesting a potential to replace commercially known antibiotics. (22)
• Hematologic and Lipid Effects / Leaves: Study of ethanolic extract of leaves in rats showed possible beneficial effects on serum cholesterol reduction. However, it also has the potential of adversely affecting hematological indices, with significant reduction in packed cell volume, Hb concentration and RBC count and reduction in WBC count. (23)
• Lead Absorption Ability / Leaves: Studies have shown Bougainvillea can reduce heavy metal pollution through absorption and adsorption in air and water. This Metro Manila study showed that Bougainvillea lead uptake may vary from various environmental factors, such as lead concentration in the soil, climatic condition, degree of pollution and complexes of lead in other soil components. (24)
• Thrombolytic Activity / Leaves: Studies evaluated the in-vitro thrombolytic activity of Bougainvillea spectabilis leaf extract. Results showed dose-dependent enhancement of the percentage of clot lysis along with incubation time factor. Preliminary study suggests a valuable addition to the list of natural products with thrombolytic activity, with therapeutic implication in atherothrombotic diseases like myocardial infarction or cerebral infarction. (25)
• Antidiabetic / Glucose-6-phosphate Dehydrogenase Activity: Aqueous and methanolic extracts of Bougainvillea spectabilis showed significant increase in glucose-6-phosphate dehydrogenase activity and hepatic, skeletal muscle glycogen content. There was also regeneration of insulin-producing cells and a corresponding increase in plasma insulin and c-peptide levels. Results suggest a potential for a neutraceutical for diabetes treatment. (26)
• Antidiabetic: Study using in vivo diabetic murine model investigated various extracts of A. indica and B. spectabilis for biochemical parameters important for controlling diabetes. Extracts showed good oral glucose tolerance and significantly increased glucose-6-phosphate dehydrogenase activity. There was regeneration of insulin-producing cells and an increase in plasma insulin and c-peptide levels. Results suggest good candidates for developing new neutraceuticals for the treatment of diabetes. (27)
• Anthelmintic: In vitro studies with hydroalcoholic and petroleum ether extracts of B. glabra showed anthelmintic activity against Indian earthworm with better results when compared with Metronidazole as standard drug. (28)
• Antibacterial / Leaves, Flowers and Stems: Study evaluated extracts from dried powdered plant parts for phytochemical analysis and antimicrobial activity. Study yielded alkaloids, flavonoids, glycosides, phlobotannins, saponins, steroids, tannins and terpenoids. Leaves showed the highest antibacterial activity, followed by flowers and stems. (29)
• Analgesic / Anti-Inflammatory / Antipyretic / Leaves: In vivo screening of methanolic extract of B. glabra leaves showed central and peripheral analgesic effect, anti-inflammatory property similar to steroidal and non-steroidal agents as well as antipyretic effect. (30)
• Antiulcer / Leaves: Study evaluated an ethanol extract of leaves for antiulcer activity against aspirin plus pylorus ligation induced gastric ulcer and other ulcer models in rats. B. spectabilis showed significant cytoprotective effect with reduction in gastric volume, free acidity, total acidity and ulcer inhibition. (31)
• Antihyperglcemic / Antihyperlipidemic / Antioxidant / Leaves: Study documented the antihyperglycemia, antihyperlipidemic, and antioxidative potentials of aqueous extract of Bougainvillea spectabilis leaves without any toxicity in streptozotocin-treated Wistar rats. (see constituents above) (33)

Availability
Cultivated.