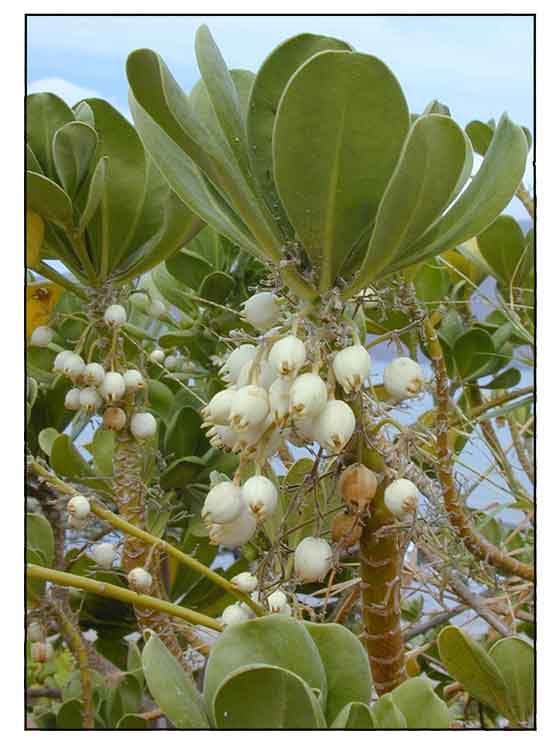 Gen info
- The family Goodeniaceae contains 12 genera and 430 species. The genus Scaevola includes about 100 species.
- Etymology: The genus name Scaevola derives from Greek "scaevus", meaning "leaf-handed" or "awkward", referring to the floral characteristic. or the hand-like appearance of the flower. The species epithet taccada refers to Sri Lanka.
- The Myth of the Half-Flower: In Hawaiian folklore, the half-flower derives from a love not approved by the gods, the white flower from princess Naupaka's hair ripped in half, half of which given to the loved-one fisherman Kaui, told to return to the sea, to be separated forever. To honor their love, the naupaka flower has since only bloomed in half. When two varieties of naupaka are picked and put together, they form a perfect flower. (25)
Botany
Boto is a large, spreading shrub with loose bark and a stout stem and branches. Leaves are crowded in the axil, alternate, obovate or obovate-oblong, 12 to 25 centimeters in length, 6 to 10 centimeters or more wide, and silky, with an obtuse tip which tapers to a wedge-shaped base. Flowers are white, tinged with purple, about 2.5 centimeters long, and borne in considerable numbers in axillary cymes. Calyx-lobes are linear-lanceolate, 3 to 6 millimeters long, and obtuse and enlarged in fruit. Corolla-tube is 1.5 to 1.8 centimeters long, obliquely split to the base behind, narrow, and hairy; the lobes lanceolate, and 6 to 8 millimeters long. Fruit is a drupe, ovoid, somewhat rounded, 1 to 1.5 centimeters long, longitudinally ridged and very succulent.
Distribution
- Native to the Philippines.
- Along the seashore throughout the Philippines.
- Native range is SE Kenya to E. Tanzania, KawZulu-Natal, Indian Ocean to Pacific. (7)
- Grows primarily in the wet tropical biome.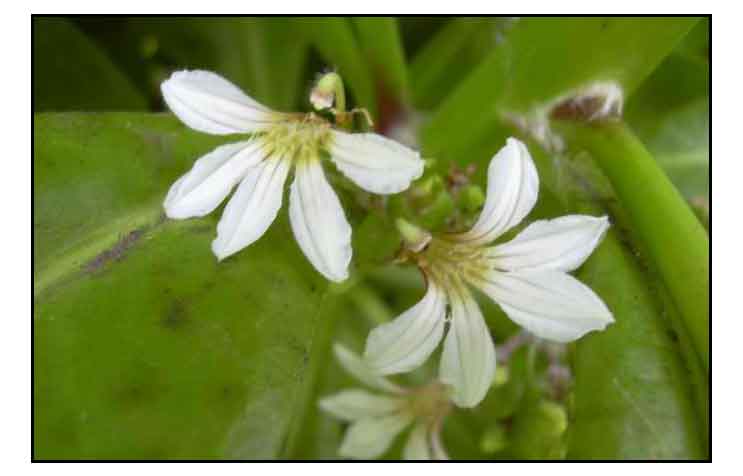 Constituents
- Bark and leaves yield a bitter principle and glucoside.
- ß-sitosterol-ß-D-glucoside, mannitol has been isolated.
- Plant yields imperatorin, marmesin, and coumarins.
- Phytochemical screening of stems yielded alkaloids, phenolic compounds, and carbohydrates. (6)
- Study of leaves yielded n-tetradecane 1, α-amyrin palmitate 2, α-amyrin acetate 3, α-amyrin 4, stigmasterol 5, luteolin-7-O-β-glucoside 6, rutin 7 and alidyjosioside 8. (see study below) (14)
- Phytochemical screening of leaves revealed the presence of alkaloids, flavonoids, lipids, terpenoids, glycosides, and saponins. (see study below) (17)
- Study of fruits isolated a new coumarin, scataccanol (1) and 10 known compounds. (see study below) (19)
- Studies have shown the plant contains chlorogenic acid, scaevolin, saponins, terpenoids, dimethyl acetal, cantleyoside, glycosides, lipids, alkaloids, loganin, steroids sylvestroside-III, etc. Gas liquid chromatography analysis revealed a series of alkanes ranging from C14-C29, stigmastrol, cholesterol, campesterol, α- amyrin as triterpene, β-sitoserol.  Another study isolated new compound, scataccanol in addition with 10 known compounds, including five coumarins, marmesin, ent-ammirin, xanthyletin, nodachenetin, and umbelliferone, two iridoids; loganetin and 6-hydroxy-7-methyl-1-oxo-4-carbomethoxyoctahydrocyclo-penta[c]pyran, a benzaldehyde derivative; 4-formylsyringol, a cinnamoyl ester; 2-(4-hydroxyphenyl 3-(3,4-dihydroxyphenyl-2-propenoate and a lignan; matairesinol. (21)

Properties
- Studies have suggested antibacterial, antifungal, anti-inflammatory, analgesic, CNS depressant, anticancer, sunscreen, antimycobacterial, antiviral properties.

Parts used
Fruit, roots and leaves.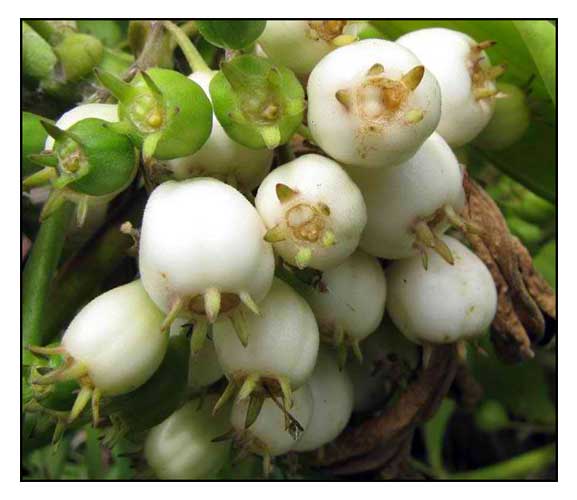 Uses
Edibility
- Young leaves cooked as a potherb.
- Fruit is edible; not well known.
Folkloric
- In the Philippines, juice of ripe fruit used for cleaning opacities of the eyes.
- Decoction of roots used for beriberi and certain syphilitic affections; also for dysentery. (5)
- In Amboina, juice of fruit is instilled by natives into the eyes to clear opacities and improve dimness of vision.
- As a cataplasm, fruit is used for tumors; internally, induces menstruation.
- In India, decoction of leaves and bark used for tachycardia.
- Used as diuretic.
- Bitter leaves eaten to relieve indigestion. Poultice of leaves applied to headaches, tumors and swollen legs. Juice of berries used for sore eyes. Cataplasm of fruit applied to tumors; taken internally to induce menstruation. (1)
- Root decoction used for dysentery and certain syphilitic affections.
- Bark decoction and leaves used to treat tachycardia (fast heart beats). Reported to be an excellent remedy for dropsy. Poultice of leaves used for headaches, tumors, and swollen legs. Pith of stem used for diarrhea. (1)
- Juice of berries instilled on eyes to clear opacities; used for dimmed vision.
- In Southeast Asia and Australia, diluted sap from leaves or ripe berries used to clear eye opacity and eye infections. In Malaysia, bitter leaves eaten to cure indigestion; leaves used as poultice for headache. In Indonesia, root is use as antidote after eating poisonous fish or crab. In Thailand, roots and leaves used for skin infections. In Papua New Guinea, young leaves are chewed or leaf decoction drunk to treat cough; sap applied to sores. After epidermal layer is removed, leaf chewed to treat malaria. In New Ireland and Milne Bay, leaf extract used for contraception. In Australia, juice from young stems and ripe fruits applied to bites and stings. In Samoa, leaves used for skin ailments, swelling, elephantiasis, scrotal swelling, chills, and indigestion. Roots used as treatment for cancer. (8)
- Leaf juice used to treat weakness after childbirth. Roots used for stomachaches. Leaf and bark decoctions used for relapse after an illness. Bark juice used for treating ringworm. (9)
- In Indonesia, leaves and stems boiled in water until color changes, and potions taken three times daily, warm or cold, for fever, sore eyes, and as anti-toxic. Fruit juices used as eye drops for sore eyes.
- In Vietnam, fruit used for treatment of edema. Leaf decoction used to treat diarrhea. (22)
Others
- Tobacco substitute: Leaves smoked like tobacco.
- Wood: In Malaysia, used for making wooden nails and pegs for boats. (1)
- Crafts: Pith from stems and thick branches used for preparing sun-hats and floats; also, pressed flat to make rice paper. (1) In Hawaii and Pacific Islands, fragrant flowers and seeds used for making traditional garlands (leis). (9)
- Agroforestry: Used for soil stabilization and for wind and salt spray protection in coastal zones. (8)

Studies
• Antimicrobial: Study of ethyl acetate extract exhibited inhibitory activity against Candida albicans, similar to Clotrimazole. The extract also showed activity against Klebsiella pneumonia.
• CNS Depressant: At 300-mg/kg dose, acts like a CNS depressant drug, with an effect comparable to Diazepam.
• Anti-Inflammatory / Antipyretic / Leaves: Study in rats of anti-inflammatory and antipyretic effects of methanolic extract of S. frutescens leaves showed significant reduction in yeast-induced hyperthermia and carrageenan-induced paw edema. The effects were comparable to the standard drugs, paracetamol and indomethacin. (2)
• Antibacterial / Leaves: Study evaluated the antibacterial activity of crude extracts of S. taccada leaves using agar disc diffusion method. Phytochemical screening yielded flavonoids, tannins, steroids, and saponins. Results showed inhibition of Staphylococcus aureus and Escherichia coli. (10)
• Anti-Inflammatory / Adjuvant for Mastitis Treatment / Leaves: Study evaluated the effect of hydroalcoholic compounds in leaf extracts of S. taccada on systemic pro-inflammatory activity of interleukin-1ß (IL-1ß) as adjuvant for treating mastitis in Sprague-Dawley mice. Results showed statistically significant differences of IL-1ß levels after administration of leaf extracts of S. taccada. Pathological analysis of breast tissues of treated mice proved leaf extracts could reduce damaged tissues, cellular infiltration, and subcutaneous edema induced by this pathogenic microorganism. Results suggest S. taccada had significant function as adjuvant for healing mastitis by reducing pro-inflammatory cytokine IL-1ß. (11)
• Sunscreen Potential / UV-Absorbing Properties: Oral tradition suggests the fruit of the species may be used as a natural sunblock. Study evaluated a fruit extract of S. taccada for UV-absorbing properties, stability, and potential toxicity to coral. S. taccada contained UV-absorbing compounds with sun-protection factor of 20, that absorbed UVB and UVA (19.6% and 24.4% absorbance, respectively). Toxicity study of juice by exposing coral fragments to concentrated fruit extract and M. capitata eggs resulted in significant changes in pigmentation or photosynthetic yield of the coral (p≤0.0001). Stability of the fruit extract did not change over time. Further study is suggested to isolate UV-absorbing components to understand the toxicity more clearly. (12)
• Subacute Toxicity Testing / Leaves: Study evaluated the subacute toxicity of leaf extract of Scaevola taccada leaves on the renal and hepatic function in rats (Rattus norvegicus), using doses of 200, 400, and 600 mg/kg for 14 days. Results suggest ethanol leaf extract was safe at dose of 200 mg/kg, but toxic to kidney and liver at dose of 600 mg/kg. (13)
• Anticancer / Antimicrobial / Antimycobacterial / Leaves: Study evaluated various extracts of leaves of S. taccada for the major phytoconstituents and biological activities. An n-butanol fraction displayed remarkable antimycobacterial activity, and good antifungal and antibacterial activity against Gram-positive and Gram-negative bacteria. Petroleum ether and n-butanol fractions showed cytotoxic effect on breast carcinoma cell line (MCF-7) and colon carcinoma cell line (HCT) with IC50 of 11.7 and 15.04 µg/ml respectively. An ethyl acetate fraction showed antioxidant effect with EC50 476.7 µg/ml. (see constituents above) (14)
• Synergism of Extract with Amoxicillin in Mastitis: Study showed the administration of amoxicillin and Scaevola taccada extracts showed better reduction of inflammation cells in female mammary mammals induced by Staphylococcus aureus at dose of 400 mg/kbw compared to groups given only amoxicillin with mean deviation of 37.6/kg. (15)
• Antihyperlipidemic / Leaves: Study evaluated the effect of ethanolic extract of S. taccada leaves in hyperlipidemic rats. Results showed reduction in cholesterol and triglyceride levels in rat hyperlipidemia with an effective dose of 1100 mg/kbw. (16)
• Antipyretic / Leaves: Study evaluated the antipyretic activity of ethanolic and aqueous extracts of leaves of S. taccada in albino rats. The extracts showed significant activity against yeast induced pyrexia. The antipyretic effect was comparable to standard drug paracetamol (150 mg/kg). (see constituents above) (17)
• Anticancer / Ehrlich Ascites Carcinoma / Leaves: Study evaluated the anticancer property of ethanol extract of Scaevola taccada leaves against Ehrlich ascites carcinoma in Swiss albino mice. Crude extract yielded alkaloids, saponins, steroids, flavonoids, and glycosides. Results showed significant increase in life span and decrease in cancer cell number, tumor weight, and tumor volume, along with protective effect of the hemopoietic system. Extract prevented lipid peroxidation and restored antioxidant enzymes. Results showed significant i(p<0.001) n vivo cytotoxic effect. (18)
• Furanocoumarin / Antifungal / Fruits: Study of fruits isolated a new coumarin, scataccanol (1) and 10 known compounds. Compounds 5 and 7 showed strong antifungal activity against Pythium insidiosum with MIC of 5 and 10 µg/ml, respectively. (19)
• Antiviral / Leaves: Study found a leaf extract of S. taccada active against vesicular stomatitis, HSV-1 and HSV-2. It was also found activity against Human Immunodeficiency virus (HIV). (21)
• Anti-Inflammatory / Leaves: Study evaluated leaf extracts of Scaevola taccada for anti-inflammatory activity using carrageenan induced paw edema in rats. Ethanolic extracts at 400 mg/kg showed moderate activity at 180 min (9.33) while an aqueous extract showed significant activity at 180 min (8.66). Phytochemical screening revealed alkaloids, flavonoids, lipids, terpenoids, glycosides, and saponins. (23)
• Anti-Inflammatory / Effect on Cytokine IL-10 Level: Study evaluated the effectiveness of S. taccada extract on the level of cytokine IL-10 induced by Staphylococcus aureus on Sprague-Dawley rats. Results showed S. taccada extract was effective in boosting level of cytokine IL-10 as anti-inflammatory that plays a central role in the stimulation of immune responses and prevention of lichen imuno- pathology development. Study suggest potential use as complementary therapy. (24)

Availability
Wild-crafted.