Botany
Bulak-manok is an erect, slender, branched perennial, hairy and aromatic herb, 15 to 60 centimeters in height. Leaves are stalked, alternate, ovate, 4 to 11 centimeters long, and 1 to 5 centimeters wide, with the tip and base somewhat pointed, and with round toothed margins, hispidly hairy. Flowering heads are numerous, small, about 5 millimeters across, and borne in dense terminal corymbs. Ray flowers are many, pale blue, purple or white. Disk flowers absent. Fruits (achenes) are black, with 5 pappus scales which are awned and often toothed or serrate below.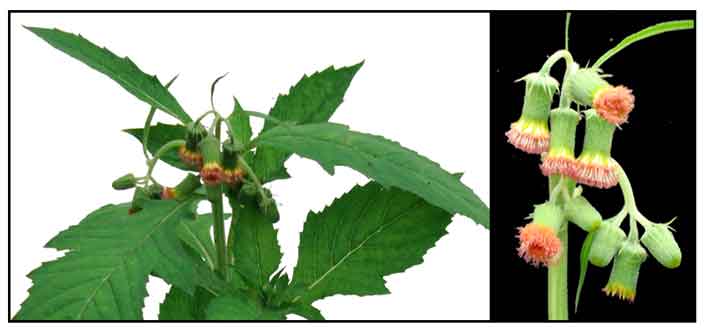 Distribution
- A common weed flowering year-round throughout the Philippines from sea level to an altitude of 2,000 meters. The seeds are light, easily dispersed and disseminated by wind.
- Of American origin.
- Now pantropic.

Constituents
• Leaves yield a volatile oil, 0.00054 percent, which contains sesquiterpene.
• Plant yields a vegetable proximate principle known as "coumarin," also found in the allied genus, Eupatorium.
• Yields mono and sesquiterpenes, chromene, chromone benzofuran and coumarin, flavonoids, triterpene and sterols, and alkaloids.
• Essential oil from leaves and flowers yielded ageratochromene (precocene II, 25.89%), the sesquiterpene beta-caryophyllene (23.79%); demethoxyageratochromene (precocene I, 14.76%), and some monoterpene hydrocarbons (2-5.5%).
• Chemical profile analyses of leaf, stem, root and flower yielded phytochemicals: alkaloids, flavonoids, saponins, tannins, glycosides, resins, phenols; nutrients were proteins, carbohydrates, and reducing forms., essential and non-essential amino acids.

Properties
• Plant has a characteristic aromatic odor when crushed.
• Considered analgesic, antispasmodic, febrifuge, tonic, laxative, vulnerary.
• Considered antioxidant, antibacterial, antiinflammatory.
Parts utilized
Leaves, young stems and flowering tops.

Uses
Folkloric
- In the Philippines, juice of fresh leaves is widely used as a vulnerary, pounded and mixed with salt.
- Stem, roots, and flowers of the plant are boiled, the resulting decoction used for stomach troubles.
- The whole plant has been used as a decoction for cough, colds, fever, skin disease, and high blood pressure. Also for bleeding due to external wounds; furuncle, eczema, carbuncle.
- Poultices for headaches.
- Squeezed juice from fresh material when dropped inside the ears treats otitis media.
- Leaves sometimes cooked in coconut oil, and the medicated oil applied to wounds.
- Used for fever, cough and colds; hepatitis, dysentery; neurasthenia, snake bites, dizziness.
In Brazil, used as stimulant, tonic, emmenagogue, diuretic and carminative. Leaf infusion used for colic, fever, diarrhea, rheumatism, spasms.
In Africa, used for fever, headache, rheumatism, pneumonia, and healing of burn wounds.
In India, used for leprosy and oil lotion for purulent ophthalmia.
In Vietnam, used for gynecologic disease.
In Congo and Cameroon, used for fever, rheumatism, headache and colic.
In Togoland, used for fevers.
Among Hindus, popular as an external application for agues.
In Java, paste of roots rubbed on the body for fever.
Juice applied as remedy for anal prolapse.
In the Gold Coast Colony, juice from squeezed leaves used as lotion for the eyes.
In Sierra Leone, leaves used as remedy for craw-craw; also used for chronic ulcers, and intravaginally, for uterine troubles. Also, crushed in water and given as an emetic.
In Trinidad used as abortifacient, depurative, decoagulant; for cough, cystitis, diabetes flu.
In Siberia, extract of leaves are rubbed on the chest for pneumonia in children.
In Java, paste of leaves, mixed with chalk, used for wounds.
In Nigeria leaf decoction used for STDs. In North Africa, root decoction used for STDs such as syphilis; also used for cystitis, urethral pain, leucorrhea. In Togo, leaves used for the same.
Poultice of leaves applied to boils; also, applied to wounds to prevent tetanus.
In South Cameroons, leaves are pounded with Ocimum and macerated in water with "bush pepper" as a purgative enema preparation.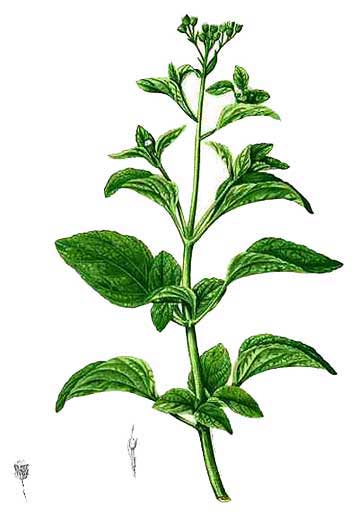 Studies
• Antibacterial / Phytochemicals: Phytochemical testing of dried leaves yielded resins, alkaloids, saponins, tannins, glycosides and flavonoids while dried stems showed resins, saponins, tannins, glycosides and flavonoids. In vitro studies of AC extracts activity against S aureus, Y enterocolitica, S gallinarum, and E coli, suggesting a potential source for development of new antibacterials.
• Antiulcerogenic / Gastroprotective: Study documents the beneficial cytoprotective effects of the plant extract against ethanol-induced gastric ulcers in rats.
• Analgesic / Antiinflammatory: Study results suggested that AC extract exhibited antinociceptive effect and inhibition of inflammatory reactions induced by neutrophil mobilizing stimuli.
• Antimicrobial: Crude extract studies demonstrated antimicrobial properties on S aureus and Methicillin-resistant S aureus and possible usefulness in skin and wound infections.
• Hemostatic: Study yielded tannins, saponins and flavonoids and confirmed the hemostatic activity of the leaf extract through vasoconstriction and formation of an "artificial clot" to arrest the small vessel bleeding.
• Radioprotective: Study of AC extract showed it to be non-toxic at its highest dose and exhibiting a radioprotective activity in part attributed to the scavenging of reactive oxygen species induced by ionizing radiation.
• Wound Healing: Extract study showed wound healing effect better than normal saline treated controls, an effect attributed to the antimicrobial properties of AC.
• Blood Glucose Lowering: (1) Study of aqueous extracts of leaves of Ageratum conyzoides in normoglycemic and STZ-induced diabetic rats showed significant reduction of blood glucose levels. (2) Study of aqueous extracts of leaves of Ageratum conyzoides in normoglycemic and STZ-induced diabetic rats confirmed the hypoglycemic properties of the leaves of A conyzoides.
• Anti-Inflammatory / Toxicity Study: Study confirmed the anti-inflammatory properties of A conyzoides with no apparent hepatotoxicity.
• Anti-Cancer / Radical Scavenging Activity: Various extracts of A conyzoides were screened in some cancer lines including Human non-small cell lung CA, human colon adenocarcinoma, human gastric CA, and human breast CA among others. Results showed A conyzoides possessed anticancer and antiradical properties.
• Toxicity Study: A 28-day study evaluated the acute and sub-chronic toxicity of A. conyzoides leaves in Wistar rats. Results showed the hydroalcoholic extract is relatively safe when administered orally to rats.
• Comparative Study / Wound Healing / Polyherbal Formulation / Roots: Study in rats of root extract showed wound healing activity, with accelerated healing processes and increased breaking strength. The wound healing of a polyherbal formulation, Ageratum conyzoides with Ficus religiosa, C. longa and T. indica showed better results, attributed to the synergistic action of the plant constituents.
• Chemical Profiles of Leaf, Stem, Root, and Flower: In a study evaluating the chemical profile of plant parts, the leaf showed the most concentration of chemicals, followed by the flower.
• Antioxidant / Leaf / Improved Glycemia: The antioxidant activity of aqueous extract of leaves of Ac in the serum of male diabetic rats was evaluated. Results showed lowering of lipid hydroperoxides. Ac had a positive effect on the oxidation-reduction system on STZ-induced diabetic rats, together with improved glycemia.
• Wound Healing Comparative Study / Vs Honey: Study in Wistar rats investigated the wound healing properties of methanolic extracts of Ac compared to honey. Histologically, the day-10 Ageratum sections showed fewer inflammatory cells compared with honey and controls. Also, healed scar sections of wounds dressed with herb extract showed more fibrosis. Healed wounds from Ac group showed significantly fewer fibroblasts.
• Diuretic Activity: Study of aqueous extract of leaves of Ac in albino Wistar rats showed significant diuretic activity. similar to Acetzolamide. at 600 mg/KBW, there was significant increase in concentrations of Na, K, and Cl ions suggesting benefits for hypertension and cardiovascular diseases.
• Lactation Effect: Study evaluated the effect of Ac leaf extract on the histological structures of non-lactating mammary gland of wistar white female albino rats. After 14 days of treatment, female rat mammary gland showed more secretory activity indicating lactation.
• Methoxylated Flavonoids / Antiprotozoal: The dichlormethane extract from aerial parts have shown prominent activity against bloodstream forms of Trypanosoma brucei rhodesiense, the etiologic agent of East African Sleeping Sickness. Study isolated five highly methoxylated flavonoids along with the chromene derivative encecalol methyl ether. The flavonoids showed activity against protozoan pathogens.
• Haemostatic Effects: Study of methanolic leaf extract in albino rats exhibited haemostatic effects. Results showed significant dose-dependent decreases in the bleeding time, prothrombin time, and clotting time, with a significant increase in plasma fibrinogen concentration. Results suggest haemostatic activity in both intrinsic and extrinsic pathways.
• Psychopharmacologic Effects / Memory / Ach: In a study in mice, Ac produced dose-dependent improvement in learning capacity and retention memory of both young and aged mice. It also reversed scopolamine and natural ageing-induced amnesia in young and old mice, while also indirectly increasing the acetylcholine by reducing the whole brain anticholinesterase activity.
• Inflammatory Bowel Disease / Protective Effects: In a study of acetic acid-induced colitis and indomethacin-induced enterocolitis models in rats, pretreatment with an ethanolic extract produced significant attenuation in biochemical and histopath parameters. Results suggest a possible benefit for use in inflammatory bowel disease.
Availability
Wild-crafted.
Seeds, tinctures and extracts in the cybermarket.