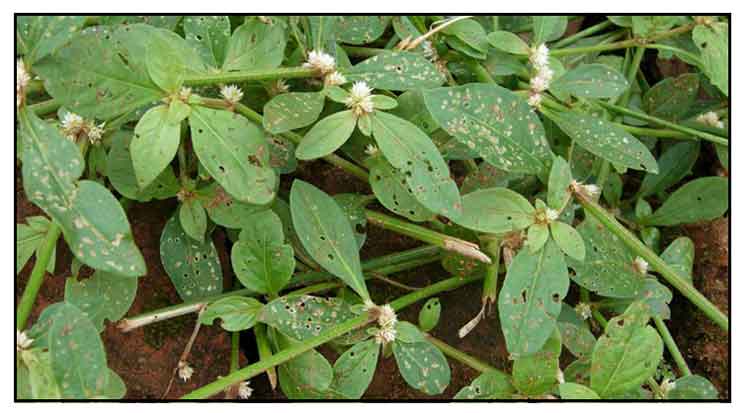 Botany
Bunga-bunga is a spreading or prostrate, erect, more or less branched, glabrous, succulent herb, 0.4 to 1.4 meters high. The ultimate branches are covered with two lines of hairs on the internodes, and the flowering ones are ascending. Leaves are stalkless, simple or pinnately compound, the leaflets elliptic, crenate or obscurely toothed, usually about 2.5 to 7 centimeters long, thick and succulent. Flowers are minute, 5 to 7 millimeters long, paniculate, pendulous, white, and crowded in very short, axillary heads. Sepals are lanceolate, 2 to 2.5 millimeters long. Fruit is dry and flattened, broadly obcordate utricle, containing one seed.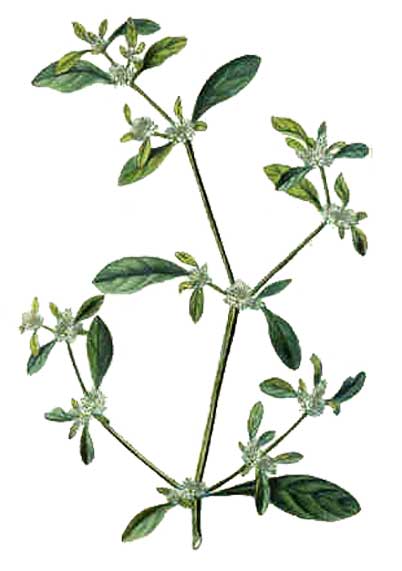 Distribution
- Very common weed in open, usually wet places throughout the Philippines, in settled areas at low and medium altitudes.
- Pantropic.

Constituents
- High in antioxidant carotene.
- Phytochemical studies yielded B-carotene, ricinoleic acid, myristic, palmitic, stearic, oleic and linoleic acids, a-spiraterol, uronic acid, and B-sitosterol.
- Study of phenolic and flavonoid content revealed: total crude phenolic content, 1.529; total phenolic acid, 1.404; and flavonoids, 0.370 (values in mg/g dry wt.).
- Aqueous extract yielded alkaloid, tannins, ascorbic acid, carbohydrates and proteins. (see study below) (19)
- Various extracts of leaves yielded alkaloids, flavonoids, glycosides, terpenoids, carbohydrates, anthraquinones, saponins, tannins, steroids. (21)
- Nutrient analysis yielded moisture 15.28%, ash 13.5%, protein 19.56%, crude fat 4.95%, crude fiber 23.52%, carbohydrate 38.46%, and nutritive value 306.97%. Mineral content yielded (mg/kg) Fe 527.8, Cu 14.5, Zn 45.0, Mn 87.1, Ca 2866.0, Mg 294.1, Na 3580.0, and K 6240.0. (34)
- Aqueous leaf extracts yielded phenols, flavonoids, tannins and saponins. Stems and leaves yielded the presence of calcium oxalate crystals. (38)
Properties
- Slightly tart tasting, cooling, antiphlogistic-analgesic , antidermatosis, antiseptic.
- Considered febrifugal, galactagogue, abortifacient.
- Studies have shown antimicrobial, wound healing, hepatoprotective, antioxidant, antidiabetic, hematinic, antipyretic, anti-inflammatory, antidepressant, antihyperlipidemic, phytoremediative, wound healing, nootropic, analgesic, antidepressant properties.
Parts utilized
- Entire plant; use fresh.
- May be collected the whole year round.

Uses
Edibility
• In the Philippines, young leaves mixed in sautéed mungbean and fish soup (sinabawang isda). (37)
• Some places, leaves and young shoots eaten as vegetables.
• In Ceylon, largely eaten as vegetable.
• In Africa, used for relishes, sauces and soups.
• Considered a famine plant.
Folkloric
• Poultice of pounded fresh material to sprains, burns and eczema.
• Used for carbuncles and erysipelas.
• Used as a wash for eyes.
• Used for treating acne vulgaris, dyspepsia, liver problems.
• Decoction used for nausea, vomiting, diarrhea, dysentery, cough, bronchitis and diabetes.
• In West Tropical Africa, used as poultice for boils.
• In Bangladesh, used for the treatment of severe pain.
• In Sri Lanka, used for cystitis, gonorrhea, snake bite. Also, used by mothers to increase flow of milk.
• In Ghana, salted decoction used for hematemesis.
• In India, used for gastrointestinal problems; also as cholagogue, abortifacient and febrifuge. Also, used for snake bites.
• In Surinam, leaf decoction drunk for treatment of itching and overheated skin. (32)
• In Ayurveda, used for diseases due to vitiated blood.
• In Nigeria, for headaches and vertigo. Leaf sap sniffed for treating nerve pains.
• In Taiwan, for hepatitis, bronchitis, asthma.
• In Nepal, roots used by the Bantar of Morang for stomachache. (28)
• In the Sivagangai district of Tamil Nadu, India, cooked leaves are eaten with a normal diet for 20 to 30 days to cure night blindness. (36)
Others
• Used as animal feed supplement.

Studies
• Antimicrobial / Wound Healing Activities / Leaves: Study on extract of leaves showed significant results in different models of wound healing: incision, excision, and granuloma studies. The presence of sterols was also confirmed. (2)
• Hepatoprotective: A study on the hepatoprotective effects of Taiwanese herb Alternanthera sessilis on liver damage induced by various hepatotoxins showed hepatoprotective effects with a reduction of elevation of SGOT and SGPT. (3)
• Ionone Derivatives / Antimicrobial: Chloroform extract of dried leaves yielded a mixture of diasteromers of a new ionone derivative with low activities against Pseudomonas aeruginosa and Trichophyton mentagrophytes. (4)
• Antioxidant: Study showed ethanol extract to have 70% free radical scavenging activity. (•) Study concludes Alternanthera sessilis showed potent radical-scavenging activity and metal ion chelating activity. (•)
• Antidiabetic / Aerial Parts: Study of aqueous extract of aerial parts showed significant dose-dependent antidiabetic activity with lowering of blood glucose concentration, glycosylated hemoglobin, LDL, total cholesterol. (6)
• Antibacterial: The antibacterial effect of leaves and internodal-segments derived calli of A. sessilis was evaluated against Proteus vulgaris, Strep pyogenes, B subtilis and Salmonella typhi. the ethanolic extracts of leaves and leaves-derived calli were more effective against the selected bacterial than other solvents. Plants extracts showed antibacterial activity against Gram negative P. aeruginosa and Gram positive Staph epidermis. (7)
• Hematinic Activity: Study showed that Lupo (A. sessilis) has hematinic activity particularly in iron deficiency anemia. Results suggest AS is a potential drug for augmentation of hemoglobin and serum ferritin in iron deficiency anemia. (8)
• Antipyretic Activity: Study showed the ethanol extract of aerial parts of Alternanthera sessilis has dose-dependent antipyretic activity. (9)
• Antibacterial / Antifungal: Plants extracts showed antibacterial activity against Gram negative P. aeruginosa and Gram positive Staph epidermis. Plant also showed antifungal activity against yeasts S. cerevisiae and Candida albicans.
• Nootropic / Memory Enhancing / Leaves / Aerial Parts: Study evaluated the nootropic potential (memory enhancing effects) of methanolic extracts of leaves of A. sessilis and Clerodendrum infortunatum. The higher doses of both extracts exhibited promising nootropic potential, with C. infortunatum showing greater memory enhancing effect. (14) Study evaluated the nootropic activity of extracts of aerial parts of A. sessilis in albino mice. Results showed signficant improvement in the retention ability of normal and amnesic mice compared to controls. Results suggest the nootropic activity was due to improvement of the cholinergic system or inhibition of acetyl choline esterase enzymes.(48)
• Antidiabetic: Study investigated the antidiabetic potential of three fractions of crude ethanol extracts in high fat diet and STZ-induced diabetic rats. The red ethyl acetate fraction showed the most potent antihyperglycemic effect with higher pancreatic insulin content and pancreatic total dismutase activity. Results suggest a potential antidiabetic agent for T2DM. (16)
• Anti-Inflammatory: Study investigated leaf extracts for anti-inflammatory activity by carrageenan-induced rat paw edema method. Extracts showed considerable dose-dependent activity, with the chloroform extract showing higher activity. (17)
• Toxicity Study / Antidiabetic: Study on extracts from A. sessilis, S. cumini and A. bilimbi appeared safe, with no untoward effects on the kidney and liver when used as treatment for diabetes. (18)
• Silver Nanoparticles Biosynthesis / Antimicrobial / Antioxidant: Study evaluated the use of aqueous extract in producing silver nanoparticles from silver nitrate aqueous. Phytochemical analysis yielded alkaloid, tannins, ascorbic acid, carbohydrates and protein which served as effective reducing and capping agents for converting silver nitrate into nanoparticles. Study investigated the antimicrobial and antioxidant activities of green synthesized AgNPs. (19)
• Antioxidant: Comparative study of stem and leaf fractions of Alternanthera sessilis and Amaranthus tristis. Results showed A. sessilis have relatively more phytochemicals and radical scavenging activity, and the leaf fraction has more flavonoid and phenolic content than the stem fractions in both vegetables. Results suggest a potential for an ideal dietary antioxidant supplement. (20)
• Antioxidant: Study evaluated various extracts of leaves for phytoconstituents, antioxidant activity and thrombolytic potential. Antioxidant activity increased with concentration of the leaf extract. Study also showed moderate clot lysis with increase in the percentage of lysis with concentration of the plant sample. Results suggest a chemopreventive potential for cardiovascular disease. (21)
• Central Stimulating / Analgesic: Study evaluated the neuropharmacologic and analgesic activity of an ethanol extract of A. sessilis whole plant in mice models. Results showed central stimulating activity with significantly increased onset of sleep and decreased duration of sleep, with increased movements of mice during the study period. On hot plate test, the extract significantly increased pain threshold. (22)
• Antidepressant / Leaves: Study of leaf extract showed antidepressant activity on Swiss albino mice using the Tail Suspension Test and Forced Swim Test. At higher doses, there was significant reduction of duration of immobility. (23)
• Inhibition of IgE-Mediated Allergic Response: Study evaluated an ethanol extract of A. sessilis in rat basophilic leukemia (RBL-2H3) cells. Results showed significant reduction of ß-hexosaminidase release from anti-DNP-IgE sensitized RBL2H3 cells. There was also inhibition of IgE antibody-induced increase in interleukin-6 (IL-6), TNF-α-, IL-13 and IL-4 production in the cells. Results suggest decreased intracellular Ca++ is involved in the inhibitory effect on ß-hexoaminidase release. Study suggests a potential therapeutic application in allergic disease. (24)
• Antihyperglycemic / Analgesic / Aerial Parts: Study evaluated aeriial parts for antihyperglycemic activity and analgesic (non-narcotic) property in an acetic acid-induced pain model in mice. Results showed dose-dependent and significant reductions in blood glucose levels in glucose-loaded mice. In analgesic testing, there was reduced number of abdominal writhings. (27)
• Chitin Binding Property of Novel Cysteine-Rich Peptides: Study reports on the isolation and characterization of six hevein-like peptides which make up a family of cysteine-rich peptides (CRP), aSG1-G3 and aSR1-R3, collectively called altides from red and green varieties of Alternanthera sessilis. CRPs play a role in plants' defense against insects and fungal pathogens. (29)
• Mosquito Larvicidal: In a study of crude extracts of four plants, viz., Alternanthera sessilis, Trema orientalis, Gardenia carinata, and Ruellia tuberosa for larvicidal activities against Culex quinquefasciatus, A. sessilis showed the highest mortality (76.7%) at 1.5% crude extract against 2nd instar larvae with LC values of 0.35%. At studied concentrations, there were no harmful effects on non-target organisms. (30)
• Anti-Allergic Effect / Inhibition of IgE-Mediated Allergic Response: Study investigated the anti-allergic effects of ethanolic extract of A. sessilis (AS-1) in rat basophilic leukemia (RBL-2H3) cells. It significantly reduced the ß-hexosaminidase release from anti-DNP-IgE sensitized RBL-2H3 cells and also inhibited IgE antibody-induced increase in interleukin-6 (IL-6), TNF-a, IL-13 and IL-4 production. The anti-allergic effects suggest potential application of the extract in allergic diseases. (31)
• Silver Nanoparticles / Protective Role Against Rotenone Induced Parkinsonism: Study reports on the green synthesis of silver nanoparticles using an ethanolic extract of A. sessilis and silver nitrate. The ethanol extract and its silver nanoparticles caused significant protection in an oxidative stress model of Parkinsonism using Rotenone. The protective effect was evidenced by decrease in catalepsy and muscle rigidity along with a significant increase in locomotion. The reduction in lipid peroxidation and increase in GSH indicated reduction in oxidative stress in the brain of the animals. (33)
• Hepatoprotective / Paracetamol Induced Toxicity / CCl4-Hepatotoxicity: Study evaluated an ethanol extract of A. sessilis aerial parts for in vitro and in vivo antioxidant and hepatoprotective effects. Results suggest the EE could protect the liver cells from paracetamol induced liver damage by its antioxidant effect on hepatocytes to eliminate the deleterious effects of toxic metabolites of paracetamol. (35) Study evaluated the hepatoprotective property of A. sessilis in CCl4-induced hepatotoxicity in Wistar rats. Histopathological examination showed the hepatic damage wrought by CCL4 toxicty was significantly thwarted in the aqueous extract treated group. (47)
• Antimicrobial / Aerial Parts: Study evaluated an ethanolic extract of aerial parts for antimicrobial activity against medically important gram-negative (P. aeruginosa, S. typhii, S. dysenteriae, E. coli) and gram-positive bacteria S. aureus, B. subtilis, B. polymexia and S. faecalis) and fungi (P. notatum, A. niger, C. albicans). Results showed concentration dependent activity with better effectiveness against gram-negative bacteria. (39)
• Haemoglobin Augmentation in Anemia / Clinical Trial: Study evaluated the potential of A. sessilis for augmentation of haemoglobin in the clinical setting. Preclinical studies in rats and mice for effects on levels of iron and haemoglobin were all positive with no adverse effects. On human trials using Lupo capsules with average iron content of 0.024 mg/cap (lower than recommended daily intake), an increase in haemoglobin was still observed. The effect was attributed to synergistic effects of other compounds in A. sessilis. (40)
• Effect on Hot Flushes: Cutaneous vasodilatation and increase in peripheral blood flow are hallmarks of the hot flush. Study screening for compounds that can relieve hot flush in change of tail skin temperature in a rat model using calcitonin gene-related peptide (CGRP) and leuprorelin acetate. All doses of AS extract and CEE (conjugated equine estrogen) inhibited the effects of αCGRP-induced increasing of TST (tail skin temperature) in female rats and inhibited the effects of leuprorelin acetate-induced elevation of TST in male rats. Results suggest AS has potential as alternative treatment for hot flushes. (41)
• Gallic Acid: Gallic acid is a strong antioxidant, an organic compound found in foods and medicinal plants (herbs, teas, nuts, etc.). The concentration of gallic acid in leaves of A. sessilis was 8.022 µg/ml. (42)
• Antioxidant / Cytotoxicity / Leaves: Study evaluated the antioxidant and cytotoxicity activity of leaf extracts of A. sessilis and Ipomoea carnea. Both showed significant antioxidant and cytotoxicity properties. The antioxidant property of A. sessilis was higher, and a better candidate as a source of natural antioxidants than I. carnea. (43)
• Diuretic: Study evaluated a hydroalcoholic extract of A. sessilis for diuretic activity in rats. Results showed diuretic activity with marked increase in Na+ Cl-. and decrease K+ level in the urine. (44)
• Antidiabetic / Alpha-Glucosidase Inhibitory / Antioxidant / Leaf and Callus: Study evaluated the anti-glucosidase and antioxidant activity of solvent fractions of A. sessilis leaf and callus. Leaf ethyl acetate (LEF) showed the strongest antiglucosidase (EC50 0.55 mg/mL) and radical scavenging (EC50 10.81 µg/mL) activity among the leaf fractions. Callus ethyl acetate fraction (CEF) showed highest antiglucosidase activity among all the fractions. (45)
• Antiasthmatic / Leaves: Study evaluated the antiasthmatic activity of ethanolic extract of A. sessilis leaves in histamine aerosol-induced bronchospasm in guinea pigs and bronchial hyperreactivity in BALF egg albumin sensitized guinea pigs. Results showed antiasthmatic activity possibly due to inhibition of antigen induced histamine release or reduction in leucocyte count. (46)
• Phytoremediation / Removal of Chromium from Industrial Waste Water: Study evaluated the ability of leaves of A. sessilis and Tagetes erecta for reduction and removal of Cr from industrial waste water. Antioxidant activity of both plants were found to be almost similar. Remediation efficiency was approximately 908%. Both plants proved to be both cost effective and environment friendly. (47)
• Wound Healing / Stems: Study evaluated the wound closure properties of stem extract of Alternanthera sessilis. Results showed remarkable antioxidant, proliferative, and migratory rate in human dermal fibroblast, keratinocytes, and diabetic human dermal fibroblast in a dose-dependent manner, suggesting a wound healing process which was attributed to phytochemical compounds such as hexadecanoic acid. (49)
• Antiiabetic / Antihyperlipidemmic: Study evaluated an ethanolic extract of whole plant of A. sessilis for antidiabetic and antihyperlipidemic activity in STZ-induced diabetic rats. Results showed significant reduction in blood glucose and lipid profiles compared to control group. (50)

Availability
- Wild-crafted.
- Extracts in the cybermarket.