Botany
Butuan is a wild banana plant, growing to a height of 3 to 3.8 meters, sending out suckers from the base. False trunk is erect and cylindric, 20 to 30 centimeters in diameter. Leaves are elliptic in shape, the mature blades about 1.5 to 2 meters long and 40 to 50 centimeters wide. Petioles grow to a length of 50 to 65 centimeters. Female fertile flowers appear toward the base, while the sterile staminate flowers appear toward the apex. Fruits are oblong, somewhat angled, about 15 centimeters long, 4 to 5 centimeters in diameter. Pulp is white, insipid or sour in taste. Seeds are hard and black.
Distribution
- An endemic form of wild banana, growing spontaneously in many parts of the Philippines.
Constituents
The puso (young inflorescence) is an excellent source of phosphorus, calcium and iron.
Properties
Sap is vulnerary.
Parts used
Leaves, corms, sap.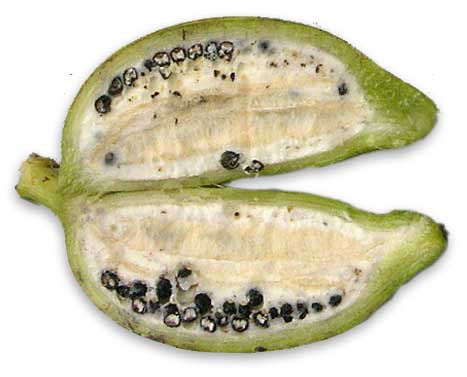 Uses
Edibility / Nutriton
- The puso (young inflorescence) is extensively used as food; a common market produce.
- The puso may be boiled and makes an excellent vegatable, or served with dressing, an excellent salad.
- Vinegar produced from the ripe fruits.
Folkloric
- Young unfolded leaves used as topicals for chest pains.
- Internally, juice of corms given to tubercular patients.
- Sap used fpr wound healing.
- Sap exuding from the base of the cut trunk is used for urethral injections in gonorrhea.
Studies
• Phytochemicals / Antimicrobial: The air-dried leaves of the dichlormethane extract of the corm of Musa errans yielded 31-norcycloaudenone, squalene, and a mixture of stigmasterol and sitosterol. Antimicrobial testing showed low activity against C albicans, E coli, P aeruginosa, T mentagrophytes.
The dichloromethane extract of the corm of Musa errans, an endemic form of wild banana afforded 31-norcyclolaudenone (1), squalene, and a mixture of stigmasterol and sitosterol. The structure of 1 was elucidated by extensive 1D and 2D NMR spectroscopy. Antimicrobial tests on 1 indicated that it has low activity against C. albicans; E. coli, P. aeruginosa, and T. mentagrophytes; and inactive against B. subtilis, S. aureus, and A. niger.
Availability
Wildcrafted.