Botany
Chico-mamei is a large tree with a thick trunk and stout branches, growing to a height of 15 meters. Leaves are clustered toward the ends of the branchlets, oblanceolate, 12 to 30 centimeters long, 4 to 7 centimeters wide, smooth, light green above, pale brownish beneath, and pointed at both ends. Flowers are white, 6 to 12 in the axils of fallen leaves, and measures 10 to 12 millimeters across. Sepals are ten, densely imbricated in several series. Corolla has five lobes. Fruit is oblong or ovoid, 7.5 to 15 centimeters long, with a thick, russet-brown skin and firm, reddish flesh which is very sweet and pleasant tasting.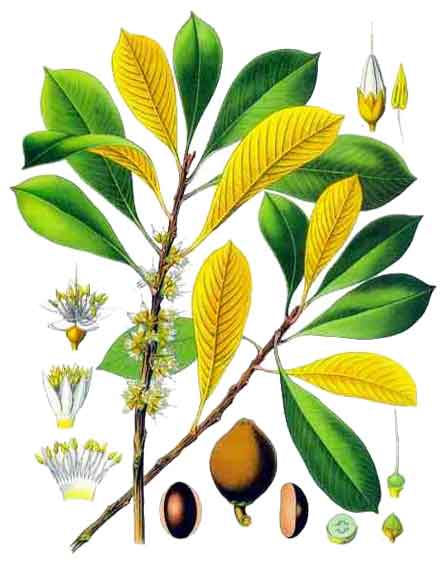 Distribution
- Planted in Luzon, particularly the Cavite and Laguna Provinces.
- Introduced from Mexico by the Spaniards.
Constituents
- Seeds contain amygdalin; a gutta percha-like substance, fatty oil with stearin and glyceride.
- Bark is reported to yield hydrocyanic acid.
Properties
- Considered emetid, diuretic, anthelmintic.

Parts used
Sap, seeds, fruit pulp.

Uses
Edibility
Fruit is pleasantly sweet tasting.
Folkloric
- Aztecs reported to use it for dressing the hair to keep it soft and to prevent dandruff. Seed coat used as a remedy for epilepsy.
- In Costa Rica, used for curing colds.
- Sap of tree said to be emetic and anthelmintic.
- Seeds used as diuretic.
- Pulverized seed is drunk with wine to cure gravel and heart affections.
- Powdered seeds used as remedy for renal colic.
- In Antilles, fruit pulp is used as sedative cataplasm. Also, infusion of bark used as pectoral.

Studies
• Oils: Analysis of oil from fruits revealed benzaldehyde, hexanal, and palmitic acid.
• Antioxidant / Radical Scavenging Activities: Ethyl acetate fraction of methanol extracts exhibited radical scavening and antioxidant activities.
• Trypanocidal: The methanol extract from P sapota stems exhibited trypanocidal activity in vitro against epimastigote form of Trypanossoma cruzi.
• Lucumin and Related Glycosides: Three aromatic glycosides, lucumin, lucuminamide and lucuminic acid, were isolated from the seeds of Calocarpum sapota.
• Antioxidant: Study on fresh fruits of three Pouteria species, P sapota, P viridis, and P campechiana, yielded seven polyphenolic antioxidants: (+)-gallocatechin, (+)-catechin, (−)-epicatechin, dihydromyricetin, (+)-catechin-3-O-gallate, and myricitrin.

Availability
Wild-crafted.