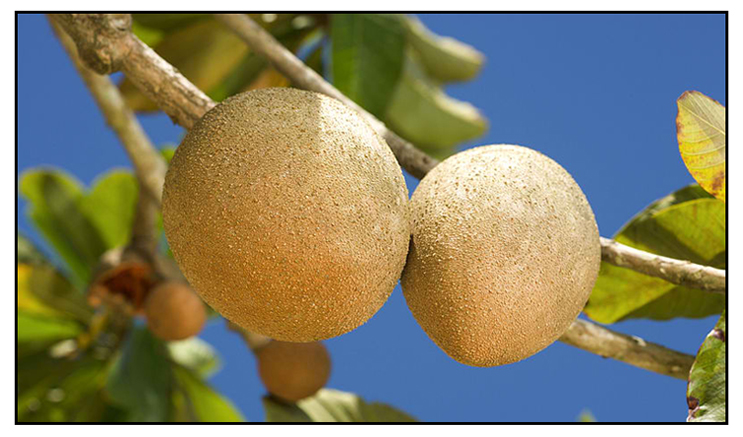 Botany
Chico-mamei is a large tree with a thick trunk and stout branches, growing to a height of 15 meters. Leaves are clustered toward the ends of the branchlets, oblanceolate, 12 to 30 centimeters long, 4 to 7 centimeters wide, smooth, light green above, pale brownish beneath, and pointed at both ends. Flowers are white, 6 to 12 in the axils of fallen leaves, and measures 10 to 12 millimeters across. Sepals are ten, densely imbricated in several series. Corolla has five lobes. Fruit is oblong or ovoid, 7.5 to 15 centimeters long, with a thick, russet-brown skin and firm, reddish flesh which is very sweet and pleasant tasting.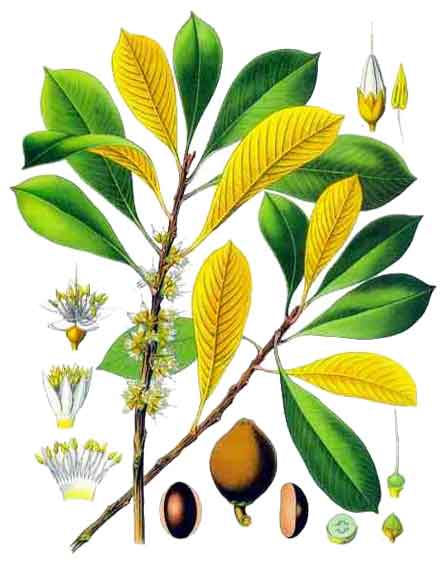 Distribution
- Planted in Luzon, particularly the Cavite and Laguna Provinces.
- Introduced from Mexico by the Spaniards.
Constituents
- Seeds contain amygdalin; a gutta percha-like substance, fatty oil with stearin and glyceride.
- Bark is reported to yield hydrocyanic acid.
- Fruits yielded new carotenoids, cryptocapsin-5,6-epoxide, 3′-deoxycapsanthin-5,6-epoxide, and cryptocapsin-5,8-epoxides. (5)
- Analysis of oil from fruits revealed benzaldehyde, hexanal, and palmitic acid.
- Nutrient analysis per 100 g of edible portion yielded 114.5 calories, 55.3-73.1 g moisture, 0.188-1.97 g protein, 0.09-0.25 g fat, 1.41-2.97 carbohydrates, 1.21-3.20 g fiber, 0.89-1.32 g ash, 28.2-121.0 mg calcium, 22.9-33.1 mg phosphorus, 0.52-2.62 mg iron, 0.045-0.0.665 mg carotene, 0.002-0.025 mg thiamine, 0.006-0.046 mg riboflavin, 1.574-2.580 mg niacin, 8.8-40.0 mg ascorbic acid; and amino acids, 19 mg tryptophan, 12 mg methionine, 90 mg lysine. (8)
- Study of ripe fruits of red mamey (Pouteria sapota) yielded new carotenoids, cryptocapsin-5,6-epoxide, 3′-deoxycapsanthin-5,6-epoxide, and cryptocapsin-5,8-epoxides. (9)
- Study of mamey sapote defatted meal (MSDM). MSDM yielded a protein content of 240.6 g/kg with glutelins (57.25%), prolamins (18.65%), albumins (17.85%), and globulins (6.25%). (see studies below) (12)
Properties
- Considered emetic, diuretic, anthelmintic.

Parts used
Sap, seeds, fruit pulp.

Uses
Edibility
Fruit is pleasantly sweet tasting.
Folkloric
- Aztecs reported to use it for dressing the hair to keep it soft and to prevent dandruff. Seed coat used as a remedy for epilepsy.
- In Costa Rica, used for curing colds.
- Sap of tree said to be emetic and anthelmintic.
- Seeds used as diuretic.
- Pulverized seed is drunk with wine to cure gravel and heart affections.
- Powdered seeds used as remedy for renal colic.
- In Antilles, fruit pulp is used as sedative cataplasm. Also, infusion of bark used as pectoral.
- In Santo Domingo, seed kernel oil used as skin ointment and as hair dressing to hair loss. Oil is used as sedative for eye and ear problems. Seed residue after oil extraction used as poultice for painful skin afflictions. (8)
Others
- Seed oil: Seeds and seed oil used in the manuafacture of soap, perfumerycosmetics, and pharmaceutical products. In olden times, used to fix colors of painted crafts and handicraft. (8)

Studies
• Antioxidant / Radical Scavenging Activities: Ethyl acetate fraction of methanol extracts exhibited radical scavenging and antioxidant activities.
• Trypanocidal: The methanol extract from P sapota stems exhibited trypanocidal activity in vitro against epimastigote form of Trypanosoma cruzi.
• Lucumin and Related Glycosides: Three aromatic glycosides, lucumin, lucuminamide and lucuminic acid, were isolated from the seeds of Calocarpum sapota. (2)
• Antioxidant: Study on fresh fruits of three Pouteria species, P sapota, P viridis, and P campechiana, yielded seven polyphenolic antioxidants: (+)-gallocatechin, (+)-catechin, (−)-epicatechin, dihydromyricetin, (+)-catechin-3-O-gallate, and myricitrin. (3)
• Comparative Antioxidant Activities: Study compared the antioxidant activities of M. zapodilla, C. caimito, and Pouteria sapota. All three have antioxidant properties. On -OH screening, P. sapota was second; on DPPH and ABTS assays, P sapota was third. (6)
• Antioxidant / Phytoconstituents / Fruit: Study evaluated the antioxidnt and phytochemical profile of mamey fruit Hydrophilic extracts showed higher antioxidant capacity than the lipophili portion. Total soluble phenols content was 28.5 mg GAE/100 g fw, with p-hydroxybenzoic acid as main phenolic content. Total carotenoid content was 1127.9 µg/100 g fw, with ß-carotene as main constituent, in addition to lutein and violoxanthin. δ-tocopherol was 360.0 µg/100 g fw. (10)
• α-Amylase Inhibitors / Kernel: Study reports on the extraction of α-amylase from kernel of Pouteria sapota. Results showed 95.8% pancreatic α-amylase inhibitory activity. TLC analysis reported the presence of rutin and quercetin related flavonoids in the kernel. (11)
• Potential Source of High Purity Protein Isolate: Study evaluated the proximate composition and properties of protein fractions in a mamey sapote defatted meal (MSDM). MSDM yielded a protein content of 240.6 g/kg with glutelins (57.25%), prolamins (18.65%), albumins (17.85%), and globulins (6.25%). Results suggests the MSDM is suitable material for the production of a high-purity protein isolate with a potential as ingredient in meat or bakery products. (12)
• Inactivation of Polyphenol Oxidase by Microwave Treatment: Polyphenol oxidase (PPO) is the enzyme responsible for quality loss in most fruits and vegetables, including mamey fruit (Pouteria sapota) whic undergoes rapid quaity decay through PPO activation. Inactivation of PPO in situ may be achieved by chemical or thermal treatment. Study reports on microwave treatment (MT) as an effective way to completely inactivate PPO without causing any significant damage to fruit tissue and shape with preservation of color, flavor and taste. (13)

Availability
Wild-crafted.