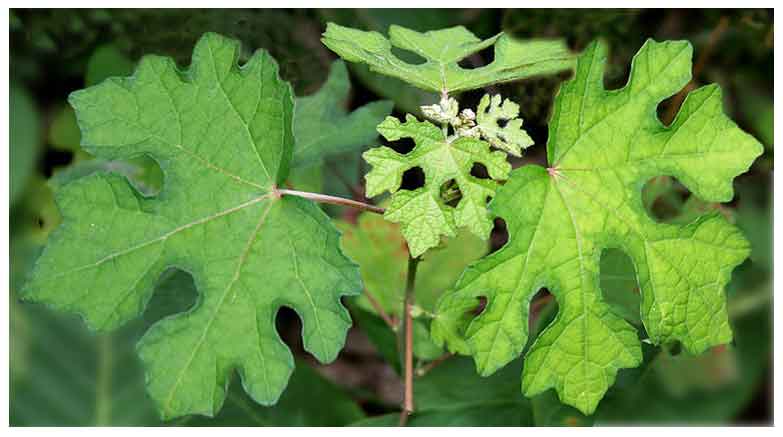 Botany
Dalupang erect, branched shrub 0.6 to 2.5 meters high. Plant is exceedingly variable and more or less hairy, stems often with reddish branches. Leaves are pale beneath, ovate to suborbicular, 3 to 9 centimeters long, heart-shaped at the base, more or less toothed or somewhat lobed or angled, the lobes not exceeding beyond the middle of the leaf and the sinuses being usually broad and acute.
Flowers are pink or purplish, about 1.7 millimeters in diameter and borne singly in the axils of the leaves, or somewhat in panicles. Petals are 5, free above, connate below and adnate to staminal tube; staminal tube truncate or minutely toothed, anthers many. Ovary is 5-celled, branches of stigma 10. Fruits are rounded but flattened and about 7 millimeters in diameter, with the 5 carpels covered with short, barbed spines.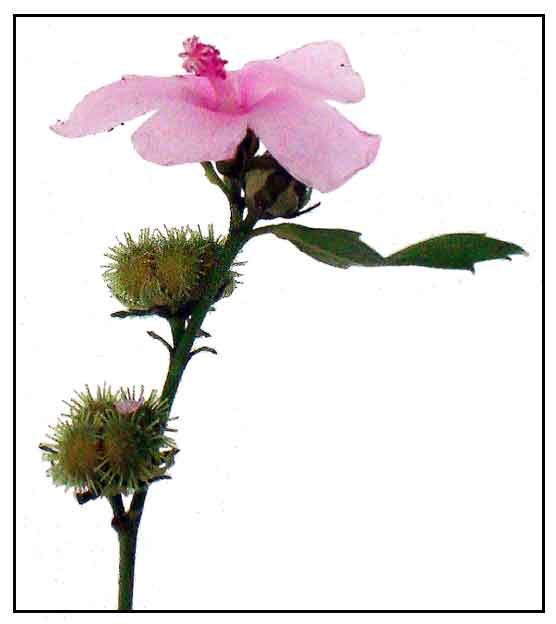 Distribution
- Throughout the Philippines In open places, thickets, etc., at low and medium altitudes, ascending to 1,600 meters.
- Polymorphous in vegetative characters.
- Pantropic.
Constituents
- Nutrient root analysis yielded carbohydrate 33%, protein 1.9%, fat 1.8%, fiber 51.7%, moisture 6.6%, and ash 5%.
- Preliminary phythochemical analysis of methanol extract of leaves yielded alkaloids, flavonoids, saponins, and tannins. (see study below) (18)
- Study of ethyl acetate portion and n-butanol portion of a 95% ethanol extract of branches and leaves yielded ten flavonoid compounds, viz. kaempferol (1), rutin (2), quercetin (3), afzelin (4), astragalin (5), tiliroside (6), kaempferol-3-O-β-D-glycopyranoside -7-O-α-L-rhamnoside (7), kaempferol-7-O-α-L-rhamnoside (8), kaempferol-7-O-α-L-rhamnoside-4'-O -β-D-glycopyranoside (9) and crenuloside (10). (24)
Properties
- Sweet tasting, slightly cooling, mucilaginous.
- Antirheumatic, antipyretic, stomachic, vermifuge.
Parts utilized
· Roots, leaves; preferably fresh.
Uses
Edibility
· In Africa, leaves and flowers are eaten as famine food.
Folkloric
· In the Philippines, root decoction used to relieve colic.
· Infusion of root used internally as emollient and refrigerant, and externally for skin diseases associated with pain and inflammation.
· Decoction of 30-60 gms of dried roots used for enteritis and dysentery, rheumatic pains, tonsillitis.
· Boiled and pounded leaves used as poultice for bladder and intestinal inflammations.
· Decoction of roots and leaves used to soften the skin.
· In Tahiti, the plant used as emollient, and the flowers used as expectorant.
· Root used externally for lumbago and rheumatism.
· Decoction of seeds taken internally a vermifuge.
· Poultice of fresh leaves for snake bites, sprains, and bruises.
· Flowers used as expectorant; given for dry and inveterate coughs. Roots used as diuretic; also used externally for rheumatism.
· In Brazil, decoction of stem and root used for severe colic.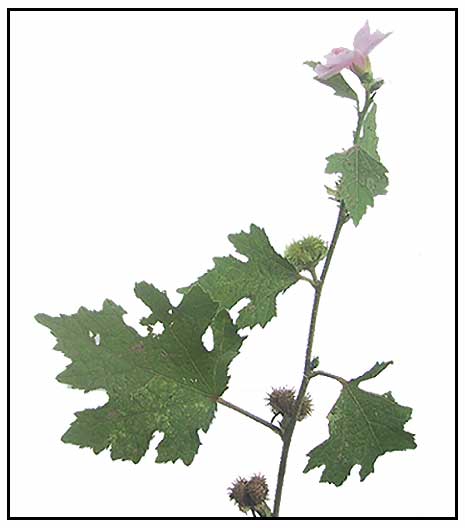 · In Nigeria used to treat diabetes.
· In Malaysia, extracts of leaves and roots used to treat abdominal colic, malaria, gonorrhea, fever, wounds, toothaches and rheumatism.
· In Malaysia, used for intestinal inflammation and as an emollient.
Livestock
· In the Congo, part of a herbal concoction used for abdominal inflation associated with schistosomiasis, dysentery and diarrhea. For alopecia, skin lesions and dermatoses, rubbed with the ground leaves of Lantana camara on the body.
Others
· Fiber / Paper: Bast fiber of the plant is of the jute type, more easily extracted than jute. Rope made from the fiber is fairly strong. In India, Japan and other countries, it is used as cordage material. It is a favored fiber in the manufacture of coffee bags because it has does not affect the aroma of the coffee. Aramina fiber and Congo jute are produced in Brazil from the Urena lobata. The fiber also makes a strong paper, and said to be twice as strong as "Bank of England note pulp."

Studies
• Antioxidant: Effects of Irvingia grandifolia, Urena lobata and Carica papaya on the Oxidative Status of Normal Rabbits: With recognized therapeutic effects, the plants were studied for toxic side-effects. Results showed no evidence of oxidative damage on liver and pancreatic MDA levels on rabbits, and even seemed to provide protection against lipid peroxidation. (1)
• Phytochemical / Antioxidant / Antimicrobial: The study of UL leaf extract isolated 3 compounds: kaempferol, quercetin and tiliroside which showed strong antimicrobial activity against E. coli, Bacillus subtilis and Klebsiella pneumonia. The study supports the traditional use of the plant for treatment of infectious diseases. (2)
• Antidiarrheal / Seed Extract: A study reports the antidiarrheal potential of seed extracts of L dealbata and Urena lobata used in the traditional medicine by the Naga tribes of India. Both plants showed significant inhibitory activity against castor oil-induced diarrhea and PGE2-induced intrafluid accumulation. Both showed significant reduction in gastrointestinal motility with no signs of toxicity. Results help explain it traditional use as an antidiarrheal agent. (3)
• Antibacterial: (1) A study of the methanol extract of UL showed a broad spectrum of antibacterial activity. (2) Comparative study of methanolic extract of UL root and a standard herbal formulation showed UL has antibacterial activity.
• Immunomodulatory: A study of the methanolic extract of Urena lobata showed phagocytosis and intracellular killing potency of human neutrophils. Study concludes that U lobata possesses immunomodulatory property. (6)
• Furocoumarin / Imperatorin: Studies have previously yielded mangiferin and quercetin from the aerial parts of the plant. This study isolated imperatorin, a furocoumarin, from the roots. (7)
• Anti-Diabetic / Hypolipidemic: Study of aqueous extracts of Urena lobata (roots and leaves) in STZ-induced diabetic rats showed recognizable hypoglycemic/anti-diabetic and anti-hyperlipidemic effects. (9)
• Hypoglycemic / Long-Term Effects of Root Extract: Study in rabbits showed U. lobata aqueous extract of roots significant reduced body weight and fasting glucose. It exerted an initial toxic effect on hepatocytes and also caused bile obstruction. However, the effects were not severe and not sustained. A reduction in dose, frequency, and duration of administration may reduced the side effects observed in the study. (11)
• Antioxidant / Roots: Study evaluated the methanolic extract of roots of S. retusa, T. rhomboidea, and Urena lobata for antioxidant activity. The extracts were found to inhibit lipid peroxidation scavenge hydroxyl and superoxide radicals in vitro. Results showed all three possessed significant antioxidant activity. (14)
• Antifertility / Spermatogenesis Effect: Study evaluated E. axillare leaves and Urena lobata roots for antifertility activity in adult male Wistar albino rats. Results showed E. axillare and Urena lobata reversibly inhibited spermatogenesis and steroidogenesis indicating reversible antifertility activity. (15)
• Antioxidant / Cytotoxic / Leaves: Study evaluated a methanolic extract of leaves for antioxidant and cytotoxic potentials. Extract showed potent antioxidant activity with effective scavenging of free radicals and potent cytotoxic activity in the brine shrimp lethality assay. (16)
• Liver Effect / Toxicity Study: Study evaluated the effects of aqueous extract of root on liver of adult Wistar rats. Results show that biochemical and morphological organization of the liver can be significantly altered with continued and increased use of the extract. (17)
• Antihyperglycemic / Antinociceptive / Leaves: Study of methanolic extract of leaves showed antihyperglycemic and antinociceptive effects. Alkaloids, flavonoids, saponins and tannins present in the methanolic extract may be responsible for the antinociceptive effect. (18)
• Sperm Abnormality Effects: In a pilot toxicity study in albino rats, Urena lobata caused a significant increase (p<0.05) in headless tail sperm cell abnormality, a primary sperm abnormality caused by a disruption in the course of spermatogenesis. (19)
• Wound Healing: Study evaluated a methanolic extract for wound healing activity in albino rats. Results showed significant would healing activity in excision, incision, burn, and dead space wound models, comparable to the Povidone-Iodine formulation. (20)
• Antidiarrheal / Leaves: Study evaluated the antidiarrheal effects of L. dealbata seed extract and U. lobata leaf extract in castor oil induced diarrhea and PGE2-induced intrafluid accumulation in murine models. Both extracts showed significant reduction in gastrointestinal motility in the charcoal meal test. Acute toxicity tests showed no sign of toxicity in the animals. (21)
• Antiproliferative / Antioxidant: Study of methanol extracts of Urena lobata and Viscum album showed significant antiproliferative and antioxidant properties on MB-MDA435 breast cancer cell line. (22)
• Analytical Potential of Flower Dye Extract: Study showed the flower extract of U. lobata can be used as acid-base indicator in all types of titration, with potential preference over synthetic indicators because of easy availability, inertness, ease of preparation and cost effectiveness. (23)

Availability
Wild-crafted.