Botany:
Diluariu is an erect or ascending, slightly branched, smooth shrub, 0.5 to 1.5 meters high. Stems are cylindrical and greenish, with a pair of short, sharp spines at the base of each petiole. Leaves are rigid, coriaceous, green and shining, oblong to oblong-lanceolate, 9 to 14 centimeters long, sinuate-toothed in the margins with spinous teeth. Leaf stalks are 1 centimeter long or less. Flowers are about 4 centimeters long, each subtended by an ovate, green, closely appressed bracts 7 to 8 millimeters long, and by two similar but smaller bracteoles, borne in terminal, solitary, dense, or interrupted spikes. Calyx is green, 10 to 12 millimeters long. Corolla tube is 1 centimeter long, the lower lip, pale-blue, spreading or recurved, about 3 centimeters long, 2.5 cm wide, and pubescent within. Capsule is brown, shining, and 2 to 2.5 centimeters long. Seeds are 6 to 10 millimeters long, with white testa.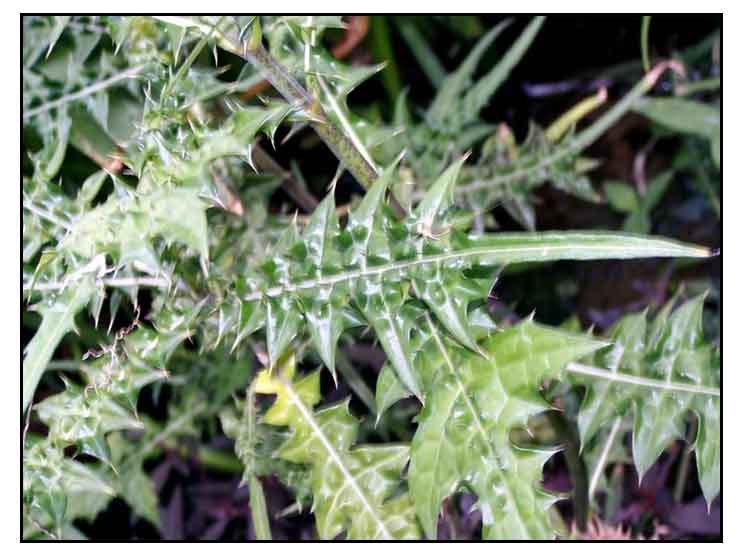 Distribution
- In low wet lands near the sea, subject to the influence of salt water, throughout the Philippines along tidal streams, swamps, mangrove, etc.
- Also occurs in tropical Asia, from South India to Sri Lanka to Indo-China, Indonesia and northern Australia.
Constituents
• Powdered leaves yield soft resins and a fatty matters colored with chlorophyll.
• Yields a bitter alkaloid which assumes a reddish-brown color with sulphuric acid
• Study yielded: acancifoliuside, a new coumaric acid derivative, acancifoliuside, and six known compounds: acteoside, isoacteoside, acanthaminoside, (+)-lyoniresinol 3a-O-ß-glucopyranoside, (-)-lyoniresino, and a-amyrin.
• Study isolated a new compound, 5,11-epoxymegastigmane glucoside, along with one known compound, megastigmane glucosides, (6S, 9S)-roseoside.
• Study yielded five compounds: luteolin 7-O-beta-D-glucuronide, apigenin-7-O-beta-D-glucuronide, methylapigenin-7-O-beta-D-glucuronate, uridine, and uracil.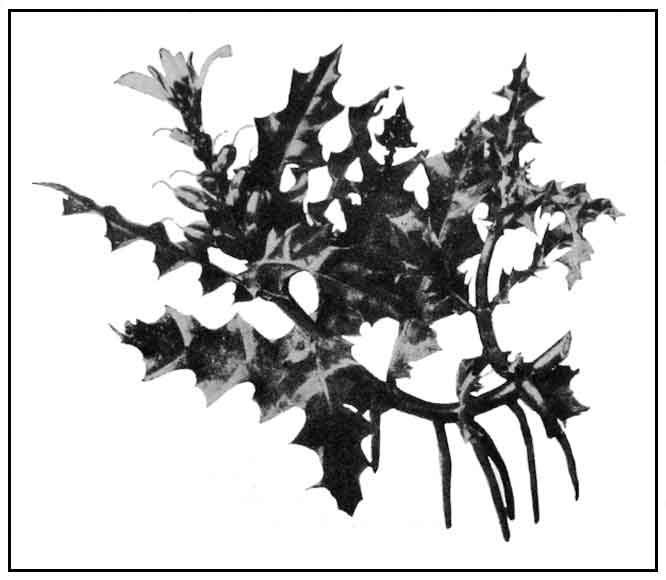 Properties
• Cooling, mildly salt-tasting.
• Antiphlogistic, anticontusion, expectorant.
• Galactagogue, expectorant, carminative.
• Leaves considered emollient.
• Root is expectorant.
• Astringent; makes a good nervine tonic and stimulant.
• In Siam and Indo-China, roots considered cordial and attenuant.
Parts utilized
· Roots
· Gathered the year round.
· Rinse, section into slices, sun-dry.

Uses
Folkloric
- Decoction of 30-60 g of dried material used for acute and chronic hepatitis, swelling-enlargement of the liver and spleen, swelling and enlargement of the lymph nodes, gastralgia, asthma.
- Decoction of roots and leaves used for asthma; also, to aid expectoration.
- Root boiled in milk used for leucorrhea and general debility.
- Used for gastrointestinal pains.
- Leaves are high in mucilage and used as emollient fomentation in rheumatism.
- Young leaves used as an antidote for snake venom.
- In India, popularly used for its wound healing effects; tender shoots and leaves used for snake bites.
- In Malaysia, leaves used for rheumatism, neuralgia, and poison arrow wounds.
- In Thailand, decoction of whole plant used for kidney stones.
- In Goa, mucilaginous leaves used as emollient in rheumatism and neuralgia.
- Ground fresh bark is used as antiseptic.
- Decoction of leaves for pain and as blood purifier.
- In Siam and Indo-China, roots used for paralysis and asthma.
Others
- Soap: Plant is used in the manufacture of soap; the lye prepared from the ash.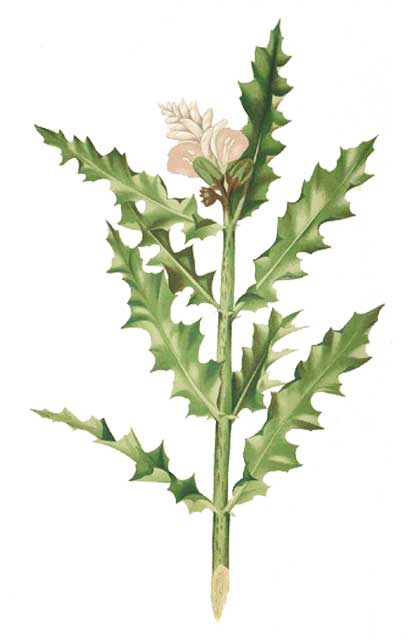 Studies
• Anti-Hepatic Cancer: Study showed the aqueous leaf extract prevented hepatic DNA alterations and chromosomal damage in tumor-bearing mice. and lengthened survival. It suggests A. ilicifolius may be a potential chemoprotector against hepatic neoplasia.
• Anticarcinogenic / Tumour Reducing: The study found AI extract to be effective against tumor progression and carcinogen induced skin papilloma in mice. There was reduction of tumor volume and significant delay in the onset of DMBA/Croton oil-induced skin papilloma in mice in a dose-dependent manner.
• Antioxidant and hepatoprotective effect of Acanthus ilicifolius: An alcoholic extract of AI inhibited the formation of oxygen derived free radicals in vitro and reduced induced hepatotoxicity in rats. The results were comparable with those obtained with curcumin.
• Anti-osteoporotic: Chemical constituents of Acanthus ilicifolius L. and effect on osteoblastic MC3T3E1 cells: The study yielded a new coumaric acid derivative, acancifoliuside and six other known compounds. Tested on osteoblastic cells, it concludes that A. ilicifolius may help prevent osteoporosis.
• Anti-Inflammatory / Free Radical Scavenging Activity: In a study to evaluate its anti-inflammatory activity, the methanolic fraction of A ilicifolius leaf extract produced significant inhibition of rat paw edema, similar to a COX and LOX inhibitor. It also produced significant inhibition of COX 1and 2 and 5-LOX activity. It also showed significant free radical scavenging activity.
• Antimicrobial: (1) Study showed the alcoholic and chloroform extract of leaves of A ilicifolius exhibited strong inhibitory action against B subtilis, S aureus, C albicans, A fumigatus and Aspergillus niger and moderate inhibitory action against P aeruginosa and P vulgaris. (2) Study evaluated the antimicrobial activity of ethanol, methanol, and aqueous extracts of leaf, stem, and roots of A. ilicifolius. The most active antimicrobial parts were aqueous root, ethanol stem, and methanol leaf. The ethanol extract effect was significantly higher than that produced by methanol and aqueous extracts.
• Antiulcerogenic Activity: Study evaluated the antiulcerogenic activity of a water extract of Acanthus ilicifolius in different models of acute gastric ulcers in rats. Results showed pretreatment with a leaf extract (both hot water and cold water) caused a beneficial effect on NSAID-induced gastric ulcer in rats.
• Chemopreventive / Erlich Ascites Carcinoma: Study showed treatment of EAC-bearing mice with an aqueous leaf extract resulted in restoration of hematological and hepatic histological profiles and lengthening of survival of animals against the proliferation of ascites tumor in vivo.
• Chemopreventive Activity Against Hepatocellular Carcinoma: Study analyzed the active components of a leaf extract of A. ilicifolius. Five natural steroid compounds were compared against a synthetic drug Sorafenib and Doxorubincin on various target proteins of liver cancer.
• Antioxidant / Free Radical Scavenging Effect: Study confirmed the antioxidative and radical scavenging activity of an A. ilicifolius extract .
• Flowers / Antioxidant / Cytotoxic: Flowers yielded terpenoid, phenolic compounds, and alkaloid. A methanol extract exhibited the highest antiradical efficiency against DPPH radicals and highest cytotoxicity against shrimp brine Artemia salina nauplii. Results present a potential candidate for cancer therapy.
• Antinociceptive: A methanolic extract of Ai leaves was tested for antinociceptive activity using acetic acid-induced writhing, formalin and hot plate testing. Results showed a significant and dose-dependent antinociceptive activity in all three models.

Availability
Wild-crafted.