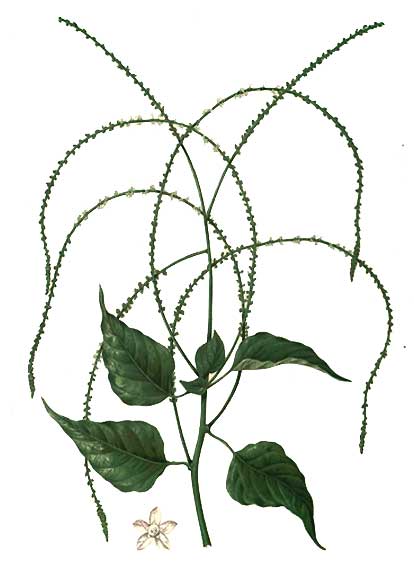 Botany
Ditiran is a slightly hairy or nearly smooth vine, reaching a length of 5 to 6 meters, with drooping branches. Leaves are entire, ovate to oblong-ovate, 7 to 14 cm long, with pointed tips and subtruncate bases. Racemes are slender, elongated, drooping, 20 to 40 cm long, and borne in the upper axils. Flowers are numerous, shortly pedicelled, greenish-white, with reflexed segments, and about 1.5 mm long. Stamens are white and erect. Fruit is ovoid, fleshy, red, about 4 mm long.
Distribution
- Common in thickets at low and medium altitudes in Ilocos Norte to Batangas Provinces in Luzon; and in Mindoro.
- Also occurs in India to China and southward to Australia.
Properties
Plant thought to be poisonous to a certain degree; the root can cause violent sneezing.
Constituents
Study yielded a new triterpenoid saponin with two known saponins from the fruits.

Parts used
Leaves and roots.

Uses
Folkloric
- In the Philippines decoction of leaves used for dysentery.
- In Java, mucous obstruction of the nose is treated by draining the nostrils with an infusion of the root with vinegar and alum.
- Some consider the root "poisonous" to a certain degree, or an irritant, as it can cause violent sneezing.
- Leaves are applied to sores.

Availability
Wild-crafted.