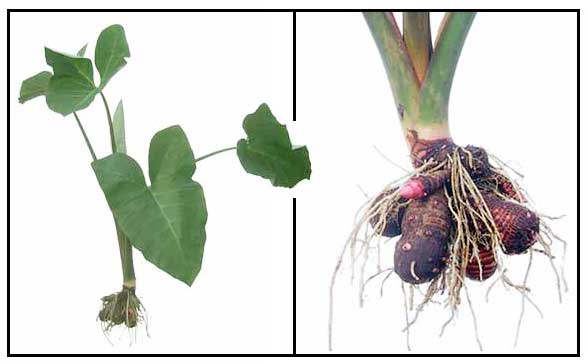 Botany
Gabi is a long-stalked herbaceous plant with huge leaves, growing to a height of 30 to 150 centimeters. Rootstock is tuberous, up to 10 centimeters in diameter. Leaves, in groups of two or three, are long-petioled, ovate, 20 to 50 centimeters long, glaucous, with entire margins, with a broad, triangular, basal sinus extending one- third or halfway to the insertion of the petiole, with broad and rounded basal lobes. Petioles are green or purplish, 0.2 to 1 meter long. Peduncles are usually solitary. Spathe is variable in length, usually about 20 centimeters long, the tubular part green, usually about 4 centimeters long, with the lanceolate, involute yellow limb about 20 centimeters long. Spadix is cylindric, half as long as the spathe, green below and yellowish above; male and female inflorescences are each 2.5 to 5 centimeters long, separated by intervals and covered with flat, oblong neuters.
Distribution
- Generally cultivated throughout the Philippines but is not a native of the Archipelago.
- in cultivated soil, nearby swamps or water.
- Pantropic cultivation.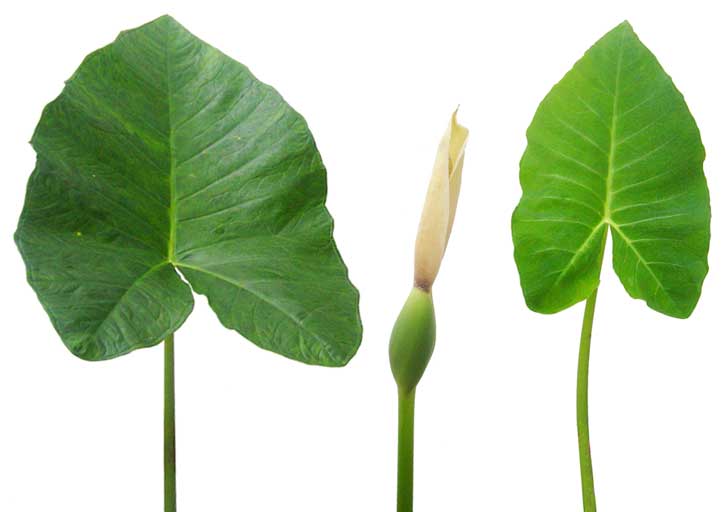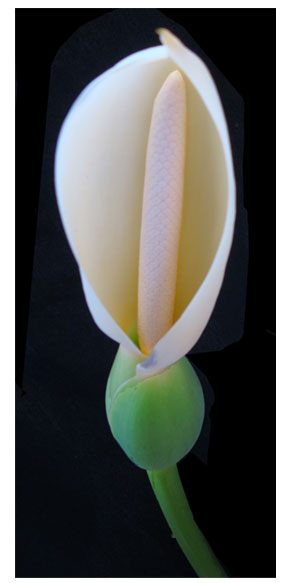 Constituents
- Plant has yielded flavonoids, ß-sitosterol, and steroids.
- An ethanol extract showed alkaloids, flavonoids, saponins, and tannins as major constituents.
- Good source of calcium, phosphorus, and iron.
- Young leaves are rich in vitamin C, roots are rich in starch.
- Tubers yield amino acids.
- Corms yield anthocyanins perlargonidin, 3-glucoside, cyaniding 3-rhamnoside and cyaniding 3-glucoside.

Properties
- Leaves and petioles are excellent to taste, also rich in minerals.
- Leaf juice considered styptic, stimulant, rubifacient.
- Juice of corm is considered laxative, demulcent and anodyne.
- Tubers are digestive, laxative, diuretic, lactagogue, and styptic.
- Pressed juice of petioles are styptic.
- Acridity of leaves, petioles and tubers is due to raphides which easily disappear on boiling or cooking. These crystals may cause irritation.
- Studies have suggested analgesic, anti-inflammatory, anti-cancer, hypolipidemic properties.

Parts utilized
Roots and leaves.
Uses
Culinary / Nutrition
- Prized for its large corms or underground stems, used as staple food in many localities.
- Fresh edible leaves and petioles are a rich source of protein, ascorbic acid, dietary fiber, and some important minerals.
- The corms, petioles and leaf blades are good sources of vitamin B.
- To the early Hawaiians, grown mainly for poi production.
- Its easy digestibility makes it a great nutritional supplement for weight gain needs in cancer-cachexia, AIDS, pancreatitis and a miscellany of weight-loss conditions.
Folkloric
- Used for asthma, arthritis, diarrhea, internal hemorrhage, skin disorders.
- Juice of petioles sometimes used for earache and otorrhea.
- Juice of the corm used in alopecia.
- Leaf juice also used for internal hemorrhages, otalgia, adenitis.
- Internally, a good laxative. Also, used for piles.
- Also, used as antidote for wasp and insect stings. Leaf juice applied to scorpion stings and snake bites.
- Heated tubers are applied locally to painful rheumatic joints.
- Ash of the tubers, mixed with honey, is used for buccal aphthous stomatitis.
- Raw juice of gabi, mixed with sugar, used as febrifuge.
- In Hawaii, end of petioles used to stop wounds from bleeding.
- Stem leaf used on insect bites to prevent swelling and pain.
- In India, leaves used as anthelmintic.
- Poultice of roots used on infected sores.
- In Ayurveda, plant pacifies vitiated vata and pitta, constipation, stomatitis, alopecia, hemorrhoids, and debility.
- Juice consumed to reduce fever.
- In Venezuela, the corm is used as an abortifacient and to treat tuberculosis, pulmonary congestion, crippled extremities, fungal abscesses in animals and as an anthelminthic. The Warao use the stem sap for wasp stings. Poi, a ferment from corm shavings, is used bo bathing the sickly to improve muscle tone.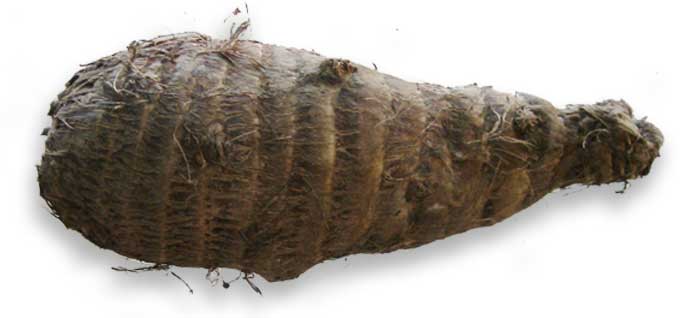 Studies
• Lactobacillus / The Medicinal Uses of Poi – The possibility of poi being a probiotic in medical nutrition therapy was raised. Investigation has determined that the predominant bacteria in poi are Lactobacillus lactis (95%) and Lactobacilli (5%), containing more lactobacilli per gram than yogurt. It was also considered for use in infants with allergies and failure-to-thrive. This review suggests a need to confirm these results.
• Anti-Colon Cancer: The anti-cancer effects of poi (Colocasia esculenta) on colonic adenocarcinoma cells in vitro: The study results suggest that poi may have a novel tumor specific anti-cancer activities and suggests further animal studies and human clinical trials.
• Anti-inflammatory: An ethanol extract study of the leaves of Colocasia esculenta in wistar rats showed significant anti-inflammatory activity with inhibition of carrageenan induced rat paw edema and leukocyte migration and reduction of pleural exudates.
• Antioxidant / Flavonoid Glycosides: Study isolated 6 C-glycosylflavonoids and one O-glycosylflavonoid from the shoot system of Taumu (CE) identified as schaftoside, isoschaftoside, orientin, isovitexin, isoorientin, vitexin and luteolin 7-O-sophoroside. Some of the compounds showed strong antioxidant activity. Study results suggest the potential of the leaf of Colocasia esculenta as a source of dietary antioxidant.
• Antihepatotoxicity: Study evaluated the antihepatotoxic and hepatoprotective activity of C. esculenta against two well known hepatotoxins--paracetamol and CCl4. Results showed the leaf juice to possess antihepatotoxic and hepatoprotective efficacy in vitro using rat liver slice method.
• Anti-Diabetic: Study of an ethanol extract of leaves for antidiabetic activity in alloxan-induced diabetic rats showed antihyperglycemic activity. Phytochemical screening yielded alkaloids, flavonoids, saponins, and tannins as major constituents in the extract.
• Antimicrobial / Anti-Vibrio spp / Aquaculture: Study evaluated the antimicrobial property of C. esculenta against 5 strains of Vibrio spp. Resistant pathogenic bacteria has posed a problem in the aquaculture industry. Results showed only the leaf aqueous extract showed antimicrobial activity against all tested bacterial strains (Vibrio alginolyticus, V. cholera, V. harveyi, V. parahaemolyticus and V. vulnificus).
• Antioxidative / Response to Arsenic Stress: Study showed an increase in antioxidant stress enzyme activities in response to arsenic exposure may be taken as evidence for an enhanced detoxification capacity of C. esculentum towards reactive oxygen species that might be generated in the stressed plants.
• Antihelmintic: Study evaluated aqueous and ethanolic extracts of leaf for antihelmintic activity against earthworm. Piperazine citrate was used as standard drug reference. Results showed significant anthelmintic activity at highest concentration, 50 mg/ml extract.
• Anti-Lipid Peroxidative Activity in CCl4 and Acetaminophen Mediated Damage: Study using a rat liver slice method showed C. esculenta whole leaf juice prevented lipid peroxidative reactions caused by free radicals generated by the hepatotoxins (CCl4 and acetaminophen). Results showed the whole leaf contains free radical scavenging efficacy.
• Antimicrobial / Antioxidant / Anti-Cancer: Study evaluated extracts of different plant parts--corm, stem, and leaf-- for antimicrobial, antioxidant, and anti-cancer activities. Study showed antimicrobial activity against C. esculenta􏰀H[WUDFWV􏰀 against Aeromonas hydrophila, Escherichia coli, Edwardsiella tarda, Flavobacterium sp., Klebsiella sp., Salmonella sp., Vibrio alginolyticus, V. parahaemolyticus, V. cholerae and Pseudomonas aeruginosa. Antioxidant activity was revealed using a DPPH radical scavenging assay. Anticancer activity was done with Colorimetric MTT assay against human breast adenocarcinoma (MCF-7).

Availability
Cultivated.
Wild-crafted.