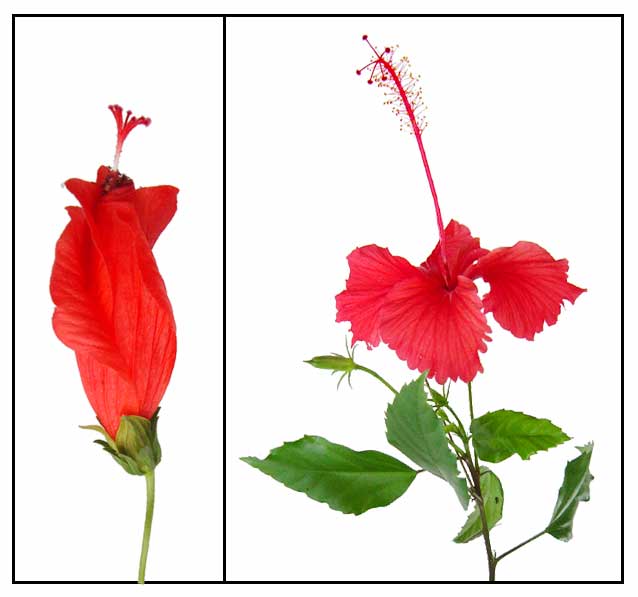 General info
About 300 species are found worldwide. Its beauty makes it one of the most widely cultivated of flowers, in brilliant hues of red, orange, or purplish-reds, with short-lived but continuing blooms. The red flowered variety has been preferred in medicine.
Botany
Gumamela is an erect, much-branched, glabrous shrub, 1 to 4 meters high. Leaves are glossy green, ovate, acuminate, pointed, coarsely-toothed, 7 to 12 centimeters long, alternate, stipulate. Flowers are solitary, axillary, very large, about 10 centimeters long, and 12 centimeters in diameter. Outermost series of bracteoles are 6, lanceolate, green, and 8 millimeters long or less. Calyx is green, about 2 centimeters long, with ovate lobes. Petals are red, orange or rose-white, obovate, entire, rounded tip, and imbricate. Stamens form a long staminal tube enclosing the entire style of the pistil and protruding out of the corolla. Ovary is 5-celled, styles are 5, fused below. Fruits are capsules, loculicidally 5-valved, but rarely formed in cultivation.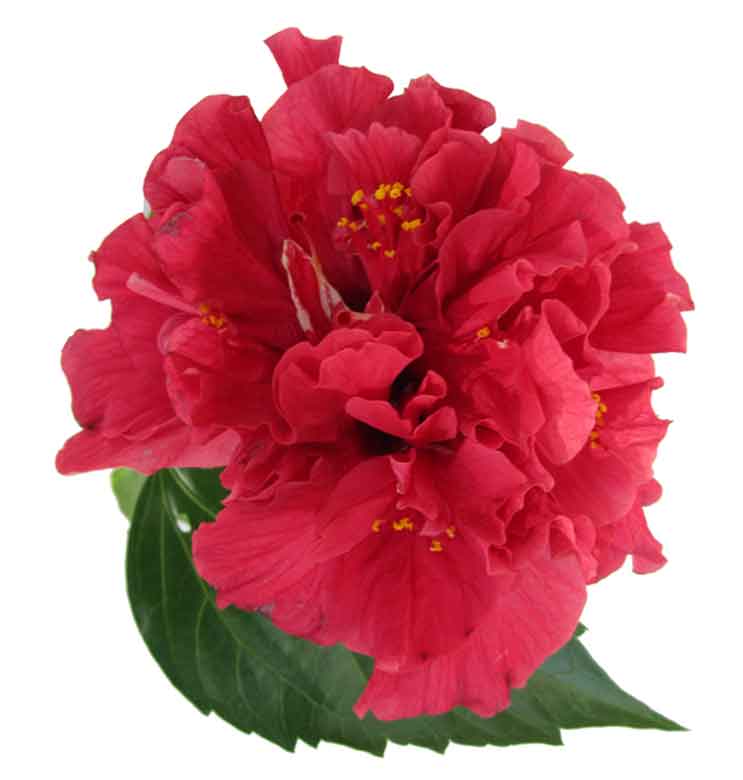 Distribution
- Ornamental cultivation throughout the whole country.
- Commonly planted as a hedge and fence or as landscape shrub.
- Native of the Old World.
- Now pantropic.
Properties
· Considered emollient, emmenagogue, anodyne, expectorant, refrigerant.
· Anti-infectious, anthelmintic, antiinflammatory, diuretic, antipyretic.
· Hypotensive, antispasmodic.
· Prepared drug has sweet taste, neutral natured.
· The Hibiscus with five petals noted for its medicinal properties, the flowers are considered astringent. The roots contain a mucilage that is soothing on the mucous membranes of the digestive and respiratory tracts.
· Proanthocyanidins are considered antioxidant, antipyretic, analgesic, spasmolytic.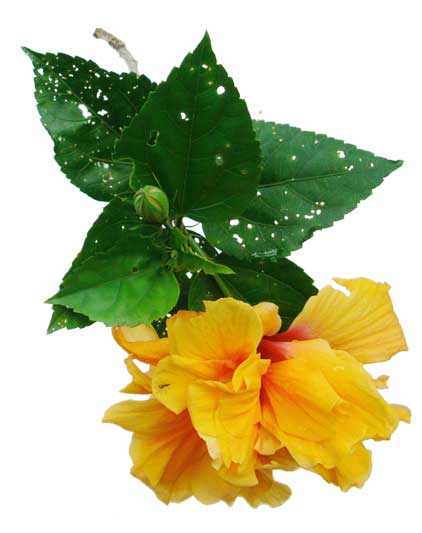 Constituents
- Flowers reported to yield hisbiscetin.
- Flowers yield polyphenols, flavonoids and anthocyanins.
- Polysaccharides which promote wound healing and are immune-modulating.
- Studies have isolated flavonoids, cyanidin, quercetin, hentriacontane, calcium oxalate, thiamine, riboflavin, niacin, ascorbic acid.
Parts utilized
· Flowers, roots, and leaves.
· Harvest the roots and leaves anytime of the year.
· Wash, cut into slices, and sun-dry. The flowers should be collected from May to August, sun-dry.
Uses
Edibility / Culinary
A tasty tea is brewed from its petal.
Folkloric
· In the Philippines, flower buds, beaten to a paste, applied as poultice to boils, cancerous swellings, and mumps.
·Poultice of leaves and flower buds applied externally to swellings; the same mixture, with the addition of lime, hastens the maturation of tumors.
· Mumps, infection of the urinary tract: use dried drug materials 15 to 30 gms, boil to decoction and drink.
· For abscesses, carbuncles and boils: crush fresh leaves and poultice the infected area.
· Decoction of roots, barks, leaves and flowers used as an emollient.
· Decoction from roots of red and white-flowered plants is a Kelantan antidote for poison. Same decoction is drunk for venereal diseases and fevers.
· Decoction of roots also used for coughs.
· Decoction of flowers and or roots used as natural diuretic.
· Bark is an emmenagogue; also used to normalize menstruation.
· Malays uses a decoction of leaves as a lotion for fevers, and the roots for glands in the neck.
· Infusion or poultice of leaves used for headaches.
· In China, leaves used as emollient, anodyne, and a gentle aperient.
· Decoction of root used as drops for sore eyes.
· Seeds used as a stimulant and for cramps.
· Decoction of leaves for fevers.
· For headaches, an infusion of leaves or poultice of leaves.
· Leaves are mildly laxative.
· Mucilage applied during labor.
· Juice of leaves, along with that of Vernonia cinerea, used by midwives to stimulate the expulsion of the placenta
· In the Dutch Indies the red flowers are used to regulate menstruation; also, considered somewhat purgative and sometimes said to cause abortion
· In Sind, flowers are fried in clarified butter and used for checking excessive menstruation
· Red flowers used for sprue.
· Infusion of flowers and leaves used as expectorant in bronchitis
· The Chinese and Annamites use the flowers for paralysis and dysmenorrhea.
· Infusion of flowers, exposed all night to the dew, used for gonorrhea.
· Flowers fried in ghee, given for menorrhagia. The dark red petals are used as a mucilaginous infusion for painful urination, strangury, cystitis, and other irritable genitourinary conditions
· Infusion used as a refrigerant drink for fevers and as demulcent for coughs.
· Red flowers are purgative; when taken with papaya seeds, may be abortive.
· Hair stimulant: oil made by mixing the juice of fresh petals and olive oil in equal proportions, and boiled till the water has evaporated, used for stimulating hair growth.
· Seeds, pounded to a pulp and mixed with water, used for gonorrhea.
· In Costa Rica, used as a purgative.
· In Venezuela, used to treat tumors.
· In the Caribbean, used as analgesic, anti-inflammatory.
· In the Dominican Republic, used to treat hematomas.
Others
· Dye / Coloring: In Ceylon, juice of flowers reported to serve as shoe-blackening. Chinese and Hindus use the juice of petals for blackening of their eyebrows. Flowers used as food coloring.

Studies
• Biologic Activities: Studies have demonstrated anti-bacterial, hypotensive, antispasmodic, and chemopreventive activities. It has shown glucose lowering in diabetic rats. Leaf extract has shown to promote hair growth.
• Post-Coital Antifertility Activity: (1) The study explored the antifertility and estrogenic activity of root extracts of H. rosa-sinensis. A strong anti-implantation and uterotropic activity was observed. (2) Study of different extracts on the postcoital antifertility properties showed only the flower extracts were 100% effective in preventing pregnancy. Extracts from H mutabilis, H schizopetalus and M grandiflorus did not markedly affect pregnancy.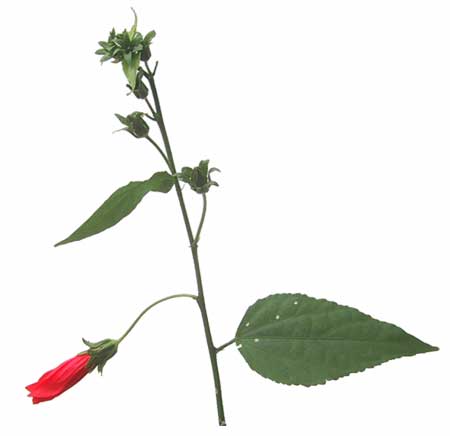 • Wound Healing Activity: Results on flower extracts study suggest H. rosa-sinensis aids wound healing in the rat model.
• Cardioprotective: Study evaluated the cardioprotective effect of the Hibiscus rosa sinensis flowers in an oxidative stress model of myocardial ischemic reperfusion injury in rat: The study concludes that the flower of Hibiscus rosa-sinensis augments endogenous antioxidant activity and prevented isoproterenol induced myocardial injury.
• Spasmogenic / Spasmolytic Constituents: Presence of cholinergic and calcium channel blocking activities explains the traditional use of Hibiscus rosa-sinensis in constipation and diarrhoea: Study indicates the crude extract had spasmogenic and spasmolytic constituents to explain its traditional use in constipation and diarrhea.
• Phytochemical / Hypotensive Activity: Flowers extract studies isolated four new phytoconstituents. The hydroalcoholic extract showed the most significant hypotensive activity.
• Hypoglycemic / Hypolipidemic Activity: (1) Study of ethanol flower extract on lipids and blood glucose of STZ-induced diabetic rats showed a lipid lowering effect (decrease cholesterol and serum triglycerides with increase in HDL) and diminution in blood glucose comparable to that of glibenclamide but through a mechanism other than insulin release. (2) Study showed a hypolipidemic effect compared to the standard drug guggulipid. Histopath findings in rat liver supported the role of H rosa sinensis root extract in preventing cholesterol HFD-induced hepatic steatosis.
• Antitumor / Anticancer: Study to investigate the ameliorative potential of H rosa sinensis extract in mice skin showed the extract of HRS exerts a protective effect against tumor promotion stage of cancer development.
• Cytotoxicity: Studies have showed H. rosa-sinensis flower decoction has cytotoxic properties in plant test systems. Decoction of flowers was toxic on root output and length in A. cepa and reduced the mitotic index significantly. Results suggest that H. rosa-sinensis flowers contain antimitotic constituents which stop cell division in anywhere of the cell cycle.
• Excipient Potential: Study concludes that a novel hydrophilic excipient, a mucilage extracted from H rosa sinensis can be used in the development of sustained-release tablets.
• Gentisic Acid / Tumor Inhibition / Anti-Carcinogenesis: Study evaluated the role of gentisic acid, a chemical constituent of H. rosa-sinensis, on DBMA/croton-oil-mediated carcinogenesis in mouse skin. Results suggest the gentisic acid plays a role in the modulatory activity of H. rosa-sinensis extract.
• Antianxiety / CNS Effect: Study showed statistically significant decrease in exploratory behavior, latency, and increased rearing and ambulatory behavior. Results suggest H. rosa-sinensis has significant anti-anxiety associated psychobehaviour modulation.
• Analgesic: Study of alcohol and aqueous extracts of dried leaves showed marked dose-dependent analgesic activity.
• Blood Pressure Lowering: Study showed drinking of hibiscus tea lowered blood pressure in a group of pre-hypertensive and mildly hypertensive adults.
• Hair-Growth Potential: Petroleum ether extract of leaves and flowers of HRS were studied for hair growth potential over shaved skin of albino rats. Results showed the leaf extracts to exhibit more potency on hair growth.

Availability
Wild-crafted.
Cultivated for ornamental use.