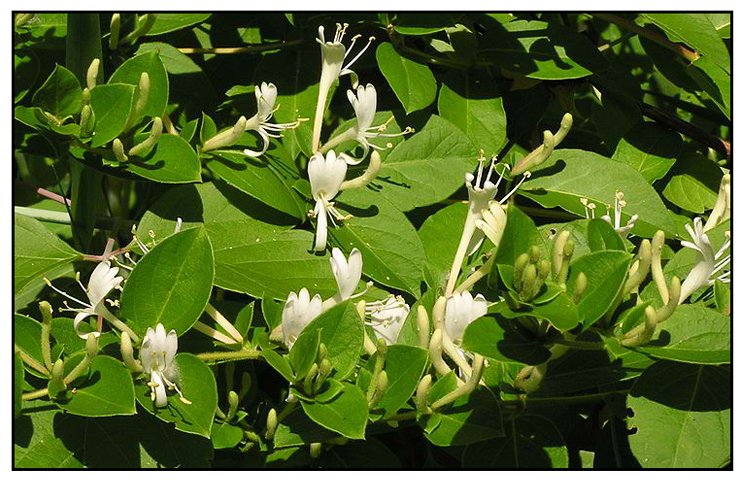 Botany
This ornamental plant, Japanese honeysuckle, is a hardy, low-climbing or trailing shrub, up to 5 meters or more in length. Leaves are oblong, oblong-ovate, or ovate, 3 to 6 centimeters long, 1.5 to 2.5 centimeters wide, pointed or blunt at the tip, blunt at the base and borne on short petioles. Flowers are tubular, 3 to 4 centimeters long, white, but turning yellow with age, borne in pairs in axils of the leaves on young shoots. Corolla is smooth, the tube slender and widening gradually, the limb has two lips, the upper lip broad, erect and divided into four-strap segments, and the lower lip having one linear-strap-shaped recurved segment. The berries are black.
Distribution
- Ornamentally cultivated for its fragrant, attractive and profuse flowers.
- A recent introduction.
- Native of Japan.
Parts utilized
Vine, leaves and flowers.
Constituents
• Vine contains saponin, tannin and ash.
• Vine, leaves and flowers considered antifebrile, corrective and astringent.
• Volatile oils in the flower and stems were highly similar to each other – palmitic acid and linoleic acid are the highest principles.
• Study yielded seven compounds: luteolin, luteoloside, quercetin, quercetin-3-0-beta-D-glucoside, quercetin-7-0-beta-D-glucoside, rutin, chlorogenic acid.
Properties
• Considered antibacterial, antiinflammatory, antispasmodic, antiviral, depurative, diuretic, febrifuge.

Uses
Edibility
• Flowers and leaves.
• Tea made from leaves, buds and flowers.
• Leaves cooked as vegetable. (See toxicity concerns below)
Folkloric
• In Chinese medicine, vine, flowers and leaves are used to increase vitality and lengthen life.
• Used for infections and poisoning.
• Considered antisyphilitic.
• Infusion of stems and flowers used for common colds, upper respiratory infections and flu-like symptoms.
• Infusion used in lotions for ulcers and abscesses.
• Flowers applied as wash for skin inflammations, rashes and sores.
• In Brazil, used as depurative and to facilitate childbirth.

Studies
• Biflavonoids / Anticancer: Biflavonoids isolated from Lonicera japonica and Benincasa hispida displayed different patterns of growth inhibition among the human cancer cell lines.
• Acute and Subacute Toxicity Studies: The ethanol extract of leaves of Lonicera japonica showed no toxicity on hematologic, blood chemistry and gross and histopathologic parameters.
• Luteolin / Anti-Inflammatory: Luteolin, isolated from the flowers of Lonicera japonica, inhibited the induction of inflammatory cytokines, exerting a regulatory effect on mass cell-mediated inflammatory diseases, such as IBD, RA and allergy diseases.
• Antipyretic: Study showed L japonica to have obvious antipyretic effects on IL-1ß-induced febrile rabbits and acts by inhibiting expression of EP3 mRNA in the POAH.
• Anti-Angiogenic / Antinociceptive / Anti-Inflammatory: Study on the ethanolic extract of L japonica showed antiangiogenic, antinociceptive and antiinflammatory activities.
• Growth Hormone Release: Study showed induction of rat growth hormone (rGH) by addition of methanol extract in rat pituitary cell culture.
• Apoptosis: Study results suggested the photoactivated Lj extract-induced apoptosis is mediated by change in distribution of cytoskeleton. Results indicate the cytoskeleton is the potential target in the photoactivated Lonicera japonica extract-induced CH27 cell apoptosis.

Toxicity
• Leaves contain saponins; although toxic, are poorly absorbed and cooking, changing the water once, remove most of the saponins.
Availability
Wild-crafted.