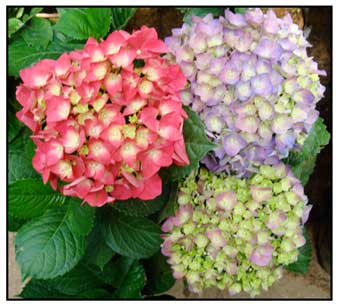 Botany
A deciduous shrub growing to a height of 1.5 to 2 meters. Leaves are opposite, petioled, oblong-ovate, acuminate, light green with serrate margins. Flowers are in large, terminal cymes; clusters up to 12 cm across, blut, pink, or white, with broadly oval sepals.
Distribution
Garden cultivation.
Thrives well in Baguio and other high altitude areas.
A popular hedge plant.
Properties and constituents
• Considered antiperiodic, antitussive, diuretic.
• Leaves, roots and flowers considered antimalarial, antitussive and diuretic.
• Leaves contain phyllodulcin, a sweet substance that can be
used as a sugar substitute.

Uses
Edibility
• Young leaves, dried and rubbed becomes sweet
• Used to make sweet tea, or "tea in heaven," used in Buddhist ceremonies.
• Leaves are dried, powdered and used as food flavoring.
• Young leaves and shoots can be eaten cooked.
Folkloric
• No known folkloric medicinal use in the Philippines.
• Elsewhere, used for malaria, as diuretic, antitussive.

Studies
• Antmalarial Activity: (1) Study evaluated the antimalarial activity of fractions isolated from the leaves of Hydrangea macrophylla against Plasmodium yoelii. (2) In a study of the leaves of 13 common Japanese plants, the leaf extract of Hydrangea macrophylla inhibited the parasitic growth of Plasmodium falcifarum.
• Phyllodulcin / Water Extraction: A subcritical water extraction, an alternative environmentally friendly extraction method, was developed for the extraction of phyllodulcin, the well known sweetener in Hydrangea macrophylla var. thunbergii.
• Secoiridoid Glycosides: Study isolated seven secoiridoid glycosides from the leaves of H macrophylla subsp. serrata.
• Halofuginone / : Halofuginone, a drug derived from the hydrangea root, shows promise in the treatment of autoimmune disorders, inhibiting the development of Th17 cells in both mice and humans, interrupting processes in autoimmune pathology.
Availability
Wild-crafted.