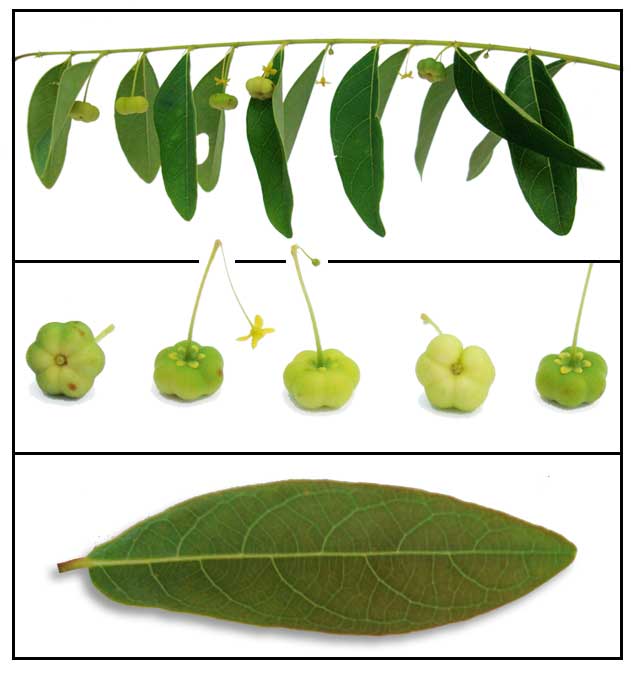 Botany
Iba is a small, smooth, deciduous tree growing to a height of 4 to 9 meters. Branches are thickened with nodules in the axils of the fallen leaves. Leaves are unequally pinnate, crowded at the ends of the branches, 20 to 40 centimeters long. Leaflets are alternate,entire, oblong-ovate, 2 to 7 centimeters long. Flowers are pink, small, and crowded in many-flowered fascicles along the racemes. Male and female flowers are usually on separate plants. Fruit is fleshy, acidic, edible, greenish white, rounded, 1 to 1.5 centimeters diameter, angled, with a hard, bony, 6- to 8-grooved, 3- or 4-celled stone, each cell with a single seed.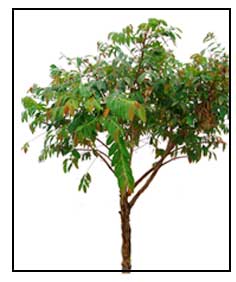 Distribution
- Planted in most parts of the Philippines for its acid, edible fruit, but nowhere abundant.
- Of prehistoric introduction.
- Also occurs in India to Malaya and Polynesia.
- Introduced in tropical America.

Constituents
- Fruit contains dextrose 0.33 per cent, levulose 1 percent, and saccharose.
- 18 % tannin is reported in the root-bark, with saponin and gallic acid.
- Study isolated active constituents from the roots: phyllanthusols A and B.
- Food value per 100 g of edible portion: Moisture, 91.9 g; protein, 0.155 g; fat, 0,52 g; fiber, 0.8 g; ash, 0.51 g; calcium 5.4 mg; phosphorus, 17.9 mg; iron, 3.25 mg, carotene, 0.019 mg; thiamine, 0.025 mg; riboflavin, 0.013 mg, niacin, 0.292 mg; ascorbic acid, 4.6 mg. (6)
- Studies have isolated phyllantusols A and B,and aglycon.
- Phytochemical screening of root bark yielded carbohydrates, saponins, and tannins. (see study below) (12)
- Phytochemical screening of leaf extract yielded alkaloids, flavonoids, steroids, and phenols, with an absence of terpenoids, anthroquinone, saponin and tannin. (see study below) (13)
Properties
Fruit is acid and astringent.
Root is purgative.
Seed is cathartic.
Leaves are diaphoretic, mucilaginous and demulcent.
Parts used and preparation
Leaves, seeds.

Uses
Culinary
- Unripe fruit is cooked and used as a sour flavoring.
- Can be pickled or made into jams and jellies.
- Young leaves are cooked as greens.
Folkloric
- Decoction of leaves is used externally for urticaria, the fruit given at the same time to eat.
- Decoction of the bark used for bronchial catarrh.
- Some believe the roots to be poisonous, but the Malays boil it for steam inhalation in use for coughs.
- In Java, root infusion used for asthma.
- In Borneo, used with pepper
- Poultice of leaves for lumbago and sciatica.
- Root used for psoriasis.
- Used in chronic liver diseases.
- Decoction of leaves is diaphoretic.
- Leaves used for gonorrhea.
- In Burma, fruits are eaten to promote appetite ; sap swallowed to induce vomiting and relieve bowel costiveness. In Indonesia, leaves are used as counterirritant in sciatica and lumbago. In Malaysia, vapors from boiling of roots inhaled for coughs and headache. (11)
- In Bangladesh used for skin diseases - eczema, abscesses, acne, etc.
- In India, fruits are taken as liver tonic. Leaves, with pepper, are poulticed for sciatica, lumbago or rheumatism. Leaves taken as demulcent for gonorrhea.
- In Maharashtra, India, decoction of seeds used twice daily for asthma and bronchitis.
- In Malaya, root infusion, in small doses, taken for asthma. The root is used for foot psoriasis.


Studies
• Cystic Fibrosis: An extract from the medicinal plant Phyllanthus acidus and its isolated compounds induce airway chloride secretion : A potential treatment for cystic fibrosis: Previous studies have reported that flavonoids and nutraceuticals correct electrolyte transport defects in cystic fibrosis. Study showed no cytotoxic effects of P. acidus. The effects on epithelial transport suggests a potential novel complementary nutraceutical treatment for CF lung disease. (2)
• Antibacterial: Antibacterial properties of tropical plants from Puerto Rico: In the study, Phyllanthus acidus was one of the plants that showed the highest antibacterial activity against E coli and Staphylococcus aureus. (3)
• Antinematodal: Methanolic extracts of 79 Malaysian plants were assessed for antinematodal activity against Bursaphelenchus xylophilus. Cicca acida showed strong antinematodal activity. (4)
• Analgesic / Anti-Inflammatory / Antioxidant: Study evaluated leaves extracts showed significant dose-dependent anti-inflammatory and analgesic activities. Extracts also showed significant antioxidant activity correlating with the flavonoids and phenolic compounds content. (8)
• Diuretic / Leaves: Study evaluated the diuretic effect of an ethanol extract of P. acidus leaves in female Wistar rats. Results showed a significant diuretic and saluretic effect at doses of 22.5, 45, and 90 mg/kbw compared to control, but significantly less than furosemide 3.6 mg/kbw. (10)
• Antioxidant / Cytotoxicity / Root Bark: Study showed free radical scavenging activity on DPPH assay. Brine shrimp lethality assay showed an LC50 of 35.48 µg/ml. (see constituents above) (12)
• Antimicrobial / Leaf: Study of leaf extract showed antimicrobial activity. The presence of alkaloids in the solvent fractions may correlate with the antimicrobial activities. (see constituents above) (13)
• Hepatoprotective / Carbon Tetrachloride Toxicity / Antioxidant: Phyllanthus acidus and silymarin exhibited significant hepatoprotective effect as evidenced by enzyme parameters. Study also showed remarkable DPPH scavenging activity. The heaptoprotective effect of P. acidus against CCl4-induced oxidative damage may be related to its antioxidant and free radical scavenging potentials. (14)
• Hepatoprotective / Acetaminophen Mediated Hepatic Injury: An ethanolic extract of fruit showed hepatoprotective activity against APAP-induced hepatotoxicity likely mediated through the inhibition of P450-mediated APAP bioactivation, free radical scavenging and antioxidant activities. (15)
• Cytotoxic and Anti-Tumor Activity / Leaf: Study evaluated the cytotoxic and anti-tumor activity of an EA extract of leaves. Results showed significant in vitro cytotoxic activity against Hep G2 and DLA cell lines. The anti-tumor activity using DLA cell line induced solid tumor model in Swiss albino mice showed significant reduction of tumor volume. (16 )
• Antimicrobial Synergism / Anti-Tubercular: Study evaluated the synergistic antimicrobial and anti-tubercular activities of methanol extract of P. acidus. The extract was used in combination with oxytetracycline. Results showed a broad antimicrobial activity spectrum for possible use in antiseptic and disinfectant formulations. The anti-tubercular activity was compared with standard drug Rifampicin. (17)
• Remedial Effect on Bleomycin Provoked Pneumopathy: Study investigated the salubrious role of P. acidus against bleomycin provoked pneumopathy in a rat model. Results suggest P. acidus has curative effects in Bleomycin induced pulmonary fibrosis. (18)
• Inhibition of Platelet Aggregation / Enhanced Phagocytic Function: Study evaluated the effects of a boiled herb concoction (folk wisdom boiled herb) of Phyllanthus amarus, Phyllanthus acidus, and Pandanus amaryllifolius on neutrophil, RBC, and platelet functions. Results showed the folk wisdom boiled herb extract could enhance phagocytic cell function and inhibit platelet aggregation. (19)
Toxicity !
Juice of the root-bark is used as poison to produce headache, sleepiness, abdominal pains, and sometimes, death.

Availability
Wild-crafted.