Botany
Kalumbibit is a prickly shrub or woody vine reaching a length of 10 meters or more. Leaves are bipinnate, often nearly 1 meter long, with the rachis armed with stout, sharp, recurved spines. Pinnae usually number about 10 pairs and are about 20 centimeters long with a pair of short, sharp spines at the point of attachment of each pair of leaflets. Leaflets also number about 10 pairs and are oblong, 2 to 5 centimeters long and somewhat hairy. Flowers are yellow, borne in axillary, simple or panicled racemes and about 1 centimeter long. Calyx is deeply cleft, the disk basal, the lobes imbricate, the lowest one larger than the others. Petals spreading, usually clawed, the uppermost smaller than the others. Stamens, 10, free, declinate, anthers versatile. Ovary few-ovuled. Fruits are pods, oblong 5 to 7 centimeters in length, inflated and covered with slender spines and contain one or two seeds. The seeds are large, somewhat rounded or ovoid, hairy, grey and shiny.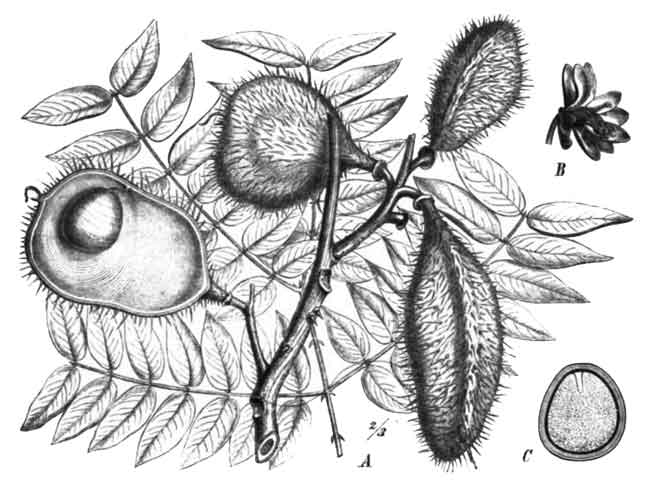 Distribution
- In thickets along and near the seashore throughout the Philippines.
- Pantropic.
Constituents
- Seeds yield a bitter, resinous principle, named bonducin.
- Fatty oil yields glycerides of plamitic, stearic, lignoceric, oleic, and linoleic acids, two phytosterols and a hydrocarbon similar to heptacosane.
- Study isolated four known cassane-type diterpenes and three new norcassane-type diterpenes.
- Phytochemical studies of seeds have revealed alkaloids, flavonoids, glycosides, saponins, tanins and triterpenoids.

Properties
- Bitter tasting, cooling.
- Considered anticontusion, analgesic, antipyretic, antidiarrheal, antidote, antinociceptive, anxiolytic, diuretic, anthelmintic, and tonic.
- Leaves are deobstruent and emmenagogue.
- Bark considered rubefacient.
- Seeds considered tonic, febrifuge, purgative.
Parts utilized
Leaves, seeds, root and bark.

Uses
Folkloric
· In the the Philippines, seeds used for stomach troubles and as a mild purgative. Powdered seeds used as febrifuge and regarded as tonic.
· Acute and chronic gastritis, gastric ulcer, carbuncle, furuncle.
· Pounded fresh material may be applied as poultice on carbuncle and furuncle.
· Leaves and seeds used as external applications for dispersing inflammatory swelling.
· Bark and leaves used as anthelmintic, febrifuge and emmenagogue.
· Tender leaves used for disorders of the liver.
· Ointment made from seeds, mixed with castor oil, used as external application to hydrocoeles, acute orchitis and glandular swellings.
· Oil expressed from seeds used for convulsions, palsy, and a variety of nervous complaints; also, used as embrocation in rheumatism.
· Seeds, roasted and powdered, internally administered for hydrocoele and leprosy.
· Fixed oil from the seeds used as emollient and as embrocation to remove freckles, and to stop ear discharges.
· Decoction of roasted seeds used for consumption and asthma.
· In Ayurveda, sprouts and root bark used to treat tumors. The juice of leaves for elephantiasis, worms. Paste of leaves used for pain and edema. Internally, used for abdominal pain, diarrhea, dysentery and colitis.
· In Assam, seeds are used in the treatment of diabetes.
· In Malaya, young leaves used for intermittent fevers and as vermifuge.
· In Indo-China, leaves used as deobstruent and emmenagogue.
· In traditional Indian medicine, used as antipyretic, antiperiodic, anticonvulsant and antiparalytic.
· In some part of Vidharbha region, seed kernels used as crude learning and memory enhancer.
· In French Guiana root decoction used as febrifuge. Roots also used for gonorrhea.
· In South Africa seeds used for treatment of diarrhea; leaf infusion used for cerebral hemorrhage and infantil convulsions. Pounded leaves are used as vesicant.
· In Ceylon young leaves applied to toothaches; also used for worms in children.
· Decoction of leaves used as gargle for sore throat.
· Bonducin, as a pill, used in the treatment of malaria.

Studies
• Antimalarial: (1) Study isolated 44 casssane- and norcassane-type diterpenes. Most of the tested diterpenes showed antimalarial activity; norcaesalpinin E showed the most potent activity, more than the drug chloroquine. (2) In a study of six plants used in traditional medicine for malaria, C. bonducella and Cassia abbreviata leaf ethanol extracts were the most promising for further studies.
• Antioxidant: (1) Study showed the methanolic extract of C crista has potent antioxidant activity and ROS scavenging acitivity as well as iron chelating property. (2) Ethyl acetate extract showed a maximum of 49% free radical scavenging activity at the end of 1 hr. Although it may help in diabetes-linked oxidative stree, it does not necessarily contribute to its hypoglycemic activity.
• Antidiabetic / Hypoglycemic: (1) Study showed the seed kernel of Caesalpinia bonducella has significant antidiabetic and hypoglycemic effects. Activity may be partly due to a positive effect on glycogen synthesis in the liver, skeletal muscle and heart muscle due to an insulin-like action of its constituents and partly due to stimulatory action on insulin release. (2) Study of ethanolic and aqueous extracts showed significant blood sugar lowering effect of C. bonducella in the type 2 diabetic model. (3) Study of aqueous extract of C. bonducella seed shell showed very significant blood sugar lowering in glucose loaded, STZ and alloxan diabetic models. (4) Study in STZ-induced diabetic rats showed blood sugar lowering attributed to increase of insulin release from the pancreatic cells.
• Antifilarial: Study showed the C. bonducella seed kernel extract and fractions showed microfilaricidal, macrofilaricidal and female-sterilizing efficacy against L. sigmodontin and microfilaricidal and female-sterilizing efficacy against B. malayi in animal models, suggesting a potential for its use in new antifilarial drug development.
• Anxiolytic Activity: Study of seed extract of C. bonducella showed a significant and dose-dependent anxiolytic activity.
• Antitumore / Antioxidant Activity: Study of methanol extract of C. bonducella showed significant antitumor and antioxidant activity in Erllich ascites carcinoma (EAC)-bearing mice.
• Analgesic Activity: Study of flower extract of C. bonducella showed siginificant antinociceptive effect in the inflammatory phase of formalin-induced pain and acetic-induced parietal pain.
• Analgesic / Antipyretic / Anti-Inflammatory: Study showed the seed oil of C. bonducella could be a potential source of an anti-inflammatory, antipyretic and analgesic agent.
• Immunomodulatory: Study of the aqueous extract of C. bonducella seeds on cell mediated and humoral components of the immune system in rats produced an increase in hemagglutinating antibody titer and a change in delayed-type hypersensitivity suggesting that the extract could be a promising immunostimulatory agent.
• Anti-Amyloidogenic / Alzheimer's Disease: Abeta (amyloid beta) is a major etiological factor in Alzheimer's disease. Study showed C. crista aqueous extract could inhibit the Abeta(42) aggregration from monomers and oligomers and able to disintegrate the preformed fibrils.
• Nootropic / Memory Enhancer: Study evaluated the potential of dried seed kernels of C. crista extract as a learning and memory enhancer. Results suggest CC can be beneficial in improving cognition in disorders like demential and other neurodegenerative disorders.
Availability
Wild-crafted.