Botany
Kapal-kapal is a medium-sized shrub growing to a height of 2 to 4 meters, the young parts covered with appressed white hairs. Bark is pale. Leaves are obovate or oblong, 10 to 20 centimeters long, 3 to 8 centimeters wide, cottony beneath, pointed at the tip, heart-shaped at the base. Flowers have a faint odor, not unpleasant, downy on the outside, arranged in axillary or subterminal, simple or compound, inflorescences. Corolla is 1.5 to 2.5 centimeters across, usually white, sometimes dull-purple or purplish-lilac; the lobes are ovate-lanceolate, and spreading. Fruit is a follicle, recurved, 7.5 to 10 centimeters long. Seeds are ovate, 5 to 6 millimeters long, with a bright, silky-white coma.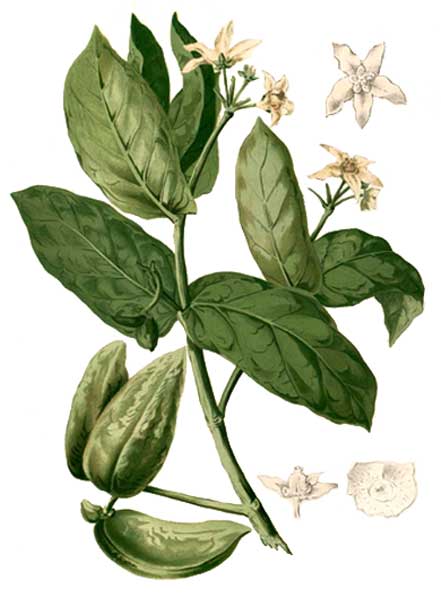 Distribution
- Cultivated for its flowers, about dwellings in Manila and other large towns in the Philippines.
- Recent Introduction from tropical Asia.
- Now pantropic.
now pantropic in cultivation.
- Widely distributed in South China, India, Sri Lanka, Singapore, Malay Islands.
Constituents
- Active principle appears to be a yellow, bitter resin.
- Root bark contains two substances closely resembling alban and fluavil found in gutta-percha.
- No alkaloids.
- Early studies of latex yielded an amorphous, bitter principle, calotropin, identical to mundarin.
- Latex contains cardiac glycosides, calotopin, uscharin, calotoxin, calactin and uscharidin; gigantin. Also contains the protease calotropin DI and DII and calotropin FI and FII.
- Study isolated stigmasterol and ß-sitosterol from the dried root bark powder extracts. (9)
Properties
- Root bark considered emetic, used as substitute for ipecac.
- Latex is considered bitter, heating, purgative, caustic, acrid, expectorant, depilatory, anthelmintic.
- The latex calotropin, gigantin and uscharin have digitalis-like action on the heart.
- Latex used to induce abortion and infanticide.
- Flowers are considered digestive, stomachic, tonic.

Parts used
Root, root-bark, leaves and flowers.

Uses
Culinary
- In Java, the central part of the flower used to make sweetmeat.
- Inner part of the flower used for flavoring.
Folkloric
- Bark in small doses, dried and powdered, used as alterative and tonic; in larger doses, an emetic.
- Root-bark reported to promote secretions and used for skin diseases, enlargement of the abdominal viscera, intestinal worms, coughs, ascites, anasarca.
- In India, pulverized root made into ointment, used in the treatment of old ulcers.
- Root bark and inspissated juiced used for leprosy, syphilis, cachexia, idiopathic ulcerations, dysentery, diarrhea, and chronic rheumatism.
- Leaves, warmed and moistened with oil, used as dry fomentation for abdominal pains; also, as rubifacient.
- In India, the acrid milky juice from bruised leaves and stems used for skin affections and as depilatory.
- Fresh or dried juice from the root-bark taken internally as alterative or purgative.
- Juice taken internally or locally as abortifacient. A stick smeared with the juice is pushed into the os uteri and left there until uterine contractions are induced.
- For toothaches, milky juice mixed with salt used for toothache; or juiced cotton inserted in the decayed tooth.
- Juice of young buds used for earache.
- Milky juice used for ringworm of the scalp, sinus problems and anal fistula; also used for pile, and mixed with honey for aphthae of the mouth.
- Flowers used for coughs, asthma, catarrh, and loss of appetite.
- In Ayurveda, used for the treatment of diabetes, bronchial asthma, rheumatoid arthritis, and nervous disorders.
- In Bangladesh, leaves used for treatment of diabetes and pain.
Others
- Flowers are strung into rosaries.
- Fiber: Fiber from inner bark once used in the manufacture of cloth for the nobility. The durable fiber commercially known for bowstrings.
- Seed hair said to have been used in making thread in Borneo.
- Gunpowder charcoal made from young branches.
- Stems yield a durable fiber for products for underwater use: nets, halters, lines, ropes and for making sewing threads.
- Floss of seeds used for stuffing mattresses.
- Salted acrid milky juice used to remove hair from hides.
- Root makes a good tooth cleanser.
- Root utilized in making charcoal and gunpowder.
- Infanticide: As poison, the juice, forced down the throat of infants, was a reported method of infanticide employed by castes, with the purpose of putting the girl babies to death.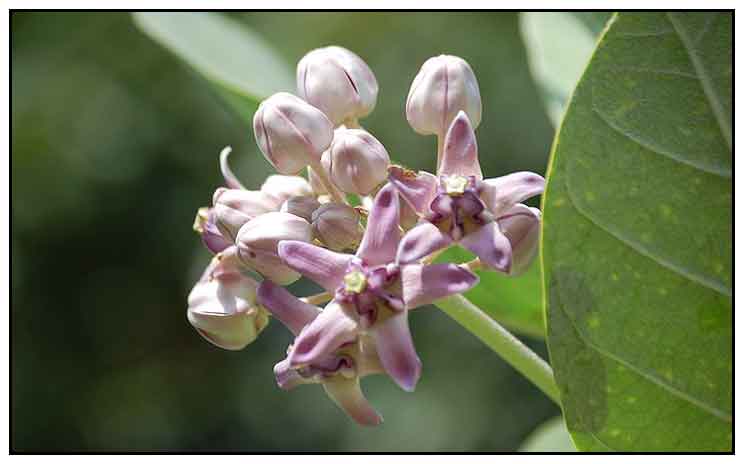 Studies
• Anti-Diarrheal: Study of the hydroalcoholic extract of the aerial part of C gigantea on castor oil-induced diarrhea model in rats showed remarkable anti-diarrheal effect.(1)
• Latex / Wound Healing: Study using an excision and incision wound model showed to latex to have significant wound healing activity, similar to the standard FSC (Framycetin sulphate cream). (2)
• Antibacterial: Study showed the latex to possess potent bactericidal activity attributed to the presence of biologically active ingredients with antimicrobial activity of the ethanolic extract. (3)
• Anti-Inflammatory: Anti-inflammatory studies of extracts of T procumbens and C gigantea showed greater anti-inflammatory action with the combined effect of CG and TP with ibuprofen than ibuprofen alone, probably through the potentiation of its inhibitory effect on the synthesis and release of various inflammatory mediators. (4)
• Vasodilation: Effect of latex from C gigantea in the green frog R hexadactyla showed a significant increase in cardiac output. Evidence suggests the prime action of latex on the cardiovascular system involves changes in the cation (Ca, Na) permeability, with consequent excitation of Ca channels in the heart muscle and an increase coronary flow. Therefore, dilatation property is likely responsible for the pharmacologic actions of the latex. (5)
• Hepatoprotective: Preliminary screening yielded triterpenoids, steroids, flavonoids and glycosides. Study showed C gigantea stem extract reduced lipid peroxidation and significantly improved biochemical parameters in CCL4-treated rats. (6)
• Cytotoxic / Pregnanone: Study yielded a new pregnanone, named calotropone, together with a known glycoside, from the ethanolic extract of the roots of C gigantea. The compounds exhibited inhibitory effects toward chronic myelogenous leukemia K562 and human gastric cancer SGC-7901 cell lines. (7)
• Antipyretic: Study showed the extract of C gigantea to have potent antipyretic activity against both yeast-induced and TAB-vaccine induced fever, suggesting a potential source for a cheaper and potent antipyretic agent. (8)
• Insecticidal: Study of extracts of C gigantea showed insecticidal activity against T castaneum. (10)
• Antimicrobial Activity / Cytotoxicity: Various extracts of leaves were evaluated for antimicrobial and cytotoxic activity. The n-hexane, carbon tetrachloride, chloroform, ethanol and water extracts showed antimicrobial activity against most of the test organisms. On Brine Shrimp Lethality Bioassay, the crude extract induced significant cytotoxic activity. (13)
• Free Radical Scavenging Activity: Study evaluated the effects of chloroform extracts of leaf and flower on free radical scavenging activity and lipid profile in STZ-induced diabetic rats. Extracts caused a significant decrease in lipid peroxidation, SGPT, SGOT, alkaline phosphatase, and triglyceride levels. (14)
• Hepatoprotective / Flowers: An ethanol extract of flowers showed antioxidant and hepatoprotective activity against carbon tetrachloride-induced liver damage in mice. The hepatoprotective activity was comparable to silymarin. (15)
• Antihyperglycemic / Antinociceptive / Leaves: Study evaluated a methanol extract of leaves for antihyperglycemic and antinociceptive activity. Results showed significant dose-dependent reductions of blood glucose in oral glucose tolerance tests in glucose loaded mice. The extract also showed antinociceptive activity comparable to aspirin. (16)
• Protease Inhibition / Modulation of PLA2 Activity / Leaves: Study showed Calotropis gigantea acts as protease inhibitors containing plant compounds, applicable as targets in molecular therapies. Both white and violet verities of Calotropis gigantea have also shown good PLA2 inhibition activity. (17)

Availability
Wild-crafted.