Botany
Kauayan-kiling is an erect, loosely tufted plant. Stems are yellowish or yellowish-green, up to 17 meters high, 15 centimeters in diameter, naked at the base, without spiny branches. Leaves are lanceolate, up to 35 centimeters long, 4 centimeters wide, often smaller. Spikelets are oblong, clustered along the branches of the inflorescence, about 1.5 centimeters long. This species is smaller than Bambusa spinosa and the culms have thinner walls.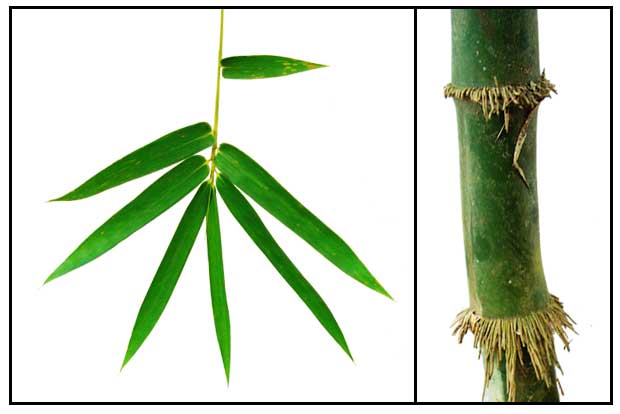 Distribution
- At low and medium altitudes in settled areas of most islands and provinces, from northern Luzon to Palawan and Mindanao.
- Probably introduced.
- Now pantropic in cultivation.
Constituents
- Rich source of natural silica.
- Bamboo shoots are rich in potassium, high in phenolic acids.
- Yields flavonoids, carbohydrates, glycosides, proteins and alkaloids.
- Petroleum ether extract of leaves yielded phytosterols and tannins. (15)
- Leaf extract yielded carbohydrate, glycosides, alkaloids, flavonoids, phytosterols and triterpenoids
- Methanol extract yielded carbohydrates, tannins, phenols, saponins, flavonoids, volatile oils, steroids, and proteins. (see study below) (16)
- Nutrient analysis of aqueous extract of leaves yielded 10.75% moisture, 10.34% ash, 8.45% crude protein, 13.13% crude fat, 37.60% crude fiber and 19.73% carbohydrate content. Mineral analysis revealed generally high levels of Mg, Na, K, and Ca. (see study below) (18)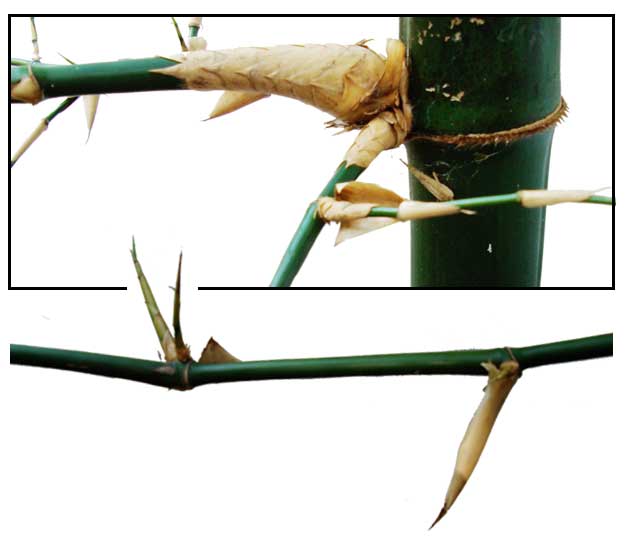 Properties
- Abortifacient, antidiarrheal.
- Considered astringent, emmenagogue, vulnerary, febrifuge, antidiarrheal.
- Extracts yield antioxidant and vitamins.
- A rich source of flavone, phenolic acid, lactone and polyose.
Parts utilized
Stems, roots, leaves.

Uses
Edibility / Nutrition
- The young shoots (labong) are also edible as vegetables, but inferior to B. spinosa.
- In the Philippines, used for making achara.
Folkloric
- Decoction or infusion of roots used for kidney problems.
- The aqueous sap of the plant used for phthisis.
- In Nigeria, reported use as abortifacient.
- In Indian folk medicine, used in the treatment of various inflammatory conditions.
Others
- Construction / Paper: A variability study on strength and fiber properties of B. vulgaris showed a potential for using bamboo for the production of paper and as building and structural material. (19) Stems are used for building houses, furniture and bridges, but inferior to B. spinosa.
- Cosmetics: Used as ingredient in skin care products. Also, as tooth polisher.
- Veterinary: In Trinidad and Tobago, dog owners use the leaves to treat diarrhea and control ectoparasites such as ticks and fleas.
Studies
• Abortifacient / Leaves: Study of aqueous extract of B. vulgaris leaves on pregnant Dutch rabbits substantiates abortifacient potential probably through changes in the implantation site, altered hormone levels and partly, estrogenicity. (1)
• Toxicological Studies: No clinical signs of toxicity were observed in any of the animals during the study. The absence of overt toxicity such as increase in maternal deaths and clinical signs suggest the extract was not toxic when administered repeatedly to pregnant rabbits in the first 9 days of pregnancy. (2 )
• Hypotensive Effect: Study in rabbits of macerated aqueous extract from sheets of B. vulgaris showed a hypotensive effect that was gradual, reversible and dose-dependent. (5)
• Antibacterial: Methanolic extracts from air-dried plant material showed strong antimicrobial activity against S. epidermis and S. aureus. Among gram negative bacteria, maximum activity was observed on E. coli.
• Antimalarial: In a study of 30 species of plants belonging to 28 genera in 20 families, five, including Bambusa vulgaris, were documented for the first time for their use in the treatment of malaria. Study results provide basis for further pharmacologic studies. (11) In-vitro study of 14 plant species used in Cuba showed two extracts, B. vulgaris and Punica granatum as active against P. falcifarum. (11)
• Anti-Inflammatory: Study of methanolic extract of B. vulgaris on rats and mice showed dose-dependent and significant inhibition of inflammation in all the experimental models. Phytochemical screening revealed flavonoids, carbohydrates, glycosides, proteins and alkaloids. There was no mortality in doses up to 2000 mg/kg p.o. Phytochemical characterization of B vulgaris yielded triterpenoids, polar compounds with phenol free groups and fluorescent metabolites as major phytocompounds. (10)
• Pulp and Papermaking: Study results showed that Bambusa vulgaris from Ghana with fibre length of 2.65mm and runkel ratio of 1.03 is suitable for papermaking. (13)
• Phytochemicals / Acute Toxicity Study: Phytochenmical screening of a leaf extract of B. vulgaris yielded carbohydrate, glycosides, alkaloids, flavonoids, phytosterols and triterpenoids. Acute toxicity study on Swiss albino mice showed the extract to be safe till 2000 mg/kg oral dose, with no lethality of adverse toxic signs during the 14 days observation period. (14)
• Anti-Diabetic / Leaves / Toxicity Study: Study evaluated the antidiabetic activity of petroleum ether extract of Bambusa vulgaris in streptozotocin induced diabetic rats. The extract was non-toxic up to 2000 mg/kbw dose. Results showed significant dose dependent lowering of fasting blood sugar comparable to standard drug Glibenclamide. (15)
• Antimicrobial / Leaves: Study evaluated a methanol extract of leaves of B. vulgaris for antimicrobial activity . Maximum activity was found on B. subtilis among Gram-positive bacteria, and E. coli among Gram-negative bacteria. (see constituents above) (16)
• Anthelmintic / Leaves: Study evaluated ethanolic and aqueous extracts of B. vulgaris leaf for anthelmintic activity in rabbits. The ethanolic extract appeared to be more potent in expelling ova of Ascaris worm. (17)
• Antimicrobial / Fortification: Antimicrobial screening of bamboo leaf extract was active against Lactobacillus spp. Fortification with orange and pineapple juice enhanced the inhibitory effect against E. coli and Lactobacillus spp. (18)
• Potential Hepatotoxic / Leaves: Study showed hepatotoxic concerns for the indiscriminate use of aqueous crude extract of B. vulgaris because of some toxic constituents that may cause overload of the endogenous biotransformation capacity of hepatic cells. (20)


Veterinary Toxicity
Toxicity was reported on horses feeding on bamboo leaves during times of pasture scarcity. Neurological illness was associated with ingestion of large amounts of leaves of B. vulgaris f. vulgaris. In the study, the disease showed no relationship to poisoning by hydrocyanic acid. (6)

Availability
Cultivated or wildcrafted.
Extracts, oils and supplements in the cybermarket.