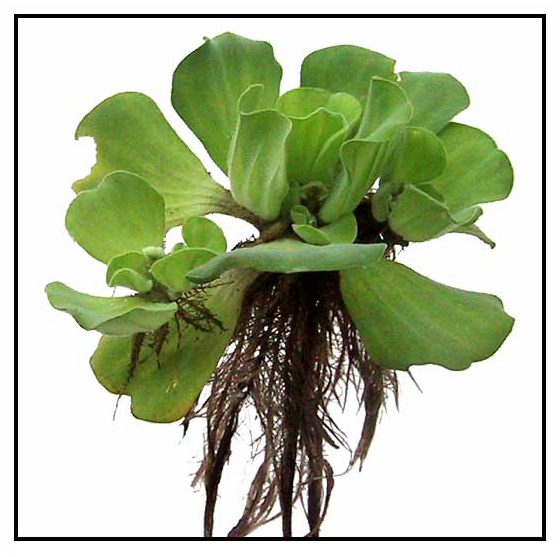 Historical note
The Quiapo district of Manila, the home of the Black Nazarene, derived its name from this water lily plant Kiapo, which was in profusion in the canals and rivers of the area, early in the Spanish colonized time when it thrived as a fishing village. (See: Quiapo Market)
Botany
Kiapo is an aquatic plant, floating on lakes, streams, stagnant water and in lime-rich water, gregarious and stemless. Leaves are few or many, fanlike, 2.5 to 15 cm long, with a rounded or retuse apex, thickened base, with small, soft hairs on both surfaces. Spathes are few, white, oblique, about 12 mm long, with short peduncles. Spadix is adnate to the back of the tube of the spathe, but free above. Fruit is membraneous and few-seeded. Seeds are oblong or obovoid, albuminous, with rugose testa.
Distribution
- Common in lakes, lazy streams and stagnant waters, even in rice paddies at low altitudes.
- Frequent decorative plant in residential ponds, aquariums and water fountains.
- Pantropic.

Constituents
- Plant yields steroid, triterpenoid, phenol, flavonoid, tannin, alkaloid, glycoside, and saponin.
- Study on leaves yielded alkanes, flavonoids and sterols.
- Study isolated for the first time: stigmasta-4,22-dien-3-one, stigmasterol, stigmasteryl stearate and palmitic acid.
- Yields large amounts of two di-C-glycosylflavones of vicenin and lucenin; lesser amounts of anthocyanin cyanidin-3-glucoside and a luteolin-7-glycoside, and traces of mono-C-glycosylflavones, vitexin, and orientin.
- Yields 1% ash, chiefly potassium chloride and sulfate.
- Leaves contain stinging crystals of calcium oxalate.
- High potash content.
- Contains salts of potassium, sodium, magnesium, and lime: also, iron, aluminum, and silicic acid.
- Leaves are rich in vitamin A, C and also vitamin B.

Properties
- Root is emollient, laxative and diuretic.
- Leaves are demulcent and refrigerant.
- Plant considered antiseptic, antitubercular, antidysenteric.

Parts utilized
Whole plant.

Uses
Edibility
Used as a famine food in India in 1877-1878.
In China, young leaves are eaten cooked.
Folkloric
- Infusion of leaves used for dropsy, bladder complaints, kidney afflictions, diabetes, hematuria, dysentery, and anemia.
- Used for dysuria and as an expectorant.
- Poultice of pounded leaves used in hemorrhoids, tumors and boils.
- The juice of leaves, mixed with coconut oil, is used for a variety of chronic skin conditions.
- Leaves mixed with rice and coconut milk, given for dysentery; with rose water and sugar, used for coughs and asthma.
- Ash of the plant applied to ringworm
- Powdered dry leaves mixed with a little honey used for syphilis, 3 to 4 teaspoons a day.
- Leaves used for treatment of ringworm of scalp, syphylitic eruptions, skin infections, boils and wounds.
- Oil extract used for worm infestations, tuberculosis, asthma, dysentery, piles, ulcers, burns.
- Used for menorrhagia.
- Ash of leaves applied to ringworm of the scalp.
- In Gambia, plant is used as an anodyne eyewash.
- In China, used in various prescriptions for boils, syphilitic eruptions and skin complaints.
- In the Peruvian Amazon, used for arthritis.
- In Indian traditional medicine, leaves are used for the treatment of ringworm infection of the scalp, syphilitic eruptions, skin infections, dysuria, boils and wounds. Oil extract used for worm infestations, TB, asthma, dysentery, hemorrhoids, ulcers, syphilitic infections and burns.
- Owing to high potash content, used as diuretic; also used for gonorrhea.
Others
- Sometimes used for feeding hogs and ducks.
- Used for making soap in West Tropical Africa.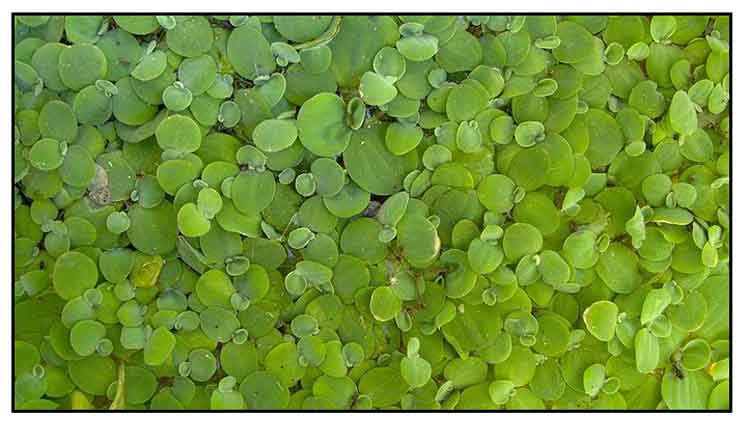 Studies
• Antidermatophytic: Study evaluated the in citro antidermatophytic activity of a methanol leaf extract of Pistia stratiotes against various dermatophytes. Results showed antifungal properties, with the methanol extract most active against dermatophytes T. rubrum, T. mentagrophytes, and E. floccosum. Tricophyton and Epidermophyton sp. were the most resistant. (1)
• Hypotensive / Bronchodilating: Study of methanol extract of whole plant revealed calcium channel blocking activity using isolated segments of rabbit jejunum and confirmed via inhibition by pretreatment with verapamil. The extract also exhibited dose-related bronchodilating activity and dose-related neuromuscular blocking action. (2)
• Cytotoxicity / Larvicidal: Study showed the chloroform extract of P. stratiotes selectively exerted cytotoxic effect on Culex mosquito larvae and recommends that PS be tested for adulticidal and/or mosquitocidal activity as well as studies for toxicity in higher animals and man. (4)
• Anthelmintic / Constituents: Study yielded alkaloids, tannins, flavonoids, saponins, fixed oils, fats and glycosides. Results showed both paralysis and death of adult Indian earthworm, Pheretima posthuma, with effects similar to that observed with standard drugs, piperazine citrate and albendazole. (5)
• Antidermatophytic Activity: Results indicate P. stratiotes methanolic extract was most active against the dermatophytes T. rubrum, T. mentagrophytes and E. floccosum, with lesser activity against M. gypseum and M. manum.
• Antioxidant: Results suggest Pistia stratiotes leaves extract functions as an antioxidant to scavenge free radicals and reduces free radical-induced cell injury. (6)
• Chemical Constituents: Study isolated four compounds: stigmasta-4,22-dien-3-one, stigmasterol, stigmasteryl stearate and palmitic acid.
• Anti-Diabetic / Diuretic Activity: Study of leaf extracts of Pistia stratiotes produced significant antihyperglycemic action, as well as diuretic action. The glucose lowering effect may be due to blocking of glucose absorption. (8)
• Phytoremediation / Chromium / Cobalt: Study showed aquatic macrophytes, Pistia stratiotes, may be used for phytoremediation of water bodies polluted with heavy metals, chromium and cobalt, in a sustainable way. (11)
• Radioprotective / Antigenotoxicity: Study evaluated the radioprotective potential and efficacy of Pistia stratiotes against damage induced by 60Co gamma radiation in mice. A methanol leaf extract exhibited significant reduction in micronucleus induction. Bioefficacy was attributed to the presence of large amount of two di-Cglycosylflavones of the vicenin and lucenin and lesser amounts of the anthocyanin cyaniding-3-glucoside and a luteolin-7-glycoside, and traces of the mono- C-glycosyl flavones, vitexin and orientin. (12)
• Phytoremediation / Cadmium: Study investigated phytoremediation ability of water lettuce, Pistia stratiotes. Results showed the plant was a Cd hyperaccumulator with a suitability of water lettuce for removing Cd from surface waters. (14)
• Phytochelatin / Lead: Phytochelatin is a small peptide contained in water lettuce. In the study, lead ion (Pb2) found in the river formed a complex compound with the ligand (phytochelatin). The phytochelatin contained in water lettuce significantly contributed to the reduction of lead in water. Phytochelatin can absorb lead content up to 49.75% of sample. (15)
• Phytoremediation / Zinc: Study showed P. stratiotes as bioremediation to absorb zinc heavy metal in media solution. (18)
• Phytochelatin / Heavy Metals: Study evaluated the use of Pistia stratiotes in the removal of some heavy metals from stream polluted by waste water from Kaduna Refinery and Petrochemical Company, Experiment showed P. stratiotes is a suitable candidate for effective removal of heavy metals (Hg, Cd, Mn, Ag, Pb, Zn) from waste water. (16)
• Anti-Arthritic / Antipyretic / Leaves: Study evaluated aqueous and ethanol leaf extract of P. stratiotes in a rodent model of arthritis and fever. Results showed significant reduction in paw edema thickness of formalin-induced arthritic animals comparable to methotrexate, diclofenac and dexamethasone. There was also significant reduction of lipopolysaccharide-induced fever in rats similar to acetaminophen. (17)
• Ocular Anti-Inflammatory Effect / Leaves: Study evaluated the anti-inflammatory effect of aqueous and ethanolic leaf extracts of PS in endotoxin-induced uveitis in Sprague-Dawley rats. Results showed a curative anti-inflammatory ocular effect with significant reductions in iris vessel vasodilatation, exudation, neutrophil inflammatory cells and total proteins in the anterior chamber, with histopathologial evidence of resolution of the uveitis. Effects were comparable to prednisolone, the reference drug. (19)
• Antinociceptive/ Cytotoxicity / Antimicrobial / CNS Depressant / Aerial Parts: Study of ethanol extract of aerial parts showed significant zone of inhibition against gram positive B. cereus, B. subtilis, S. aureus, gram negative E, coli, S. typhi, P. mirabilis and yeast C. albicans and Rhodotorula rubra. In CNS depressant testing, there was significant decrease in locomotor activity in mice. There was significant antinociceptive activity in hot plate, tail immersion, and acetic-acid induced writhing in mice. In brine shrimp lethality assay, the LC50 was 1.8 µg/ml, LC90 of 2.07 µg/ml. (20)
• Anti-Diarrheal / Antinociceptive / Leaves: Study evaluated the antinociceptive and antidiarrheal activity of a methanolic extract of leaves. Results showed significant writhing inhibition in acetic acid-induced writhing in mice. Extract showed antidiarrheal activity on castor oil induced diarrhea in mice, with increased mean latent period and decreased frequency of defecation. (21)
• Larvicidal / Aedes aegypti: Study investigated the larvicidal effect of Pistia stratiotes against early 3rd an 4th instar larvae of Aedes aegypti in the laboratory. Results showed effective insecticidal activity. (22)
• Phosphorus Accumulation: In a study to determine the P accumulation efficiencies of four different aquatic plants (E. plantaginea, C. crassipes, Pistia stratiotes, and H. verticillata), P. stratiotes showed to be the most efficient of the four wetland species. (23)
• Antiallergic / Ovalbumin-Induced Allergic Conjunctivitis: Study investigated the antiallergic effect of an aqueous leaf extract in a murine model of ovalbumin-induced allergic conjunctivitis. Pretreatment significantly and dose-dependently reduced clinical symptoms, lowered serum OVA specific immunoglobulins, mast cell infiltration and conjunctival stroma degranulation. (24)

Availability
Wild-crafted.