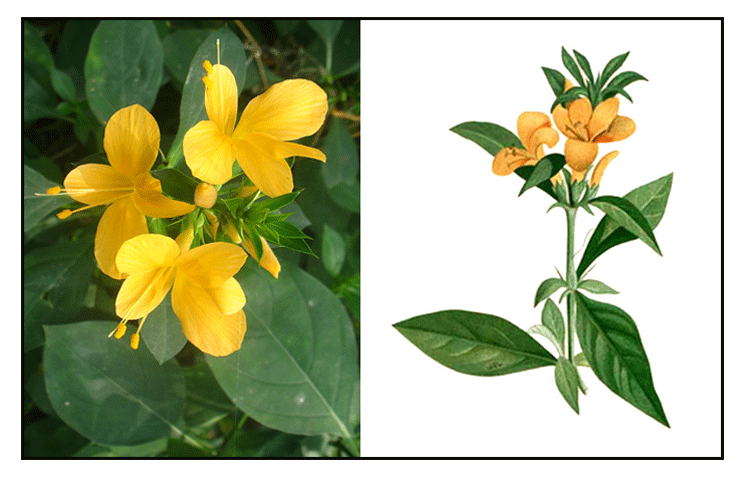 Botany
Kolinta is an erect, smooth, branched shrub, growing up to 1 to 2 meters high, with slender axillary spines. Leaves are elliptic to elliptic-ovate, 6 to 12 centimeters long, narrowed, and pointed at both ends. Flowers are yellow and axillary, with the upper ones in spikes. Bracts and calyx are green, with the outer bract usually foliaceous. Corolla is about 4 centimeters long.
Distribution
- In thickets and waste places, in and about towns, at low altitudes.
- Introduced.
- Also occurs in tropical Africa, Asia, and Malaya.
Constituents
- Large amount of neutral and acid resin soluble in light petroleum ether.
- Leaves yield alkaloids, glycosides and tannin.
Properties
Considered diaphoretic, diuretic, expectorant, febrifuge.

Parts used
Leaves, tops, roots, juice.

Uses
Folkloric
- In the Philippines, decoction of leaves and tops used for bathing in cases of febrile catarrh.
- Whole plant used for urinary and paralytic affections, rheumatism, jaundice, hepatic obstruction and dropsy.
- In Abyssinia, used as febrifuge.
- Paste of roots is applied to boils and glandular swellings.
- In the Konkan, dried bark is given in whooping cough; for anasarca, the juice of the fresh bark with milk.
- In catarrhal afflictions of children with fever and phlegm, two teaspoons of a mixture of the juice of leaves in honey or sugar and water, twice daily.
- For rain soaked feet, juice of the leaves applied to the feet to prevent cracking and laceration.
- Juice of leaves mixed with honey applied to bleeding gums; also used as ear drops for otitis.
- In indigenous systems of medicine in India, stem, leaves and flowers are used for fever, toothaches, inflammation, gastrointestinal disorders, whooping cough. Roots used as tonic and diuretic.
- In Thailand and India, decoction of leaves and flowers used for viral fever.
- In West Bengal used by the Santals as abortifacient: 3 gm of fresh root is crushed with about 100cc of pochai (alcohol from rice) or Mahua (alcohol from flowers of Bassia latifolia, given once daily in the early morning for 3 to 5 consecutive days in induce abortion up to 3 months pregnancy.

Studies
• Anti-Inflammatory / Anti-Arthritic: Study of 'TAF' fraction from methanol-water extract of B prionitis exhibited significant anti-inflammatory activity against different animal test models and significant anti-arthritic activity in adjuvant-induced polyarthritis test in rats.
• Hepatoprotective: Study ethanol extract of aerial parts exhibited significant and concentration dependent hepatoprotective activity against carbon tetrachloride, galactosamine and paracetamol induced hepatotoxicity in rats.
• Anti-Diabetic: Study of the alcoholic leaf extract of Barleria prionitis showed a significant decrease of blood glucose levels and glycosylated hemoglobin.
• Antifertility / Spermatogenesis Effects: (1) Study of isolated fractions of BP root methanolic extract in rats showed a significant reduction of spermatogenesis, with significant reduction of sperm motility. (2) Study showed root extract to exhibit interference with spermatogenesis. The antifertility effects seem to be mediated by a disturbance in testicular somatic cells functions (Leydig and Sertoli cells) resulting in the physio-morphological events of spermatogenesis.
• Flowers / Antinociceptive / Anti-Inflammatory Activity: Results showed the ethanolic extract of the flower of B. prionitis possess significant anti-inflammatory and anti-nociceptive activity.
• GTS (glutathione S-transferase) and Acetylcholinesterase Inhibition: Screening of crude extracts of B prionitis showed GST inhibitory activity and AChE inhibition. GTS are considered responsible for decreasing the effectiveness of anticancer / antiparasitic agents and AChE inhibitors have potential applications in the treatment of cardiac disorders and Alzheimer's disease.
• Antifungal / Antimicrobial: Study of methanolic extract of bark showed more potent activity against all test oral fungi (S. cerevisiae, C. albicans strains) than the standard drug Amphotericin B. Even crude extracts showed good activity against dental caries-causing oral pathogens.
• Anti-Inflammatory: Various root extracts were tested for anti-inflammatory activity using carrageenan-induced rat paw edema. The aqueous extract was the most active with significant dose-dependent anti-inflammatory activity.
• CNS Activity: Study evaluated the CNS activity of a 70% ethanol extract of leaves in Swiss albino mice. Results suggested B. prionitis exhibited antidepressant activity in the tested animal models.
Availability
Wild-crafted.