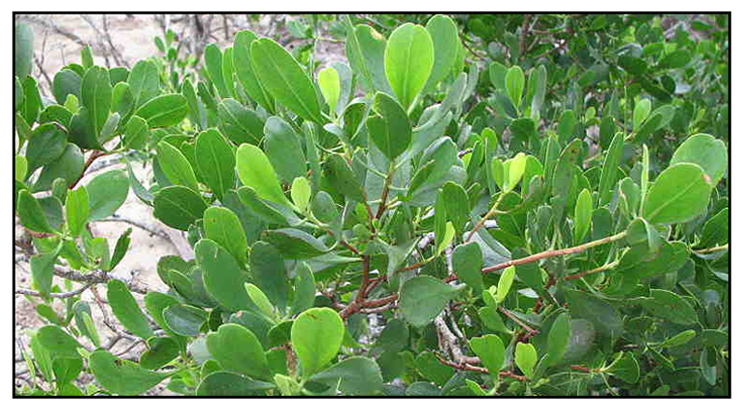 Botany
Kulasi is a tree reaching a height of 18 meters, flowering when 1 meter high or less. Air-roots are few in number. Leaves are fleshy, green, shining, narrowly obovate, 2.5 to 7 centimeters long, with rounded and notched tip and pointed base. Flowers are bright scarlet, about 8 millimeters long. Calyx is oblong-cylindric, green, 5 to 6 millimeters long, and short-toothed. Petals are white, oblong, about 4 millimeters long. Stamens are 10, as long as the petals. Fruit is green, woody, oblong, 1.5 to 2 centimeters long, and crowned by persistent calyx-rim, containing a single seed.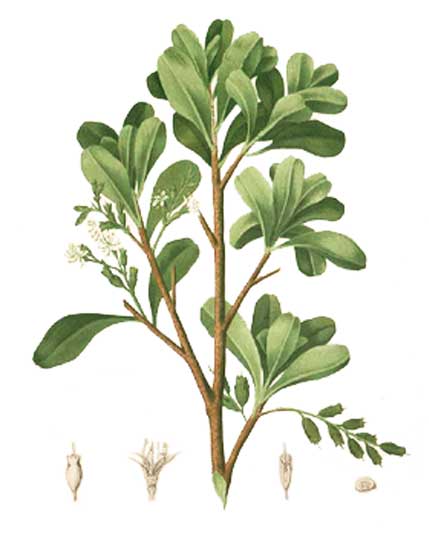 Distribution
- In beach swamps and along tidal streams in Rizal, Bataan and Quezon Provinces; and in Mindoro, Panay, Negros, Cebu and Mindanao.
- Also occurs in India through Malaya to Australia and Polynesia.
Constituents
- Bark contains 15-19 % tannin; the leaves and wood contain smaller quantities.
- Studies have yielded a long-chain rubber like polyisoprenoid alcohol from the leaves, flavonoids and long chain fatty acids and low molecular weight carbohydrates.
- Study reported friedeline, ß-amyrin, taraxerol, betulin, ß-sitosterol, and triacontanol.
- Crude methanolic extract and fractions yielded flavonoids, quercetin and myricetin as main active components, together with quercitrin, quercetin-3O-hexoside, kaempferol 4'-methyl ether, kaempferol-3,4'dimetheyl ether, and bi-isorhamnetic and myricetin-7O-methylether(3-8")quercetin-2O-rhamnoside. (see study below) (2)
- Study isolated a new aromatic ester, 3-(4-hydroxyphenyl)-propyl-3-(3,4-dihydroxyphenyl)-propionate, together with known triterpenoids, friedelin, betulin, and betulinic acid. (5)

Properties
- Studies have suggested antibacterial, antioxidant, cytotoxic, hepatoprotective and antihypertensive properties.

Parts used
Stem.

Uses
Folkloric
- Fluid substance made from incisions in the stem, mixed with coconut oil, used as anti-herpetic and as cure of itches.
- Elsewhere, used for treatment of diabetes.
Others
- Wood: Used for piles, poles, house posts, ties, paving blocks, bridges, ship planks, decks, handles and cabinetry.
- Fuel: Wood used as fuel for its caloric value.
- Tanning: Bark used for tanning.

Studies
• Antihypertensive / Corilagin and Chebulinic Acids: Study investigated the antihypertensive activity of eleven hydrolyzable tannins from the leaves of LR. Corilagin and chebulinic acid were identified as the major active substances. (1)
• Antibacterial / Phenolics: Study investigated phenolics and antimicrobial activity of L racemosa against fungi, virus and pathogenic bacteria. The crude methanolic extract and n-butanol fraction exhibited significant bacterial activity against all the bacterial tested, without activity against fungi and virus. Myricetin showed the most potent activity against Pseudomonas aeruginosa with marked activity against others. (see constituents above) (2)
• Punicalagin / Orthostatic Hypotension Reversal: Punicalagin, an active principle isolated from the leaves of L racemosa reversed the fall in arterial blood pressure in conscious Wistar rats with orthostatic hypotension induced by hexamethonium. It was found less effective in prazosin-induced orthostatic hypotension. The effect is probably from a direct release of NE (norepinephrine) from the noradrenergic nerve terminals by punicalagin. (3)
• Hepatoprotective / Antioxidant: Leaf extract of Lumnitzera racemosa was evaluated for hepatoprotective and in vitro antioxidant activity in CCl4-treated rats. Results showed a hepatoprotective effect attributed to the presence of phenolic groups, terpenoids and alkaloids and in vitro antioxidant properties. (4)
• Wastewater Treatment: Study evaluated three mangrove species, i.e., Lumnitzera racemosa, Avicennia marina and Rhizophora stylosa for use in wetland wastewater treatment systems. Lumnitzera was found to increase salinity. It also performed well on total nitrogen removal efficiency testing, and fair on phosphorus removal. (7)
• Antibacterial: Study investigated the antibacterial activity of crude aqueous and ethanol extracts of mature leaves, tender leaves, bark and shoot of various mangrove species against clinical isolates of Shigella sp., Pseudomonas sp., and antibiotic resistant bacteria, Staphylococcus aureus and Proteus sp. Luminitzera racemosa showed the most significant antibacterial activity. (8)
• Antioxidant / Leaves and Stems: Study investigated the antiradical and reducing power activities of methanol extract of leaves and stems of Lumnitzera racemosa. Results showed better antioxidant activity by DPPH and reducing power assay in leaves than stems. (10 )
• Cytotoxicity / Antioxidant / Leaves: A methanol extract, Ch2Cl2 and n-BuOH fractions exhibited potent antioxidant activity. Isolated compounds exerted potent cytotoxicity in HL-60 cells, with IC50 values of 0.15 ±0.29 and 0.60 ±0.16 µM. Study of cytotoxic mechanisms included measurement of time-dependent changes in apoptotic markers and downregulation of p-ERK1/2, p-AKT, and c-Myc levels. (11)

Availability
Wild-crafted.