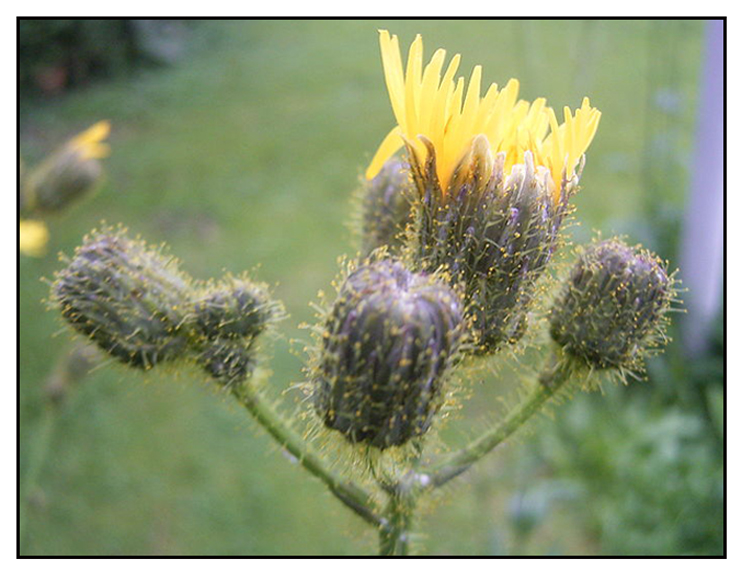 Botany
Lamlampaka is an annual, milky herb, about 90 to 120 cm high, smooth towards the base, glandular and hairy upwards. Rootstocks are creeping. Leaves are pinnatifid, 10 to 18 centimeters long, with the lobes pointing downward; basal lobes rounded and appressed to the stem. Heads are yellow, 2.5 to 5 centimeters in diameter. Narrow achenes are somewhat compressed, with thick, regular ribs on each face.
Distribution
- Found only In Ifugao, Bontoc, Lepanto and Benguet Subprovinces in Luzon.
- In waste places, along trails, in old gardens and on talus slopes, at an altitude of 1,200 to 2,000 meters.
- Introduced.
- Occurs in all warm countries.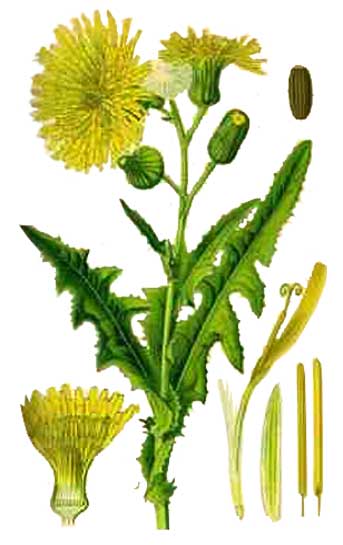 Constituents
- Plant yields a fixed oil with stearic and palmitic acids; ceryl-alcohol, invert sugar, cholin and tartaric acid.
- Milky juice contains oxydase, coautchouc, mannite, l-inosite, a bitter principle, etc.
- Study isolated two flavone glycoside compounds - quercetin-3-O-alpha-L-rhamnoside and kaempferol-3,7-alpha-L-dirhamnoside.
- Study isolated twenty-six compounds, including quinic acid derivatives, a rarely naturally occurring (p-hydroxyphenylacetyl) quinic acids,and two new eudesmanolides.
- Phytochemical screening yielded kaempferol, quercetin, orientin, rutin, hyperoside, catechin, and myricetin. (See study below) (8)
- Study isolated eight compounds: palmitic acid (I), β-sitosterol (II), daucosterol (Ill), quercetin (IV), apigenin-7-O-β-glucopyranoside (V), luteolin-7-O-β-D-glucopyranoside (VI), quercetin-3-O-β-D-glucopyranoside (VII).
(14)
- Analysis of fatty acid composition of roots yielded eighteen fatty acids. The major fatty acids were myristic acid (26.23%), palmitic acid (26.23%), linoleic acid (19.94%), pentadecanoic acid (3.11%), stearic acid (1.49%) and behenic acid (1.27%). (15)
- Study of whole plant yielded three quinic acid derivatives (1-3), the rarely occurring quinic acids, and two eudesmanolides (4-5), along with four known eudesmanolides (6-9). (16)

Properties
- Bitter.
- Considered anti-inflammatory, diuretic, lithotriptic, antiurolithiasis.

Parts used
Roots, leaves.

Uses
Folkloric
- Santals used the roots for jaundice.
- Plant used for chronic fevers, coughs, phthisis, bronchitis, asthma and pertusis.
- Fresh ground leaves applied directly on wounds or leaf juice applied as compresses to abscesses.
- Used for poisoning, swelling, and abscesses.
- Used in dissolving kidney stones.
- In the districts of Maharashtra, India, used for body pain, diarrhea, dysentery, fever, leucorrhea, leprosy, white spots of the skin, and ringworm. (3)

Studies
• Antibacterial / Sesquiterpene Lactones: Study isolated two new sesquiterpene lactones together with 8 known compounds. Compounds 1 and 7 exhibited antibacterial activity against oral pathogen Streptococcus mutans ATCC 25175. (2)
• Triterpenes: Sow thistle is an excellent source of pentacyclic triterpenes, accounting for 6% of crude lipid extract or 0.2% of the dried plant. Gas chromatography of a triterpenoid fraction yielded α-amyrin (9%), β-amyrin (21%), lupeol (13%), taraxasterol (24%) and pseudo-taraxasterol (12%). (4)
• Phytochemicals / Antiangiogenic: Study of leaves yielded secondary metabolites: lupeol, phytol, quercetin, and α-sitosterol. Preliminary studies showed a potential to prevent or cure angiogenesis related diseases. (5)
• Antiurolithiasis / Dissolution of Calcium Oxalate Stones: Study on tempuyung (Sonchus arvensis) leaves as tea showed time- and dose-dependent dissolution of calcium oxalate stones. (7)
• Flavonoids / Antioxidant Activity: Study evaluated various fractions for scavenging showed significant scavenging of free radicals (DPPH, ABTS, OH, superoxide), which may be attributed to polyphenolic constituents. The methanolic fractions showed to be more potent than other fractions. (See constituents above) (8)
• Synergistic Effects in Calcium Oxalate Bladder Stones: Study evaluated the anticalculi effect of Sonchus arvensis in bladder stone therapy. Results showed both preventive (inhibition of formation of bladder stone) and curative (inhibition of bladder stone enlargement and dissolving existing bladder stones) effects. (9)
• Prevention of CCl4-Induced Oxidative Stress: Study evaluated a methanol extract of S. arvensis against CCl4-induced adrenal oxidative stress in rats. Results showed S. arvensis efficiently prevented adrenal injuries induced by CCl4, possibly through antioxidant effects. (10)
• Phytoremediation / Phytochelatin Synthase / Lead: Study showed S. arvensis is a good candidate for Pb phytoremediation. The expression of PCS (phytochelatin synthase), the gene encoding enzyme that catalyzes phytochelatin biosynthesis was investigated. Results showed PCs content to be higher in shoots than in roots, and PC levels seemed related to Pb accumulation in shoots, and further suggests PCs might contribute to high Pb accumulation and tolerance in S. arvensis. (11)
• Toxicity Study / Leaves: Study evaluated the acute and subchronic oral toxicity of ethyl acetate extract of SA leaves in a Wistar rat model. Results showed no toxic effects and suggests the extract of leaves is safe after single administration at high dose and repeated administration for 90 days. The LD50 of the extract was higher than 15 g/kbw. (13)
• Synergistic Effect in Bladder Stone Therapy: Study of S. arvensis decoction showed two effects on bladder stone therapy: an inhibitory effect, decreasing by 47.47% the increment of bladder stone; and a curative effect, by 45.50% inhibition of increment and dissolving 4.02% of existing bladder stone. (17)

Availability
Wild-crafted.