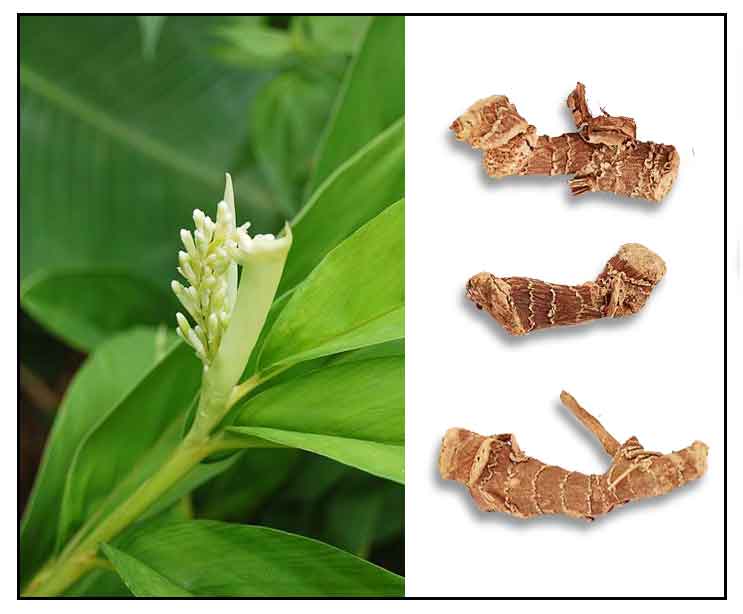 Botany
Lankauas is a herbaceous plant with strongly aromatic rhizomes. Stems are 1 to 2 meters high, about 2.5 centimeters in diameter. Leaves are pale green with short hairs beneath. Inflorescence is pyramid-like, terminal, erect, about 30 centimeters long. Rachis and pedicels are yellowish green. Succulent flowers are cream-colored.
Distribution
- Generally found in old clearings.
- In Rizal, Laguna, Camarines, and Sorsogon Provinces in Luzon; in Leyte; in Lanao and Agusan Provinces in Mindanao; and in Palawan.
- Also occurs in Thailand, Indonesia, China, and Malaysia.

Constituents
- Yields essential oils, tannins, phenols, glycosides, monoterpenes, and carbohydrates.
- Rhizomes contain volatile oil, sesquiterpenes, with small amounts of eugenol, gingerol; flavonoids including quercetin and kaempferol; sterols and sterol glycosides.
- Studies of various parts have yielded gallic acid glycoside, galangoisoflavonoid, ß-sitosterol, galangin, alpinin, zerumbone, and kaempferide. (9)
- Rhizomes yield flavonoids, some identified as kaempferol, kaempferide, galangin, and alpinin.
- Study of methanol extract of rhizomes isolated compound ß-sitosterol diarabinoside, (13)
- Study of a methanolic extract of rhizomes isolated a new gallic acid glycoside, galangogalloside, for the first time. (15)
- Methanolic extract of rhizomes yielded tannins, flavonoids; roots yielded kaempferide, galangin, and alpinin. Oil yielded 48% methyl cinnamate, 20 to 30% cineole, camphor, and probably a-pinene. (17)
Properties
- Considered emmenagogue, aphrodisiac, abortifacient, carminative.
- Rhizomes considered carminative, antirheumatic, and stimulant.
- Seeds considered calefacient, stomachic, stenutatory.
- Studies have suggested antipyretic, anti-inflammatory, analgesic, antiallergic, antifungal, antidiabetic, antibacterial, antiulcer, immunostimulating anticancer, antioxidant, antiamoebic and antidermatophytic properties.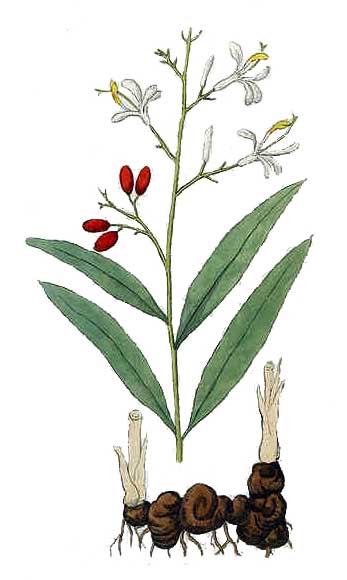 Parts used
Rhizomes, leaves.

Uses
Edibility / Culinary
- In Java, the young rhizomes. tender shoots, flower buds and flowers are eaten.
- Rhizomes used as condiment, its flavor similar to, but less pungent than ginger.
- Rhizomes cooked with sap of sugar cane or with honey and water to produce an intoxicating beverage.
Folkloric
- In the Philippines, juice of rhizome applied to 'an-an' or paño blanco, a fungal skin disease.
- Decoction of leaves is used as antirheumatic and stimulant baths.
- Used for flatulence dyspepsia, nausea, vomiting, ulcers, bronchial catarrh, and bad breath.
- In Ayurveda, rhizome used for treatment of diabetes, obesity, inflammatory disease; used to improved the appetite, taste, and voice.
- In Unani system, rhizomes used as aphrodisiac, tonic, diuretic, expectorant, carminative; used for headaches, rheumatic pains, sore throat, erectile difficulties, stuttering, chest pans, diabetes, and kidney afflictions.(10)
- In China, used for colic, diarrhea, and vomiting.
- Used as appetite stimulant. stomachaches, dyspepsia.

Studies
• Glucose-Lowering Effect: Study of methanol and aqueous extracts of A galanga rhizome on blood glucose showed a significant lowering of blood glucose in normal rabbits comparable to glicazide. However, it did not produce significant reductions in alloxan-diabetic rabbits. (1)
• Insecticidal: Study showed the insecticidal activities of extracts prepared from Alpinia galanga and Cleome viscosa, the former showing more activity than the latter, against Bactrocera dorsalis, an economically damaging pest in Thailand. (3)
• Anti-Ulcer / Antisecretory / Cytoprotective: Study showed pretreatment of animals with A. galanga extract before indomethacin significantly decreased gastric secretions and ulcers. It showed significant protective effect on stress-induced changes in the gastric mucosa. The anti-ulcer activity could be due to an antisecretory effect. In human subjects, there was reported relief of heartburn and dyspepsia. (2)
• Anti-Leishmanial: Study of Alpinia galanga rhizomes extracts isolated 12 compounds. Compounds 2, 3, 4 and 5 were most active against promastigotes of L. donovania. (4)
• Antioxidant / Antimelanogenesis: UVA irradiation is suggested to contribute to melanogenesis through promotion of cellular oxidative stress and impairment of antioxidant defenses and an overproduction of melanin is associated with melanoma skin cancer and hyperpigmentation. The study results showed extract-derived antityrosinase properties inhibited cellular oxidative stress and improved antioxidant defenses - mechanisms that might be responsible for the protective effects on UVA-dependent melanogenesis.
• Antimicrobial: Study of 15 medicinal herbs for antimicrobial activity showed six- including Alpinia galanga - showed high activities against B cereus, S typhi, S aureus, the oil extracts showing higher activities than the fresh extracts.
• Toxicity Studies / Hematologic, Weight and Spermatologic Benefits: Acute and chronic oral toxicity studies on ethanolic extracts of rhizomes of Alpinia showed no significant mortality compared to controls. There was significant weight gain, significant rise in RBC levels, increase in weights of sexual organs, and increased sperm motility and sperm count in extract-treated male mice. No spermatotoxic effects were seen. (8)
• Anti-Inflammatory / Analgesic: Joint Care B, a herbal formulation containing A. galanga, has shown dose-dependent inhibition of carrageenan-induced paw edema. A topical preparation of a methanolic extract sowed significant analgesic effect in formalin test. In a randomized, DB, placebo controlled study, a highly concentrated extract showed stastistically significant reduction of OA symptoms of the knee.(10)
• Antifungal: Studies have shown inhibitory activity against a wide variety of human pathogenic fungi, including strains resistant to common antifungal products like amphotericin B and ketoconazole.
• Galangoflavonoid: A methanolic extract of rhizomes isolated a compound, galangoflavonoid (AG 11), a potential lead compound for the synthesis of other useful flavonoids. (11)
• Antidiabetic / a-Glucosidase Inhibitory / Antioxidant: An ethanolic extract showed potent scavenging activity by DPPH method. Study also showed potent serum glucose reducing capacity, together with decrease in serum triglycerides and cholesterol. The ethanolic extract was found to be effective in inhibiting the a-glucosidase activity. (12)
• Anti-Inflammatory / Acute Toxicity Study: Various extracts were evaluated for anti-inflammatory activity in carageenan-induced paw edema in Wistar rats using ibuprofen as control. The methanolic showed maximum inhibition. The effect was attributed to the inhibition of prostaglandin synthesis. On acute toxicity study of the methanol extract o LD50 value of more than 5000 mg/kg, there were no behavioral changes.(14)
• Prostate Cancer / Inhibition of in vitro Cytotoxic Effect: A PC-3 cell line was derived from adenocarcinoma of human prostate. On MTT assay, treatment with ethanolic extract of A. galanga and A. officinarum showed inhibition of cell growth, supported by DNA fragmentation with the characteristic DNA laddering in treated tumor cell line. (16)
• Antibacterial: Crude methanolic extract of leaf showed moderate antimicrobial activity against Staphylococcus aureus and B. cereus. A methanolic extract showed moderate antibacterial activity against all tested bacteria except for E. coli. (17)
• Anti-Asthma / Acetoxychavicol Acetate: Study evaluated the effect of 1′-acetoxychavicol acetate (ACA) isolated from A. galanga rhizomes in a mouse model of ovalabumin (OVA)-induced asthma. ACA reduced WBC infiltration, especially eosinophils, and glycoprotein secretion, together with inhibition of expression of Th2 cytokines interleukin (IL0-4 and Th1 cytokines IL-12a and interferon-y. Results showed ACA promises as an antiasthmatic drug. (18)
• Immunomodulatory: Study showed the flavonoid fraction of A. galanga rhizomes to have greater immunostimulating effect as well as an antioxidant effect in mice. (19)
• Renoprotective in Diabetic / Lipid Benefits: Study evaluated an alcoholic extract of rhizomes for the treatment of diabetes-induced nephropathy. Results showed significant nephro-protective activities in tested models. Results also showed reduction in total cholesterol, triglycerides, LDL, with an increase in HDL.(20)
• Anthelmintic: Ethanolic extract of rhizomes showed a potent dose-dependent activity against Ascardia galli, comparable to the standard albendazole. (21)

Availability
Wild-crafted.
Tinctures, supplements, powders in the cybermarket.