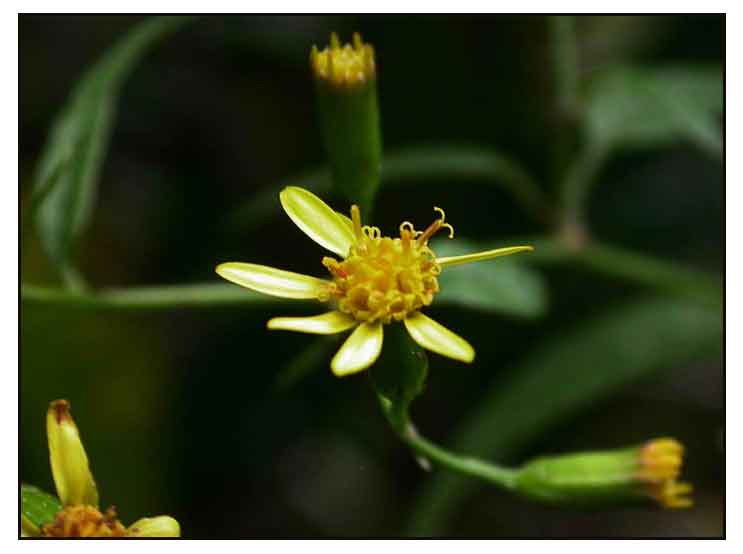 Botany
Lanot is a smooth vine, with zigzag, grooved or ribbed branches. Leaves are spear-shaped, 7.5 to 10 centimeters long, with pointed tips and entire or toothed margins. Petioles are shaped like the human ear. Heads are about 8 millimeters long, borne in lax, divaricate, rounded corymbs. Involucral bracts are linear-oblong, numbering 10 to 12. Achenes are minute, slender, and 4-angled or 4-ribbed, the ribs being either hairy or smooth.
Distribution
- In thickets at an altitude of from 1,300 to 2,200 meters in Ifugao, Bontoc, and Benguet Subprovinces in Luzon.
- Also occurs in India to southern China and Taiwan.

Constituents
- Phytochemical studies have yielded flavonoids, alkaloids, phenolic acids, terpenes, volatile oils, carotenoids, and trace elements,
- Yields unsaturated pyrrolizidine alkaloids, senecionine and seneciphylline.
- Study yielded nine compounds: lupenone, oleanane, beta-sitosterol, daucosterol, adonifoline, phydroxy benzeneacetic acid, 2-(1,4-dihydroxy-cyclohexanyl) -acetic acid, hyperoside, and linarin.
- Study isolated a new lactone, (E)- seneciolactone, together with nine known compounds. (5)
- Study yielded four alkaloids identified as senkirkine, dehydrosenkirkine, monocrotaline and adonifoline, of which senkirkrine was the main component.
- Roots yielded four compounds: β−sitosterol, pentacosanoic acid , 19α-H lupeone , and sucrose.
Properties
- Plant is regarded as slightly poisonous (emetic).
- Considered depurative, febrifuge, ophthalmic.

Parts used
Stalks, leaves.

Uses
Folkloric
- Used in all sorts of epidemics, and in jaundice, malaria, snake or dog bites.
- Decocted with licorice, used as an antifebrile.
- Leaves and stalks used as remedy for eye diseases.
- In China, a folk medicine used in the treatment of bacterial infections, inflammation, arthritis, and rheumatic diseases.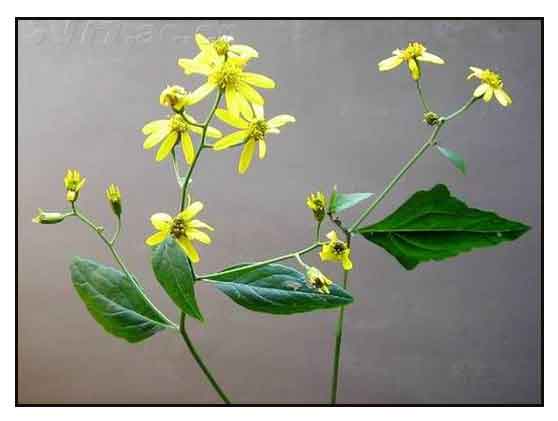 Studies
• Hepatotoxicity Study: Study reports nine hepatotoxic pyrrolizidine alkaloids, with a content of 6.95 to 7.19 microg/g. The total content of toxic PAs in Qianliguang was determined at 3.48 microg/kg/day, far below the lowest dose to cause hepatotoxicity (15 microg/kg/day). At a human equivalent dose, no significant hepatotoxicity was noted in rats. At 6 g/kg (8x recommended dose), it produced typical PA- induced hepatotoxicity in rats. Appropriate dosage guidelines are suggested for implementation. (1)
• Jacaranone Derivative: Study yielded a new jacaranone derivative, 2-(1,6-dihydroxy-4-oxocyclohex-2-enyl) acetic acid from the whole plants of Senecio scandens var. incisus, together with three known compounds: 2'-(p-hydroxyl-cinnamoyl)-6'-jacaranone-D-glucopyranoside, 2'-caffeoyl-6'-jacaranone-D-glucopyranoside, and kampferol-3-rhamnoside. Cytotoxic activities of the new jacaranone was evaluated against three human tumour cell lines. (2)
• Antioxidative / Free Radical Scavenging Activities: In a study of twelve selected medicinal herbs for antioxidative and radical scavenging activities showed four aqueous extracts - C. chinensis, P suffruticosa, P. vulgaris and Senecio scandens - exhibited the highest potency in inhibiting rat erythrocyte hemolysis and lipid peroxidation in rat kidney and brain homogenates. The four also showed strong radical scavenging activity, but only slight prooxidant effect. (7)
• Antibacterial: Study yielded flavonoid compounds. Results showed an antibacterial activity against E coli possibly through an antibacterial mechanism involving inhibition of DNA, RNA, protein and peptidoglycan synthesis, and its effective ingredient may be flavonol compounds. (4)
• Essential Oil: Study of essential oil from cultivated and wild S. scandens yielded 23 (17 terpenoids, 6 alipathic and aromatic compounds) and 21 compounds (9 terpenoids, 12 alipathic and aromatic compounds) respectively, with 13 common among them. (11)
• Hepatoprotective: Study on carbon tetrachloride-induce liver injury in mice showed inhibition of liver injury and reduction of ALT and AST levels. (12)
• Antioxidant Bioactivity: Study of a methanol extract of whole plant yielded forty-one compounds including two new constituents: senacainin A and 3-methoxyisonicotinic acid. (-)-monoepoxylignanolide, (-)-pinoresinol and (-)-epi-pinoresinol exhibited significant antioxidant bioactivity in the DPPH free radical scavenging assay. (13)
• Flowers / Essential Oil / Antimicrobial and Inflammatory: Study of essential oil of flowers yielded various compounds, including pyrrolizidine alkaloids, sesquiterpenoids, and flavanoids. The extracts and compounds exhibited significant antimicrobial and inflammatory activities. (14)
• Antitumor / Antiviral: Study showed total flavonoids of Senecio scandens showed inhibitory effect on human hepatocellular carcinoma cell line, human gastric carcinoma cell line, and human breast carcinoma cell line. An inhibitory effect on human Respiratory Syncytial virus detected by cytopathic effect. (15)
• Essential Oil Components of Cultivated and Wild Species: Comparative study of essential oil components of cultivated and wild species differed: 23 compounds and 21 compounds were identified from the cultivated and the wild Senecio scandens respectively, 13 compounds were the same among them. Cultivated-essential oil yielded 17 terpenoids,6 aliphatic and aromatic compounds, while the wild-essential oil yielded 9 terpenoids,12 aliphatic and aromatic compounds. The main components of essential oil from the cultivated Senecio scandens were 11.60% of α-farnesene,13.49% of α-caryophyllene,8.57% of caryophyllene oxide,10.86% of palmitic acid and 9.00% of linoleic acid, while that of essential oil from the wild Senecio scandens were 8.10% of α-farnesene,19.50% of α-caryophyllene,14.22% of caryophyllene oxide,21.45% of palmitic acid and 13.66% of linoleic acid. (16)
• Effects of Selenite and Selenate on the Antioxidant Systems: Selenate and selenite are the most prevalent bioavailable selenium (Se) forms and easily taken up by plants. Study showed selenite induces oxidative stress enhancing ROS production, lipid peroxidation and oxidized forms of ascorbate and glutathione while selenate does not significantly affect the involved pathways. Results suggests the synergistic action of different components to overcome selenium phytotoxicity in Senecio. (17)
• Anti-Tumor: Ethanol extract isolated four new compounds 1-4. The compounds exhibited moderate cytotoxicities against five tumor cell lines. (19)

Toxicity
• Pyrrolizidine Alkaloids: Yields unsaturated pyrollizidine alkaloids, senecionine and seneciphylline. The alkaloids are reported to be hepatotoxic to humans causing hepatotoxic veno-occlusive disease. Also, reported to be carcinogenic and mutagenic in animals.
• Adonifoline: HPA (hepatotoxic pyrrolizidine alkaloids) have always been a threat to both human and livestock health worldwide. Adonifoline has been identified as the main HPA in Senecio scandens. Study of the in vivo metabolism of adonifoline was done to identified metabolites present in bile, urine and feces of rats. Metabolites involved in the metabolic processes and the principle in vivo metabolism pathways were proposed. (8)
• Safety Diemma: Dose is the Key? Qianliquang (Senecio scandens) is a common Chinese medicinal herb, contained in many over-the-counter remedies. Safety of Qianliguang products were raised because of the presence of hepatotoxic pyrrolizidine alkaloids (PAs). Study showed S. scandens to yield nine hepatotoxic PAs at 6.95-7.19 µg/g. The PAs content of 2.38 µg/kg/day in Qianliguang was considered far below the lowest dose to cause hepatotoxicity (15 µg/kg/day) as suggested by the International Program on Chemical Study.. No significant hepatotoxic effects were observed in rats fed an extract at this human-equivalent dose for 14 days. The study suggests appropriate dosage guidelines to be implemented for the herbal industry. (18)

Availability
Wild-crafted.