Gen info
• Licorice is a plant of ancient origin, steeped in history, and has been medicinally used for more than 4000 years. It is a component of many traditional medical systems. Hippocrates in 400 BC mentioned it as a remedy for ulcers. Locally, referred to as "anis" because of its similarity in taste with haras (fennel).
• Glycyrrhiza is Greek-derived, meaning "sweet root" and Glycyrrhiza glabra means sweet root with hairless seed pods.
• The dried, peeled or unpeeled underground stems and roots constitute the drug known as Licorice.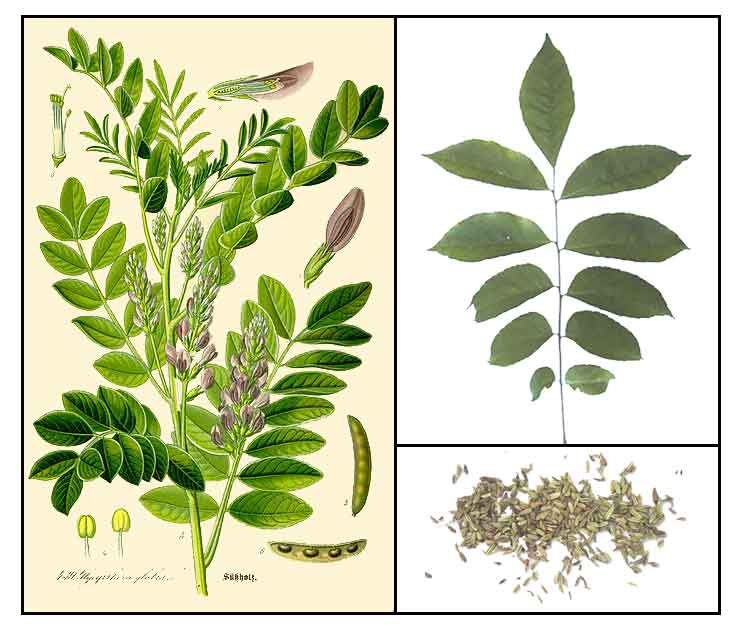 Botany
Licorice is a perennial plant, growing about 1.5 meter high. The wrinkled and woody rootstock is brown outside and yellow inside; sweet-tasting. Leaves are unequally branched, in 4-7 pairs. Flowers are pale blue, violet, yellowish-white or purplish in color, arising from the axils of the leaves in racemes or spikes, followed by pods. Pods are smooth and small, resembling a partly-grown peapod, compressed with many seeds.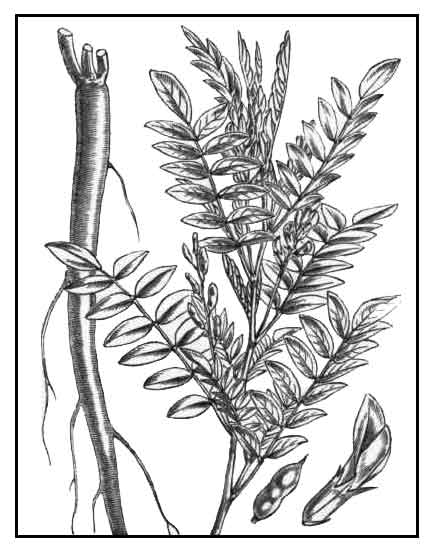 Distribution
- Cultivated.
- Nowhere spontaneous.
- Native of southeast Europe and southwest Asia.
Constituents
- Study yielded Major bio-active constituent of rhizomes is glycyrrhizin (a triterpenoid saponin), glycyrrhizinic acid, glabin A and B, glycyrrhetol, glabrolie, isoglabrolide, isoflavones coumarins, triterpene sterols, etc.
- Study yielded a new chacone derivative, neoligban lipid esters and phenolic compounds (formononetin, glabridin, hemileiocarpin, hispaglabridin B, isoliquirtigenin, 4'-O-methylglabridin and paratocarpin B.

Properties
- Sweet root is said to contain a compound that is roughly 50 times sweeter than sugar.
- Demulcent, emollient, expectorant, antiinflammatory, antispasmodic, alterative, diuretic and laxative.
- Considered antibacterial, anti-hepatotoxic, estrogenic, antifungal, antihemorrhoidal, antihyperglycemic, antimalarial, antioxidant, antiulcer.

Parts used
Roots, leaves, and rhizomes

Uses
Folkloric
- Infusion of the rootstock used for cough, colds, bronchitis, asthma, hoarseness and dysuria.
- Powdered roots used as expectorant.
- Strong decoction is laxative.
- Decoction: 20 gms for 1 liter of water, 4 ti 5 cups daily.
- In China, it is an ingredient in many remedies and used for spasmodic cough.
In ancient Greece, China and Egypt, used for gastritis and UGI tract ailments.
Culinary
- The fruit, seeds and young leaves are used for flavoring. (Once used to flavor licorice candies, but most licorice candy is now flavored with anise oil.)
- Valued for its sweetness – glycyrrhizin, a component of licorice, is 50 times sweeter than table sugar.
Others
Ritual: Ancient Egyptians used a licorice drink to honor the spirits of the Pharaohs.
Studies
• Antimicrobial / Glabridin: Study investigated the antimicrobial potential of Gg roots. Glabridin was identified as potentially active against Mycobacterium tuberculosis strains. It also showed activity against both Gram-positive and Gram-negative strains of bacteria.
• Antimicrobial / Leaves: Study of antimicrobial activity of various extracts of leaves were studied and compared to root extract activities. The root and leaf extracts showed dose-dependent activity against Candida albicans and tested gram-positive bacteria. The ethanolic extracts of leaves was the most active against gram-positive bacteria.
•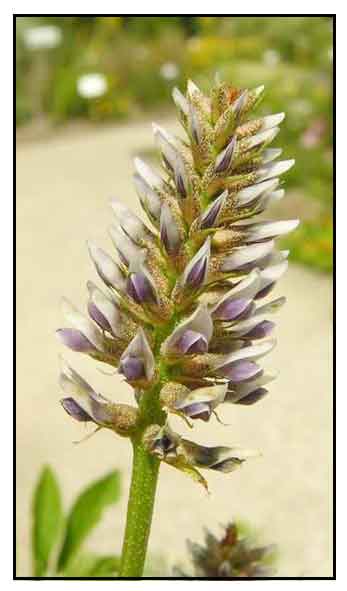 Antioxidant / Anti-Cancer: Study yielded a new chacone derivative, neoligban lipid esters and seven known phenolic compounds. Hispaglabridin B, isoliquirtigenin, and paratocarpin B were found to be potent antioxidant agents. Isoliquirtigenin also demonstrated to prevent the incidence of 1,2-dimethylhydrazine-induced colon and lung tumors in mice when administered at a dose of 300 mg/kg.
• Memory Enhancement Effect: Aqueous extract of G glabra significantly improved learning and memory of mice and also reversed the amnesia induced by diazepam and scopolamine. Its antiinflammatory and antioxidant properties may be contributing to the memory enhancement effect through facilitation of the cholinergic-transmission in mouse brain.
• Anti-Allergic: Study yielded main components as glycyrrhizin, 18beta-glycyrrhetinic acid, isoliquiritin, and liquiritigenin were isolated from licorice, and their anti-allergic effects, such as anti-scratching behavior and IgE production-inhibitory activity, were evaluated both in vitro and in vivo. Antiallergic effects of licorice are were attributed to glycyrrhizin, 18beta-glycyrrhetinic acid, and liquiritigenin, which can relieve IgE-induced allergic diseases such as dermatitis and asthma.
• Hepatoprotective: Study evaluated the potential efficacy of Gg in protecting tissues from peroxidative damage in CCl4-intoxicated rats. Results showed Gg to be a potential antioxidant and attenuates the hepatotoxic effect of CCL4.
• Osteoporosis Benefit: Hexane extract of Gg showed an inhibitory effect on bone resorption of about 40% at dilution of 1:10,000 without being toxic.
• T-cell Expression Enhancement: A double-blind randomized pilot study showed CD25 expression on T cells significantly increased in subjects ingesting Echinacea with notable increases in activation from Astragalus membranaceous and Glycyrrhiza glabra.
• Anti-Androgenic: Reduction of serum testosterone has been reported with G glabra. This study showed the alcoholic extract of G glabra to have antiandrogenic properties possibly through increased testosterone metabolism, down-regulation of androgen receptors or activation of estrogen receptors.
• Hypolipidemic: G glabra has been known to contain hypolipidemic compounds and flavonoids with high antioxidant properties. The study showed GG significantly decreased TC, LDL and TG levels while increasing HDL and lessening atherosclerotic lesion in the aorta. The effect was probably through to an effect on plasma lipoproteins, its antioxidant and antiinflammatory properties.
• Cerebro-protective: Study on the aqueous extracts of roots of G glabra showed it possesses a cerebroprotective effect in hypoxic rats which may be mediated through its antioxidant effects.
• Phytoesterogens: Study analyzing the phytoestrogen content of GG roots harvested in Syria yielded eight phytoestrogen compounds. All tested extracts contain daidzein, daidzin, genistein, formononetin, ononin and coumestrol.
• Anticonvulsant: Study showed the ethanolic extract of G. glabra inhibits PTZ- (pentylenetetrazol) and lithium-pilocarpine-induced convulsions but not MES-induced (maximum electroshock seizure) convulsions.
• Glabridin / Memory and Learning Benefits: Glabridin is a major active isoflavan from Glycyrrhiza glabra. Study investigated the effect of chronic treatment with glabridin on cognitive function in untreated diabetic and glabridin-treated diabetic rats. Results showed improved learning and memory in non-diabetic rats and reversal of learning and memory deficits in diabetic rats. The effect was attributed, possibly, to the combined antioxidant, neuroprotective, and anticholinesterase properties of glabridin. Results suggested a potential use in the management of demented diabetic patients.
• Pharmacology / Toxicology of Glycyrrhizin: Licorice extracts and its main component, glycyrrhizin, are extensively used in foods, tobacco and herbal medicinal formulations. In the US, estimated consumption is 0.027-3.6 mg glycyrrhizin/kg/day. Glycyrrhizinates can inhibit 11beta-hydroxysteroid dehydrogenase, the enzyme responsible for inactivating cortisol. High level exposure can produce hypermineralocorticoid-like effects in both animals and humans. Other studies have shown anti-ulcer, anti-viral, and anti-genotoxic properties. The study proposes an acceptable daily intake of 0.015-0.229 mg glycyrrhizin KBW per day.
• Antibacterial: Study of extracts showed significant antibacterial activity against two gram-positive (B. subtilis and S. aureus) and two gram-negative (E. coli and P. aeruginosa) bacteria.
• Blood Glucose / Anti-Diabetic Effects: Study shows Gg affects peroxisome proliferation activated receptors, thereby regulating the expression of genes that play an important role in glucose metabolism.
• Mast Cell Stabilizing Activity / Synergistic Herb-Herb Interaction: Pretreatment of mast cell with Liquorice extract, Solanum xanthocarpum extract, and Adhatoda vasica extract showed significant protection against experimentally induced degranulation.
• Alleviation of Functional Dyspepsia: In a randomized, DB, placebo-controlled study, GutGard, an extract of Gg, showed significant efficacy in the management of functional dyspepsia.
• Excessive Use During Pregnancy / Adverse Effects on Child's IQ and Behavior: (1) Science News report that excessive consumption of licorice by expectant mothers may adversely affect the child's intelligence and behavior - children did not perform as well in cognitive tests and were more likely to have poor attention spans and exhibit disruptive behavior (ADHD). The effects were attributed to glycyrrhizin in licorice, affecting the placental barrier and allowing stress hormones (glucocorticoids) fetal brain development. (2) Study concludes prenatal exposure to glycyrrhiza dose-dependently predicts poorer verbal and visuospatial abilities and narrative memory, as well as increased risk of externalizing symptoms, attention, rule-breaking and aggression problems in children.
• Preterm Birth: Heavy licorice consumptions has been associated with shorter gestation. Study showed heavy glycyrrhizin consumption versus lower level consumption was associated with a two-fold increased risk of preterm (<37 weeks) delivery.
• Effect on Hypothalamic-Pituitary-Adrenocortical Axis Function in Children: Prenatal overexposure to glucocorticoids is a mechanism that may adversely "program" the function of the HPAA. Glycyrrhizin in licorice potently inhibits 11B-hyroxysteroid dehydrogenase type 2, the feto-placental barrier to the higher maternal cortisol levels. Study results showed dose-dependent pre-natal 'programming' of HPAA function by overexposure to glucocorticoids.
Toxicity concerns
• At high doses, may produce potentially severe side effects – hypertension, hypokalemia, and fluid retention.
• Most adverse effects attributed to glycyrrhiza (glycyrrhizic acid). Processing can remove the glycyrrhiza to produce DGL (deglycyrrhizinated licorice) without the metabolic side effects of the unprocessed licorice.
• Heavy consumption has been associated with increased risk of preterm birth. (see studies above)

Availability
Wildcrafted.
Extracts, tea, flavorings, and supplements in the cybermarket.