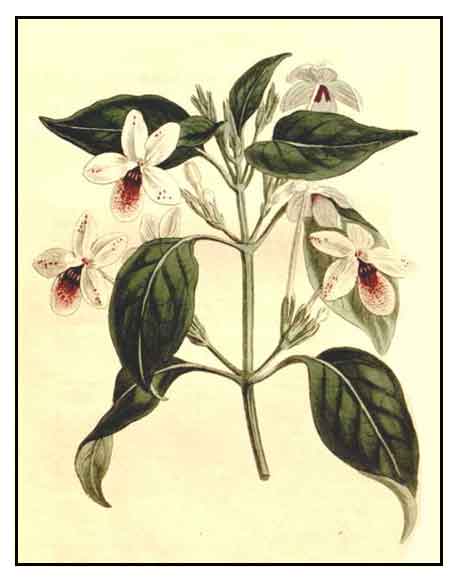 Botany
Limang-sugat is an erect, branched, rather slender undershrub or half-woody plant usually about 1 meter in height. Leaves are thin, elliptic-ovate to oblong-ovate or oblong-lanceolate, 5 to 12 centimeters long, the upper ones often reduced, pointed at the tip and narrowed to the petiole at the base. Peduncles are axillary and longer than the petioles, bearing near their apices 1 to 3 or more racemose or cymose flowers. Calyx is green, 5 to 7 millimeters long, with elongated, linear teeth. Corolla is white, the middle lobe of the lower lip has a purple spot at the base; the tube is slender and 2.5 to 3 centimeters long; lobes are spreading, elliptic to elliptic-oblong, and about 1.2 centimeters long. Fruit is a hairy, stalked capsule, about 2 centimeters long.
Distribution
Common in thickets at low altitudes from northern Luzon to Palawan and Mindanao and in most islands and provinces.

Parts used
Roots, stems, leaves.

Uses
Folkloric
Decoction of leaves, stems and roots used for aphthae.
Also used as a cicatrizant of wounds and ulcers.
Studies
• Antimicrobial Triterpenes and Sterols: Antimicrobial Triterpenes and Sterols from Pseuderanthemum bicolor / Ragasa (No abstract available).

Availability
Wild-crafted.