Botany
Litlit is a deciduous vine, growing to a height of 2 to 4 meters. Leaves are short-petioled, pale when dry, oblong, oblong-ovate, or elliptic lanceolate, 6 to 7.5 cm long, 3 to 8 cm wide, papery; the base sublateral or inequilateral, pointed or slightly heart-shaped and the apex pointed; penninerved, the lateral nerves 7 to 11 on each side of the midrib, ascending. Male spikes are 3.8 to 8.5 cm long, 2.5 to 4.5 mm in diameter; the bracts somewhat stalked, and peltate. Stamens are 2 to 3, stalkless. Female spikes are oblong when mature, red, fleshy and cylindrical, 3 to 6.5 cm long, 6.5 to 11 mm in diameter. Rachis is smooth and the bracts are stalkless and peltate. Fruit is more or less united, partly or wholly embedded in and concrescent with the rachis. Stigmas are three and short. Seeds are subglobose to obovoid-globose, 2 to 2.5 mm long.
Distribution
Common in thickets at low altitudes throughout the Philippines.
Also found in Indo-China and the Malay Peninsula to the Moluccas.
Constituents
• Study yielded retrofractamide-D.
• Study has yielded piperine, piperlonguminine, sylvatine, guineensine, piperlonguimine, filfiline, sitosterol, methyl piperate and a series of piperine-analog retrofractamides.
Properties
• Study yielded retrofractamide-D.

Part utilized
Roots, leaves.
Uses
Culinary
In some countries, used for green peppercorn spice.
Fiery and more pungent than black pepper.
In India, mainly used for pickles.
Folkloric
- Root is chewed and the saliva swallowed, or the decoction of root taken internally as cure for colic, dyspepsia and gastralgia.
- For postpartum fevers and chills, a handful of leaves are salted and oiled, then heated over embers and stroked over the entire body, from head to foot.
- In Ayurveda, traditionally used to promote respiratory and digestive health; an ingredient in compound medicinal teas.
- In China, used for vomiting, hiccups, stomachaches, diarrhea due to coldness in the stomach. For toothaches, applied externally.
- In Bangladesh, plant used to cure rheumatic pain and body pain after childbirth. Fruits used for coughs, colds, asthma, bronchitis, fever, hemorrhoids. Roots used for asthma, bronchitis, and consumption. (11)

Studies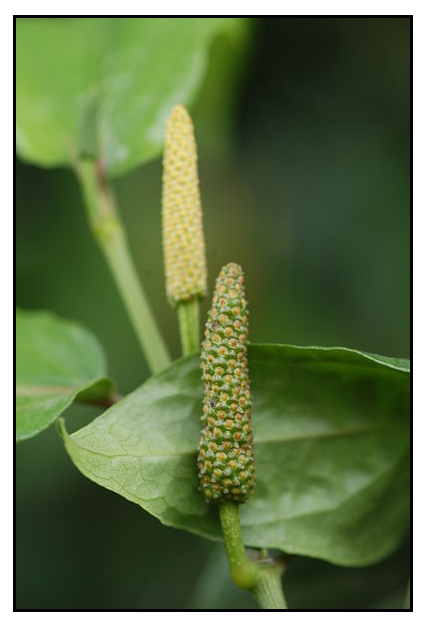 • Larvicidal: Mosquito larvicidal activity of aqueous extracts of long pepper (Piper retrofractum Vahl) from Thailand: Among nine medicinal plant extracts, PR showed the highest level of activity against mosquito larvae. Extracts of unripe and ripe fruits showed different levels of activity. The ripe fruit extract was more active against Ae. aegypti than Cx. quinquefasciatus. (1)
• Antioxidant: Chemical Constituents of Peppers (Piper spp.) and application to Food Preservation: Naturally Occurring Antioxidative Compounds: All phenolic compounds isolated, seven from P retrofractum, possess significant antioxidant activities. (2)
• Cardioprotective / Antioxidant: Petroleum ether extract of root and piperine from roots of Piper longum pretreatment decreased lipid peroxide level and maintained glutathione to near normal levels in treated rats. Results showed the extract of the plant root and piperine exerted anti-oxidant activity and cardioprotective benefit in the myocardial ischemic condition.
• Antimycobacterial Activity : In a study of various extracts from medicinal plants used as self-medication by AIDS patients in Thailand were tested for their antimycobacterial activity. The chloroform extract of P chaba fruits showed strong inhibitory effects; piperine was its active compound. (5)
• Piperine / CNS Activity / Anticonvulsant: Piperine isolated from study showed a strong potentiating effect on hexobarbital induced hypnosis. Piperine exerted a potent anticonvulsant effect measured by protection against strychnine mortality.
• Anti-Inflammatory: Study of inflammatory effects of extracts from P. retrofractum clearly showed regulation of LPS-induced IL-6 production by pure products from Piper extracts. (7)
• Aphrodisiac / Toxicity Study: Study evaluated the toxicity and aphrodisiac effect of a combination infusion of P. retrofractum, Centella asiatica and Cucurma domestica on Sprague-Dawley strain of male rats. Results showed significant differences in coitus and climbing frequencies between the treated male rat group and the untreated group. Infusion of 1000 mg/200g bw had a safe aphrodisiac effect on male Sprague-Dawley rat libido.(9)
• Antimicrobial: Study of evaluated 28 extracts from the fruits of four species, viz. Piper cubeba, P. retrofractum, P. longum, and P. nigrum against bacterial pathogens Staphylococcus aureus, S. typhi, P. aeuriginosa, E. coli and Bacillus megaterium and one fungus, Aspergillus niger. Compared to Streptomycin all extracts showed good antibacterial activity. Some exhibited antifungal activity. (10)
• Piperidine Alkaloids / Anti-Obesity Effect / Anti-High-Fat Diet-Induced Obesity: Study isolated piperidine alkaloids, including piperine, pipermonaline, and dehydropipermonaline as anti-obesity constituents. Results showed piperidine alkaloids attenuated HFD-induced obesity by activating AMPK (AMP-activated protein kinase) and PPAR, and regulated lipid metabolism, suggesting potential anti-obesity effects. (11)
• Anticancer / Mixture of Zingiber officinale and Piper retrofractum Extracts: Study of evaluated the cytotoxicity activity of a combination of ethanolic extracts of Z. officinale and P. retrofractum on HeLa and T47D cell lines. Z. officinale yielded terpenoids while P. retrofractum yielded alkaloids. The mixture showed cytotoxicity against HeLa and T47D cell lines, probably through ab apoptotic mechanism. (13)
• Dental Plaque Benefits / Inhibition of Streptococcus sanguis: Streptococcus sanguis is a bacteria involved in the formation of dental plaque, calculus, and caries. Study of various extract concentrations showed growth inhibition of Streptococcus sanguis. (14)
• Anti-Dengue Virus: In a study of 10 medicinal plants for anti-dengue type 2 activities in Vero cell by MTT method. At a concentration of 12.5 µg/ml, an ethanol extract showed inhibitory activity against DENV2 with 45.52% inhibition, 32.06% with a dichloromethane extract. At a concentration of of 100 µg/ml, there was 84.93% inactivation of viral particles. (15)

Availability
Wild-crafted.
Fruit powder in the cybermarket.