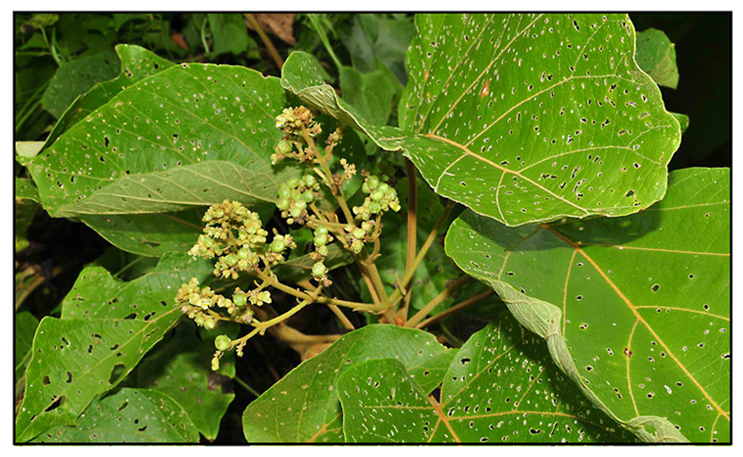 Botany
Magilik is a tree reaching a height of 8 meters or more. Twigs and leaves are densely covered with yellowish-brown, coarse, shaggy hairs. Leaves are large, opposite, ovate or ovately-oblong to subelliptic, 30 centimeters or more in length, borne upon stout, similarly hairy petioles up to 10 centimeters long, broad, rounded or somewhat heart-shaped at the base, and pointed at the tip. Inflorescences are terminal, large, and composed of many small, white flowers. Fruit is rounded, compressed, and subtended by a cupular calyx.
Distribution
- In secondary forests at low and medium altitudes, ascending to 1,000 meters, from northern Luzon to Palawan and Mindanao.
- Also occurs in Celebes.

Parts used
Leaves.

Uses
Folkloric
- In the Philippines, infused leaves used as remedy for dropsy.
- Also, used as diuretic.
Studies
(Note: Studies below belong to Premna tomentosa Willd.)
• Hepatoprotective / Acetaminophen-Induced Mitrochondrial Damage: Study showed P. tomentosa pre-treatment of rats exhibited a protective effect against mitrochondrial damage. The presence of the antioxidant D-limonene in leaves, known to enhance conjugation of toxic metabolites by maintaining GSH concentrations, may explain the hepatoprotective effect. (3)
• Cytoprotective / Immunomodulatory: Study evaluated the immunomodulatory effects of P. tomentosa against Chromium (VI) induced immunosuppression in splenic lymphocytes. Pretreatment with PT extract resulted in decreased cytotoxicity and ROS (reactive oxygen species) levels. Antioxidant levels were maintained and lymphocyte proliferation was restored to that of control cells. (4)
• Antidiabetic / Roots: Study demonstrated an in vivo anti-diabetic effect of an ethanolic extract of P. tomentosa in STZ-induced type 2 diabetic rats. (5)

Availability
Wild-crafted.