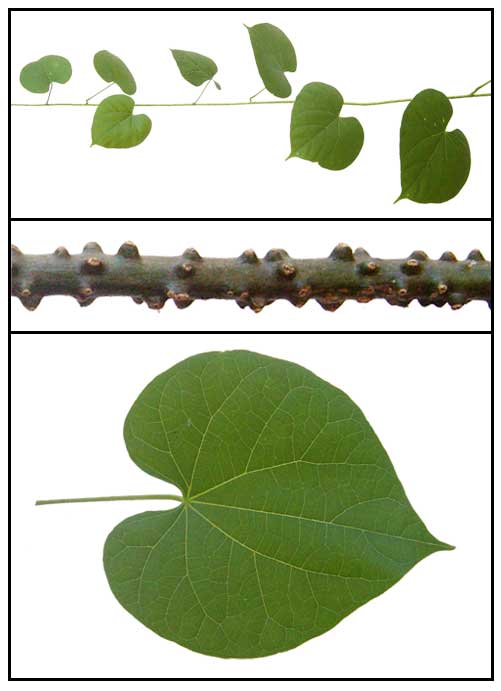 Botany
Makabuhay is a climbing, dioecious vine reaching a height of 4 to 10 meters. Stems are up to 1 centimeter thick and somewhat fleshy, with scattered protuberances. Leaves are thin, ovate, 6 to 12 centimeters long, and 7 to 12 centimeters wide, with pointed and truncate or somewhat heart-shaped based, smooth and shining. Petioles are 3.5 to 6 centimeters long. Racemes are solitary or in pairs arising from axils of fallen leaves, pale green, slender, 10 to 20 centimeters long. Flowers are pale green and short pedicelled. Fruit is 8 millimeters long, in long clusters.
Additional info
- Classified in Ayurvedic medicine as a rasayana herb, meaning "circulation of the nutrient" in Sanskrit, considered to enhance longevity, promote intelligence and prevent disease. (www.prevention.com)
- Propagated by stem cuttings or seeds. Support needed for climbing.

Distribution
- In and nearby towns in thickets, in most or all islands of the Philippines.
- Perhaps an introduced species.
- Occurs in Malaya.
Constituents
• Plant contains a bitter principle, colombine (2.22%); traces of an alkaloid; and a glucoside. Also contains a amorphous bitter principle, picroretine and traces of berberine.
• A study showed that the bitter extract of the stem does not contain an alkaloid.
• Leaves yielded picroretine, traces of an alkaloid, and a substance similar to glyzirrhizin.
• Bitter principle is glucosidal in nature.
• Study reported two alkaloids, tinosporine and tinosporidine. (Later studies failed to confirm these.)
• Study yielded two new diterpenes along with known compounds tinotufolin D and vitexilactone. (7)
• Ethanol extract of vines yielded three new diterpenoids, 2-O-lactoylborapetoside B (1), 6′-O-lactoylborapetoside B (2), and tinocrispol A (3), and nine known diterpenoids (4–12). (see study below) (28)
• Proximate analysis of stem (S) and leaves (L) yielded: protein 4.7% (L) 1.2% (S), fat 1.5% (L) 0.43% (S), carbohydrate 11.8% (L) 19.4% (S), ash 2.7% (L) 1.1% (S), moisture 79.3 (L) 77.9% (S), fiber 1.59% (L) 0.65% (S). (see study below) (37)
• Study of stems yielded four new furanoid diterpenes of clerodane types, Crispene A, B, C, and D, including one known furanoid diterpene glucoside, borapetoside E. (66)

Properties
- Considered febrifuge, vulnerary, tonic, antimalarial, parasiticide, and insecticidal.
- Studies suggest cardiotonic, antioxidant, antidiarrheal, antimicrobial, antidiabetic, antiproliferative, hypolipidemic, antimalarial, antinociceptive properties.

Parts utilized
Stems and leaves.

Uses
Edibility
• The basis of a popular preparation used as cordial, tonic, or ingredient in cocktails.
Folkloric
• Decoction of leaves and stems used for malaria and fever and as a tonic (40 gms to pint of boiling water).
• Scabies: Crush fresh stem and apply juice over the affected.
• Tropical ulcers and wound healing: Decoction of the stem as wash, or crush stem, soak in oil for 12 hours and apply oil extract on affected areas.
• Pounded stem, mixed with coconut oil, has been used for a variety of rheumatic and arthritic complaints; also for abdominal colic.
• Used for athlete's foot.
• Used for fertility regulation.
• Preparation with coconut oil use as cure for rheumatism; also for flatulence (kabag) in children.
• Decoction or powder form of plant used as febrifuge. Decoction of stem used as vulnerary for itches, ordinary and cancerous wounds.
• Aqueous extract used for treatment of stomach trouble, indigestion, and diarrhea.
• Rheumatism and flatulence: mixture of the vine with oil. Cut 100 gms of the vine in small pieces, mix with 3 ounces of coconut oil. Place in bottle and "cook" under the sun for 5-7 days.
• For stomach ulcers: stem is pounded inside a plastic bag, water is added, strained, and drank once daily. Also, stems are dried, thinly sliced, decocted, then drank.
• Used by nursing mothers to assist in weaning infants off breast-feeding. The bitter juice of the stem is applied to the nipple area causing the infant's aversion to breast-feeding and facilitating transfer to breast feeding.
• Internally, used as tonic and antimalarial; externally, as parasiticide.
• In Malaysia, extract taken orally to treat hyperglycemia. Also, used for treatment of malaria.
• In Thailand, wood decoction used for diabetes, fever and to reduce thirst; also used as appetizer.
Others
• As pesticide (rice blackbugs, rice green leafhoppers, rice stem borers) using pounded chopped vines stirred in one liter of water and sprayed on seedlings before transplanting or soaking the seedlings overnight before transplanting.
• Makabuhay, with madre de cacao and hot red pepper extract in water sprayed on rice plants at weekly intervals.
New applications
- Being studied for it possible stimulant effect on the immune system. Anecdotal benefits for a variety of HIV-related complaints.
Recent uses and preparations
• Used Preparation of ointment: Wash and chop 1/2 glass of stem. Sauté chopped stem on low fire for about five minutes in one glass of coconut oil. Remove the stems then add half a glass of grated white candle wax. When the wax is melted, pour
into clean bottle and label. Use the ointment over the whole body, save the face area, for three consecutive nights.
Caution
Should not be used by pregnant women. Some caution use by patients with cardiac disorders.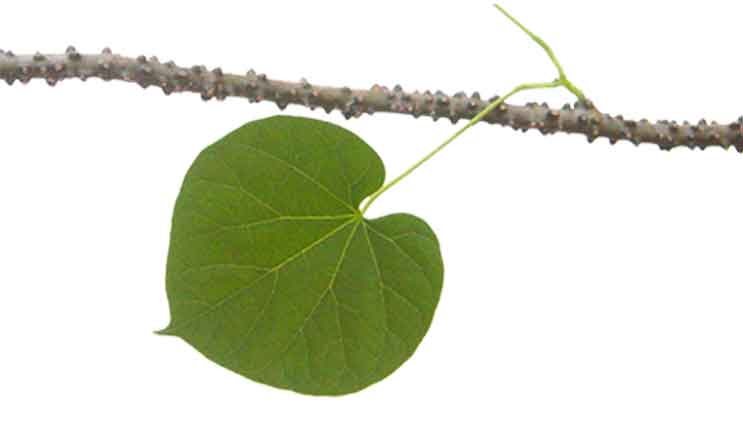 Studies
• Hay Fever / Allergic Rhinitis: A study in the Indira Ghandi Medical College showed it effective in relieving symptoms of hay fever or allergic rhinitis. The study used the supplement Tinofend 300 mg three times a day.
• Anti-scabies: Tinospora rumphii Boerl. (Makabuhay) in the Treatment of Scabies: The study established the acaricidal property of Tinospora rumphii. A concomitant antimicrobial action could not be ruled out.
• Furanoid Diterpenes: Study yielded cleordane type furanoid diterpenes: a new rumphioside I and known borapetodies C and F, plus three other compounds. (6)
• Clerodane Diterpenes: Study yielded two new diterpenes (1 and 2) from the leaves of Tinospora rumphii, along with known compounds tinotufolin D and vitexilactone. (7)
• Swine Diarrhea Control: Study showed reduction of diarrhea with use of 25% fresh makabuhay decoction from day 15-35 in piglets with diarrhea. (8)
• Antifertility Effect: Study on Sprague-Dawley rats investigated the effect of T rumphii on the activity of 3-B-hydroxysteroid dehydrogenase activity in the ovary. (9)
• Hypoglycemic / Hypolipidemic: Study on the extract of Tinospora cordifolia roots for 6 weeks resulted in a significant reduction of blood and urine glucose and lipids in serum and tissues in alloxan diabetic rats. (10)
• Antimicrobial / Diterpenes: Study on chloroform extract of air-dried leaves yielded a new clerodane diterpene, B2, and known diterpenes B1, tinotufolin D (B5) and vitexilactone (B3). B2 was found to have antifungal activity against Aspergillus niger and T. mentagrophytes, and antibacterial activity against P. aeruginosa and Bacillus subtilis. (11)
• Hypoglycemic / Insulinotropic Activity: Study of aqueous extract on alloxan-diabetic rats showed significant reduction of blood glucose and higher levels of serum insulin levels. The insulinotropic effect was also evident in perfused human and rat islets and HIT-T5 B cells. Results suggest the hypoglycemic effect is associated with increased insulin secretion. (14)
• No Diabetic Benefits / Human Study: Study of dry powder capsule of Tinospora crispa in healthy and type 2 diabetic patients showed no effect on serum glucose and insulin levels. The result was inconsistent with other studies in animal model and metabolic syndrome subjects. (15)
• Anti-TNF-a / Prevention of Atherosclerosis-related Cardiovascular Diseases: Study investigated an aqueous and methanol extract on Tumor Necrosis Factor induced inflammation on Human Umbilical Vein Endothelial cells in vitro. Results showed T. crispa extracts have an inhibitory effect in vitro on the levels of inflammation signaling molecules and may have potential in the development of nutraceuticals for the prevention of atherosclerosis-related cardiovascular diseases. (16)
• Toxicity Study / Hepatic and Renal Toxicity / Prolonged Use Concern: Results of chronic toxicity study of ethanolic extract showed hepatic and renal toxicity potential in rats. Results suggest prolonged use of high doses of T. crispa in humans should be avoided or discontinued immediately if signs of liver or renal toxicities occur while using T. crispa. (17)
• Antimicrobial / Cytotoxicity / Antioxidant: Various extracts showed very significant cytotoxicity on brine shrimp lethality bioassay. Strong antioxidant activity was seen on DPPH assay. A chloroform soluble fraction of the methanolic extract showed significant activity against tested organisms on antimicrobial screening. (18)
• Borapetoside C / Improved Insulin Sensitivity: Study isolated the hypoglycemic actions of borapetoside C isolated from T. crispa. Results showed borapetoside C can increase glucose utilization, delay the development of insulin resistance and enhance insulin sensitivity. (19)
• Antioxidative / Antiatheroslcerosis: Study investigated the effect of T. crispa stem aqueous extract in hypercholesterolemic-induced rabbits. Results showed improvement in lipid profile (decreased total cholesterol, triglycerides, LDL, and increased HDL). Extract also showed strong antioxidative properties and markedly reduced atheroslcerotic lesion formation. Results suggest a potential for incorporation of T. crispa as part of therapeutic regimens in the prevention of atherosclerosis. (20)
• Hepatotoxin Concerns / Thioacetamide Toxicity: Study evaluated the effect of an ethanolic extract of dried stems of T. crispa in a male rat model of hepatic fibrosis caused by the hepatotoxin, thioacetamide. Results showed a significant increase in the activity of liver enzymes. The in vivo study establishes the extract contains hepatotoxins and suggests reliance on data from in vitro methodologies may lead to erroneous conclusions. (21)
• Antioxidative / Anti-Proliferative: Study evaluated the cytotoxicity potential and antioxidant activity of various extracts. A methanol extract showed the highest flavonoid and phenolic content, with highest scavenging activity in a dose-dependent manner. T. crispa also showed dose-dependent antiproliferative activity against many types of cancer cells. (22)
• Cardiotonic / Cycloeucalenol and Cycloeucalenone: Study isolated two triterpenes from the stems, namely, cycloeucalenol and cycloeucalenone. Results showed mild cardiotonic effects: cycloeucalenol slightly increased right atrial force contractions and reduction in left atria of rat in vitro, while cycloeucalenone showed slight change from control on right and left atrial force. (23)
• Borapetol B / Antidiabetic: Study evaluated the antidiabetic properties of borapetol B (C1) isolated from T. crispa in normoglycemic and spontaneous type 2 diabetic rats. Results showed 2-fold increase in plasma insulin levels in treated rats. C1 dose-dependently increased insulin secretion in isolated islet cells. Results suggest borapetol B has antidiabetic effects due to its stimulation of insulin release. (25)
• Antimalarial / Plasmodium berghei: Study evaluated the antimalarial activity of T. crispa methanol extract of dried stem powder against P. berghei infection in mice. The crude extract exhibited dose-dependent antimalarial activity with strong inhibitory effect when used in combination with pyrimethamine. (26)
• Anti-MRSA Activity: Study evaluated the antibacterial effect and interaction between Tinospora crispa and S. mahagoni extracts against Methicillin-resistant strains of S. aureus (MRSA). Both extracts were effective against MESA strains. However, no interaction or synergism was found in the two-plant combination. (27)
• Hypoglycemic Diterpenoids / Borapetoside C: Study of EtOH extract of vines yielded three new diterpenoids and nine known diterpenoids. Compounds 4-6 (borapetosides A-C) were examined for in vivo hypoglycemic activities. Results showed significant lowering of plasma glucose levels in normal and STZ-induced type 1 diabetic mice. Borapetoside C exhibited a hypoglycemic effect with increased peripheral glucose utilization and reduced hepatic gluconeogenesis. (see constituents above) (28)
• Immunomodulatory / Antioxidant: Study evaluated the immunomodulatory effect of T. crispa. Findings showed T. crispa had higher antioxidant potential than ascorbic acid. T. crispa exhibited an immunomodulatory effect through stimulation of INF-γ, IL-6, and IL-8 expressions. The immunomodulatory effect might be due to cordioside, quercetin, and eicosenoic acid from the T. crispa fraction. (29)
• Effect on Blood Pressure and Heart Rate / Stems: Study evaluated the effects and mechanism of action of an n-butanol extract of stems on blood pressure and heart rate in anesthetized rats. Findings suggest T. crispa possesses at least three different cardiovascular-active components that act via (1) ß2-adrenergic receptors to cause a decrease in blood pressure, and ß1 - and ß2 -adrenergic receptors to cause an increase in heart rate, (2) α-adrenergic receptors to cause an increase in blood pressure and heart rate, and (3) a non-adrenergic and non- cholinergic pathway to cause a decrease in MAP and heart rate. (30)
• Alpha-Glucosidase Inhibitory Activity of Endophytic Actinomycetes: Study isolated and selected alpha glucosidase inhibitor-producing endophytic actinomycetes from various diabetic medicinal plants. Of fourteen studied plants, the highest inhibition activity to alpha-glucosidase was shown by BWA65 found from Tinospora crispa. Production of alpha-glucosidase inhibitor compounds in the plant was largely due to the contribution of actinomycetes endophytes. Findings suggest any plant can contain several endophytic microbes that can produce compounds or secondary metabolites. (31)
• Antimetastatic / Head & Neck Squamous Cell Carcinoma Cell Line: Study investigated the effect of T. crispa extract on matrix metalloproteinase-13 (MMP-13) expression and cell migration. Findings suggest T. crispa could be considered a potential therapeutic drug to prevent metastasis of HNSCC (head and neck squamous cell carcinoma). (32)
• Anti-Atherogenic / Antioxidant: Study evaluated the lipid lowering and antioxidant effects of T. crispa in rabbits fed with a high cholesterol diet. Results suggest the supplementation with T. crispa extract can reduce or retard the progression of atherosclerotic plaque development induced by high cholesterol diet. The antiatherogenic effect could be due to enhanced serum HDL, increase antioxidant status and flavonoid composition. (33)
• Wound Healing / Stem: Study evaluated the effect of Tinospora crispa on wound healing in diabetic albino mice given intraperitoneally and with local ointment application. Results showed potential benefits as remedy for diabetic wound healing, possibly through reduction of blood glucose level and prevention of microbial infection in the affected area. The addition of the ointment did not significantly contribute to wound healing with regards wound healing time and percent wound contraction. (35) Study evaluated a methanol and chloroform extract of stems of T. crispa for healing efficiency on excision wound model in albino rats. The methanol and chloroform fractions showed significant wound healing effect comparable with standard drug use. The methanol fraction ointment showed greater activity than the chloroform fraction. (48)
• Protective Against Malaria-Induced Renal Damage and Hemolysis / Stem: Study of Tinospora crispa stem extract showed protective effects on renal damage and hemolysis during Plasmodium berghei infection. Potent antioxidant activity of the extract may play a central role in protecting against oxidative stress induced by malaria. T. crispa stem extract has also been reported to have antimalarial activity against P. yoelii infection in mice. (36)
• Antiproliferative / Stem: Study evaluated the antioxidant and anti-proliferative activity of aqueous crude extract of T. crispa stem. No significant toxicity was recorded, with IC50 value of more than 1000 µg/ml. Extract exhibited moderate anti-proliferative activity on selected human cancer cell lines (IC50 MCF-7 107 µg/ml, HeLa 165 µg/ml, Caov-3 100 µg/ml, and HepG2 165 µg/ml. (see constituents above)  (37)
• No Benefit as Additional Treatment in T2 Diabetes / Clinical Trial: A randomized double-blind placebo controlled trail evaluated the efficacy of T. crispa as additional treatment in patients with T2 diabetes mellitus who did not respond to oral hypoglycemic drugs and refused insulin injection therapy. Results showed no antidiabetic benefit. Patients on T. crispa had significant weight reduction and cholesterol elevation. Moreover, study suggests an increased risk of hepatic dysfunction with T. crispa treatment supplementation. (38)
• Antimicrobial / Roots: Study evaluated various extracts of roots of T. crispa for in vitro antimicrobial activity against gram positive bacterial strains of Streptococcus pneumonia, gram negative strains of E. coli, and fungal strains of Candida albicans. A methanol extract exhibited moderate zone of inhibition against the bacterial strains used. An ethanol extract showed maximum inhibition against growth of Candida albicans. (39)
• Antioxidant / Stem: Study evaluated the antioxidant activity of T. crispa. Stem extract showed high antioxidant activity in the following order: DPPH > reducing power > metal chelating,98.8%, 0.957, 81.97%, respectively. The high antioxidant activity was attributed to apigenin and magnoflorine. There was high correlation with total phenolic content and DPPH free radical scavenging activity of T. crispa. (40)
• Hepatoprotective / Thioacetamide Hepatotoxicity: Study evaluated an ethanolic extract of dried stems of T. crispa in a male rat model of hepatic fibrosis caused by the hepatotoxin, thioacetamide. (41)
• Mechanisms of Anti-Hyperglycemic Action / Review: The mechanisms of anti-hyperglycemic actions are due to stimulation of insulin secretion, enhancement of glucose utilization in peripheral tissues and reduction of hepatic gluconeogenesis. Borapetoside A and C are active ingredients for lowering plasma glucose. In human studies, the anti-hyperglycemic effect shown in metabolic syndrome is not evident in type 2 diabetes mellitus. (42)
• Hepatoprotective in Malarial Infection: One of the major causes of death in malaria is organ damage to the liver. In the study, liver damage during malarial infection was evidenced by significant (p<0.05) increase in AST and ALT with markedly increased albumin. Study in mice showed T. crispa extract exhibited hepatoprotective effect during malarial infection. at dose of 500 mg/kg. (43)
• Anti-MRSA Activity / No Synergism with S. mahagoni: Study showed the extracts of T. crispa and S. mahagoni were effective against MRSA (methicillin-resistant Staphylococcus aureus) strains. However, the combination of the two plants showed no synergism against MRSA strains. (44)
• Antimalarial / Plasmodium yoelii: Study evaluated the in vivo antimalarial effect of crude extract of Tinospora crispa in mice inoculated with Plasmodium yoelii. Results showed dose-dependent anti-malarial effect. (45)
• Antimalarial / Plasmodium falciparum / Stem: Study evaluated the anti-plasmodial activity of T. crispa stem extract against P. falciparum 3D7 strain in vitro. Results showed anti-plasmodial activity with IC50 between 0.27 mg/ml and 0.29 mg/ml. The effective dose to inhibit growth of P. flaciparum 3D7 strain is 2.0 mg/ml. The reduction in parasitemia degree of 3D7 strain suggests a potential candidate as antimalarial. (54)
• Enhancement of Glucose Transport: Study evaluated the effect of water-ethanol extract of T. crispa on glucose transporter (GLUT1 and GLUT4) and AMPK alpha1 and PPAR gamma expression. Results showed enhancement of glucose transport by T. crispa in L6 myotubes, mediated by the up-regulation of GLUT1, AMPK alpha and PPAR gamma expression. (46)
• Immunomodulatory Effects: Study investigated the immunomodulatory effects of a standardized 80% ethanol extract of stem on innate immune responses by evaluation of chemotaxis and phagocytic activity of neutrophils isolated from blood of male Wistar rats. Main extract ingredients were identified as syringin and magnoflorine. Results showed increased chemotactic activity of neutrophils, a dose-dependent increase in number of migrated cells and neutrophilic phagocytic activity, a dose-dependent T- and B-lymphocyte proliferation with concanavain A and lipopolysaccharide. Results suggest immunomodulatory activity and potential for use in the prevention of immune diseases. (47)
• Antifungal / Candida albicans / Stem Bark: Study of ethanol of stem bark of T. crispa showed antifungal activity against C. albicans (20.59%). Of five fractions obtained, fraction 1 exhibited the greatest antifungal activity (27.73%). (49) GCMS analysis yielded 5 fractions. Fraction 1 showed antifungal activity against C. albicans with inhibitory potential of 27.73 ± 0.16%. GC-MS analysis yielded phenolic compounds, fatty acids, and terpenoids. Antifungal compounds were identified as hexadecanoic acid and 9,12-octadecadiernoic acid. (60)
• Effect on Human Hepatocellular Carcinoma (HepG2) / Synergism with Gelam Honey Mixture: Study investigated the effect of T. crispa and Gelam (Melaleuca cajupati) honey mixture on human hepatocellular carcinoma (HepG2) and normal human hepatocytes. Results showed potent antioxidant activity and moderate antiproliferative activity against human heptocellular carcinoma cells (HepG2) depending on treatment concentration. Furthermore, the extract may improve insulin sensitizing activity, with its potential to increase expression of PY20. (50)
• Thrombolytic Activity / Gelam Honey Mixture: Study evaluated a methanol extract of stems of T. crispa for thrombolytic (in vitro clot lysis) and cytotoxic (brine shrimp lethality bioassay) activities. Results showed the stem possesses promising thrombolytic activity in vitro against human blood as well as preliminary cytotoxic activity on brine shrimp. Study suggests potential as thrombolytic medicine. (51)
• Anti-Inflammatory / Antinociceptive / Stem: Study evaluated an ethanol extract of T. crispa stem for antinociceptive (writhing and hot plate tests) and anti-inflammatory (carrageenan-induced paw edema test) activities. Intraperitoneally administered exhibited significant (p<0.05) antinociceptive and anti-inflammatory activities in a dose-dependent manner. (52)
• Hypoglycemic in Metabolic Syndrome / Dry Powder Stem: Randomized double-blind placebo-controlled crossover design evaluated T. crispa dry powder in patients with metabolic syndrome. Results showed significant reduction of blood glucose from baseline. Results raised the concern of using T. crispa dry power in patients on statin with statin elevated liver enzyme. (also see: study 38) (53)
• Review / Anti-Diabetic Effect: Review reports on the antidiabetic effect of the herb via stimulation of insulin secretion from the ß-cells and dose-dependent and time-dependent enhancement of glucose uptake in muscles. However, review cautions use of the herb because of reported hepatotoxicity. (55)
• Anti-Inflammatory / Stem: Study evaluated the anti-inflammatory properties of aqueous extract of dried stem in a rat model of carrageenan induced hind paw edema. All test concentrations (50, 100, and 150mg/kg) significantly inhibited paw edema. Activity was attributed to possible mechanisms of stabilization of cellular membranes at 5%w/v and 7/5 w/v concentrations and inhibition of protein denaturation. (56)
• Anti-Diabetic / Acute Toxicity Study / Stem: Study evaluated activities of various Thai medicinal plant extracts (T. crispa stems, A, squamosa leaves, M. sapientum flowers, and P. sarmentosum leaves) on haematological values and bioactivities in STZ-induced diabetic rats. The extracts showed no acute toxicity, with LD50>2000 mg/kg. The stem extract of T. crispa was the most effective on lowering blood glucose via increase of serum insulin. (57)
• Anti-Diabetic / Effect on Glucose Transport in Skeletal Muscle: Study investigated the effects of water-ethanol extract of T. crispa on glucose transport in a rat muscle cell-line L6 myotubes. The WETC significantly increased glucose transport activity at L6 myotubes by enhancing GLUT1 expression, a result of AMPK stimulation. (58)
• A Case of Toxic Hepatitis: Study reports on a case of toxic hepatitis related to overuse of T. crispa pellets. Report included histological assessment and analytical identification of the herbal compound, with complete recovery after discontinuation of the herbal medicine. High contents of furanoditerpenoids such as borapetosides, compounds that cause glutathione depletion and may be responsible for the hepatotoxicity. (59) Case reports of acute hepatitis caused by chronic use of high doses of T. crispa by a 49-year old male taking 10 pellets a day for chronic back pain. After two months, he presented with a jaundice and a history of dark urine, pale stools, asthenia, and right hypochondrial pain. Histopath exam was consistent with toxic hepatitis due to T. crispa. Recovery can be complete after discontinuation. (70)
• Anti-Toxoplasma gondii Activity: Study of crude extracts T, crispa and P. guajava showed high amounts of crude alkaloids and were not toxic to Vero cells (EC50>100µg/mL). T. crispa crude extract showed potential anti-T. gondii activity with EC50 of 6.24 ± 0.53 µg/mL. Alkaloids may be key to the anti-parasitic activity. (60)
• Analgesic / Stem: Study evaluated the analgesic activity of T. crispa stem extract by acetic acid induced writhing test using Swiss albino mice. At 400 mg/kbw, the crude methanol extract and fractions showed significant (p<0.05) inhibition of writhing compared to standard Diclofenac Sodium with the petroleum ether soluble fraction showing the most significant analgesic activity (51.94%) compared with standard (65.12%). Crude extract and fraction showed no significant antimicrobial activity. (61)
• Tinocrisposide / Chemopreventive Against Human Cancer Cells: Study evaluated the cytotoxic activity of tinocrisposide extract from T. crispa against human cancer cell lines (HI299 and MCF-7 cell lines). Results showed that while it did not show any cytotoxicity against HI299 and MCF-7 cell line, it can be used as a chemopreventive agent toward those cell lines. (62)
• Artesunate-Tinospora Combination in Mouse Malarial Models: Study evaluated the effect of combinations of artesunate and T. crispa extract on nuclear factor kappa-B (NFkB) and intracellular adhesion molecule-1 (ICSAM-1) expression in brain of mouse malaria models. Results showed significantly decreased expression of NFkB and ICAM-1 with the combination group compared to either one alone. (63)
• Tinospora crispa Ointment Against Head Lice / Pediculus humanus capitis: Study evaluated the safety, efficacy, and physiochemical characteristics of T. crispa pediculicidal ointment. Results showed the ointment to be non-irritant, with a primary irritation index of 0.15, with comparable pediculicidal activity of positive control Kwell®, a 1% pemethrin shampoo. Activity was attributed to the presence of compounds moupinamide and physalin I. (64)
• Anti-Obesity and Anticancer Potential pf Gelam Honey and T. crispa: Review reports on the potential of Malay medicine practice of consumption of Gelam Honey and T. crispa herb in controlling obesity and treating cancer. In the obesity study, GH and TC significantly decreased body weight, total cholesterol, triglycerides and glucose level. In cancer studies, both were found to inhibit colon, breast, liver and lung cancer cell growth. (65)
• N-trans-feruloyltyramine / Anti-Nitric Oxide Activity / Antioxidant: Study showed the nitric oxide inhibitory activity of T. crispa extract was related to N-trans-feruloyltyramine content. Antioxidant activity of ethanolic extract showed an IC50 value of 88.56 µg/mL. (67)
• Regulation of Cholesterol Metabolism in Human Hepatoma Cancer Cell Line: Study showed the ability of T. crispa aqueous extract to regulate cholesterol metabolism in human hepatoma cancer cell line (Hep G2). The extract significantly increased (p<0.05) the concentration of Apo A1, LCAT, LDLR, SRB-1, and HL. Efficacy was good when compared with standard drug simvastatin. (68)
• Herb-Drug Interaction / Effect of T. crispa on Drug Metabolism in Rat Liver: Study investigated the in vitro and ex vivo effects of crude extract and various solvent extracts of stem on aminopyrine N-demethylase activity in Sprague-Dawley rat liver. Results showed the chloroform extract of T. crispa affected Phase 1 aminopyrine N-demethylation in certain groups of rat liver. Caution is advised with long-term extract use at doses equal to or greater than 500 mg/kg because it can significantly elevate ALT level. (69)
• Antiproliferative / Triple Negative Breast Cancer Cell Lines: Study of T. crispa methanol extract showed antiproliferative effect on triple negative breast cancer cells with less toxicity to the normal breast cells. Cell death was mainly due to apoptosis and the combination of T. crispa and cisplatin significantly down-regulated the NF-kB gene expression which increased apoptosis in cancer cell lines. (71)
• Larvicidal / Filarial Vector Cx quinquefasciatus / Fruit: Study of T. crispa fruit extract showed promising mosquito larvicidal potency against all instars of Culex quinquefasciatus larvae. (72)

Availability
- Wild-crafted.
- Capsules, extracts, supplements in the cybermarket.