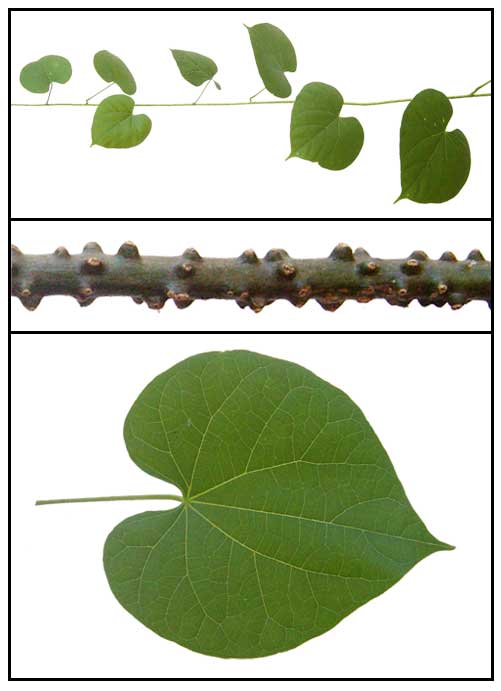 Botany
Makabuhay is a climbing, dioecious vine reaching a height of 4 to 10 meters. Stems are up to 1 centimeter thick and somewhat fleshy, with scattered protuberances. Leaves are thin, ovate, 6-12 centimeters long, and 7 to 12 ccentimeters wide, with pointed and truncate or somewhat heart-shaped based, smooth and shining. Petioles are 3.5 to 6 centimeters long. Racemes are solitary or in pairs arising from axils of fallen leaves, pale green, slender, 10 to 20 centimeters long. Flowers are pale green and short pedicelled. Fruit 8 millimeters long, in long clusters.
Additional info
- Classified in Ayurvedic medicine as a rasayana herb, meaning "circulation of the nutrient" in Sanskrit, considered to enhance longevity, promote intelligence and prevent disease. (www.prevention.com)
- Propagated by stem cuttings or seeds. Support needed for climbing.

Distribution
- In and nearby towns in thickets, in most or all islands of the Philippines.
- Perhaps an introduced species.
- Occurs in Malaya.
Chemical constituents
• Plant contains a bitter principle, colombine (2.22%); traces of an alkaloid; and a glucoside. Also contains a amorphous bitter principle, picroretine and traces of berberine.
• A study showed that the bitter extract of the stem does not contain an alkaloid.
• Leaves yielded picroretine, traces of an alkaloid, and a substance similar to glyzirrhizin.
• Bitter principle is glucosidal in nature.
• Study reported two alkaloids, tinosporine and tinosporidine. (Later studies failed to confirm these.)
• Study yielded two new diterpenes along with known compounds tinotufolin D and vitexilactone.
(Source)
Properties
Considered febrifuge, vulnerary, tonic, antimalarial, parasiticide, and insecticidal.

Parts utilized
Stems and leaves.



Uses
Edibility
• The basis of a popular preparation used as cordial, tonic, or ingredient in cocktails.
Folkloric
• Decoction of leaves and stems used for malaria and fever and as a tonic (40 gms to pint of boiling water).
• Scabies: Crush fresh stem and apply juice over the affected.
• Tropical ulcers and wound healing: Decoction of the stem as wash, or crush stem, soak in oil for 12 hours and apply oil extract on affected areas.
• Pounded stem, mixed with coconut oil, has been used for a variety of rheumatic and arthritic complaints; also for abdominal colic.
• Used for athlete's foot.
• Used for fertility regulation.
• Preparation with coconut oil use as cure for rheumatism; also for flatulence (kabag) in children.
• Decoction or powder form of plant used as febrifuge. Decoction of stem used as vulnerary for itches, ordinary and cancerous wounds.
• Aqueous extract used for treatment of stomach trouble, indigestion, and diarrhea.
• Rheumatism and flatulence: mixture of the vine with oil. Cut 100 gms of the vine in small pieces, mix with 3 ounces of coconut oil. Place in bottle and "cook" under the sun for 5-7 days.
• For stomach ulcers: stem is pounded inside a plastic bag, water is added, strained, and drank once daily. Also, stems are dried, thinly sliced, decocted, then drank.
• Used by nursing mothers to assist in weaning infants off breast-feeding. The bitter juice of the stem is applied to the nipple area causing the infant's aversion to breastfeeding and facilitating transfer to breast feeding.
• Internally, used as tonic and antimalarial; externally, as parasiticide.
Others
• As pesticide (rice blackbugs, rice green leafhoppers, rice stemborers) using pounded chopped vines stirred in one liter of water and sprayed on seedlings before transplanting orsoaking the seedlings overnight before transplanting.
• Makabuhay, with madre de cacao and hot red pepper extract in water sprayed on rice plants at weekly intervals.
New applications
Being studied for it possible stimulant effect on the immune system. Anecdotal benefits for a variety of HIV-related complaints.
Caution: Should not be used by pregnant women, patients with cardiac disorders.
Recent uses and preparations
• Used Preparation of ointment: Wash and chop 1/2 glass of stem. Sauté chopped stem on low fire for about five minutes in one glass of coconut oil. Remove the stems then add half a glass of grated white candlewax. When the wax is melted, pour
into clean bottle and label. Use the ointment over the whole body, save the face area, for three consecutive nights.

Studies
• Recent study showed tinospora to contain a special polysaccharide, or carbohydrate, that triggers activity of macrophages, white blood cells that play a role in immunity.
• Hay Fever / Allergic Rhinitis: A study in the Indira Ghandi Medical College showed it effective in relieving symptoms of hay fever or allergic rhinitis. The study used the supplement Tinofend 300 mg three times a day.
• Anti-scabies: Tinospora rumphii Boerl. (Makabuhay) in the Treatment of Scabies: The study established the acaricidal property of Tinospora rumphii. A concomitant antimicrobial action could not be ruled out.
• Furanoid Diterpenes: Study yielded cleordane type furanoid diterpenes: a new rumphioside I and known borapetodies C and F, plus three other compounds.
• Clerodane Diterpenes: Study yielded two new diterpenes, 1 and 2, from the leaves of Tinospora rumphii, along with known compounds tinotufolin D and vitexilactone.
• Swine Diarrhea Control: Study showed reduction of diarrhea with use of 25% fresh makabuhay decoction from day 15-35 in piglets with diarrhea.
• Antifertility Effect: Study on Sprague-Dawley rats investigated the effect of T rumphii on the activity of 3-B-hydroxysteroid dehydrogenase activity in the ovary.
• Hypoglycemic / Hypolipidemic: Study on the extract of Tinospora cordifolia roots for 6 weeks resulted in a significant reduction of blood and urine glucose and lipids in serum and tissues in alloxan diabetic rats.
• Antimicrobial / Diterpenes: Study on chloroform extract of air-dried leaves yielded a new clerodane diterpene, B2, and known diterpenes B1, tinotufolin D (B5) and vitexilactone (B3). B2 was found to have antifungal activity against Aspergillus niger and T. mentagrophytes, and antibacterial activity against P. aeruginosa and Bacillus subtilis.

Availability
Wild-crafted.