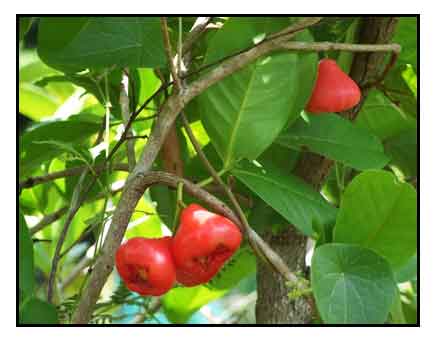 Gen info
- There is continuing confusion on three Syzygium species: S. aqueum, S. malaccense, S. samarangense. They are three distinct separate species, sharing in fruit edibility but quite confusing in their common names.
- The three Syzygium species are: (1) Syzygium aqueum, referred to as water apple, bell fruit and Tambis locally; (2) S. malaccense, Malay apple, yambu, Makopang-kalabaw; and (3) S. samarangense is Java apple, wax jambu, Makopa. (8)
- Makopa's ancient, pre-colonial name was "dambo." (4)
- Because of similarity in appearance, macopa is often confused with tambis.
- Of the three, Syzygium samarangense is the most popular in southeast Asia.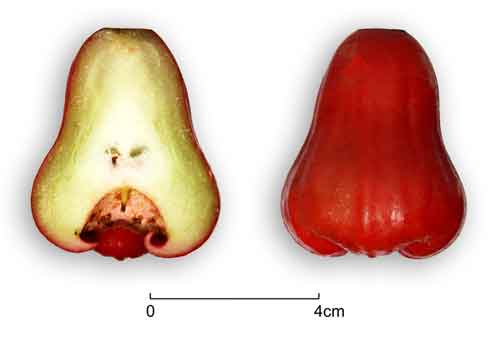 Botany
Makopa is a tropical tree growing up to 12 meters tall, with a relatively short and wide trunk. Bark is pinkish-gray in color, flaking readily. Leaves are elliptic and round at the base, 10 to 25 centimeters long and 5 to 10 centimeters wide. Flowers are white to yellowish-white, 2.5 centimeters in diameter, with four petals and numerous stamens, forming 3 to 20 panicles near branch tips. Fruit is a bell- or pear-shaped edible berry, occurring in a wide range of colors, white, pale green, green, red, purple, crimson, and even black. Skin is thin, flesh is white and spongy, with a very loose weave. Each berry has 1 to 2 small, round seeds, about 0.8 centimeter; the seed is located in middles in a cotton-candy like mesh. Flowers and fruit appear on the axils of leaves, or on any point on the trunk and branches. When ripe, fruit pulls outwards, with a slight concavity in the middle of the underside of the "bell."

Distribution
- Cultivated for its edible fruit.
- Naive to the Philippines, India, Myanmar, Sri Lanka, Bangladesh, Pakistan Thailand.
- A widely cultivated fruit tree in Southeast Asia.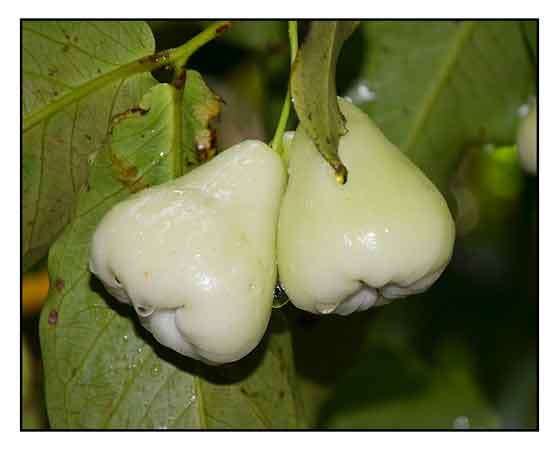 Constituents
• Study of dichlormethane extract of leaves yielded 2′,4′- dihydroxy-6′-methoxy-3′-methylchalcone (1), 2′,4′-dihydroxy-6′-methoxy-3′,5′-dimethylchalcone (2), 2′-hydroxy- 4′,6′-dimethoxy-3′-methyl chalcone (3), squalene (4), betulin (5), lupeol (6), sitosterol (7), and a mixture of cycloartenyl stearate (8a), lupenyl stearate (8b), β-sitosteryl stearate (8c), and 24-methylenecycloartenyl stearate (8d). (see study below) (15)
- Study for total phenolics and total flavnoid content yielded: bark 0.41 ± 0.075% and 0.076 ± 0.005%, respectively; while leaves yielded5.99 ±0.061 and 1.117 ± 0.006%, respectively. (see study below) (17)
- Study of air-dried leaves yielded cycloartenyl stearate, lupenyl stearate, sitosteryl stearate, and 24-methylenecycloartanyl stearate. (see study below) (22)
- Nutrient analysis, raw, per 100 g yielded: (Proximates) water 93g, energy 25 kcal, energy 105 kJ, protein 0.6g, total lipid 0.3g, ash 0.4g, carbohydrate 5.7g, (Vitamins) thiamine 0.02mg, riboflavin 0.03mg niacin 0.8 mg, vitamin C 22.3mg; (Minerals) calcium 29mg iron 0.07mg, magnesium 5 mg, phosphorus 8mg, potassium 123mg, sodium 0mg, zinc 0.06mg.. (27)
Properties
- Studies have suggested analgesic, anti-inflammatory, antioxidant, antibacterial, wound healing, antifungal, anthelmintic, antidiabetic, a-glucosidase inhibitory, antidiarrheal, spasmolytic, anti-proliferative, apoptotic properties.
Parts used
Fruit, leaves.
.
Uses
Nutrition / Culinary
- Fruit is edible, crispy and juicy, eaten raw with salt or cooked as a sauce.
- Used in salads; also pickled.
- Leaves used for making tea.
Folkloric
- Not known in the Philippines for its medicinal properties.
- Fruit used to treat hypertension, sore throat. Used as digestive and astringent.
Others
- Wood Wood is durable, moderately hard, moderately resistant to fungi and termites, but susceptible to wood borers. Tolerates nailing and screwing with pre-boring. Used for making tool handles, musical instruments, various carpentry works, flooring, joinery, etc. (9)

Studies
• Effect of Growth Regulator Application: Study reports o the effects of growth regulators on physiochemical and phytochmical properties of the wax apple fruit. Growth regulators (PGRs) treated fruit showed significantly increased net photocynthesis, sucrose phosphate synthase (SPS) activity, peel color, fruit firmness, juice content, pH value, total soluble solids, and sugar acid ration. Application of gibberellin (GA3) naphthalene acetic acid (NAA) and 2,4-dichorsphenoxy acetic acid (2,4-D) significantly reduced titrable acidity and increased total sugar and carbohydrate content. Treatments also greatly increased phenol and flavonoid content, vitamin C content, and also significantly affected chlorophyll, anthocyanin, and carotene content, and produced highest antioxidant activity. ((2))
• Analgesic / Anti-Inflammatory / CNS Activities / Leaves: Study evaluated of a methanolic extract of S. samrangense leaves in mice showed significant analgesic activity using acetic acid induced writhing and formalin tests (p<0.05) with decreased writhing and number of licks, respectively, in a dose dependent manner. The extract caused significant (p<0.05) inhibition of carrageenan induced paw edema in a dose dependent manner. CNS activity was shown by reduction of locomotor and exploratory activities in open field and hole cross tests. (8)
• Anthelmintic / Bark: Study evaluated the anthelmintic activity of an ethanolic extract of bark of S. samarangense against nematode Haemonchus contortus. Results showed anthelmintic activity in a dose dependent manner, comparable to standard drug Albendazole. (10)
• Hydrolysate of Water Extract / Skin Whitening / Wound Healing / Invention: Invention is a hydrolysate of water extract of S. samarangense with a composition suitable for skin whitening, enhancing the moisture-retaining capacity of the skin, improving wound healing, and reducing oxidative stress. (11)
• Antioxidant / Leaves: Study evaluated a crude mdthanolic extract fractions of leaves for antioxidant activity using in-vitro and in-vivo models. The methanolic extract showed higher antioxidant activity than other solvent soluble fractions. Among solvent fractions, the ethyl acetate fraction showed better results than others, with significant concentration dependent effects on DPPH ( IC50 of 38.84 ± 0.08 µg/mL) and reducing power assay. (12)
• Antibacterial / Fruits: Study evaluated the antimicrobial properties of Syzygium alternifolium and S. samarangense against bacterial and fungal strains using disc diffusion method. The methanol fruit extract of S. samarangense exhibited significant dose dependent inhibition of both gram positive and gram negative bacteria. (13)
• Protection Against STZ-Induced Pancreatic ß-Cell Damage: Study evaluated the protective properties and mechanisms of wax apple against streptozotocin-induced pancreatic ß-cell apoptosis in diabetic rats. Wax apple treatment significantly reduced FBG, increased body weight, improved pancreatic ß-cell function as evidenced by HOMA-B and pancreatic and serum insulin levels. Also, pancreatic ß-cell apoptosis was alleviated with significant down-regulation of cleaved caspase-3 and Bax protein expression and upregulation of Bcl-2 and Bcl-xl protein expression. Results suggest evidence of protection against STZ-induced ß-apoptosis and dysfunction in diabetic rats, possibly via inhibition of oxidative stress and proinflammatory cytokine and activation of anti-apoptotic proteins. (14)
• Antifungal / Phytochemicals / Leaves: Study evaluated a dichlormethane extract of leaves for phytoconstituents. Sample 8 was tested for antimicrobial potential. It showed moderate antifungal activity against Candida albicans, and low activity against T. mentagrophytes and low antibacterial activity against E. coli, S aureus, P. aeruginosa,, and no activity against B. subtilis and A. niger. (see constituents above) (15)
• Antidiarrheal / Calcium Antagonist and Spasmolytic Activities / Leaves: Study evaluated the use of the plant for gut hypermotility. A hexane extract was found to dose-dependently relax spontaneously contracting isolated rabbit jejunum. The extract relaxed the high K+-induced contractions and also decreased the Ca++ dose-response curves in a dose-dependent manner, confirming calcium-channel blocking activity. Four flavonoids isolated from the extract showed dose-dependent spasmolytic activity with SS2 showing most potency. Results may explain the medicinal use of the plant in diarrhea. (16 )
• Total Flavonoids and Phenolic Contents: Study evaluated several Syzygium species for total phenolics and flavonoids. Results showed Syzygium leaves were a rich source of phenolic compounds and flavonoids than Syzygium barks. Total flavonoid content was found to be prominent in S. samarangense leaf. (see constituents above) (17)
• Anti-Proliferative and Apoptotic / Human A549 Lung Cancer Ceil Line / Fruits:Study evaluated the anti-proliferative and apoptotic activity of Syzygium samarangense fruits methanolic extract against A549 cell lines. Results showed strong and decreased cell viability in a concentration-dependent manner with IC50 found a minimum concentration of 21.86 µg/ml. Ladders of DNA fragments in the DNA fragmentation assay indicated intrinsic apoptotic cell death. (18)
• Vescalagin / Alleviation of Hepatic Insulin / Prevention of Diabetic Progression / Fruit: Study investigated the ameliorative effect of vescalagin (VES) isolated from pink wax fruit on hepatic insulin resistance and abnormal carbohydrate metabolism in high-fructose diet induced hyperglycemic rats. The VES significantly reduced the values in oral glucose tolerance curve and the homeostasis model assessment of insulin resistance index. VES enhanced the activity of hepatic antioxidant enzymes, reduced hepatic protein expression involved in inflammation pathways, upregulated expression of hepatic insulin signaling-related proteins and down-regulated hepatic gluconeogenesis related proteins. Results suggest a potential for VES in preventing progression of diabetes mellitus. (19)
• Myricitrin and ethyl Gossypetin / Protection of Keratinocytes / Leaves: Study of leaves isolated two compounds: myricitrin (1) and 3,5-di-O-methyl gossypetin (2). Pretreatment with the two compounds mitigated the negative effects induced by oxidative stress as evidenced by no alteration in ROS production, GSH level or protein oxidation. Both compounds also modulated mitogen-activated protein kinase (MAPK) signaling pathways to counteract oxidative stress activation. Compound 2 exerted its antioxidant activity through the nuclear transcription factor-2 (Nrf-2) pathway, stimulating the expression of antioxidant proteins. (20)
• Amelioration of Insulin Resistance / Fruit: Inflammation is associated with insulin resistance. Study showed a fraction from wax apple fruit extract (FWFE) might alleviate insulin resistance in TNF-α treated FL83B cells by activating P13K-Akt/PKB signaling and inhibiting inflammatory response via suppression of JNK, rather than ERK activation. (21)
• Triterpenes and Sterol / Analgesic / Anti-Inflammatory / Leaves: Cycloartenyl stearate, lupenyl stearate, sitosteryl stearate, and 24-methylenecycloartanyl stearate from air-dried leaves of Syzygium samarangense exhibited potent analgesic and anti-inflammatory activities. Tail flick assay and acetiic acid writhing assay were used for analgesic activity testing, while a modified antipleurisy assay was used for anti-inflammatory activity. (22)
• Inhibition of Bacterial Growth and Extracellular Protease of Salmonella typhimurium / Volatile Oil: Study evaluated volatile oil of S. samarangense for inhibitory activity against enteric bacteria growth and effect against caseinolytic activity of extracellular protease of Salmonella typhimurium. Salmonella typhimurium was the most sensitive bacterium with IC50 of 0.17 ± 0.005% v/v. The volatile oil of S. samarangense inhibited a wide range of enteric bacteria. Inhibiting the extracellular protease of S. typhimurium may be one of its mode of action against the pathogens. (23)
• Enhancement of Wound Healing / Leaf Ointment: In-vivo study evaluated the effect of Syzygium samarangense leaf extract ointment formulation to accelerate the process of collagen formation and wound healing on an induced burn wound in Rattus Wistar. Results showed S. samarangense can accelerate wound healing as evidenced by reduction of wound area (p<0.05) and increase in the amount of collagen (p<0.05). (24)
• Alpha-Glucosidase Inhibitory Effect: Study evaluated the efficacy of four medicinal plants in reducing the breakdown of carbohydrates to glucose via α-glucosidase inhibition and to determine the active principles responsible for the activity.. Out of 16 crude extracts, the ethanolic extracts of L. speciosa and Syzygium samarangense showed concentration dependent % inhibition, with IC50s of 116.64 ±6.71 µg/mL and 111.76 ± 7.88 µg/mL, respectively. The crude ethanol extract of SS yielded tannins, sterols, triterpenes, and flavonoids. (25)
• Destructive Disease / Pestalotiopsis samarangense: A new fungal species, Pestalotiopsis samarangense, was isolated from fruit rot in S. samarangense from markets in Thailand. Wounding triggers the disease, starting as a small, circular,black, sunken spots on the fruit, later enlarging rapidly, becoming sunken, progressing into a soft decay of the fruit flesh. Careful handling of fruits during transport and storage helps prevent the disease. (26)

Availability
- Cultivated.
- Extracts and tinctures in the cybermarket.