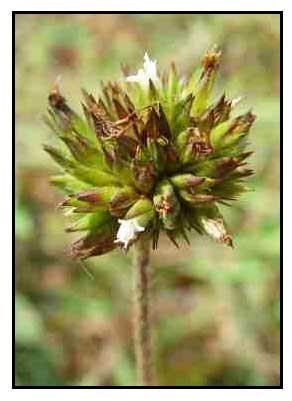 Botany
Malatabako is a tall, erect, more or less hairy herb, 0.8 to 1.2 meters in height, unbranched except for the inflorescence. Leaves are scattered along the stem, not basal, oblong to oblong-elliptic, 8 to 20 cm long, and pointed at both ends. Branches of the inflorescences are few, usually forked, and subtended by much-reduced leaves. Clusters of head terminating the branches are usually surrounded by three leaflike bracts which are ovate to oblong-ovate, 1 to 1.5 cm long, and heart-shaped at the base. Flowering heads are crowded in each cluster, each head usually 4-flowered. Involucral-bracts are 8 to 10 mm long. Corolla is purple, 8 to 9 mm long. Achenes are ribbed. Pappus is 4 to 6 mm long, with rigid bristles.
Distribution
- Throughout the Philippines, in open, waste places and grasslands, from sea level to an altitude of 2,000 meters.
- Native of Mexico.
- Also found in the Marianne and Caroline Isaldns, Formosa and Borneo.
Constituents
Study yielded phenolic compounds, ie., caffeic acid, 3,5-dicaffeoylquinic acid, 1,4-dicaffeoylquinic acid, and 3,4-dihydroxy-cinamic acid methyl exter as the main constituents.
Properties
Antiviral, antibacterial, febrifuge, diuretic, vulnerary.

Parts used
Leaves.

Uses
Folkloric
Leaves, either fresh and crushed or dried and powdered, are freely applied to wounds as a vulnerary.
Decoction of whole plant or parts are used as diuretic and febrifuge.

Studies
• Melanogenesis Inhibition in Murine Melanoma: Study showed E. mollis extract reduced melanogenesis by downregulating Mitf expression. In addition, melanocortin-1 receptor (MC1R) expression was downregulated suggesting desensitization to a-melanocyte-stimulating hormone of the cells treated with the extract.
• Free Radical Scavenging: EM extract was found to possess significant free radical and superoxide radical scavenging activity, effectively protecting mouse brain lipid against oxidative stress.
• Phenolic Compounds / Chemopreventive Activity: Study yielded phenolic compounds as main constituents - caffeic acid, 3,5-dicaffeoylquinic acid, 1,4- dicaffeoylquinic acid, and 3,4-dihydroxy-cinnamic acid methyl ester, and suggested the compounds may play major roles in the chemo-preventive activity of EM.
• Anti-Leishmaniasis: In an Ecuadorean study of 140 extracts, Elephantopus mollis was one that showed anti-leishmaniasis activity.
Availability
Wild-crafted.