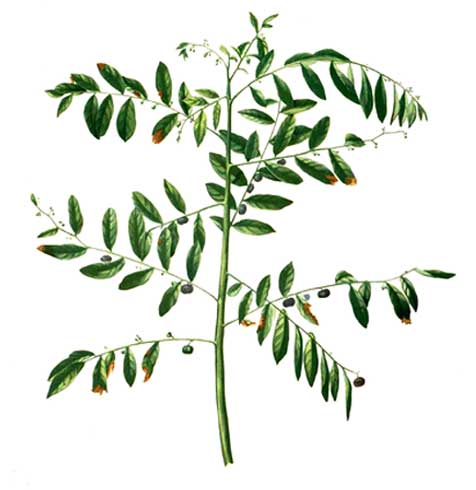 Botany
Malatinta is an erect or somewhat climbing and many-branched shrub, 1.5 to 5 meters high, or a small tree growing up to 5 meters high. Leaves are alternate along slender branches, pale beneath, oblong to elliptic-oblong, 1.5 to 4 centimeters long. Flowers are solitary or few in each axil, 2 to 3 millimetrs long, green and tinged with purple. Fruit is depressed-globose, 5 to 7 millimeters in diameter, soft, fleshy, smooth and purple-black when mature.

Distribution
- Common in thickets at low and medium altitudes throughout the Philippines.
- Occurs in India to southern China and in Taiwan, southward through Malaya to Timor and Celebes.
Parts utilized
Leaves, fruit.

Constituents
- Leaves contain a tannic acid, but no alkaloid.
- Phytochemical studies isolated three compounds: lupeol acetate, stigmasterol and lupeol.
Properties
Bark is astringent, diuretic, alterative and attenuant.
Uses
Folkloric
· Decoction or infusion of dried bark used for dysentery.
· Powdered leaf used for sores, burns, suppurations.
· Fruit is astringent to the bowels; used for diarrhea in infants.
· Leaves and roots used for fractures and traumatic injuries.
· Astringent, used in treatment of liver and splenic diseases; also used for rheumatisim.
· In Zambia, the plant is used as a remedy for anemia and intestinal hemorrhages; the roots and fruit have been used for criminal poisoning.
· European farmers have used the powdered leaf as application for sores, burns and venereal sores. Bark and leaf used as diuretic.
· In Zululand, root bark infusions used as emetic.
· Frayed twig used as toothbrush.
Other
· Dye: Juice of ripe fruit used as ink. The Zulus use the root in making a dark brown or black dye, for coloring fishing lines to make them less conspicuous in water.
Studies
• Antiplasmodial Activity: In a study of 16 extracts of four Kenyan medicinal plants being screened for phytochemicals and antiplasmodial activity, P reticulatus and S zanzibariensis showed the most activity against the tested strains.
• Analgesic / Antiinflammatory Activity: Study showed extracts of P reticulatus possess significant analgesic and anti-inflammatory properties.
• Antidiabetic Activity: Study of petroleum and ethanolic extracts of P reticulatus showed antidiabetic activity at dose of 1000 mg/kg. Phytochemical screening revealed terpenoids glycosides, protein, carbohydrates and absence of alkaloids and steroids.
• Hepatoprotective Activity: Study of fat free ethanol extract of the aerial parts of P reticulatus showed promising hepatoprotective activity evidenced by changes in pentobarbital-induced sleeping time, changes in liver enzymes and histopathologic changes.
• Cytotoxic Activity: In a study screening the cytotoxicity of some medicinal plants, Phyllanthus reticulatus exhibited strong brine shrimp lethality.
• Hypocholesterolemic / Oxidative Stress Effect: Study evaluated the effect of P. reticulatus aqueous extract on lipid profile and oxidative stress in hypercholesterolemic albino rats. It was effective in controlling total cholesterol, lipid profie and oxidative stress in the animals. Results suggest a preventive potential for prevention of atherosclerosis in hypercholesterolemic patients.
• Antinociceptive / Hypoglycemic: Methanol extract exhibited beneficial effects as a pain reliever and in reducin the elevated blood glucose level of hyperglycemic mice.
• Antioxidant / Hypoglycemic: Methanol extract exhibited potent antioxidant activity. Its natural origin and potent free radical scavenging activity presents a potential preventive intervention for free radical mediated diseases.

Availability
Wild-crafted.