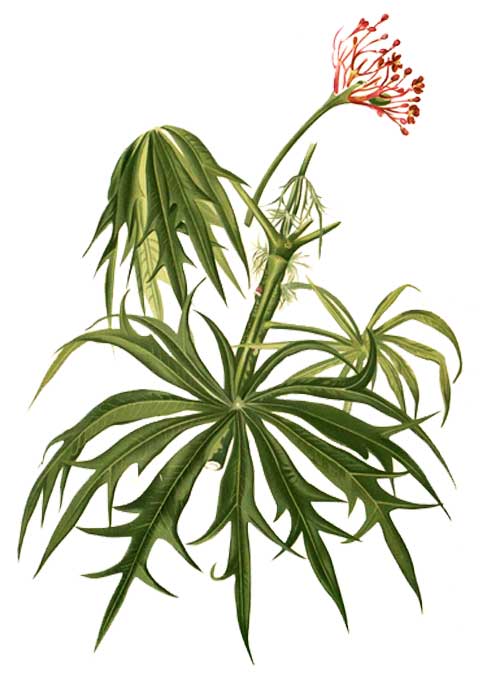 Botany
Mana is a smooth shrub 2 to 3 meters high, with the petioles as long as the leaves. Leaves are glaucous beneath, 15 to 30 centimeters in diameter, and cleft nearly to the base into about 10 lanceolate, entire or pinnately incised lobes, the lobes about 1 to 4 centimeters wide. Flowers are red, borne on long peduncled cymes, 3 to 6 centimeters broad. Capsules are obovoid, about 2 centimeters long, somewhat three-angled, with the angles rounded.
Distribution
- Ornamental cultivation. The inflorescences often in great demand by florists for making red corsages.
- Planted as a hedge.
- Introduced from tropical America.
Constituents
- Seeds contain 6% glucose, 1% bitter principle, 30% fixed oil. The latter turns vermillon with sulfuric acid.
- Seed oil is similar to Jatropha curcas.
- Leaves contain saponin.
- Phytochemical analysis of root bark extract yielded alkaloids, tannins, glycosides, saponins, and flavonoids. (See study below) (10)
- An immunologically active novel cyclic decapeptide, Labaditin, consisting of 1 Ala, 2 Gly, 1 Ile, 2 Thr, 2 Trp, and 2 Val, was isolated from the the latex. (11)
- Sap yielded alkaloids, saponin, carbohydrate, phenol and tannins, with the absence of glycosides, flavonoids, and steroid. (12)
Properties
- Seeds are poisonous, cathartic, emetic.
- Oil is also reported as emetic and purgative.

Parts used
Leaves, roots, seeds, oil.

Uses
Folkloric
- In French Guiana, seeds are used fresh as purgative and emetic.
- In Indo-China, decoction of dried roots used for indigestion and colic. Also, prescribed as tonic, for orchitis, and for edema. Leaves are used for scabies; the latex applied to wounds and ulcers.
- Oil used internally and externally as abortifacient.
- Oil is also emetic and purgative.
- A single seed acts as emeto-cathartic.
- Lime juice and stimulants are suggested antidotes for seed poisoning.
- In Nigeria, leaf juice extract used for treatment of thrush. Leaves and leaf sap used as purgative. Leaves and fruits are boiled, used internally or externally in a bath for fever. Poultice of root bark and roots used as wound dressing. Roots, taken internally, for worms and gonorrhea. Latex used for wounds and skin infections.
- In Benin, sap used to stop external bleeding.
- In African folk medicine, used for the treatment of pain, infection, inflammatory conditions, tumors.
Others
- Decorative: Red flowers in demand by florists for making beautiful red corsages.
- Poison: Plant used as fish poison.
- Illuminant: In Java, oil used more for illuminating purposes that as purgative.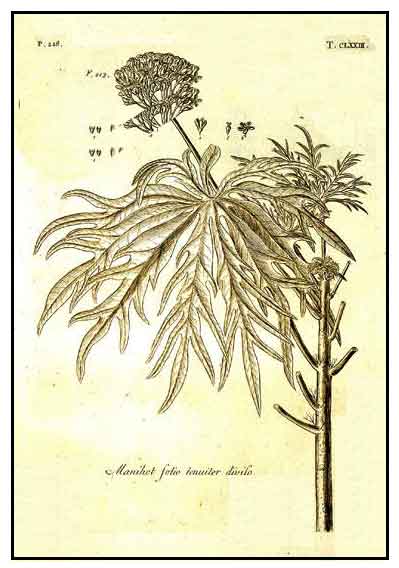 Toxicity / Poisoning
- Seeds are poisonous. Once they were considered an energetic and dangerous cathartic. A single seed is effective as emeto-cathartic. Its use has been abandoned in many native medical systems. Lime juice and stimulants are reported best antidotes to seed poisoning.
- Seeds, fruit and sap contain a chemical called curcin which causes symptoms when ingested. A single seed can cause symptoms in children. Jatropha species contain the toxalbumin ricin which can cause cardiotoxic, hemolytic effects and even death.
- Case report of Jatropha multifida intoxication in two children: Two children were admitted after ingestion of a large amount of Jatropha multifida fruits, presenting with mental obtundation, vomiting and dehydration. Treatment consisted of intravenous fluid replacement and electrolyte replacement and urine alkalinization.
- Case report: Four siblings presented with vomiting, diarrhea and miosis following ingestion of J multifida. The clinical presentation warranted the consideration of organophosphate ingestion in the differential diagnosis.

Studies
• Oral Candidiasis: Study compared the efficacy of Jatropha multifida in the management of oral candidiasis compared to oral Nystatin. The juice extracts from J multifida leaves were applied to the tongue and oral mucosa of affected children as a single application. Results showed JM to be efficacious in the treatment of oral candidiasis, with the advantages of acting faster (clearing of lesions noted within 24 hours compared to Nystatin at 48 hours) and and in its efficacy as a single dose. It presents as an alternative in third world countries where it is easily cultivated and accessible. (1)
• Anti-Complement / Latex: Study to evaluate the anti-complement constituent in the latex of J multifida to explain the use of latex in the treatment of infected wounds isolated a polymer characterized as a proanthocyanidin. The polymer inhibited the classical pathway activation of the complement cascade. (2)
• Antimicrobial: Extracts and fractions exhibited antimicrobial activity against different microorganisms especially those responsible for sexually transmitted diseases endemic in Africa. (5)
• Wound Healing: Study evaluated a methanol extract of leaves for wound healing activity in male Sprague Dawley rats. Results showed wound healing activity based on reduced numbers of PMN (polymorphonuclears) leucocytes and increase number of fibroblasts. (7)
• Hemostatic: Study evaluated the hemostatic potential of J. multifida. Results showed the sap of J. multifida did not act on the classical cascade reaction of coagulation, neither the intrinsic nor the extrinsic pathway. The action was independent of the individual clotting factors. There was an immediate fall of fibrinogen levels, together with precipitation of all plasmatic macroproteins, and a dose-dependent effect on coagulation. The mechanism of coagulation by the sap was attributed to the formation of protein network, independent of coagulation factors. (8)
• Skin Toxicity of Sap / Hemostatic: Study proved the sap had some effects on hemostasis. Also, the study showed no skin toxicity so its use as local hemostatic is recommended. (9)
• Anti-Inflammatory / Analgesic / Root Bark: Study evaluated a methanol root bark extract showed significant antiinflammatory and dose-dependent analgesic activities in Wistar albino rats. (10)
• Antibacterial / Antifungal / Sap: Study screened the sap of J. multifida for antibacterial and antifungal activities against Pseudomonas aeruginosa, K. pneumonia, S. aureus, E. coli, Bacillus subtilis, S. typhi and Candida spp. Results showed all the organisms were susceptible to the sap; Gram positive bacteria, B. subtilis and S. aureus were most susceptible. (see constituents above) (12)
• Antileishmanial / Antifungal / Sap: Study of methanolic stem bark extract yielded three known metabolities, microcyclic lathyrane diterpenoids (1-3). The three compounds exhibited antileishmanial, antimalarial, and antimicrobial activities against tested organisms, with compounds 2 and 3 showing activity against Cryptococcus neoformans. (13)
• Wound Healing/ / Sap: Study evaluated the effectiveness of J. multifida latex for wound healing. Results showed J. multifida latex is as effective as Betadine in treating wounds. Also, latex was shown to hasten the healing of wounds. (14)
• Anti-Tubercular / Leaves: Study evaluate various extracts of leaves for anti-tubercular activity. Phytochemical screening yielded alkaloids, tannins, flavonoids, saponins, cardiac glycosides and cyanogenic glycosides. Results showed inhibition of M tb H37Rv 128 µg/mL, with the hexane extract showing the highest anti-tubercular activity. (15)
• Larvicidal / Antimicrobial: Study evaluated the antimicrobial and insecticidal properties of various extracts of J. multifida. Results showed activity against Bacillus algicola and Staphylococcus epidermis and good larvicidal activity against Bactrocera zonata. (16)
• Novel Biflavone di-C-glycosides / Analgesic / Anti-Inflammatory / Hypotensive / Toxicity Study: Study of leaves yielded three novel biflavone di-C-glycosides, Jatrophenol I-III, together with seven phenolic compounds. No toxicity was seen up to maximum soluble dose (LD50 4 g/kbw). Findings showed dose dependent significant analgesic and anti-inflammatory effects, together with significant hypotensive effect. (17)

Availability
Wild-crafted.