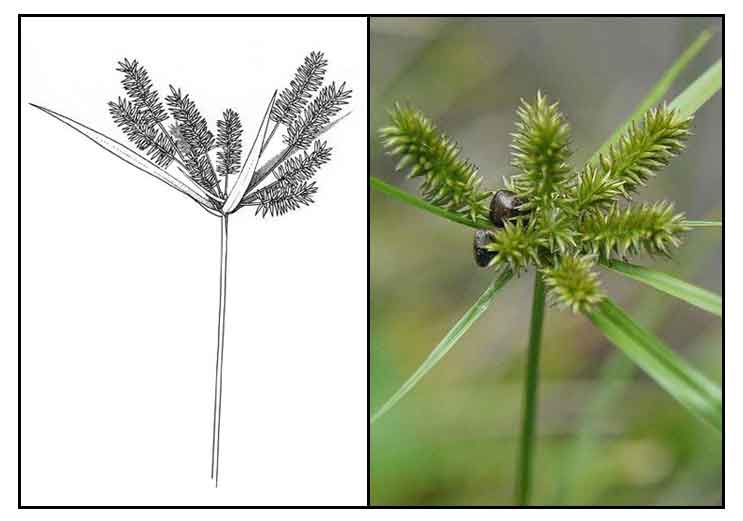 Botany
Mañgilang is a perennial sedge with short rhizomes. Stems are glabrous, 25 to 70 centimeters long. Leaves are often nearly as long as the stems, 3 to 5 millimeters broad. Umbels are simple, 2.5 to 12 centimeters in diameter. Rays are 5 to 12, 2.5 to 8 centimeters long, ultimately straight. Spikes are solitary, cylindric, about 2.5 centimeters long. Spikelets are linear-lanceolate, bearing 1 to 2 nuts which are trigonous and chesnut-colored.
Distribution
- In old clearings, open grasslands, etc., at low and medium altitudes from northern Luzon to Palawan and Mindanao, in most or all islands and provinces.
- Pantropic.
Constituents
- Cyprerus cyperoides has yielded tricin and luteolin as well as cyperaquinones.
Properties
- Anthelmintic, which may be due to cyperaquinines (quinones such as plumbagin).

Parts used
Whole plant.

Uses
Edibility
- In China, roots and seeds made into flour.
Folkloric
- In Indonesia, used to expel worms from the intestine.
Others
- Fodder: Sometimes used as fodder.
- Occult: Some occults uses in Papua, New Guinea.
- Ceremonial: In Kenya, C. cyperoides used to bless cows.
Studies
• No studies available.

Availability
Wild-crafted.