Botany
Mankit is a slender, branched, creeping or climbing herb growing to a height of about 4 meters, with numerous small prickles on the stems. Leaves are 4 to 7 in a whorl around a central stem, ovate, 3 to 5 centimeters long, pointed at the tip, heart-shaped at the base, and rough above, on the veins beneath, and especially on the margins, being furnished with small, white, recurved prickles. Petioles are long - about twice as long as the blade - with many sharp, recurved prickles on the angles. Flowers are minute, white or yellow, and on short, smooth stalks. Corolla-tube is thick and very short, lobes being ovate and obtuse. Fruit is rounded, 6 to 8 millimeters long, shining, and purplish black.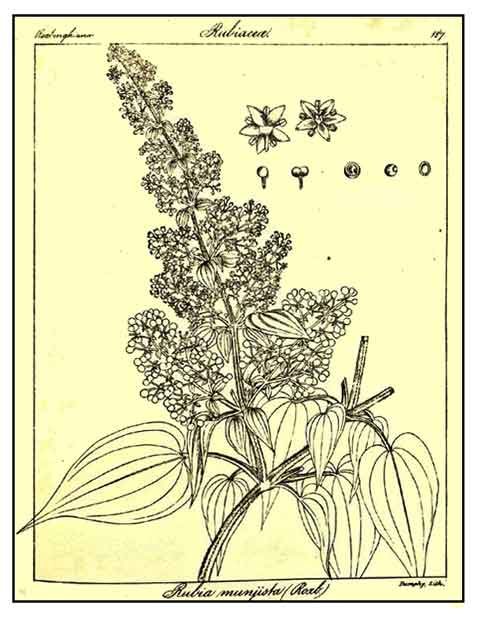 Distribution
- In thickets and forests chiefly between altitudes of 1,000 and 2,000 meters.
- Common in mossy forests.
- Found in Ifugao, Lepanto, Bontoc, Benguet, Rizal, Laguna and Tayabas Provinces in Luzon; and in Lanao and Davao in Mindanao.
- Also occurs in Japan to India, Malaya and tropical Australia.
Constituents
- Principle constituents are purpurin, munjistin, xanthopurpurin.
- Roots yield acid ruberthyrin, which through drying, fermentation, and acid treatment changes to sugar, alzarin and purpurin. Purpurin when dissolved in alkali become red.
- Munjistin, a coloring principle, has been isolated from the roots. It has been found to be identical with purpuro xanthin-carboxylic acid. A Perkin and Hummel study concluded the coloring principles of Rubia sikkimensis and R. cordifolia are very nearly identical; both contain purpurin, munjistin and purpuroxanthin.
- Phytochemical screening yielded alkaloids, phytosterols, saponins, tannins, carbohydrates, phenolic compounds, anthraquinone glycosides, triterpenoids.
Properties
- Colorant, astringent, deobstruent, tonic, antibacterial, anti-inflammatory.
- Roots are bitter, sweet, acrid.
- Roots considered astringent, alterative, anodyne, anthelmintic, antidysenteric, antiphlogistic, antitussive, diuretic, emmenagogue, expectorant, hemostatic, styptic, tonic, and vulnerary.

Parts used
Roots, stem, leaves, fruits.

Uses
Culinary
- In Tanzania, ash of burnt stems used as vegetable salt to soften vegetables in cooking.
- In Indonesia, leaves are used as side dish with rice.
Folkloric
- In the Philippines root decoction used for certain disorders of the urinary tract.
- Worldwide, popular for its use in skin diseases like eczema, dermatitis, skin ulcers.
- Roots used to lower blood pressure. Also used in rheumatism, bronchitis, renal lithiasis, dysentery.
- In India, used for treatment of cuts, wounds and burns.
- In Ayurveda, used to cure the Kapha, inflammatory diseases of the uterus and vagina, leucoderma, jaundice and piles.
- In Hindu medicine, root used as external astringent, applied to inflamed parts, ulcers, fractures, etc.
- Mixed with honey, it is applied to brown spots of pityriasis versicolor.
- The Mahometans used the drug as deobstruent, prescribing it in paralytic affections, jaundice, obstructions of the urinary passages and amenorrhea.
- Fruit is used for hepatic obstruction.
- Decoction of roots and stems used as vermifuge.
- Paste made of roots and honey used for freckles and other skin discolorations. Paste of roots also used for ulcers, inflammation and skin affections.
- Hakims used root infusions to women after delivery, to procure a copious flow of lochia.
- In Uganda and Tanzania, leaves used as poison antidote. Decoction of crushed leaves used for treatment of mouth sores and diarrhea.
- In Rwanda, root decoction used for weight loss during pregnancy, urethral leaks, dizziness, paresthesias and kidney problems.
- In Ethiopia, leaves used for malaria, itches, and to stop bleeding. Also, for amoebic dysentery, cancer and cough.
- In Tanzania and Kenya, rubbed and balled leaves used as antiseptic and to stop wound bleeding. Root decoction used as emetic for certain stomach problems.
- In South Africa, roots used as aphrodisiac and in the treatment of impotence.
Others
Dye
- In Hindu medicine, madder is used as coloring agent, providing color when boiled with medicated oils.
- Used as a dye plant in Asia where red dye extracted from roots and stems have been used to dye silk, linen, cotton fabrics (chintz) and woolen carpets and blankets.
- Roots used as ingredient in ink recipes.
- In South Africa, roots are used to dye wool. In Ethiopia use to dye wool and bread baskets in shades of pink, red, purple or maroon.
- Roots are important ingredients in red ink recipes. Juice of crushed fruits used as green to bluish ink.
Livestock
- In Burundi a leaf decoction used for hemorrhagic diarrhea in newborn calves. Also, used in treatment of fleas, ticks and mites in animals.

Studies
• COX-2 Inhibitor / Cancer Chemoprevention: Study isolated several secondary plant metabolites from the roots of R. cordifolia and rhizomes of G. glabra. A few molecules showed potent COX-2 inhibitory activity which may serve as lead molecules for cancer chemoprevention studies.
• Radioprotective: Study of radioprotective potential of alcoholic extract of root of Manjistha showed a significant radiation protection (67%) as assessed by increased animal survival when R. cordifolia extract was administered intraperitoneally before radiation exposure. Results suggest the alcoholic root extract provides protection against radiation-induced lipid peroxidation, hemopoietic injury and genotoxicity.
• Anti-urolithiasis: (1) Study showed a protective effect of the hydro-alcoholic extract of R. cordifolia roots against ethylene glycol-induced urolithiasis in rats. Mechanism may be through antioxidant nephroprotection and an effect on urinary concentration of stone-forming constituents. (2) One of the major constituents of the roots is ruberythric acid, widely used as phytotherapy in treating urinary tract calcium containing stones.
• Neuroprotective: Study of animals pretreated with an ethanolic extract of R. cordifolia showed significant protective effect on neurodegeneration and showed improvement in memory retention activity. The neuroprotective activity of the plant on alzheimer's type dementia may be due to inhibition of AChE, MAO, free radical scavenging activity.
• Gastroprotective: Study in Wister rats investigating the activity of R. cordifolia against experimentally induced gastric ulcer showed the chloroform fraction with significant activity at lower doses compared to the parent extract. Mechanism can be attributed to decrease gastric acid secretory activity along with strengthening of the mucosal defensive mechanism by prostaglandin synthesis and antioxidant potential.
• New Anthraquinone / Rubiacordone / Antimicrobial: Study isolated Rubiacordone, a new anthraquinone with a known anthraquinone. Metabolites 1 and 2 showed considerable antimicrobial activity against Gram-positive bacteria.
• Radical Scavenging Activity: Study of several extracts evaluating the free radical scavenging activity of R. cordifolia showed very high correlation coefficient of the concentration used and radical scavenging activity of all the extract/fractions. Phytochemicals showed presence of anthraquinones and their glycosides. Results showed constituents that may be exploited in the food industry as chemopreventive agents.
• Wound Healing Activity: Study of alcoholic extract and its hydrogel for its healing efficacy on an excision wound model in mice showed significant effects in wound contracting ability, wound closure, decrease in wound surface are and tissue regeneration at the wound site and histopathological improvement. Results provide scientific rationale for the traditional use of the plant in the management of wounds.
• Anti-inflammatory / Analgesic: (1) Study in rats of anti-inflammatory and analgesic effects of the methanolic extract of roots showed significant reduction of carrageenan-induced paw edema and significant increased reaction time in tail flick test. (2) Study on ethanolic extract showed anti-inflammatory effects comparable with the standard drug indomethacin.
• Hepatoprotective / Analgesic: Study in rats showed the hepatoprotective activity of an aqueous-methanol extract of R cordifolia in acetaminophen and CCl4-induced hepatic damage.
• Antitumor: Study of a dichlormethane fraction of Rubia cordifolia extract exhibited potent inhibition of human leukemia cell line and human histolytic lymphoma cell line. It was also found to be lesser active against normal human kidney cells, displaying safety for normal cells.
• Renoprotective: Study showed the hydroalcoholic extract of R. cordifolia to be effective in reducing the renal damage caused by cancer chemotherapeutic drug cisplastin. It suggests a beneficial adjuvant use in ameliorating renal damage in patients undergoing cancer chemotherapy.
• Antihyperglycemia / Antistress / Nootropic : Study of alcoholic extract of roots showed reduction of elevation of blood glucose in alloxan treated animals. There was also enhancement of brain GABA and decreased brain dopamine and plasma corticosterone levels.
• Pharmacognostic Study of Roots / Gastroprotective / Ulcer Healing: Study of a chloroform fraction showed potent protective action for stress-induced complications in mice. R. cordifolia was less potent than ranitidine but the antioxidant activity was more potent than ranitidine.
• Antibacterial / ESBL E. coli: Results of study of R. cordifolia extract against ESBL (Extended Spectrum Beta-Lactamase) producing urinary E. coli suggested inhibitory properties of an ethanolic extract. The plant can be a potential candidate as alternative antibacterial agent to combat drug resistant organisms. Further studies and scientific validation are required.
• Leaves / Antihyperglycemic / Antihyperlipidemic: Study of alcoholic extract of leaves in norma and alloxan-induced diabetic rats showed decreases in blood glucose and promising antidiabetic. Serum cholesterol and triglyceride levels were decreased and serum HDL was increased.
• In-vitro Anticancer Activity / Hela and Hep-2 Cell Lines: A methanolic fraction of Rc extract showed promising cytotoxic activity against human larynx carcinoma and human cervical cancer.
• Antioxidant Effect in Lead Nitrate-Induced Immunosuppression: A combination treatment with R. cordifolia showed a significant reversal of lead nitrate-induced toxicity on oxidative stress and immunological parameters. The RC can prevent LN-induced immunosuppression from oxidative stress due to it antioxidant property.
Availability
Wild-crafted.
Capsules, supplements, skin care products in the cybermarket.