Botany
Maraotong is an erect, simple or branched, slightly hairy annual herb, growing to a height of 30 to 80 centimeters. Leaves are ovate. 3 to 6 centimeters long, shorter than the long stalks, with toothed margins. Flowers are sessile, greenish, borne on numerous, lax, erect axillary spikes. The male flowers are very small, clustered near the summit. Female flowers are solitary and scattered, each with a large and leafy bract, 5 to 6 millimeters long. Capsules are 2 millimeters long and concealed by the enlarged bract, often containing only one seed. Seed is ovoid and smooth.
Distribution
- A common weed in and about towns, in thickets and waste places throughout the Philippines.
- Found in tropical Africa and Asia, through Malaya and Polynesia.
Constituents
- Contains an alkaloid, acalyphine.
- Major phytochemicals identified are acalyphine, cyanogenic glycoside, inositol, resin, triaetomamine and volatile oils.

Properties
- Anthelminthic, cathartic, diuretic, emetic, expectorant, laxative.
- Roots considered cathartic and laxative.

Parts utilized
Roots and leaves.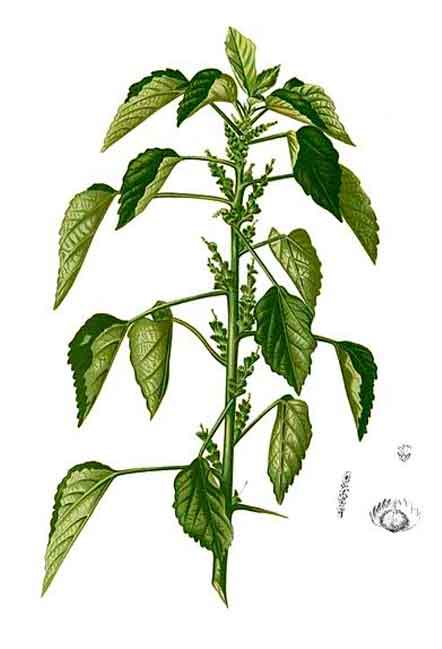 Uses
Edibility
In India, as famine food, leaves eaten as vegetable.
Folkloric
- In the Philippines, decoction of leaves used for dysentery.
- Juice of the root and leaves given to children as expectorant and emetic.
- The leaves, in decoction or powdered form, is used as a laxative.
- For constipation, an anal suppository of the bruised leaves helps relax the constricted sphincter ani muscle.
- Leaves mixed with garlic used as anthelminthic.
- Leaves mixed with common salt applied to scabies.
- Poultice of bruised leaves used for syphilitic ulcers, to maggot-eaten sores and as emollient to snake bites.
- Powdered dried leaves used for bed sores.
- Juice of fresh leaves, mixed with oil or lime, used for rheumatic complaints.
- Decoction of leaves used as instillation for earaches and for periauricular poultice or compress
- Root, bruised in water, used as cathartic.
- Bruised leaves used as "suppository" in constipation, assumed to work through decrease of the sphincter ani contraction.
- In Indian pharmacopoeia, used as an expectorant. Also used for the prevention and reversal of atherosclerotic disease. Used for pneumonia, asthma and rheumatism.
- In Tamilnadu, India, the Paliyar tribes of Shenbagathope use the entire plant for bronchitis, a decoction of the herb for tooth- and earaches and paste of the leaves applied to burns.
Studies
• Post-Coital Infertility Activity: Petroleum ether and ethanol extracts of A. indica were found to be effective in causing significant anti-implantation activity.
• Flavonoids: Four known kaempferol glycosides–mauritianin, clitorin, nicotiflorin and biorobin were isolated from the flowers and leaves of A. indica.
• Phytochemicals: Studies yielded fatty acids (eicosatrienoic acid methyl ester, hexatriacontaine, trimethyl undecatriene and trifluoroacetic acid), volatile essential oil (phytol), and flavonoids (naringing, quercitrin, hesperitin and kaempferol; most of the identified components having their own medicinal properties.
• Antibacterial: (1) Study have shown it to possess antibacterial activity against Aeromonas hydrophylla and Bacillus cereus. (2) All extracts of leaves of Acalypha indica exhibited antibacterial activity against Gram-positive bacteria (S. aureus, S. epidermis, B. cereus, Strep faecalis). Among gram-negative bacterial only P. aeruginosa was susceptible to the extracts.
• Anti-ulcer: Ethanol extract has an anti-ulcer property.
• Antifungal / Antimicrobial: (1) Study of fresh, dried and powdered samples of leaf, stem and root of Acalypha indica showed activity against Candida albicans, Aspergillus niger and E. coli. An active compound showed more activity than clotrimazole. (2) Study concludes the plant has potential antifungal properties providing a scientific basis for utilization of the plant for treatment of antifungal infections. Results of study were negative for antibacterial activity against E coli and S aureus.
• Antimalarial: Results of leaf extract of A. indica show promising larvicidal and ovicidal activity against malaria vector A. stephensi.
•Neuroprotective / Neurotherapeutic: Results of water extract study showed A indica has neuroprotective and neurotherapeutic effects ex vivo on m. gastrocnemius frog.
• Antioxidant: Ethanol and aqueous extract of root of A indica showed nitric oxide scavenging activity in a dose-dependent manner.
• Antibacterial / Antioxidant: Study of Acalypha indica and Ocimum basilicum showed antibacterial activity against E coli, K pneumonia, S aureus, P aeruginosa and Proteus sp, the ethanol more effective than the acetone extract.
• Wound Healing: Study showed the water extracts of Azadirachta indica and Acalypha indica were more effective than the acetone extracts particularly on pseudomonas sp. Results suggest a potential for use in wound infections.
• Antidiabetic: Study of methanol and acetone extract in alloxan-induced diabetic rat model showed dose-dependent antidiabetic activity attributed to an increased uptake of glucose at the tissue level or by an increase in pancreatic beta cell function or due to inhibition of intestinal absorption of glucose.
• Vasoconstrictor Activity: Study showed the petroleum ether extract exhibited better vasoconstrictor activity against blood vessels of frog comparable to the reference drug adrenaline. Results provide support for use of the extract in treating disorders of headache and migraines, and for diuretic and alexeteric effects.
• Antimicrobial: Study evaluating the antimicrobial activity of different extracts of A. indica showed antibacterial activity against Gram-positive bacteria was more pronounced in water and ethanol extracts and antifungal activity significant with the chloroform extract.

Availability
Wild-crafted.
Extracts in the cybermarket.