Botany
Amoras is moderate-sized monoecious tree, 3 to 6 meters high, with reddish or yellowish brown, smooth bark, marked with long horizontal lenticels. Leaves are ovate, 5 to 20 centimeters long, 2.5 to 8 centimeters wide, with tapering pointed tips, and 3-nerved, heart-shaped base, sharply-toothed margins, sometimes deeply 3-lobed, of hairy texture when young, rough when mature. Flowers are unisexual, the female flowers numerous and crowded in short spikes. Fruiting spikes are axillary, peduncled, dark purple or nearly black when ripe, fleshy, and 1.5 to 3 centimeters long.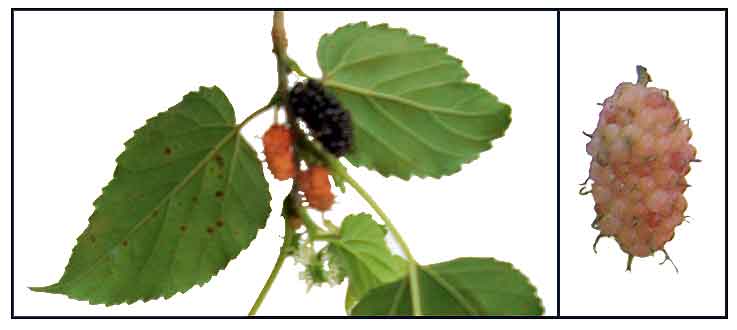 Distribution
- Widely distributed in cultivation.
- Naturalized in Batan Island and Cagayan Province.
- Probably of ancient introduction.
- Native of tropical Asia.
- Now found in all warm countries.
Constituents
• Tannins; phytosterols; sulfur; essential oils; saponins.
• Mulberroside F Isolated from the leaves of Morus alba.
• Fruit yields fat, 30%; and urease; also, sugar, pectin, citrates, malates, etc.
• Roots have yielded sterols, flavones, flavanone, stilbene, benzophenone and coumarin derivatives.
• Juice of root yields tannin; the stem yields ash (1.35%), and succinic acid.
• Leaves yield calcium malate, calcium carbonate, invert sugar 4%, pentosane, tannin, carotin, ash (10%), vitamin C and choline.
• Study of leaves yielded two novel prenylflavanes and a glycoside, together with six known compounds, isoquercitrin , astragalin, scopolin, skimmin, roseoside II, and benzyl D-glucopyranoside. (26)

Properties
• Considered analgesic, anthelmintic, antibacterial, antirheumatic, diuretic, hypotensive, hypoglycemic, purgative, restorative, sedative and tonic.
· Roots: Sweet tasting, cooling, sedating, diuretic, tonic and astringent remedy in nervous disorders.
· Twigs: bitter tasting, antirheumatic, good nervine.
· Leaves: Sweet-tasting, diaphoretic, refrigerant, antipyretic.
· Fruits are sweet-acidic tasting, neither warming nor cooling, liver-kidney tonic, blood-stimulating.
· N-butanol and water soluble fractions of mulberry roots showed cathartic, analgesic, diuretic, antitussive, antiedema, sedative, anticonvulsant, and hypotensive effects in experimental animals. (28)

Parts utilized
· Leaves, fruits, twigs, stems, roots, wood cut in cubes.
· Leaves: Harvest in November to January; sun-dry.
· Twigs: Harvest the green, soft twigs, air-dry a little, cut into pieces and sun-dry.
· Fruits: Harvest the reddish fruit (not yet fully ripe), remove peduncles and sun-dry.
· Roots: Collect from August to September, steam cure, then sun-dry.

Uses
Edibility
- Young leaves eaten as vegetable, particularly by nursing mothers.
- Fruit is edible.
- In China, the fruit is made into jam.
Folkloric
· For headaches, cough, and fever associated with influenza: Mix 6 to 12 gms of morera leaf preparation with Chrysanthemum and Mentha in 5:3:1 proportions. Boil to a concentrated decoction and drink.
· For persons who lacrimate when their faces are exposed to the wind: use 6 to 12 gms of leaf preparation with an equal volume of Sesame preparation, grind to a powder and drink with warm water.
· Constipation in the elderly: 6 to 15 gms dried fruit preparation, boil to a concentrated decoction and drink.
· Backache: 9-15 gms twig preparation, boil to a concentrated decoction and drink.
· Eyestrain causing reddening and pain in the eyes: get leaf preparation, steam in water, and expose eyes to the smoke which emanates from the preparation.
· Fever arising from lung complications, cough, and hemoptysis; also skin edema: use 9-15 gms of bark in decoction.
· Rheumatic arthritis, lumbago, leg pains: use 9-15 gm Morus twig material.
· Fever, cold and coughing: use 6 to 9 gms leafy drug in decoction.
· In Brazil, used for fever, lowering of cholesterol and blood pressure, and liver protection.
· Juice of fresh bark used for epilepsy in children and in dribbling of the saliva.
· Milky sap of the tree is used for aphthous stomatitis in infants, and in incised wounds caused by snake, centipede, and spider bites.
· Decoction of leaves used for sweating feet, dropsy, and intestinal disorders.
· Bruised leaves used for wounds and insect bites, and also to promote hair growth.
· Twigs considered prophylactic for all forms of cold; also, diuretic and pectoral.
· Lye made of ashes of mulberry wood used as stimulant and escharotic in scaly skin diseases and unhealthy granulations.
· Fruits have been used for diabetes.
Others
• Paper Making: Bark used in early China for making paper.
• Silkworm Food: Leaves used as food for silkworms.
• Protein Source / Leaves / Pig Diet: Study showed the possible use of mulberry leaves as main protein source.
Cosmetics
• Cosmetic: Extract of roots for skin whitening (Japan); used in the manufacture of hair care and hair-growth/tonic products. (See study below)

Studies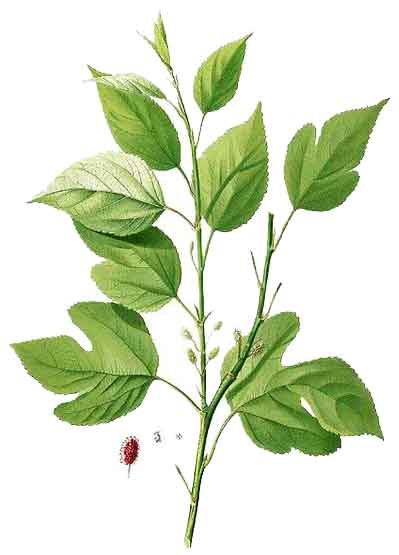 • Anti-dopaminergic: Anti-dopaminergic effect of the methanolic extract of Morus alba L. leaves: Extracts of MA showed significant dose-dependent potentiation of haloperidol and metoclopramide induced catalepsy. . . Study showed MAME possesses antidopaminergic activity and suggests the plant's antipsychotic potential. (1)
• Diabetes: Evaluation of hypoglycemic effect of Morus alba in an animal model: Mulberry leaf extract showed positive effects in diabetes-induced Wistar rats, restoring the diminished beta cell numbers. (2)
• Anti-allergic: Inhibitory Effects of Morus alba on Compound 48/80-Induced Anaphylactic Reactions and Anti-Chicken Gamma Globulin IgE- Mediated Mast Cell Activation: Study showed mast cell effects and suggests a potential for HEMA as a therapeutic tool for allergic diseases. (4)
• Mulberroside F / Skin whitening: Mulberroside F Isolated from the Leaves of Morus alba Inhibits Melanin Biosynthesis: Study isolated Mulberroside which showed inhibitory effects on tyrosinase activity and melanin formation suggests a potential for use as a skin whitening agent. (5)
•Anti-melanoma / Antioxidant: Quantitative Analysis of Rutin, a Flavonoid Compound in the Leaves of m Morus alba: Rutin showed to be an inhibitory of melanoma growth, anti-tyrosinase and antioxidant suggesting a potential for dietary supplements or cosmetic applications.
• Hypoglycemic: Flavonoid rich fraction of an alcohol root bark extract of Egyptian Morus alba was studied for hypoglycemic activity in stretozotocin-diabetic rats. Study revealed the extract may protect pancreatic beta cells from degeneration and diminish lipid peroxidation. (6)
• Skeletal Muscle AMPK Activity Stimulation: Study showed Morus alba leaf water extract stimulates skeletal muscle AMPK activity acutely without changing the intracellular energy status.(7)
• Antidepressant: Study of aqueous extract of Morus alba leaves green tea on mouse behavior showed the extract possesses an antidepressant without an anxiolytic effect. At high doses, a sedative effect was noted with alterations of other functions, ie, muscle strength, maze activity and pain response.
• Anti-Ulcerogenic: Study of MA ethanol extracts on ethanol-induced gastric mucosal injury in animals indicates that MA exhibits significant antiulcerogenic activity in rats with marked reduction of gastric mucosal damage, reduction of edema and submucosal leucocyte infiltration. (9)
• Anti-Dyskinesia: Study results suggest a protective effect of Morus alba extract against haloperidol-induced orofacial dyskinesia and oxidative stress. (10)
• Anti-Hypertensive: In a study of 50 medicinal plant extracts, Morus alba was one of four that showed strong ACE inhibitory activity, with decrease in both systolic and diastolic blood pressure. (11)
• Hypotriglyceridemia: Results showed the aqueous extract of leaves of M. alba decreased the plasma level of triglycerides. (12)
• Post-Traumatic Nerve Recovery: Results showed the potential of M. alba extract to enhance functional recovery after crush injury with significant improvement of both sensory and motor functions. Study suggests M. alba may serve as functional food for post-traumatic nerve recovery and suggests further studies to identify the active ingredient/s and mechanisms. (13)
• Ob-X / Obesity-Regulating / Hypolipidemic: Ob-X, a mixture of three herbs – Morus alba, Melissa officinalis, Artemisia iwayomogi was studied and shown to regulate body weight, adipose tissue mass, lipid metabolism, in part, through changes in the expression of hepatic PPARalpha target genes. (14)
• Antioxidant / Natural Colorant: Results showed the anthocyanin pigment in the berry is a natural, edible colorant with excellent antioxidant properties and health benefits that seem applicable to both health food and medicine. (15)
• Hepatoprotective: Study showed the hydroalcoholic extract at a dose of 800 mg/k exhibited a significant liver protective ability by lowering the levels of AST and ALT, decreasing sleeping time, with less pronounced destruction of liver architecture, absence of fibrosis and inflammation as compared with the carbon tetrachloride group. (16)
• Hepatoprotective: Study showed the Morus alba and Calendula officinalis extracts possess highly promising hepatoprotective effects against CCl4-induced hepatotoxicity. (17)
• Anti-Stress : Study showed attenuation of chronic restraint stress (RS)-induced perturbations (cognitive dysfunction, altered behavioral parameters, etc.) were attenuated by an ethyl acetate soluble fraction of Morus alba. Study results suggest that in addition to classically established pharmacologic activities, the plant has immense potential as anti-stress agent. (18)
• Immunomodulatory: Study showed Morus alba increased the levels of serum immunoglobulins and prevented mortality induced by bovine Pasturella multocida in mice. It showed an increase in phagocytic index, a protection against cyclophosphamide-induced neutropenia and increased neutrophil adhesion. Results conclude MA increases both humoral and cell mediated immunity. (19)
• Antidepressant: Study showed the aqueous extract of Morus alba leaves green tea possesses an antidepressant effect without an anxiolytic-like effect. At higher doses, the extract might show a sedative effect and alteration of other functions. (20)
• Leaves as Protein Source: Study of effect of mulberry leaves in diet for pigs on digestibility indices and N balance showed that in rice-based diets, it is possible to use mulberry leaves as the main protein source. (21)
• Flavonoids / Antiasthmatic Effect: Study showed Morus alba flavonoids antagonize acetylcholine on the contraction of bronchial lung, extending the latent period of asthma, reducing eosinophilic invasion. (22)
• Anti-Cataract Activity / Antioxidative / Antidiabetic / Antihypercholesterolemic: Study showed an ameliorating effect of mulberry leaves on retinal neurotransmitters, retinal neuronal cells and anti-cataract activity which may be attributed to the flavonoid content with potential anti-oxidative activity, hypoglycemic, and anti-hypercholesterolemic effects. (25)
• Antioxidant: Study showed Morus alba leaves have more antioxidant activity than Rosmarinus officinalis. The methanol extract of leaves showed inhibition of lipid peroxidation of lipid in egg-yolk. Results indicate the leaves are a good source of natural antioxidants. (27)
• Suppressive Response of Confections Containing Leaf Extracts on Blood Sugar and Insulin: Study showed the effective ration of ELM to sucrose, which suppressed postprandial blood glucose and insulin, was 1 to 10. The digestion of sucrose and starch was inhibited by the ELM, with an additional benefit of a prebiotic effect. Results suggest a potential contribution to diet therapy management for type-2 diabetes mellitus. (29)
• Histopathologic Effect on Diabetic Pancreas of Rats: According to histological and biochemical results, animals treated with mulberry leaf extract showed reduction of blood glucose levels by regeneration of ß cells. (30)
• Radioprotective: Study showed mulberry fruit powder given to gamma-irradiated rats offered protection against gamma irradiation-induced oxidative stress. Study suggests a potential as a radio-protective agent. (31)
• Antischistosomal / Hepatoprotective: Study investigated the antischistosomal and hepatoprotective activity of Morus alba leaf extract. Results concluded mulberry could ameliorate preexisting liver damage and oxidative stress conditions due to schistosomiasis. (32)


Availability
Wild-crafted.