Botany
A vining perennial, twining and herbaceous, up to 4 meters long, smooth or muricate. Leaf blades are 3-10 cm long, palmately divided in 5 to 7 lobes. Flowers are showy, white to lavender, peduncles 5-80 mm long. Corolla is purple, bluish purple or white with a purple center, funnelform, 4.5 to 6 cm long.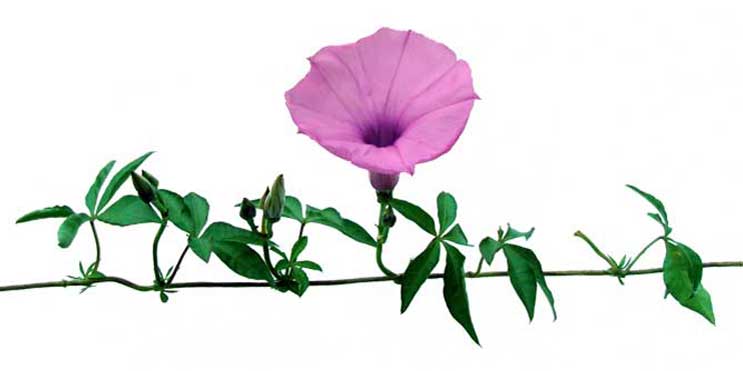 Distribution
Widely distributed in the Philippines.

Uses
Folkloric
• No reported folkloric medicinal use in the Philippines.
• In Brazilian folk medicine, used for rheumatism and inflammation.

Studies
• Larvicidal / Essential Oil: A study of the essential oil for its larvicidal effect against four vector species of mosquitoes showed remarkable larvicidal properties, inducing 100% mortality in the larvae of Culex tritaeniorhynchus, A aegypti, A stephensi and Culex quinquefasciatus.
• Antinociceptive / Essential Oil: Study yielded 3,5-di-O-caffeoylquinic acid and 4,5-di-O-caffeoylquinic acid which have been reported to have analgesic and antioxidative effects. The results show antinociceptive effects probably through release of pro-nociceptive mediators. The isolated caffeoylquinic acids can partly explain the antinociceptive effect of Ipomoea cairica polar extract.
Availability
Wild-crafted.