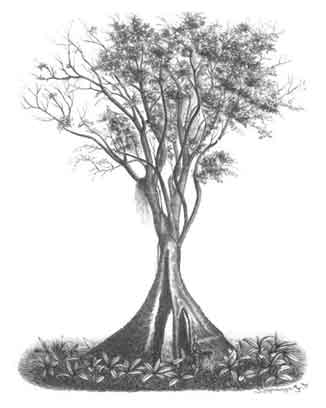 Botany
Narra is the Philippine national tree, a majestic reddish hard wood tree, growing to 33 meters nigh and 2 meters in diameter with an irregular fluted trunk. Leaves are compound, pinate, 15 to 30 centimeters long, with 7 to 11 leaflets which ovvate to oblong-ovate, and 5 to 10 centimeters long. Flowers are numerous, yellow, fragrant, and about 1.5 centimeters long, on branched, axillary panicles. Pods are disc-shaped, flat, with winged margins, hairy when young but smooth or nearly so when mature, more or less reticulate and undulate, and very shortly beaked, orbicular to obovate, including the wing 4 to 5.5 centimeters long, and the wing 1 to 1.5 centimeters wide.
Distribution
- In primary, and in some regions, secondary forests at low and medium altitudes throughout the Philippines.
- Grown from seeds and cuttings.
- Found in calcareous soil. Grows well in bottom lands.
- Occurs in Guangdong, Taiwan, India, Indonesia, Malaysia, Myanmar, Papua New Guinea, Thailand and Vietnam.
Parts utilized:
Leaves, roots, bark
Constituents
- Yields "kino," containing kinotannic acid.
- Wood yields red coloring constituents: narrin, santalin and angolensin.
- Narrin is a dark red amorphous powder which yields phloroglucinol and resorcinol on fusion with alkali.
- Study yielded pterocarpin and pterostilben homopterocarpin, prunetin (prunusetin), formonoetin, isoliquiritigenin, p-hydroxyhydratopic acid, perofuran, pterocarpol, and b-eudesmol.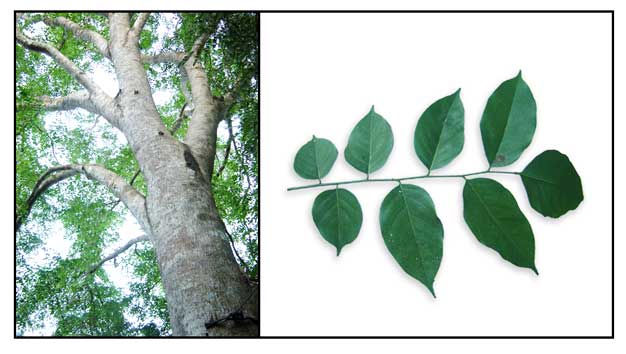 Properties
Noted for its hardiness and rapid growth.
Grows well in bottom lands, wind-firm and less susceptible to disease and pests.
Nitrogen-fixing.
Considered antibacterial, anti-bilous, emetic.
Uses
Edibility
- Young leaves and flowers are reportedly edible; the flowers, a source of honey.
Folkloric
- Infusion of the leaf used as shampoo.
- Used for bladder ailments, diarrhea, headache, stones, sores and dropsy.
- The young leaves applied to boils, prickly heat and ulcers.
- Decoction used as a gargle for sore throats; as an astringent; as a mouthwash for toothaches.
- Decoction of wood used for dropsy and to dissolve bladder stones.
- The resin "kino" has similar actions as tannin and catechu. It is taken for its astringent effect in chronic diarrhea, leucorrhea, blenorrhea and hemorrhages. Used as a solution for enemas for prolapse of the rectum and anal fissure.
- Red latex used in folk medicine for tumors, cancers and warts.
- Juice of root applied to syphilitic sores.
- In Java, decoction of the bark or kino used for thrush; kino used to arrest diarrhea.
- Malays used the resin for buccal sores. Plant used as folk remedy for bladder ailments, diarrhea, dropsy, headache, stones, thrust, and tumors of the abdomen.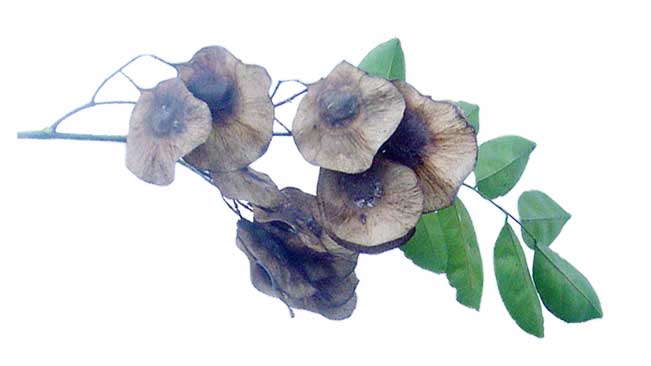 Others
- Timber: Old narra is a much sought-after wood for its durability and use in floorings, cabinetry, construction, furniture making, decorative carvings, and muscial instruments.
- Dye: A source of red dye, narrin.
- Wood is also a source of kino, a gum used as astringent and for tanning.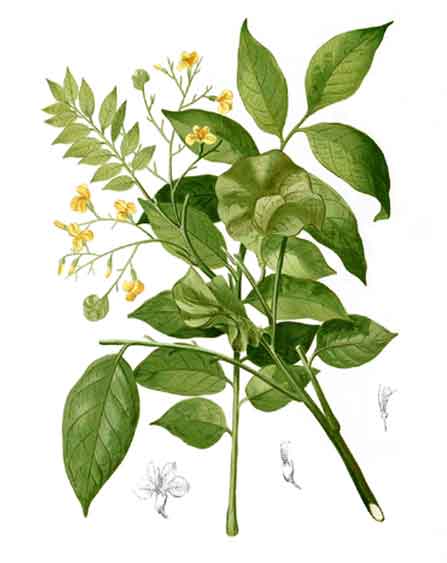 Studies
- Immune Enhancing / Anti-Asthma: Composition and method for the prevention and treatment of asthma: The root, bark and wood of Pterocarpus indicus (Philippine Narra tree) is a component in a pharmaceutical formulation touted to be immune enhancing and purpurted use for the prevention and treatment of asthma.
• Polyphenolic Antiplasmin Constituent / Anti-Cancer: A Bioactive Polyphenolic Constituent in the Bark of Pterocarpus indicus, Willd. I. Isolation and Characterization: A polyphenolic substance with antiplasmin activity was isolated from the bark of P indicus. The substance showed carcinostatic effect on ascitic mice with Erlich carcinoma.
• In vitro anthelmintic, antibacterial and cytotoxic effects of extracts from plants used in South African ethnoveterinary medicine. Antibacterial activity of Pterocarpus indicus, Fitoterapia 74 (2003), pp. 603–605.
• Antifungal Sesquiterpene: Study isolated an antifungal compound in the methanolic extract of amboyna wood. It was identified as a B-eudesmol, a sesquiterpene alcohol and showed dose-dependent antifungal activity against P pulmonarius.
• Anticancer: 1970 study on leaves showed significant inhibition of growth of Ehrlich ascites carcinoma in mice.
• Anti-Termite: Study evaluated the use of wood extractives as preservative treatment for wood to inhibit subterranean termite activity. Results showed the n-hexane extract from P. indicus and ethyl ether extract from P. gutta showed more active inhibition effect on the activities of C. curnignatizus Holmgren.

Availability
Wild-crafted.