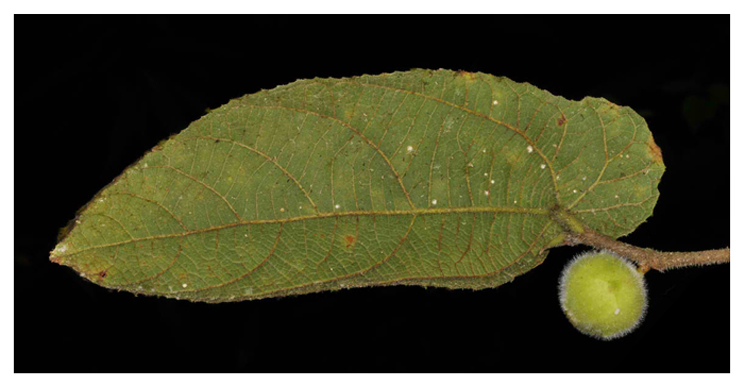 Botany
Pakiling is a small tree reaching a height of nine meters, with young hispidous, greeninsh branchlets. Leaves are simple, alternate, oblong or broadly ovtae and rounded, 16 to 20 centimeters long, 6 to 8 centimeters wide, acuminate at the apex, cordately inequilateral, margins toothed, lateral veins 6 to 8 pairs, prominent underneath, base penta- to octa-veined, venation semicraspedodromous. Young branches are greenish, pubescent, petiole 1.0 to 1.2 centimeters long. (4)
Distribution
- Endemic in the Philippines.
- Widely cultivated in Tayabas, Zambales, Pampanga, Bataan, and Laguna in Luzon.
Constituents
- Dichlormethane extract of leaves yielded l -sitosteryl-3ß-glucopyranoside-6'- O-palmitate ( 1), squalene (2), lutein ( 3), α-amyrin acetate ( 4), lupeol acetate ( 5), and ß-carotene ( 6). (See study below) (2)
- Phytochemical screening yielded terpenes, glycosides, and phenolic acids. Crude extract yielded low gallic acide and quercetin equivalence.(3)
Properties
- Dried leaves are fragrant.

Uses
Folkloric
- Used in the treatment of allergy, asthma, diarrhea, diabetes, tumor and cancer. (4)

Studies
• Cytotoxicity / Human Stomach Adenocarcinoma Cell Line: Study of dichlormethane extract of leaves yielded 6 compounds. Compound 1 (l -sitosteryl3ß-glucopyranoside-6'- O-palmitate) showed cytotoxicity against human stomach adenocarcinoma cell line (AGS) with 60.28% growth inhibition. (See constituents above) (2)
• Teratogenicity: Study of investigated leaf extracts of Ficus odorata (Blanco) Merr. and Baccaurea tetrandra (Baill) for teratogenic/antiteratogenic potential in inbred strain of ICR mice. Results showed a strong potential for F. odorata, with a high frequency of congenital abnormalities in the fetuses of mice treated with crude leaf extracts. Both plants did not show antiteratogenic activity. (3)
• Pro-Oxidant Activity: Study evaluated F. odorata for potential medical application for its pro-oxidant activity. Pro-oxidant activity was evident in the crude ethanolic leaf extract. Results suggest F. odorata can be tapped as functional food and nutraceutical and drug development. (4)
Availability
Wild-crafted.